I am now accepting orders for my 2005-2011 Tacoma CNC cut plate off-road winch bumpers at a special introductory price.
This is a limited time special, so act quickly if you want one!
Bumper highlights:
* 3/16" thick CNC cut and MIG welded steel structure with additional frame reinforcement plates standard for heavy recovery and winching applications, winch mounting plate (for 8000-9500lb non-integrated solenoid winches with the standard 4.5x10 mounting pattern only), 3/4" thick steel recovery points, hi-lift notches, and grade-8 hardware is standard!
* Optional recessed fog light cutouts for 4" Piaa or similar fog/driving lights
* Optional top tubing. Center light bar hoop, or full front end guards available
* Optional logos/graphics/whatever can be cut into the steel via the CNC waterjet shop. (at a surprisingly low extra cost!!) This is your chance to make your bumper unique!!! I can also do any custom mods to the basic design (within reason of course) for only minor additional fees.
Pricing:
*Base plate bumper
with standard 3/4" thick recovery points, hi-lift notches points, in bare steel:
$750 + shipping
Upgrade to light 1/4" thick 5052 weight aluminum for +$125. ($875 + shipping for Aluminum version)
Add-on's
*Recessed fog light mounts for 4" aftermarket lights:
add $50
*Center grille section tube hoop, 1.75" dia tube:
add $75
*Summit guard, hoop with brace bars
add $110
Summit guard with 3-hole filler triangles
add $130
*Predator guard full top 3 hoop tubing (center section and headlight protection, 1.75" tube):
add $150
*Other custom requests:
$TBD
Ex. Custom CNC cut 'Tacoma' or 'TRD' in lower skid, or other logos/images for only about $20 additional!
*Modified to fit on trucks with body lift! Please note amount of body lift when ordering, 1"-3" mods available
+$25
(Relentless Exclusive.)
PICS
Shipping
: *new lower prices*
Shipping is through Fastenal, basic pricing may vary slightly depending on your location and the final weight of your bumper. Fastenal ships from one of their stores to another, not to a home address. To look up your local store, enter your zip code
HERE
. These bumpers are pretty big (around 105lbs base bumper) and require being strapped down to a pallet and freight shipping. I don't charge anything for the pallet, or my time of packaging them, all which deducts from my overall profit from the bumpers, so I assure you i'm not making a penny on shipping fees and you're getting the good side of the deal!
Shipping price breakdown by location:
Pacific time zone: $75
Mtn time zone: $100
Central time zone: $125
Eastern time zone: $150
Hawaii: $150
*** If interested in ordering rock sliders or a rear bumper in addition to a front bumper, I can ship them together for only an additional +$20/item to the prices listed above. For the guys on the east coast, this can save you as much as $260 versus buying and shipping each item separately!!!
Notes:
see attached PDF file for my product liability disclaimer statement.
Installation will require minor vehicle modification: removal of factory tow hooks, removal and minor trimming or bending of some thin sheet metal grille/light supports from behind the factory bumper, trimming of excess plastic inner fender liner from bottom of front fender wells. These modifications are illustrated in photos lower on the page.
Orders list:
Color coding: Green once deposit is received, Blue during build, and red once final payment has been made and bumper has shipped.
1.
Virgilus11 (Base + custom cut center + fogs)
2.
cohrmundt (base bumper w/custom 'TRD' cut in skid, and modded for 3" body lift)
3.
OH-MAN (base + fogs + hoop)
4.
railman04 (base + fogs)
5.
chickenmunga (base bumper)
6.
Cmytacoma (cohrmundt's first 'TRD' bumper w/ no body lift mod)
7.
jbraeckel (base bumper)
8.
wmflyfisher (base + fogs + custom tube)
9.
Lrgrnr (base + fogs + hoop w/side bars)(and hybrid sliders)
10.
oatiger (base + fogs + hoop)
11.
ttylerr (base + fogs + primer)
Arranging shipping to Canada
12.
Oswego (Base + fogs)(and sliders)
13.
Carolina_Boy (base + fogs + light mount holes on top plate)
14.
Iluvtea (base + fogs + 'TACOMA' in top face + cutout winch structure+ hoop w/side bars)
15.
MY50cal (Base + fogs + 2 sets light tabs) (and hybrid sliders)
Other orders:
1. All.on.black (base+fogs+hoop+custom mods)
2. Stockplus (Base + fogs + ulti-mount)
3. Tacotron (Base bumper modded for 3" body lift)
4. Jordan F. (base + fogs) will pick up (and rear bumper when avail.)
5. theFerg (base + fogs+ hoop w/side bars + set light tabs)
6. Kessler89 (base + hoop)
7. EDC (base + fogs+ hoop) (and rear bumper with swing out tire carrier when avail.)
8. GSK9 B1T3 (base + fogs + hoop w/ side bars and 3 light mounting holes on top plate, and set of 2x3 hybrid sliders w/ kickouts.) (and rear HC bumper when avail.)
9. cancelled/refunded
10. OZ-T ALUMINUM base bumper + fogs. No winch cutout.
11. mck419 (base + fogs + hoop)(and high clearance rear
)
12. especk (ALUMINUM base bumper)(and steel rear)
13. Dblake79 (base+fogs+hoop w/side bars+ 2 light tabs)
14. Nightstr (base(1'R')+fogs+hoop+rattle can black)(meet)
15. SuthernTaco07 (base+fogs)
16. Fatsac (Aluminum base+fogs and steel rear bumper)(on hold)
17. Dstephan (Aluminum base+ fogs+ hoop)
18. TSTaco (Aluminum base+fogs+hoop w/side bars + base rear)
19. HDsnow (Base+ fogs + ulti-mount) (need asap due to replacement after accident)
20. Littledvl (base+fogs. ship w/rear bumper order)
21. takaya49 (Base+fogs+powdercoat+2 d-shackles)(pick up)
22. BEEFY CHEESY TACO (Aluminum base+ fogs+ hoop w/side bars) (and rear, and sliders)
23. Blacktaco21 (Base+ fogs+ hoop w/side bars) (and sliders)
24. CRF69 (Base+ fogs+ hoop w/side bars)
25. ink junky (ALUMINUM base+ fogs+ hoop w/side bars) (and DCSB hybrid sliders)
26. 06rubi (base+fogs) (and HC rear w/hidden hitch, and hybrid weld on sliders w/ 2 pc kickouts)
(list is no longer updated for current orders)
Customer Review of bumper:
http://www.tacomaworld.com/forum/pro...er-review.html
When ordering, please keep in mind I have a pretty busy schedule and I'm a 1 man show, so please be patient with me. I will build as quickly as possible(though time til receiving your order is still a matter of months, not weeks with my order load), but im not going to sacrifice quailty or attention to detail in order to ship products any quicker. Fast as possible turn around, high quality products, and customer satisfaction is my goal!!!
I will be constantly updating this thread with information to better answer any questions that arise, feel free to ask a question if there is something you don't see an answer to.
Bumper sample images:
Base steel bumper with fog light recesses and Summit guard tube with filler plates
Base steel, fog light cutouts, and summit tube
ALUMINUM base+fogs+Predator Guard from 2" tube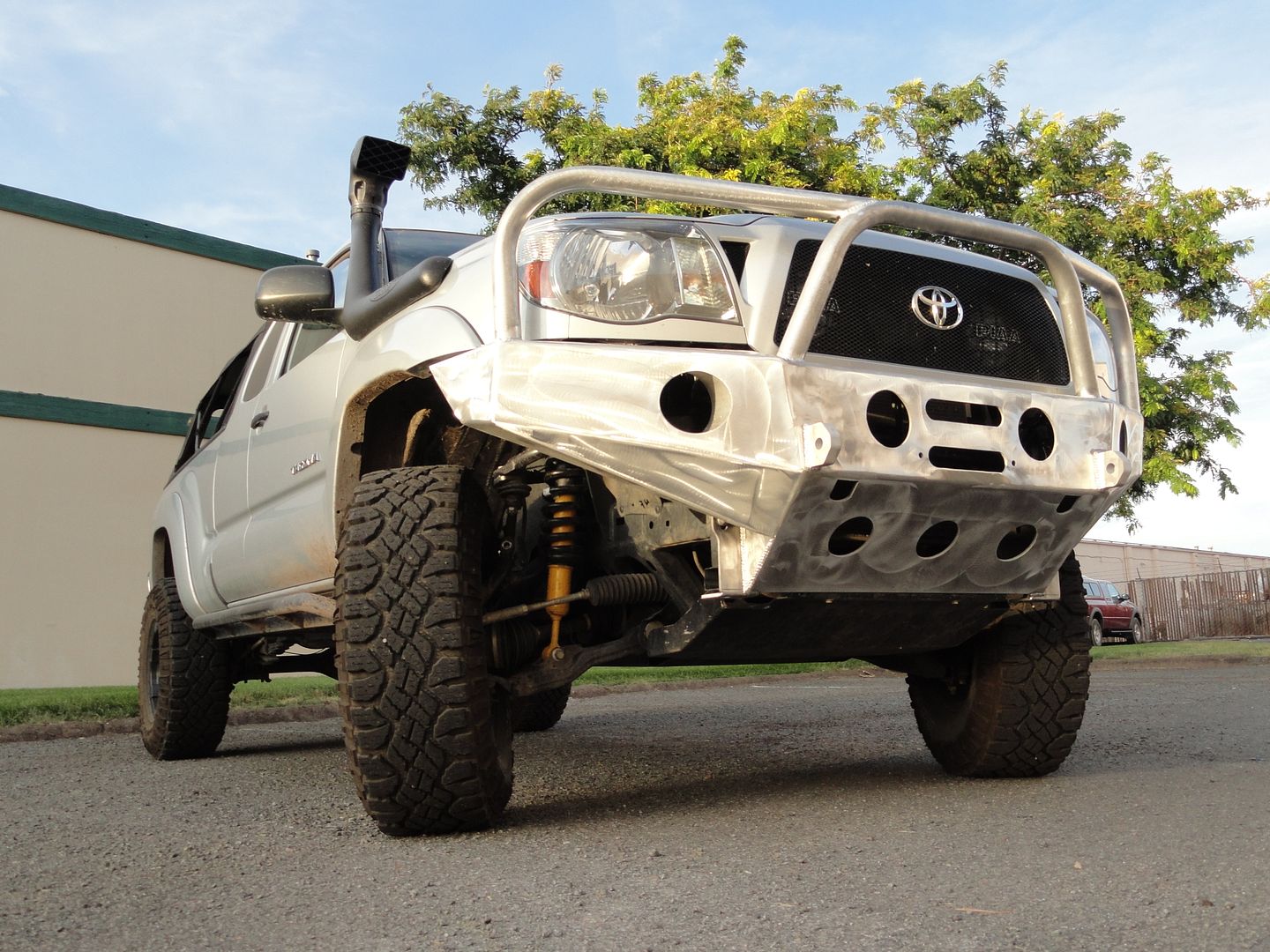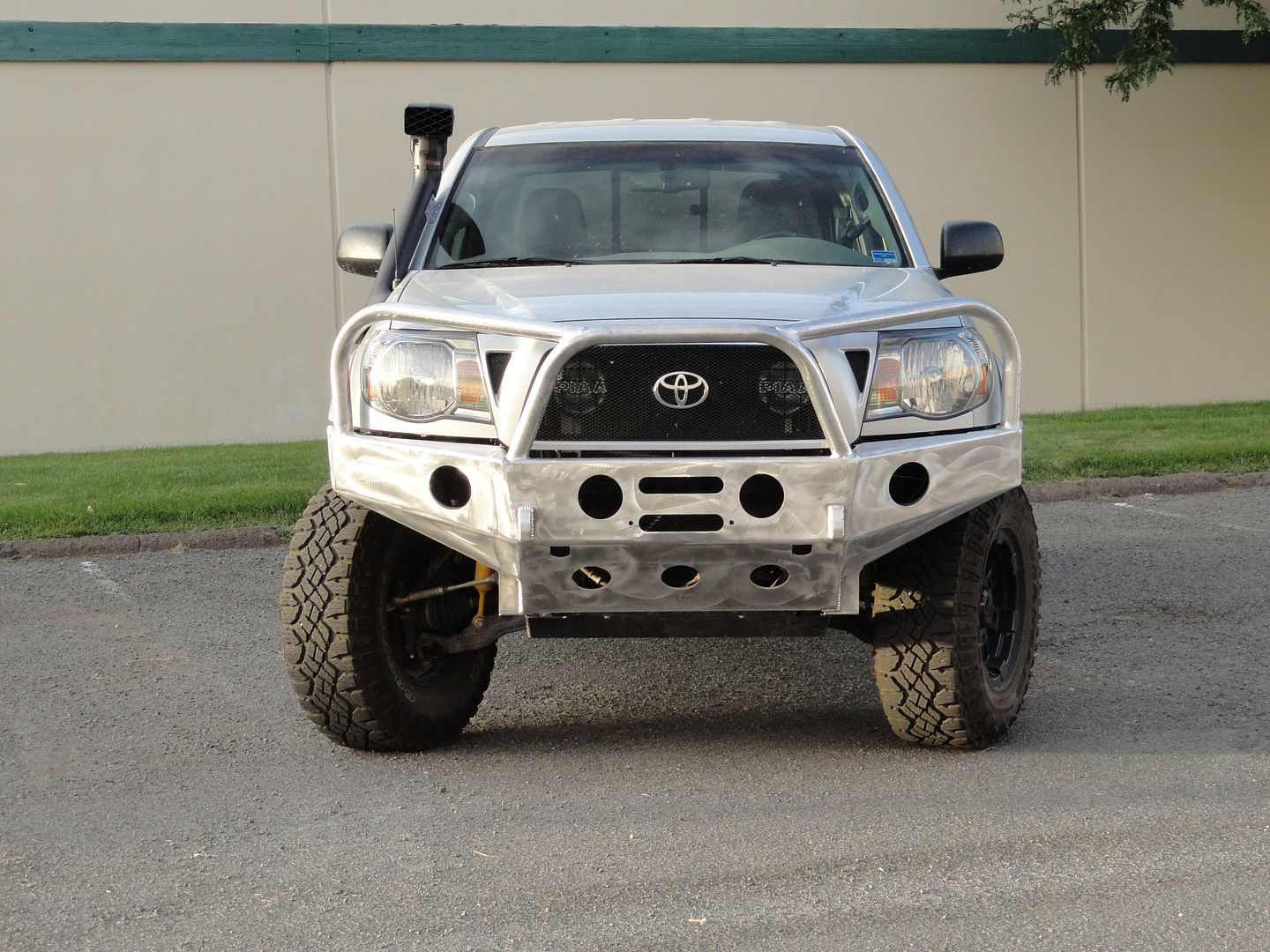 My old personal truck and bumper: Base w/ fogs and center hoop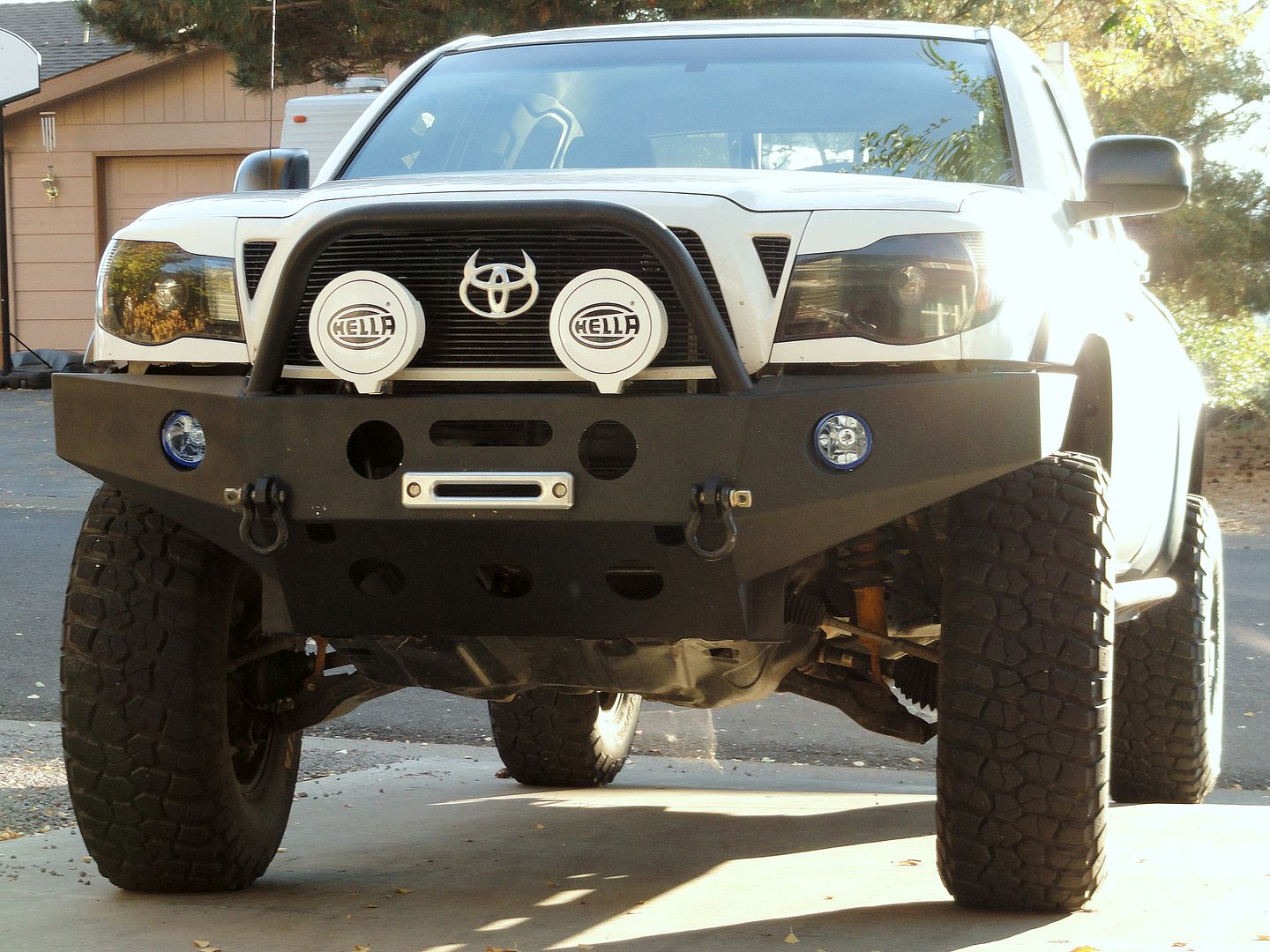 Chickenmunga's Base bumper:
Littledevil's Base bumper with fog light recesses:
Available custom CNC cut lettering/logo's etc. Inquire for cost(usually an additional $25 or less).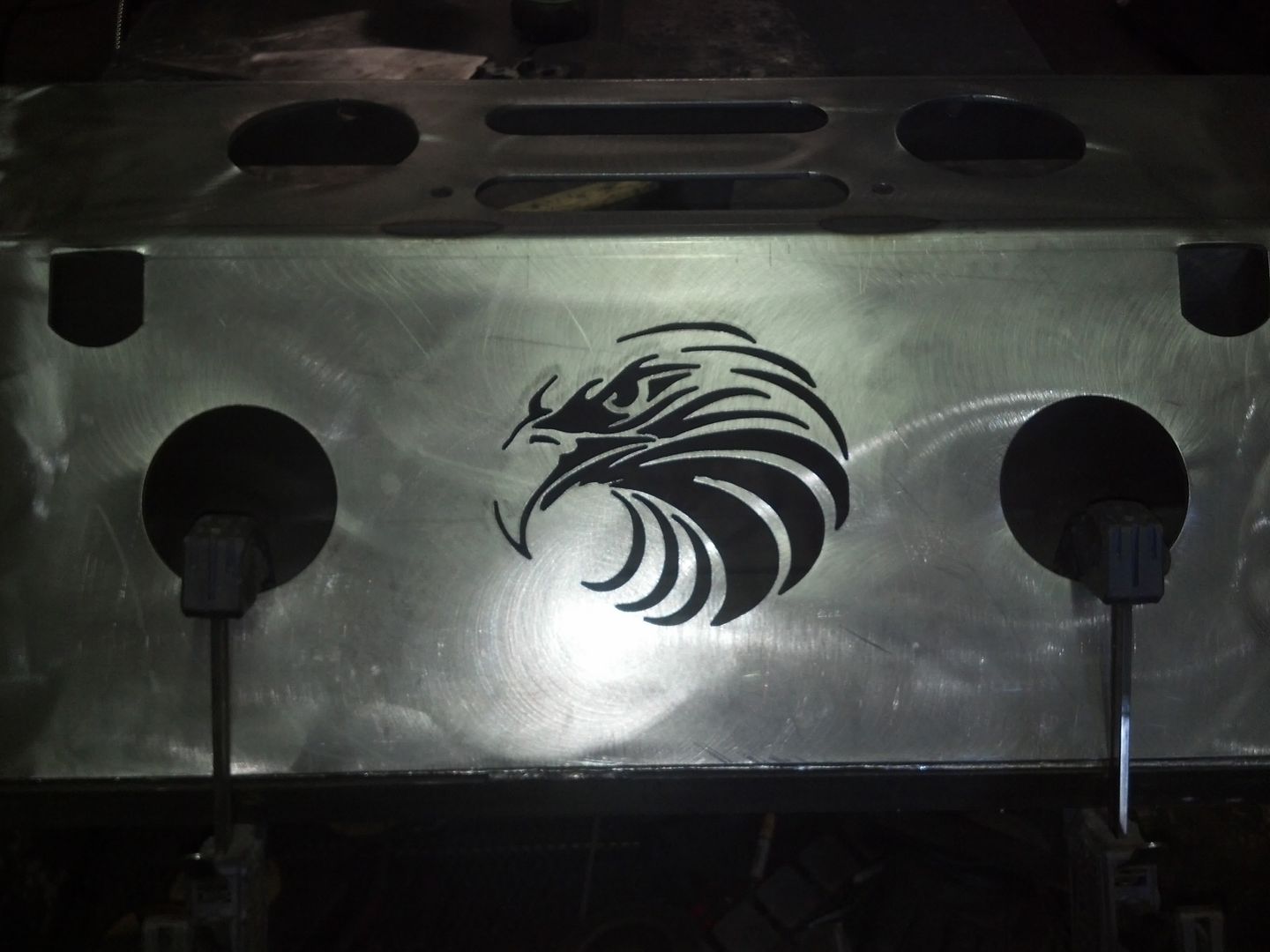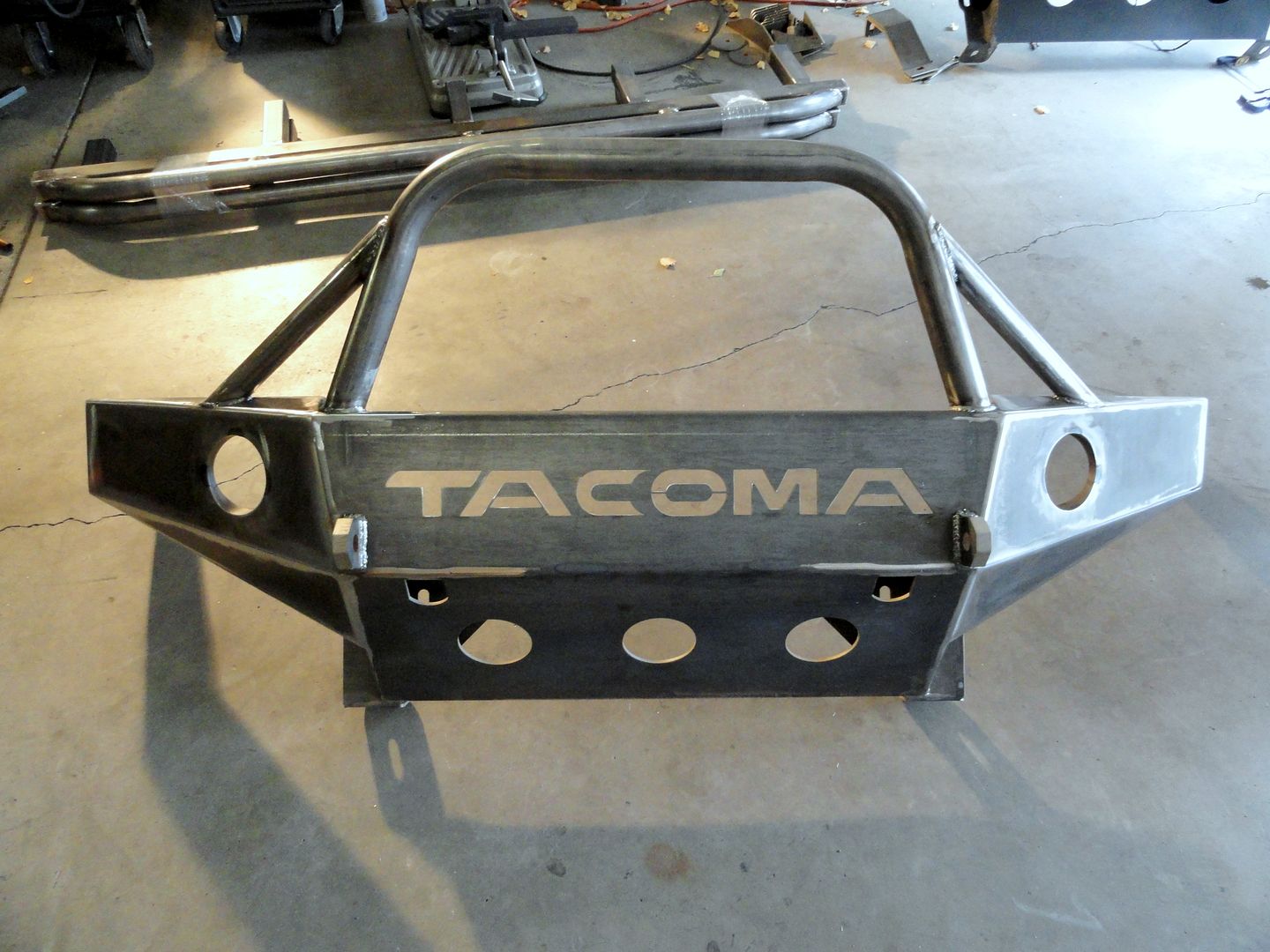 Solid 3/4" steel recovery point and welds close-up: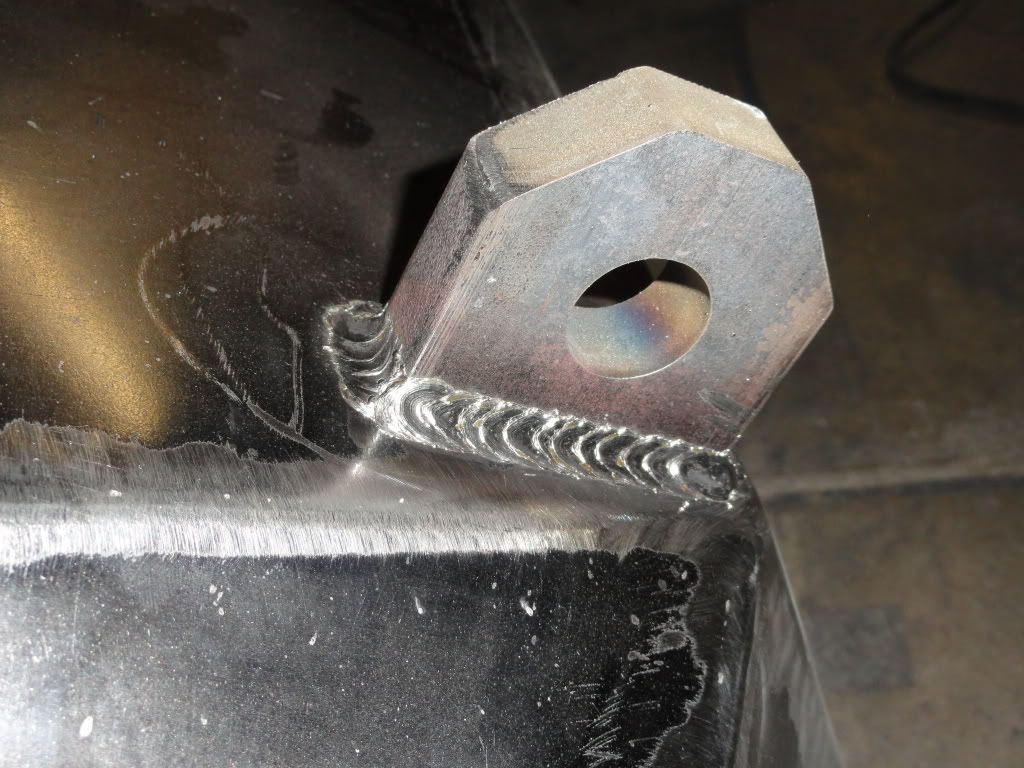 Here are some pics of my 'Uliti-Mount' Receiver hitch system mounted in a bumper. New orders will still receive the slot and mounting holes for a regular fairlead to be installed if you wish to remove the receiver and permanent mount your winch the regular way in the future instead.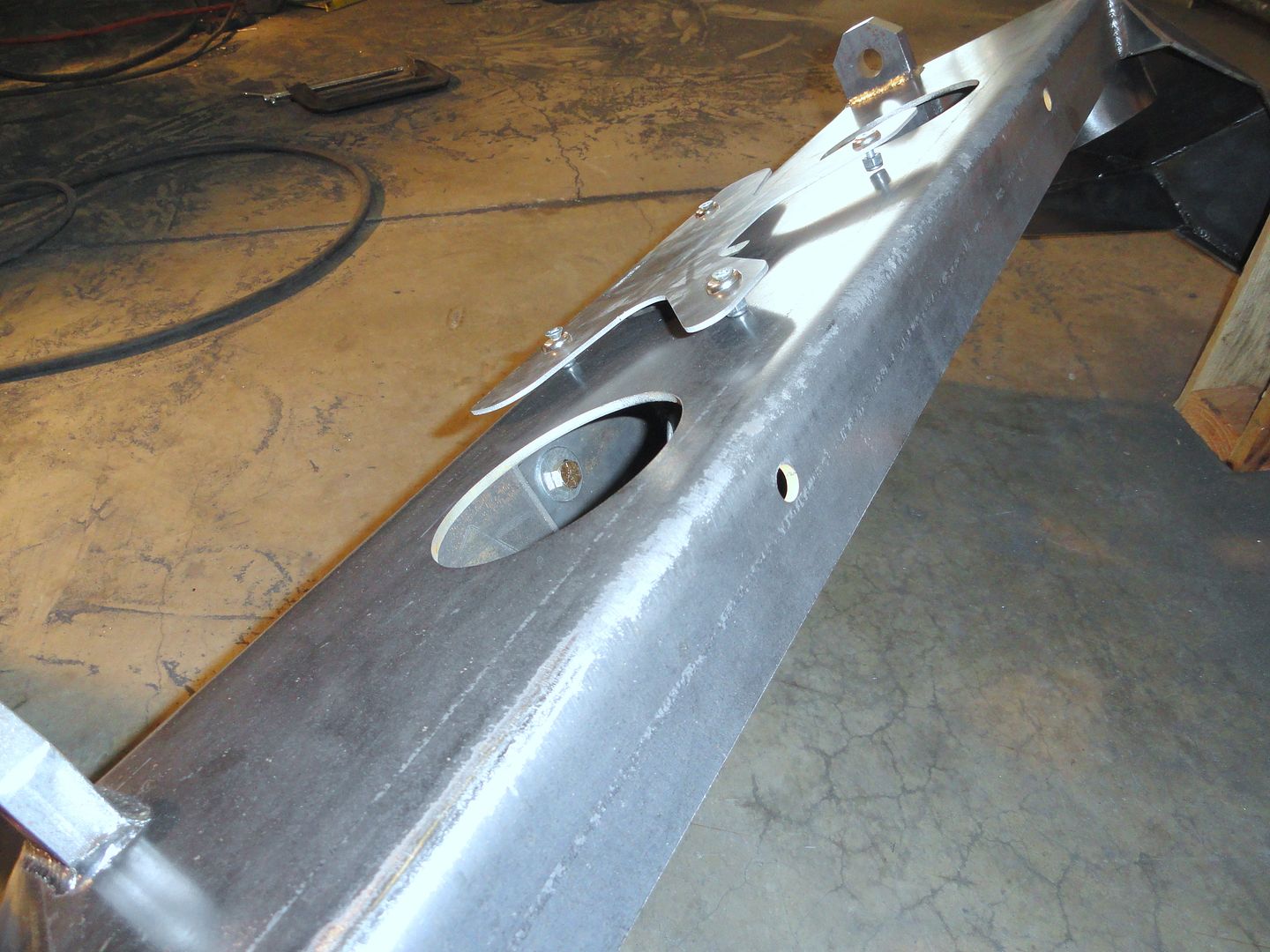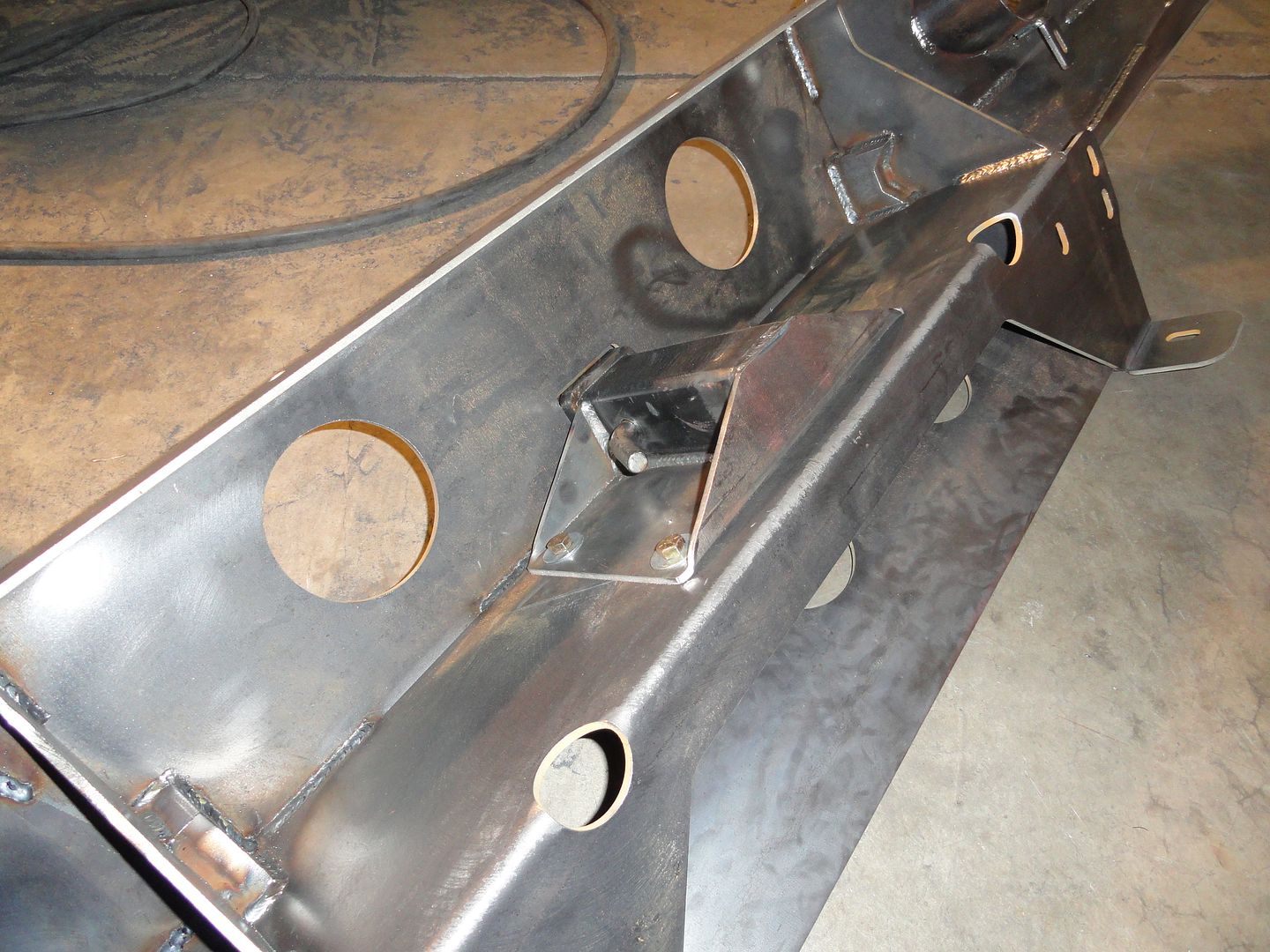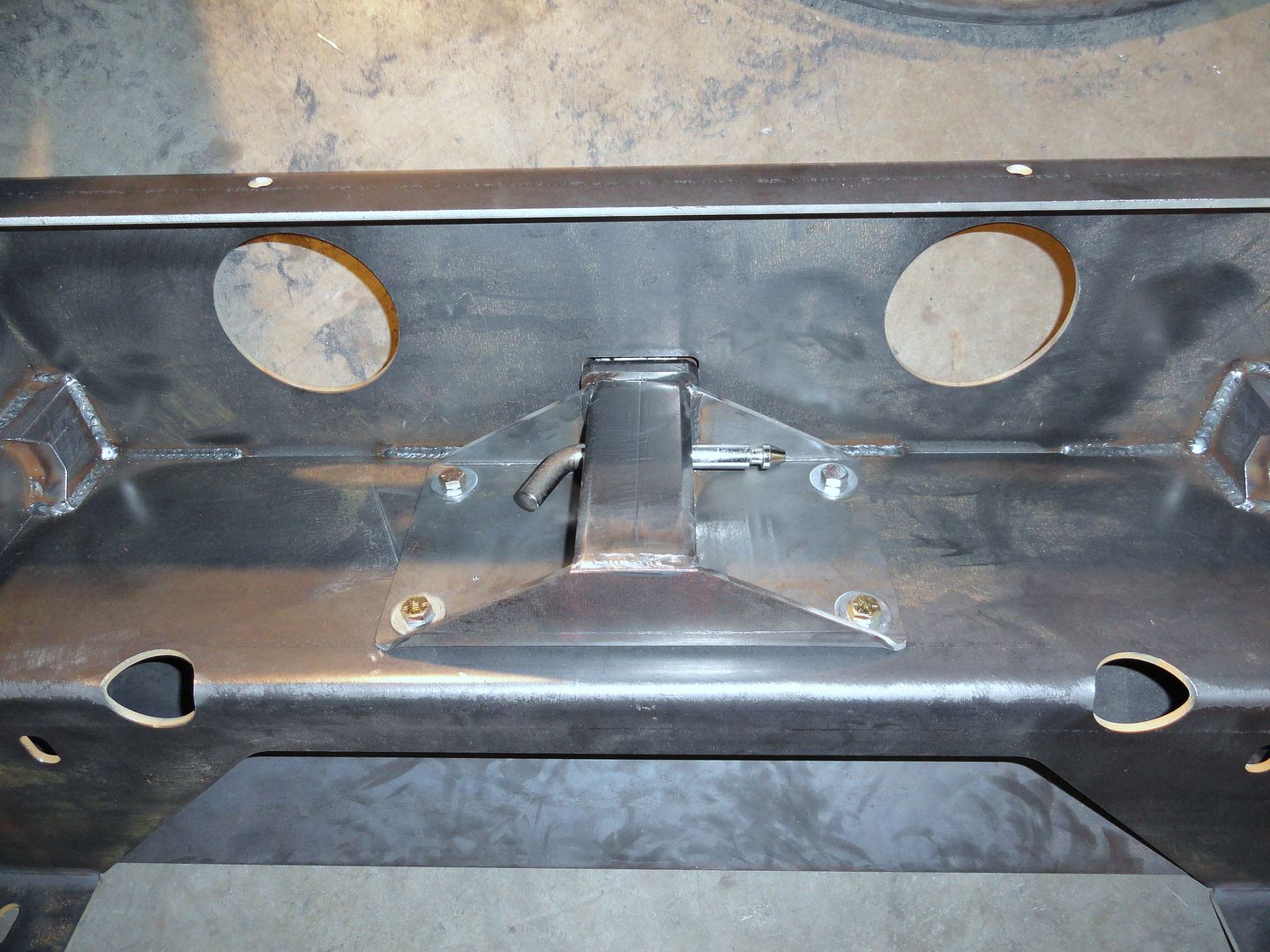 Aluminum bumper sample pics (winch holes deleted at customer request. (They're still standard on Aluminum bumpers, just like the steel bumper)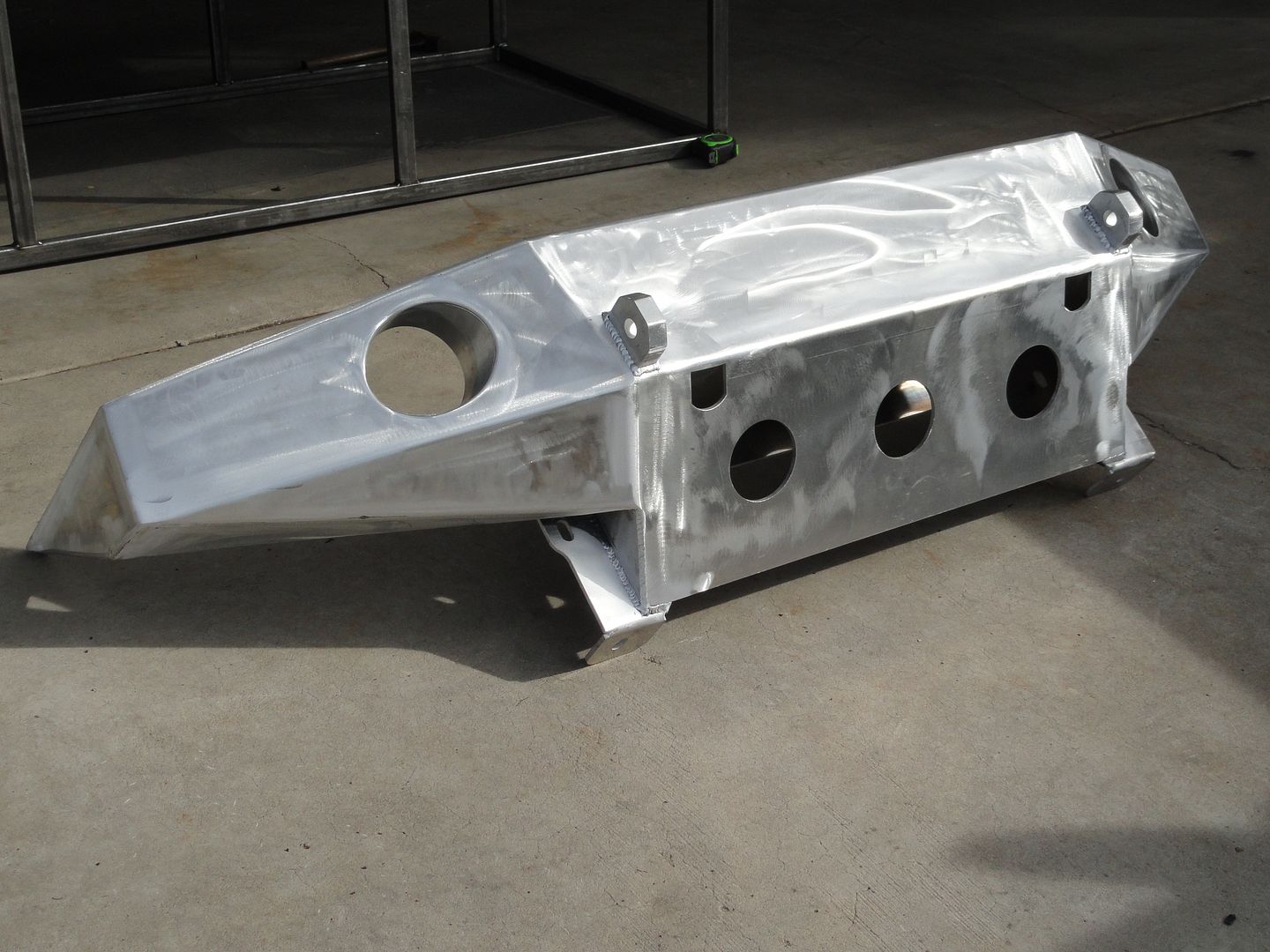 Some of my customers' trucks:
Mck419's: Base+ fogs+ hoop
Lrgrnr's: Base+ fogs+ hoop w/side bars(summit guard)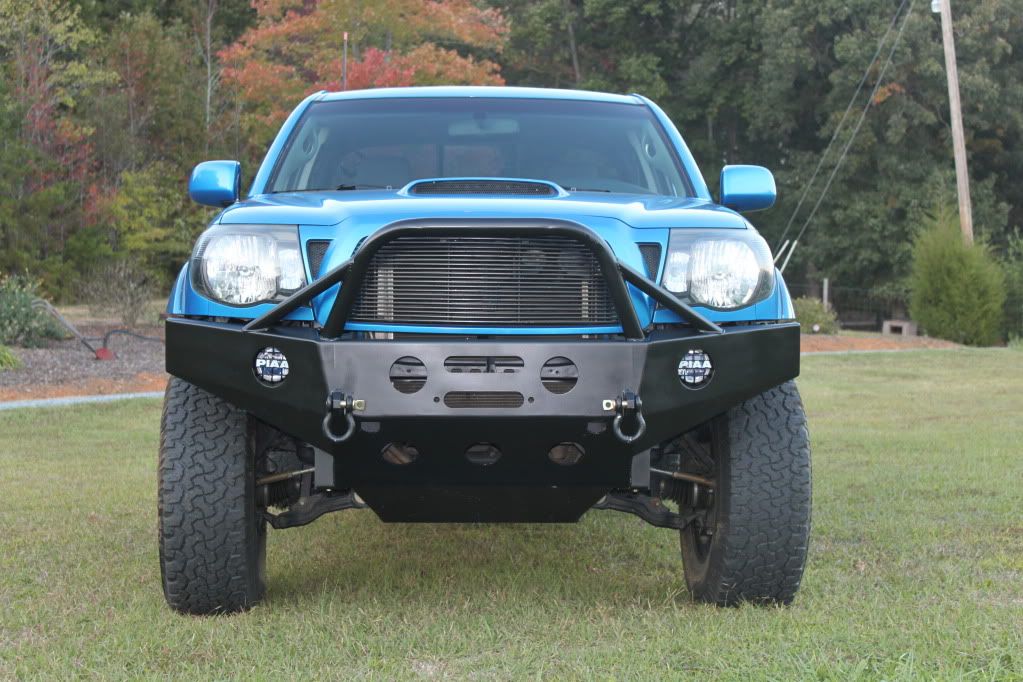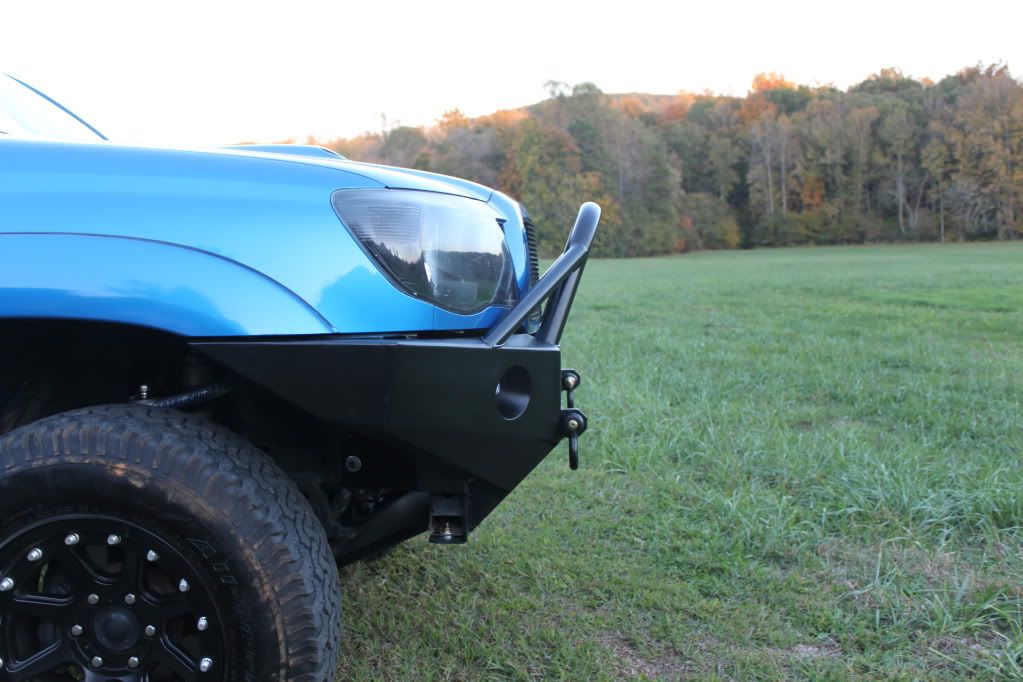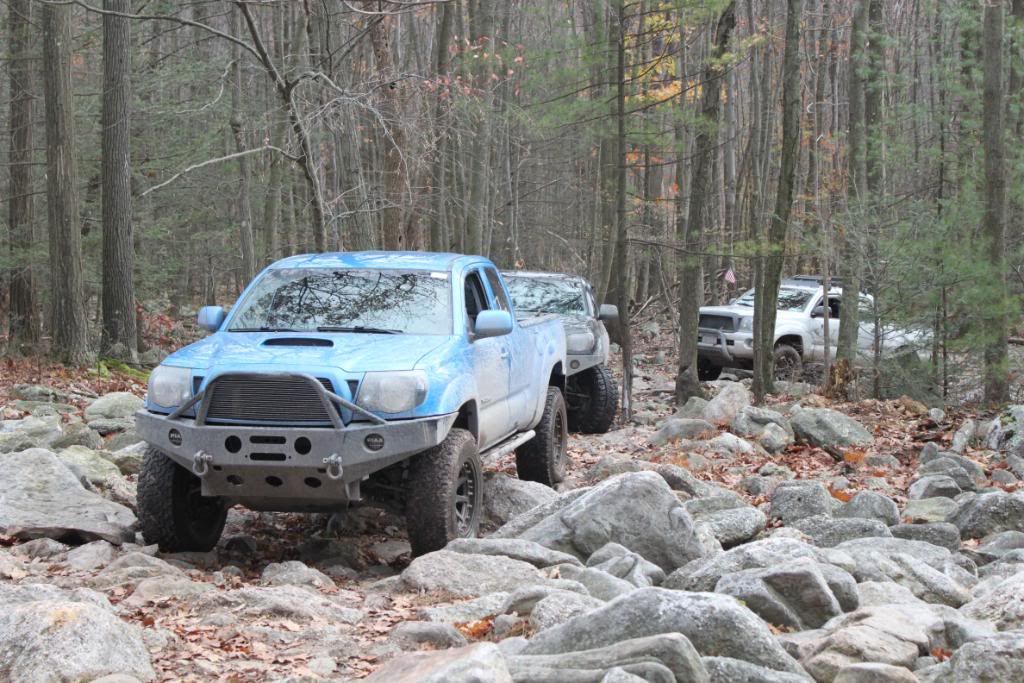 WMflyfisher's: Base+fogs+summit guard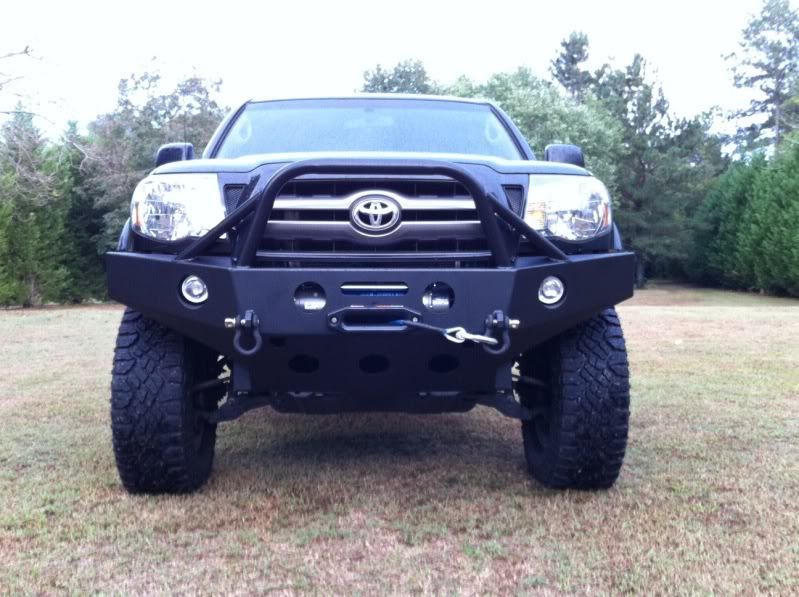 Tacotron's base bumper with TRD cut (3" BL version):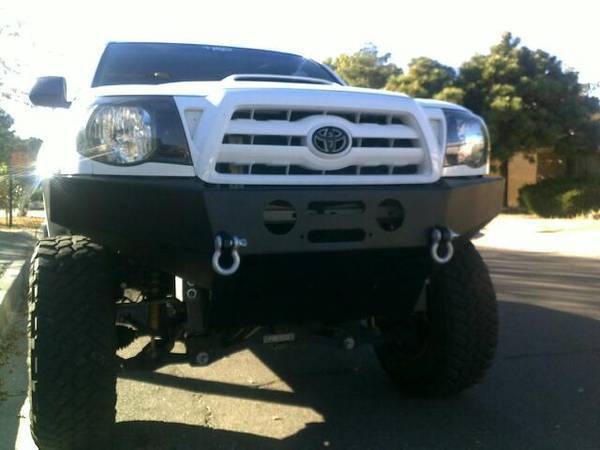 Cohrmundt's Base bumper w/ TRD cut and 3" BL mods: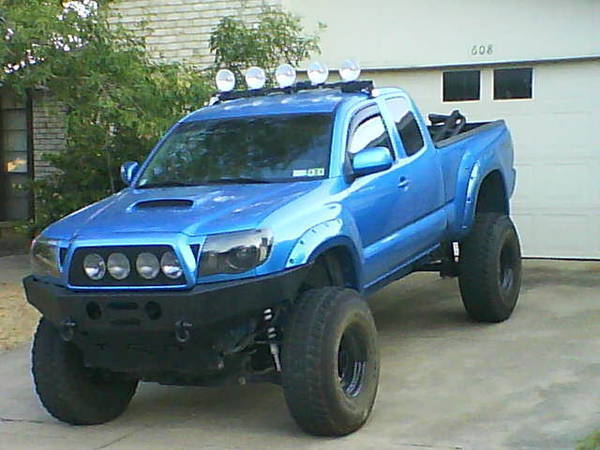 Here are some pictures of the minor mods required to install:
After removing the grille and factory plastic bumper 'shell'
1. remove this sheet metal cross bar via the 4- 10mm nuts.
2. The mounts for it on each side initially look like this: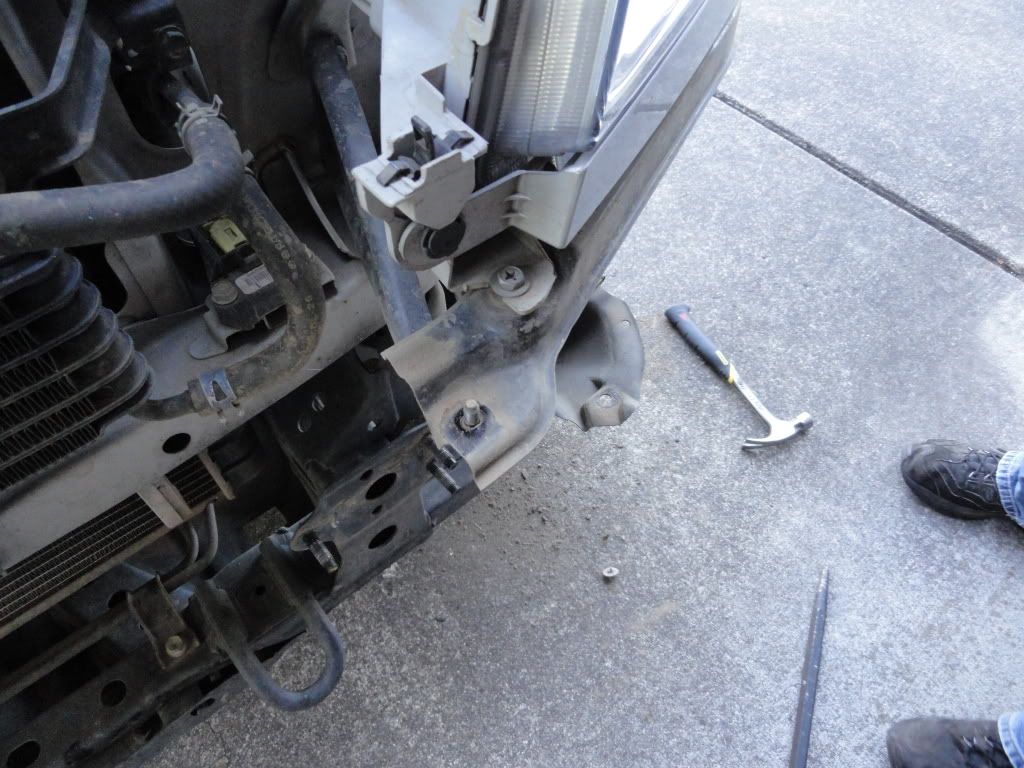 Also note the transport tie-down loop in the lower right corner of the picture; that will need to be trimmed off flush with the frame crossmember.
Shave the sheet metal corner mounts down to look similar to this and then re-install the 2 10mm nuts.
It may help to test fit the bumper after shaving a little so you don't cut more than necessary; You just don't want contact between them: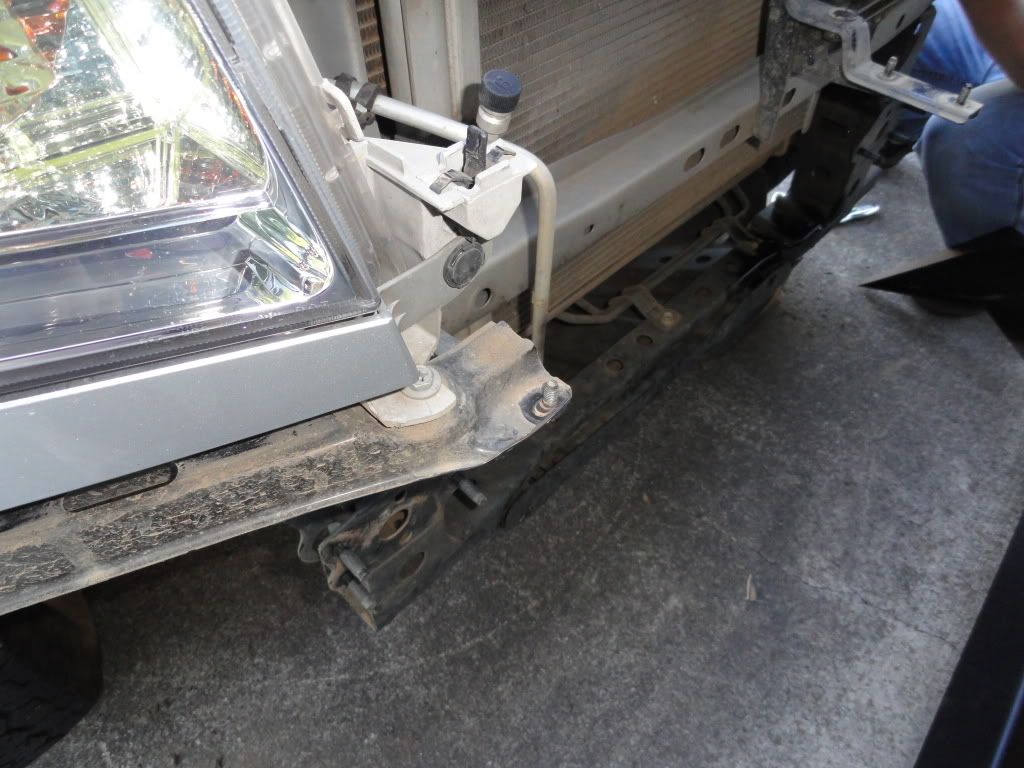 Lastly, this is an illustration of how trimming the black plastic inner fender liner will look after it's cut. I just use the knife on my my Leatherman, or a razor to trim it but some snips or even a cutoff tool on a dremel or grinder will do.