Good news! Greaseable LCA cam bolts! According to this post, MOOG has sorted out the kit and now the rear LCA bolts fit.
Quote:
Originally Posted by
Agent Smith
FedEx just delivered my Toyota parts, to include brand new LCA's. I can confirm the Moog K100128 LCA bolt kits I bought from
RockAuto
do indeed fit. These must be new, updated kits because the front and rear bolts fit like a glove. Very easy to insert into the bushings, not much play, and plenty of threads on the end of the bolts. I know, pics or it didn't happen. I will post pics later, lot of errands to do today. Just a quick update for you guys who have been waiting on the info.
To the RockAuto staff, can you confirm that all of the old kits with the wrong rear bolts have been removed from your inventory? Thanks for your help!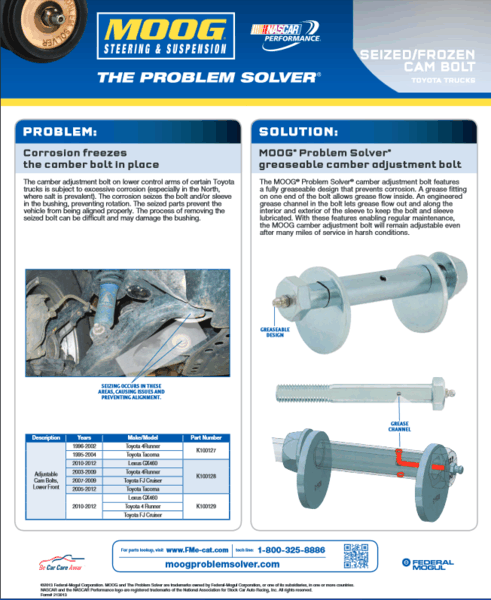 Read these threads to see why you may want to install the MOOG parts.
DIY LCA Bushing Replacement 2005+ Tacoma (4x4)
DIY LCA Cam replacement 2005+ Tacoma
Use the MOOG parts to avoid having the cam bolts seize to the inside of the bushing, which prevents alignment adjustments.