This kit does not allow for any alignment adjustments outside the range of the OEM parts.
I mention this because there was some confusion about the purpose of the kit in another thread. After a lift, if more caster is desired than the OEM parts can provide, aftermarket UCAs that add caster are required.
The only advantage the MOOG kit offers over OEM parts is the ability to grease the LCA cam/bolt/inner bushing sleeve via a grease zerk. The alternative is to make index marks on the OEM cam/mount to retain alignment placement, then remove/grease/replace the OEM cam & bolt. Failure to service the parts often results in the cams seizing to the inner bushing sleeve, making alignment adjustments impossible via the LCA.
Update:
Now that the proper bolts appear to be shipping with the kits, there have been some questions about the correct part numbers for the "cam discs" placed at the end of the bolts, that move against the alignment tabs.
I can confirm that my kits included one 826-2, one 826-4, and two 826-8 discs, and they worked properly.
Some people have reported receiving
an 826-3 disc
instead of an 826-4 disc. Please post if that part has worked for you, or any problems with the kit.
Two reported problems with the cam discs (washers) rounding out.
Here
and
here
.
Photos of the correct parts included in one kit (
thanks V5ioV
). Each LCA requires a kit.
Good news! Greaseable LCA cam bolts! According to this post, MOOG has sorted out the kit and now the rear LCA bolts fit.
Quote:
Originally Posted by
Agent Smith
FedEx just delivered my Toyota parts, to include brand new LCA's. I can confirm the Moog K100128 LCA bolt kits I bought from
RockAuto
do indeed fit. These must be new, updated kits because the front and rear bolts fit like a glove. Very easy to insert into the bushings, not much play, and plenty of threads on the end of the bolts. I know, pics or it didn't happen. I will post pics later, lot of errands to do today. Just a quick update for you guys who have been waiting on the info.
To the RockAuto staff, can you confirm that all of the old kits with the wrong rear bolts have been removed from your inventory? Thanks for your help!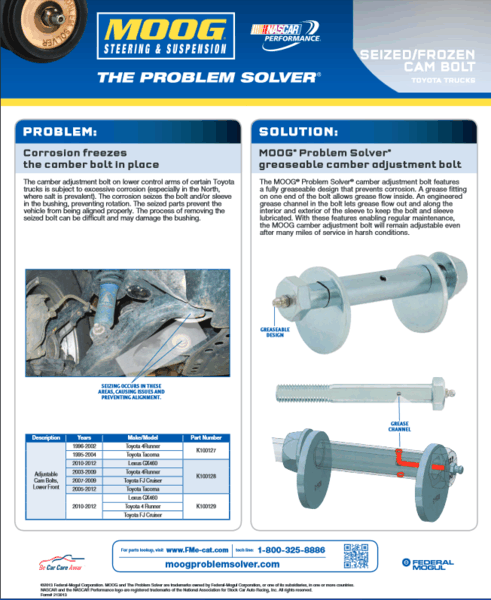 Read these threads to see why you may want to install the MOOG parts.
DIY LCA Bushing Replacement 2005+ Tacoma (4x4)
DIY LCA Cam replacement 2005+ Tacoma
Use the MOOG parts to avoid having the cam bolts seize to the inside of the bushing, which prevents alignment adjustments.