Last Thursday I got some 285/75/16 KM2's installed and wasn't even out of the parking lot before I started rubbing my cab mount. I expected this to happen considering I am still running stock suspension at the moment. Even with the Spidertrax 1.25" spacers, I was rubbing the hell out of my cab mount. In only a weeks time, I managed to rub most of the paint off of my driver's side cab mount and half of the paint off of the passenger's side. After doing some research on cab mount chops and where to get them done, I discovered that the closest shop to me that would do the modification was 3 hours away. Although I have not head of them doing this, I decided to give Heavy Metal Customs a try because they were right down the road from me. I don't personally know anyone who has had work done at their shop so I was extremely skeptical because I am very picky about who works on my FJ. I drove to their shop, talked to Woody for a little and he told me he could do it no problem. I dropped my rig off at his shop this morning and he gave me a call earlier this afternoon telling me he was ready for me to come pick my FJ up. Let me tell you what, his work is top notch. I wasn't expecting it to turn out as good as it did. Woody did a fantastic job and I highly recommend him to anyone in the area. The price was right and the work was amazing.
I printed off this article:
http://www.fjcruiserforums.com/forum...ount-chop.html
to help him out.
And here is the end result. The tires ended up chunking a little bit but I hope it isn't too serious.
Here you can see how much has been removed.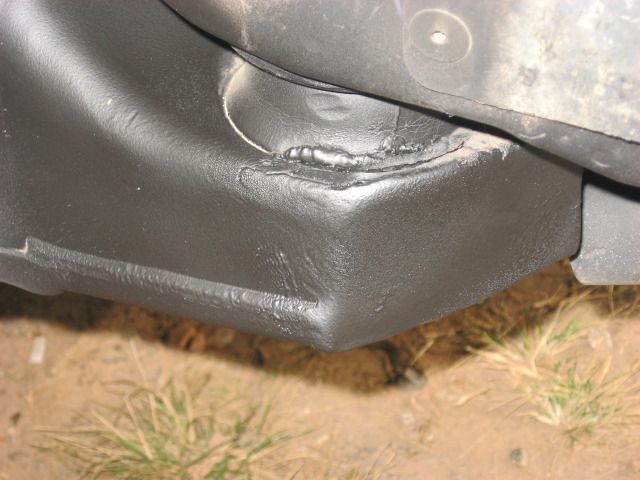 I wanted him to get as close to the seam as possible. It is pretty damn close.
In this picture it is fully stuffed and locked, yet not even close to my cab mount!
And here is the tread chunking I was talking about. They should be fine right?
I am very pleased with the work done. If you are in the WNC area and looking to have similar work done, give them a call. Here is his contact information.
Heavy Metal Customs
470 Asheville Highway
Sylva, NC 28779
(828)736-4263 (ask for Woody McConnell and tell him that Chris sent ya)