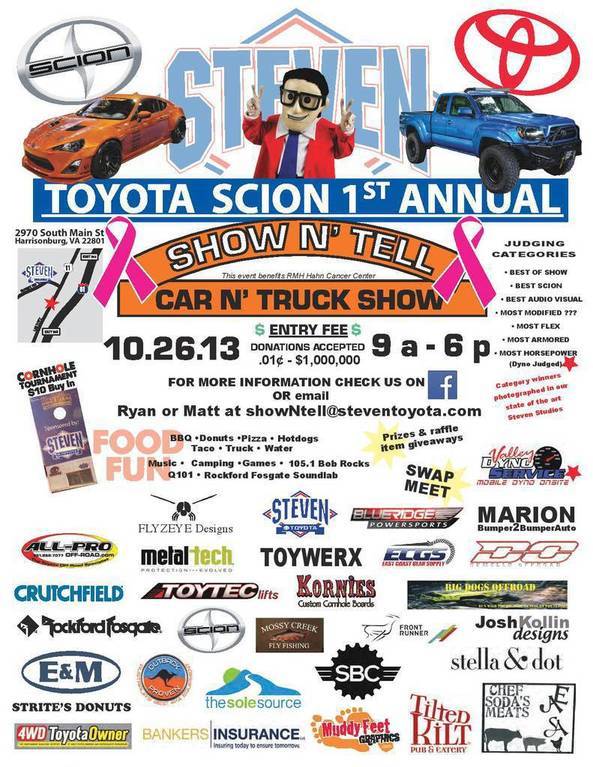 OCTOBER 26TH @ 10:00
EVENT LOCATION:
HARRISONBURG VA
2970 SOUTH MAIN ST
HARRISONBURG VA 22801
PRE REGISTRATION http://www.steventoyota.com/steven-toyota-scion-show-n-tell.htm
Whats happening:
TILTED KILT GIRLS will be at show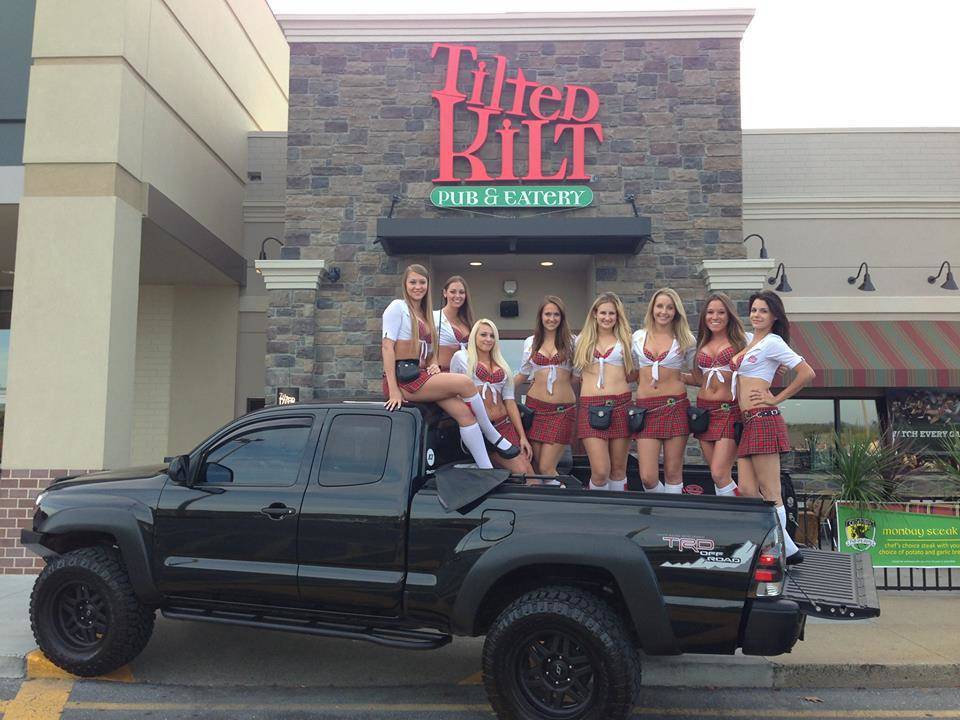 -
SWAP MEET
-Smoking
BBQ
on site
-Raffle ARB GEAR,
jerry cans, high lifts, subscription to import tuner and 4wd toyota.
-3 Different radio stations will be there with prizes also
-***********MOBILE DYNO!!!****************
-
DEMELLO OFF-ROAD, ALLPRO OFF-ROAD, METALTECH 4x4, TOYTEC LIFTS, and FLYZEYE
will be donating raffle prizes
TOYTEC RAFFLE
- one
150 dollar gift card
and
two 50 dollar gift cards
along with hats and t shirts!
Demello
has provided 6 t -shirts, several stickers, bottle openers and 3 sets of jack clamps for raffle(retail 89 a set)
EAST COAST GEAR SUPPLY- RAFFLE $200 gift card
Marion Bumper2Bumper Auto by BamaToy1997 raffling off a 75 dollar coupon off 1 pre assembled wheel bearing or 150 off two pre assembled wheel bearing kit
FLYZEYE DESIGNS will RAFFLE OFF some of their products
+++++FRONT RUNNER OUTFITTERS RAFFLING OFF SLIMELINE II ROOFRACK (RETAIL $800!!!!))+++++++
-
HOMERTACO
will be there with all his grill options
-
BIG DOGs
OFFROAD wll be there with a RTI RAMP
-EAST COAST GEAR SUPPLY
is coming with their famous clamshell bushing for 2nd gen tacomas along with other products
-
CRUTCHFIELD
vendor will be there along with competition sound vechiles
-food vendors including donut truck
-
CAMPING
on
DEALERSHIP LAND
friday and saturday night
-
Cornhole Tournament
with cash buy in
-possibly getting a group buy together on site and talking with vendor directly once enough people sign up.
-
do it yourself in the shop with the lifts/ no dummies allowed
(he said you will need to sign a waiver and there will be someone there to operate lifts)
Like us on FACEBOOK
https://www.facebook.com/#!/Stevento...page_new_likes
There will be judging for different vechiles
- best of show
-best off road vechile
-most armored
-biggest lift
-lowest truck
-best tuner
-best audio/dvd/interior
-best 5 lugger
-most flex
- loudest vechile
WINNER
of these categories will have a
professional photography
session of their vechile in steven toyotas photo booth.
pic of my truck from booth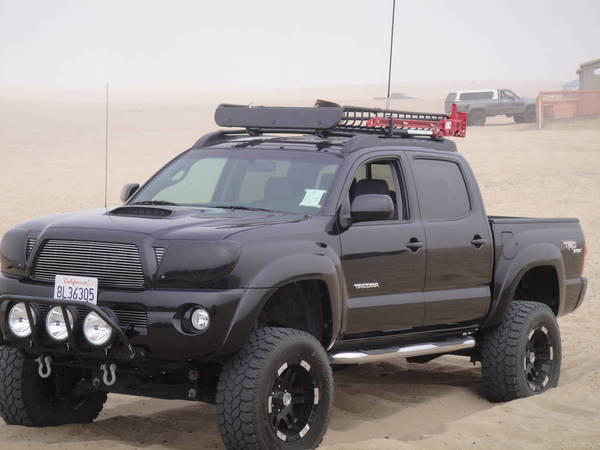 So basically-
-scion/tuner show (anyone with supras, mr2, celica, anything toyota pretty much is welcome)
-off road show
-articulation ramps
-entertainment
-prizes
-food
-
15%
off toyota products that day or 1 year expiration date
-oil filters and quarts of oil will be given away
--modding on site
Still in process for event
-Monster Energy sponsoring event
-ROLL IN DYNO for tuner guys
Proceeds from raffles will be going towards BREAST CANCER RESEARCH
Some Raffle items
OUR BIG RAFFLE ITEM ;;;;FRONT RUNNER SLIMELINE II ROOFRACK RETAIL 800 dollars
FRONT RUNNER SLIMLINE II TOYOTA TACOMA DOUBLE CAB
Product Code: KRTT001T