First and foremost I would like to thank Steve and the crew at Southeast Overland for the great deal, fast shipping and top notch customer service! I have ordered many an item from SEO and have visted the shop in person. Steve gave me some great training on splicing winch line and walked me through a ton of techniques that I have stored in my noggin in case I ever need to do some trail surgery on a winch line! So please give them a shot! You won't be disappointed.
So now onto the headlight kit. I already have a Lifetime LED light bar and think they make a good product at a good price. These headlights were no different! The fit and finish of the bulbs, driver and wiring were all very high quality. Lots of billet used and very nice black finish of everything.
Package looks like this upon arrival.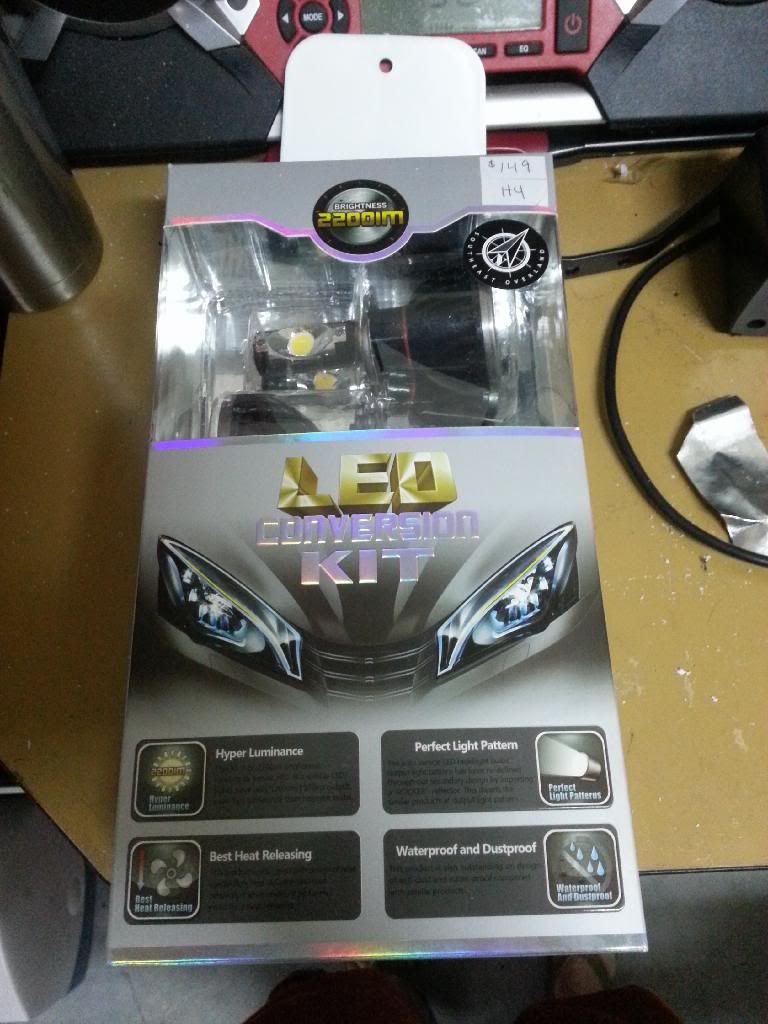 Here is a side by side of the driver next to an old HID SLIM ballast I had to give a little perspective on size.
So install of these on the Tacoma is completely plug and play but is not what I would call a 5 minute job. A couple of folks here had stated that they just went right in and I think they either bypassed a few details or forced some stuff in place. To make this clear you MUST remove the washer fluid reservoir and slack the battery inboard to be able to get them in. If you disagree then you are a ham fister or didn't use the rubber covers.
Those folks with dual batteries should just stop reading now...not going to work. The fans just stick way to far out. I will be swapping to a group 31 battery soon and think I am going to clear but it's going to be close.
So the good: the light output is easily twice as much as halogen, the cutoff is clean and they aren't blue. I really appreciate these 3 goods. I'm not going for a rice burner fast and furious rock crawler so the color and light output are perfect for the real world. The fact that the cutoff is so clean is going to keep everyone else on the road happy too.
And of course there is some bad: these bulbs are super heavy! While that may not seem like a problem it is. Basically these H4 bulbs are held in by a small swinging clip that puts a little tension on the back of the plate in the housing... this is where all the weight is supported and on a normal H4 halogen it works well. On these it acts as a fulcrum since there is so much wieght on either side and the bulbs are a bit bouncy inside the housing. ***UPDATE*** I was thinking I would have had a good amount of light bounce but I hit some pretty rouch roqds this morning on my way to work and there was none! They really surprised me when they stayed rock solid. So my only con is a non issue in my book now but worth mentioning.
Bottom line- I am really happy with my purchase! I would absolutely buy these again and recommend them to anyone looking for more light without wanting a Retrofit. These are just what I was wanting. Don't want the hassles of a Retrofit and won't run HID on the street without a retrofit. These give me more light without having any side effects like water intrusion in my headlight, blinding oncoming traffic and being a weird blue color! I absolutely recommend them to anyone looking for more light without wanting a retrofit.
Some photos of the lights with them on
And with my light bar on, note the color difference. The bar is very blue IMO.
Hope this helps some folks that were on the fence about buying these just like I was. Feel free to ask questions.