Please bare with me, this post is long haha
This was my first little "Mod Day" and it ended up being pretty awesome. But before i talk about that, I have to talk about this; About a week and a half ago i ordered the
Icon
stage 2 suspension kit from four wheel parts, and they gave me an ETA of the parts to arrive at Four Wheel Parts on wednesday, and an ETA on install on Thursday (The just passed wed & thurs) . So, i pay my dues and sit around for this kit to come (extremely excited) and wednesday rolls around.. and being the over-excited person that i am, I called
4WP
and asked if my parts were in.. And they immediately changed the whole parts on Wed and install on Thur, and said they're getting the parts thursday and installing friday.. Now, I didnt want to be a dick, because i just wanted it done before the mod day, so i let it slide with no arguments. Then friday rolls around i drop my truck off at nine in the morning, with an ETA of being done at 6.. So six o'clock rolls around, i call and see whats up. And what i was told blew me away. "we dont have the parts, we took the truck all apart and Icon missed the UPS truck"
I was pissed.. And immediately i told them that this was unnaceptable.. After 4 or 5 phone calls to both Icon and 4WP.. It had turned to both sides blaming eachother and NO one trying to resolve the problem.. They were trying to tell me that i had to wait til monday to get my shit.. which was unacceptable.. So after tearing both of them a new asshole, Icon finally manned up and had it shipped friday morning and it was installed saturday at three.. BUT Icon has they're new whole NEW SHOCK thing going on, so i have to wait another week because they build theyre new shocks in house.. I would have been bumbed about this, but the kit comes with a BAD ASS progressive leaf set.
Whew..
When i picked up my truck, I immediately noticed how flush the lift was on my truck, looked fantastic.. Even just with the leaf kit the back end looked great.. And even walking up to the truck I could see the Coil over's shining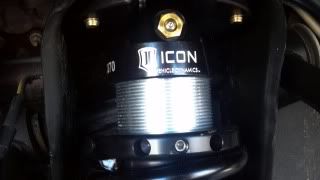 So after the 4WP fiasco, It was off to San Diego (Specifically El Cajon) to meet up with Greg (Gregero) and Matt (Reckless Taco) to start on some mods i wanted to do. El Cajon was about a 2 1/2 hour drive from me (Hermosa Beach)
Alright, enough story time..
When i got to El Cajon me and greg went to frys to get all the BS for the CB.
When we arived back at gregs, Matt was already waiting and we started on the CB. And greg Seafoamed his truck.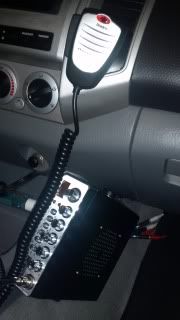 After installations we headed out to Orozco truck train in Ramona to test out the new suspension
as we were bumpin around the trail, I was completley amazed by the changes in my suspension. The diffrence was unbelievable..
As we rounded a corner Greg shouts over the cb "JUMP!" And i look forward to see him gun it and go over this nice little jump, and instantly i started thinking "I think i need to give this set up a good test.." And i immidatley gunned it and hit the jump. I was seriously shocked on how smooth everything was, no bottoming out, only a big buck in the back due to my new leafs and old shocks..
I <3 Icon
After that, we had to stop and do some quick repairs due to matt hearing some clanking noises which ended up his UCA's were EXTREMELY loose..
When we did the repairs, we decided it was time to head home, (it was already 11:30)
As i headed back to hermosa, not excited for the two hour drive, i got extremely tired and had to stop to energy drink up!
Sorry about this long post, i feel like i just wrote an essay!
Much thanks to Greg and Matt!