June 3, 2012
SUNDAY

10am

~Silverado~

Meet up address:

Cook's Corner
19152 Sayntiago Canyon Road,
Trabuco Canyon, CA 92679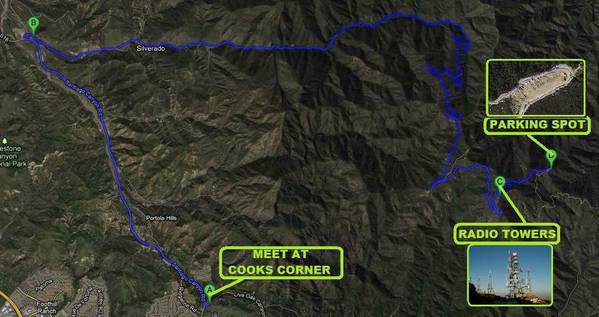 5 more days to go!
~List~
1.Goflight2 - CB
2.Blueinstinct - CB
3.The Traveler - CB
4.Rmesa1
5.stmpjmpr
6.Bosworth5
7.Bosworth5's friend
8.Runningtaco47
9.f3nd3r (50/50)
10.tattoo981 (50/50)
11.xgalvanxgx
12.trooper12 - CB
13.CedtheEntertainer
14.cbassd
15.Wildandtaco (50/50)
16.senn4586 (50/50)
17.IslandBoy71
18.Wholito
19.Greenbergler
20.boshak (50/50)
21.shweller - CB
22.sernaj64 (75/25)
23.TXPRO4X4 (50/50)
24.tacowestley (50/50)
25.whippersnapper02 (50/50)
26.?
27.?
What to bring:
~CB RADIO (if you don't have one its okay.)
~Food,Water,Snacks
~Wilderness pass at Big5 for $5
Bring all the stuff you think you'll need like Sunscreen, Insect Repellent
Windbreaker Jacket, Folding chairs etc.

EVERYONE ARE WELCOME TO JOIN!
OC members there's plenty of time to prep for this meet (5 Days to go) 4x4, 4x2 Prerunner Friendly!