I just return from offroading today at Cleghorn road. I spent the morning skiing and then the afternoon offroading.
The road was fairly dry with minimal snow. I made it about 9 miles in before having to turn around because it was getting dark. I was very impressed with the tacoma, I took all of the hard lines with one exception and never had any trouble. On the tougher steeper lines I would try 4x4 high first but would not usually make it up. But every time I went to 4 low and engaged the rear locker the tacoma went up everything I tried. The best part of the day when I was following a full sized Chevy with 35" tires. He went up a hill and then quickly turned around. He said he fell in a hole and got stuck, and then highly suggested I bypass this hill. When I said I would give it a try (stock tacoma with offroad package) he looked surprised and said he would wait at the bottom of the hill so if I got stuck he could pull me out. Now while I appreciated the gesture it felt great to charge up the hill and not even slip when I hit the hole. Ohh what a wonderful thing a locking rear diff is.
The only line I bypassed was being done by a highly modified sazuki that looked like a jeep. The driver was going up a steep, narrow rutted line that almost tipped him over several times. He had to use his winch multiple times so that he could back up and not tip over. It was a hard line that I had no intention of trying but it was fun to watch.
Overall it was a good trip and I continue to be impressed with the Tacoma. I have included a few pictures, unfortionately there are not of the hard lines because I was alone and did not want to stop the truck to take a picture.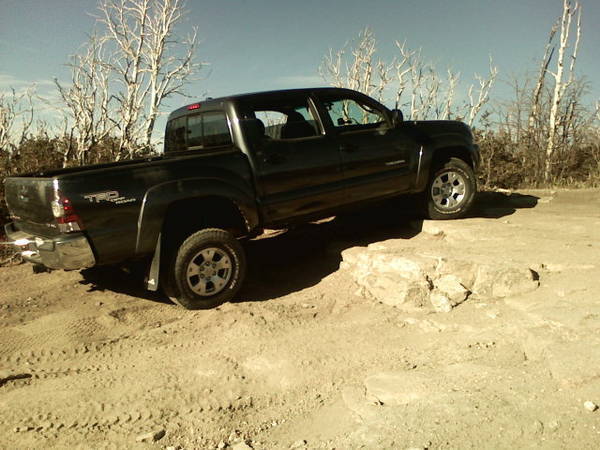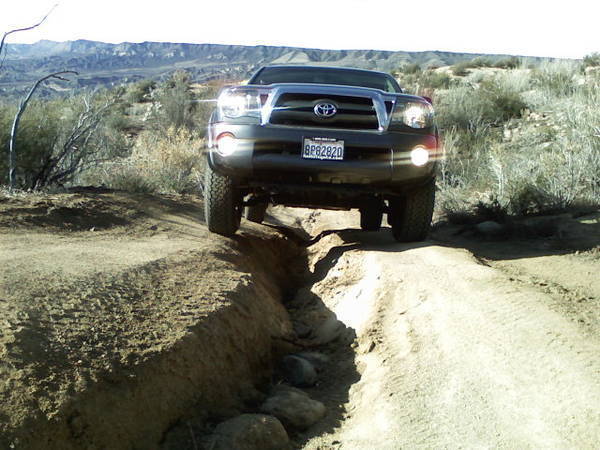 I was a little worried about this line, I did not have a spotter and was worried about falling in the crack. Just my luck I had seen trucks all day but not when I was doing this line. The crack was 30 feet long and I would drive 5 feet and stop to check the alignment because I could see the crack from inside the truck.