What a wonderfully, amazingly, jaw-dropping adventure we're gonna have
tomorrow
, folks, so come on down and join in the fun at Rowher Flats in the beautiful desert dirt near Santa Clarita!
There are a ton of trails for 4wd, 2wd, and unicycles if you so choose, so come one, come all!
Let's meet at 9am at the first staging area when you take Rush Canyon Rd, and then we can drive to the black diamond trails. I've done the trail once, and saw some pitiful stock Suburban with terrible tires doing the same trail down. By the expression on his face, it looked like a painful trip for him, and I assume his truck burst into flames not long after we passed each other. Which TWer was it that busted their truck on one particular hill here, too?? We should have fun.
Rowher Flats
Exit Rush Canyon Rd off the Sierra hwy.
Staging Area 1 is off Rush Canyon Rd at Texas Canyon Rd.
Sunday August 25th at 9am
There is a picnic location at the top, so bring beer and snacks
http://www.dirtopia.com/wiki/Rowher_Flat_OHV_Area
This is what happened last time I went: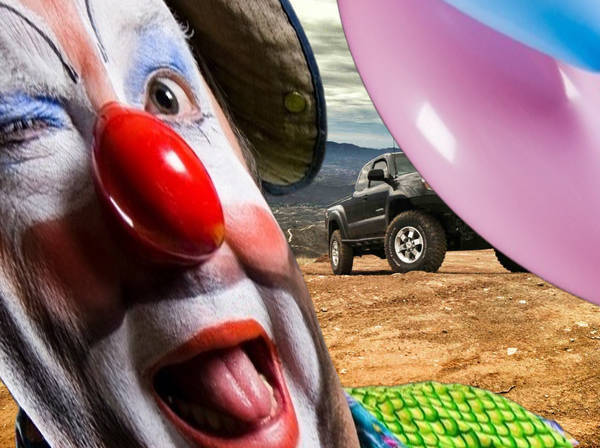 As you can see, a clown full of fun walked by at the same time I was taking a kickass photo, but it just goes to show how much awesome is at this place.
So far, we may have
:
1) carcharias (me)
2) ManWithoutAPlan
3) WildlandTaco
4) Mario & Sigi (maybe)
5)
you and your awesome truck? Could it be true? Oh, wow!