The next ride scheduled is...
When: Saturday, May 10, 2014 @ 2PM
Where: Mission Trails - Tierra Santa side
Meet in the dirt parking lot for group photo.
Open to all Mountain Bikers
Updated 4/17/14
#1 on the list below.
What to bring on any ride...
1. Helmet – no helmet, NO RIDE, no exceptions.
2. Bring your "Camelback." It may get VERY HOT. Key point is to bring water in any form or fashion.
3. FOOD - Try to eat something before the ride. Bring energy type bars or pocket food if you need to eat on the trail. I would expect that we'll grab a bite to eat together after the ride in our tacos. In-n-Out is always a good favorite.
4. TUBES unless you run tubeless tires like myself
5. CAMERA (So we can post on TW)
6. SUNSCREEN if you need it.
7. SUNGLASSES.
8. ? - Anything else I forgot.
TW Contact List
- Starting this list over again. Current as of 11/17/13
1) W8N4MUD / Albert
2) SKULLY / Dave
3) BrownMike / Mike
4) Boopie / Ramon
5) 2ski4life7 / Grant
6) WooJoo83 / John
TRAILS IN SAN DIEGO - In no special order.
This site may be a little outdated but still useful.
http://www.mountainbikebill.com/index.htm
1) Mission Trails - Tierra Santa side
Construction at the end of Clairemont Mesa Blvd. I would strongly advise on not parking there. There are white stripes on the floor which look like parking spots, but they are hash marks. Parking enforcement does ticket there. Instead park at the end of Calle de Vida. Google it.
2) Mission Trails - Santee Side
There are many loops and trails on this side as well as many places to park like the visitors center (Mission George), off of Mast or on Father Junipero Serra Trail. The most popular trail here is known as uphill alley. It's a gradual incline that is very rewarding when coming down. You'll need to ride under the 52 bridge to find it. Lots of cool off shoots especially to the west side of that same trail. Be sure not to pass the "Entering Gov't Property" sign. Word has it they look for civilians and send enforcement out to ticket because its a weapons range on the other side of the hill.
http://youtu.be/FoRcKDMEx0Q
3) Martha's Grove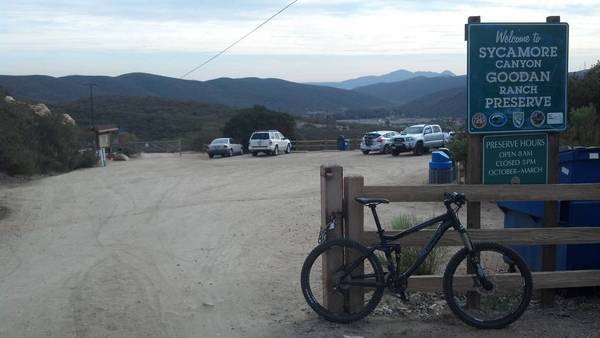 Poway Road. Turn onto Garden Road (7-11 at the corner) and then right on Sycamore Canyon Rd. Take it all the way until it dead ends. You will find a small parking lot. It's my suggestion but start your ride by going left to the top side of the mountain before heading down the other side to to do the loop. There is another entrance to the park that does NOT meet up with this meeting point. It's off Highway 67. It drops you to an upper lot where you immediately start with rolling hills before you drop down. The only problem is the up hill to get back to your car. It's brutal, but its also a fire road.
4) Sycamore Canyon
In Santee. Park off of Mast near the high school - before Medina Drive. You'll end up riding parallel to Santee Lakes all the way to Poway (Martha's Grove) & back down.
5) Noble Canyon
WOW! If you can ride it uphill...
Enjoyed mostly as a down hill trail, you'll want to have a ride back up to pick up your car. 2 hrs of fun (give or take). Have strong wrists and lots of water. Adventure park pass I believe is still required. Sunrise Hwy to Mount Laguna to reach the top. The bottom is off Old Hwy 80. Turn on Pine Creek Road (Sharp turn). Follow the signs to parking lot.
6) Daley Ranch
In Escondido. From the 15, exit El Norte Pkwy and head East. Make a left on La Honda and take it until it dead ends.
7) Los Penasquitos Reserve
On Black Mtn road near Mira Mesa to Sorrento Valley Blvd parking lot and back. In the valley. Great for beginners in my opinion because of rolling hills and loose gravel in many areas.
8) Marion Bear trail
Off the 52 and between the 805 & 5. Exit Genesee and park in the parking lot immediately South of the 52. The trail is short and quick with the option to ride through Rose Canyon. If you do that, take Genesee (part Road) South again to the same parking lot.
9) Hollenbeck
At the end of Otay Lakes Road where it meets Hwy. 94 on Honey Springs Road. If you want to practice your climbing, then this hits the spot. Uphill single track, fire roads and technical climbs are all here. The downhills are somewhat rewarding. It gets HOT! Don't eat a lot before riding this one.
10) Sweetwater
Off Mount Miguel on Paseo Veracruz in Chula Vista. There are many trails within this area. Many hills too. You can extend the ride by riding the valley which will drop you off near Jamacha/Hwy 94. Ride the trail back. Once you hit the horse gate again, you'll have the option to change up the trail some more by taking the other path at the "Y".
http://youtu.be/wL8oecIWSaY
11) Chula Vista Loop
Frankly, I don't remember this one as much. I know we used to park at
Performance Bike
in Bonita, ride through Glen Abby and then from there its just a blur. I remember coming out of Southwestern College, riding along sweetwater too and even coming back through the Bonita golf course. Feel free to give me details on this one and I'll add it in.
12) Lower Otay Lakes Trail
Short & sweet. Ideal for beginners. Canyons and other trails behind Olympic training center as well. Upper Otay Lakes has a couple as well for added fun.
http://youtu.be/harECXanJwg
13) Anderson Truck Trail
Alpine. From what I remembered of this ride, I had a blast. Long uphill climb with a loop at the top and then back down. I believe it was next to El Capitan Lake. Exit Tavern. Head South. Make a right on Alpine Blvd and another right on Peutz Valley Rd. We parked under the bridge but from there I don't remember. I had heard that the entrance to this trail was on private property and that it was closed off. Chime in guys.
14) Lake Hodges
I don't know much about this trail either. I took it once before but limited myself to the west side of the 15. At the time, I was unaware of the East side. I plan on hitting that trail soon. I see people park across the street from the North County Fair Mall all the time where the golf range is at. Many of the riders are all geared up. This is off Via Rancho Parkway.
15) Carrizo Gorge in Jacumba, CA
Starting point is the parking lot across the street from Chevron/Shell at the Jacumba exit. Follow the road to the west. It travels under the I-8. Connect to the railroad when you reach the nudist camp site entrance (but don't look right).
Here's a video of what to expect.
http://www.youtube.com/watch?v=J1l7b5UHWfQ
Pictures: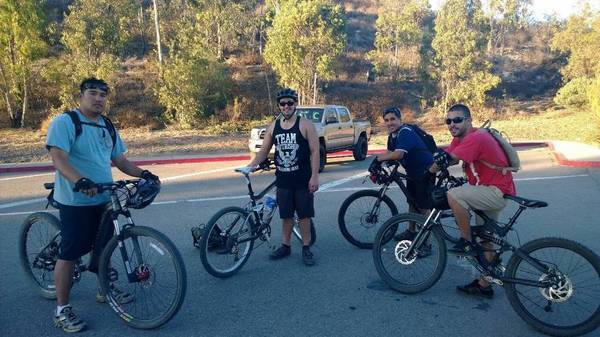 Let's do this!