I've been playing since I was 12 years old. Still got the kit I got for Christmas that year, coming up on 7 years old now.
It's a Peavey International Series (cheapo) Sounds good for what it is.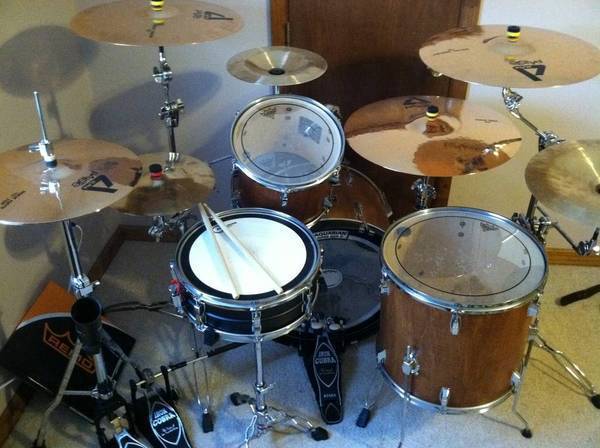 Here's the specs:
-Peavey Shells (Standard Sizes) It was originally wine red wrap finish, I tore it off and sanded it and stained it dark mahogany, polished all the chrome, painted my bass drum hoops flat black. My snare is a 14x6 steel Ludwig (don't know which model) I found it under my buddies shed that his band practiced in haha. I cleaned it up and painted it flat black as well.
-Tama Stands with Aquarian Cymbal Springs
-Gibraltar Snare Stand
-Iron Cobra Hi-Hat Stand/Iron Cobra Double Pedal
-Paiste Alpha Hi-Hats/Crashes/Ride
-Wuhan Chinas/Splash
I can't wait to get the cash to upgrade my shells, I want a five piece when I do, the 4 piece ain't cuttin it for all the metal covers I've been learning.
I love playing all kinds of music. Every band I've played in though has been either metal or hardcore. I'm actually learning an album now for a pop-punk I'm about to join. Super pumped for that.
If anyone else plays post up pics of your kit and what kind of music you play! I'd love to see it!