Rear shock replacement... generally a simple, straight forward job. Not something I was planning on doing, but something that I discovered needed done. Not a big deal right? Well, even though the drivers side gave me some grief, it wasn't too bad with basic tools. Here's my alternate method...
Note
: None of the names were changed in this story to protect anyone, since I was the only one involved.
On with the story;
It was a dark, rainy night... a curvaceous female figure under the pale glow of neon street sign. She was wet, yet looked SMOKIN' hawt as I rolled by in my Taco... wait, wrong story...
Doh, yeah that's right... shocks. This one was seeping oil -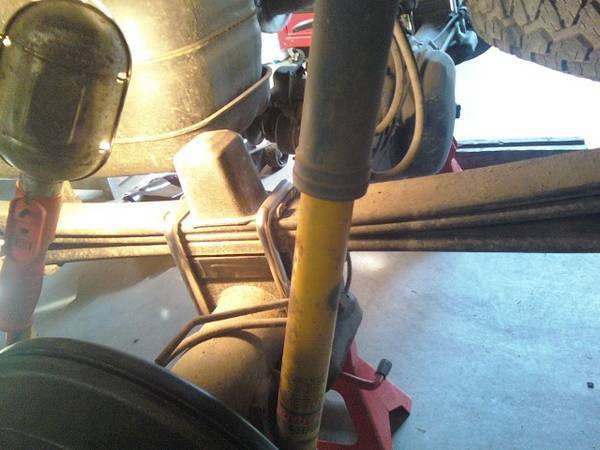 I found it purely by accident, having removed all the stock alloy wheels for powdercoating. A wee bit of oil 'round the back of the shock body. Now's the best time to get a new pair bolted on. So, after my newest Tacomaworld buddy, ( props to
Special_K
) hooked me up with a sweeeeet deal on a pair of stockers with 4K on 'em, I set to swap them out. A couple wrenches and we'll be done in about 30 minutes. Or not...
Using the flat spot atop the shock rod, (after slipping the proper sized ratchet wrench on the top shock nut), I clamped on a genuine pair of Vise grips making sure not to trap the wrench below, and went to the task of removing the top shock nut...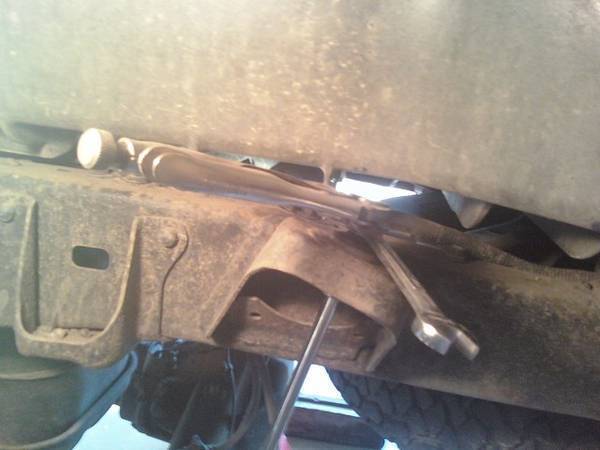 Alas, the nut was strongly opposed to this. In fact it was so tight that I was unable to prevent the shock rod from spinning in the shock body. I did make a few adjustments to snug up the Vise grips, but quickly realized that I was about to spin that flat spot right off of the top of the shock rod. Ewww... that's not good. Hmmm... let's apply some HEAT!
I had already slid the blue plastic dust boot down the shock to allow me to visually inspect the shock rod... more so to keep an eye on that shock rod to determine if it was staying put during the failed upper nut removal attempt. This also kept the torch flame from igniting the plastic cover.
I'm without a pic of this step, as I was holding the torch and unable to snap an image while keeping the flame off of other flammable hard parts under the truck. The gas fill tube is on this side, and even though far enough away, both hands doing work was the safer alternative. I got the nut as hot as I could, near to the point of catching the rubber shock bushings ablaze, but could still not budge that upper shock nut.
Now since the shock was already defective, I could have torched that shaft and nut right off. I chose not to, even though packing a wet rag around that plastic wire loom would have worked to keep harmful sparklies away. My wife would have been none too pleased with the foul smell of burning rubber in the garage. On to plan B...
As we know, the shock is shot anyway, so I'm none too worried about marking up the shock rod... Hi Ho Vise grip direct connect here -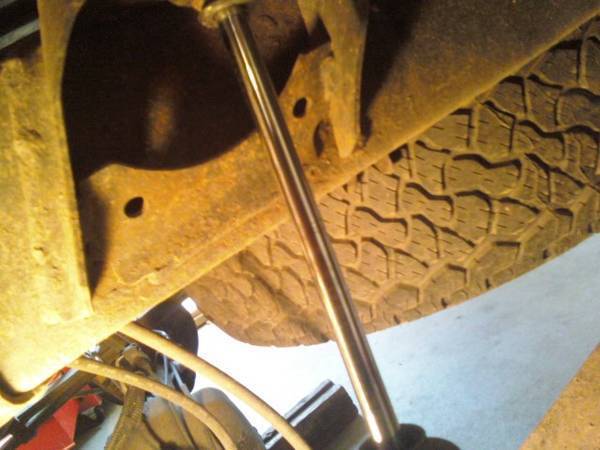 *** Sorry, no pic of the connect, please superimpose Vise grip grotesquely attached to the shiny shock rod in the visual aid above ***
Ok, one hand on the Vise grip after applying enough closing force to squeeze juice out of a rock, and the other on the wratchet wrench... 1, 2, 3... (insert nut dropping strenuous sound here...)
v
v
v
v
v
v
v
v
v
v
v
v
v
v
v
v
v
v
v
FAIL!!!!
V
V
V
V
V
V
V
SING IT WITH ME!
- You spin me right round baby right round... like a record, er, I mean shock rod, baby, right round... spinning round shock rod...
(dammit)
Ok, mild frustration... that shock rod will not stop spinning in the jaws of the Vise grip.
I put them on so tight that I could barely get them off. To my surprise, not a single mark was left on that shock rod. All I can say is that thing has to be a hardness level that superceedes a wedding prick on honeymoon night.
Ok, that obviously isn't going to work either... let's go to plan C.
Now this is something I've done before, yet not always a good move, 'specially if the shock was not leaking. These guys are under pressure, (altho this one ain't due to the leak), so binding it up may not be a safe thing to do. Here's what I did...
Apology for no pic of this technique, which again requires two hands. With the top shock nut refusing to spin off, I removed the bottom shock mount bolt. This shock took nada effort to compress, simply collapsing about 4 inches before anything that remotely resembled damping began. Yep, it's toast. So, pulling it away from the axle, I proceeded to force the shock into a bind, pulling it away from the frame to "pinch" the shock rod in hopes to hold it fast while tugging violently on the ratchet wrench with my free hand. Drum roll...
BAM! The 2nd verse of that same song suddenly came on the radio! An OMEN! Ok, I kinda made that part up, but you have to admit it would have been kewl if that song was really on the radio at that moment.
Plan D! Where's my little grinder... we are about to make an attachment point on the shock rod... changing it from this -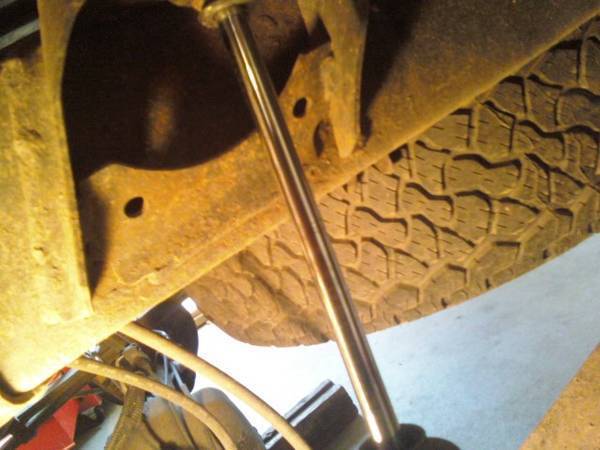 To, (grind, grind, spin shock rod 180 degrees and grind, grind, grind some more), achieve this -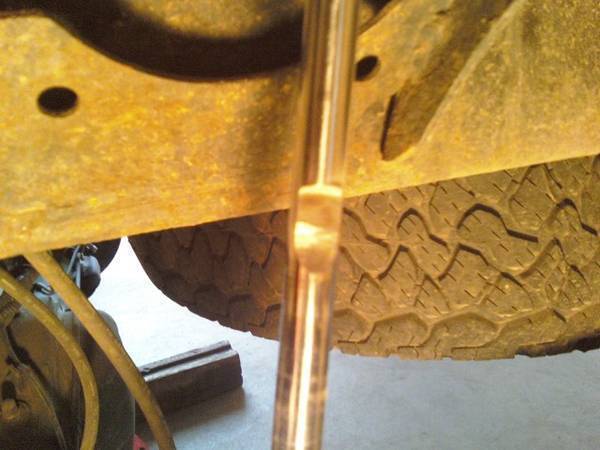 So we can now attach our Vise grip on the flat spots like this -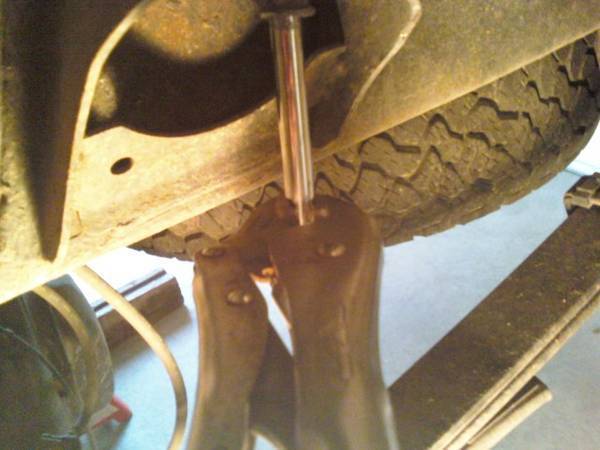 And we can finally spin that F%z5@!!!! shock nut off the top like this -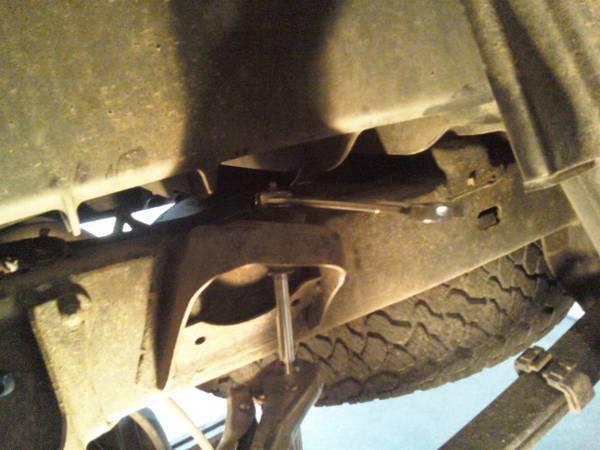 So the shock will come out like this -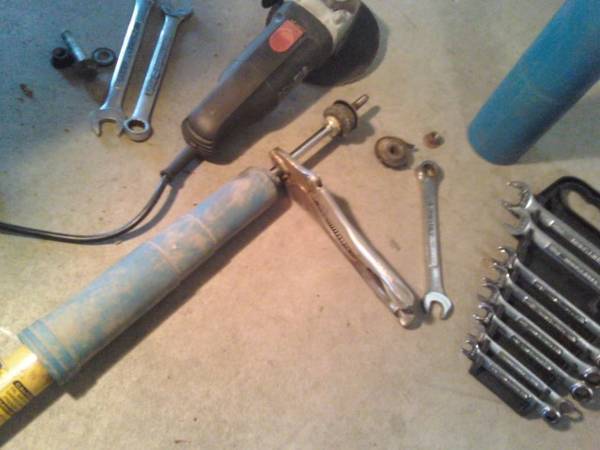 MAN... ain't that a kick in the... well... it's outta there!
As seen here, the top of the shock rod flats are rather small, which didn't offer much in the way of gripping surface for the Vise grip -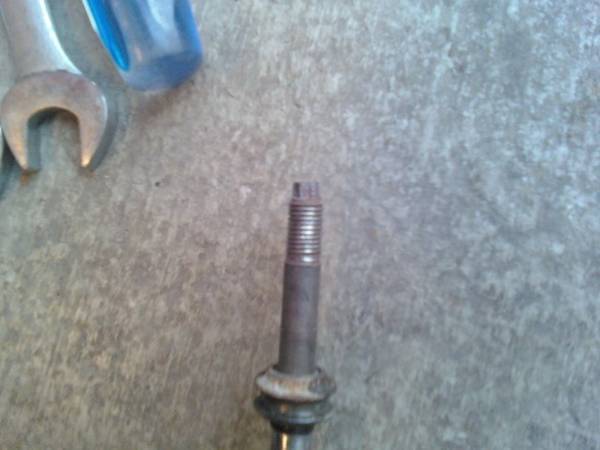 Using the grinder allowed me to create a larger flat area on the shock rod via removing a bit of material directly opposed from one another. This gave the Vise grip a solid connection point and prevented the shock rod from turning when applying pressure to the top nut via ratchet wrench.
The little flat tab on top of the shock rod didn't fair too well with the twisting, much like my wife's face would have been been twisted had I filled the garage with burning shock rubber smoke. I've learned that's not a good thing. Now I suppose I could have ground the top nut and the shock rod off too, but applying that much friction to the shock rod would have risked igniting the shock mount rubbers, which was something I was trying to avoid.
The two rear shocks after removal, (having about 52,000 miles on them), were laid side by side for comparison. Notice the drivers side is vertically challenged, having zero damping for approximately the first 4 inches of its compression travel. The remaining stroke of the shock was best likened to that of a wet sponge -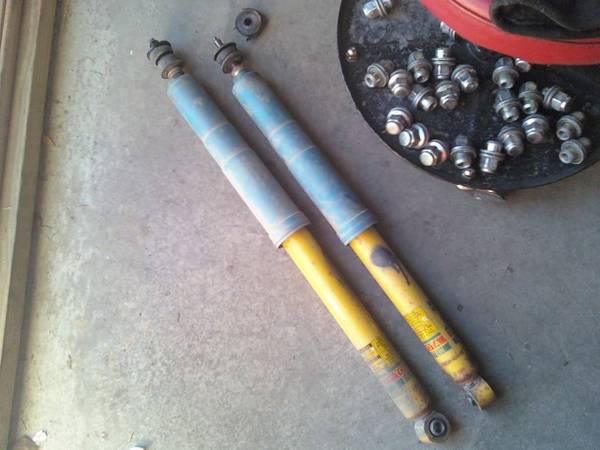 The install went well, since the old passenger side shock was obviously scared by the a$$ whoopin' the drivers side shock took via the grinder, and it came off without a fight. A happy Tacoma with
Special_K
shocks looks like this -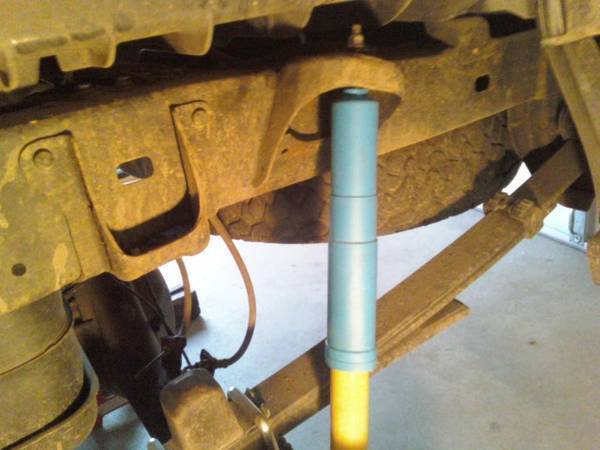 I'm anxious to get my wheels back from the powdercoater so I can take 'er for a smooth ride!
So, knowing that not everyone has access to a torch, (at least not an oxygen / acetylene rig) I figured this removal method using common hand tools that most of us already own was worth sharing here.
I'll close by saying that I hope you don't have this issue with your shocks, but I certainly hope these little tips might lend ya a hand to make things easier if ya do.
Disclaimer
- I agreed to pay myself prevailing wage for the job outlined above, (and yes, I may have farmed it out a bit), so as not to constitute the filing of a contract grievance after knowingly declining the use of stunt doubles in the replacement of these rear shocks.