UPDATED with print out!
First.. I did use the good ol' Search button. There were many threads who all danced around my question, but none that hit it on the head. (that I could find)
So, now to my delemma....
I got my 5100s @.85 and Eibach lift combo put on, and mounted my 285/70/17s on my 5bs rim (i know 4.5 is ideal). I was forced to do the usual trimming of fenders, and eventually was going to chop the Cab mount to eliminate rubbing in reverse.
I took my truck in to have an alignment done today at my local tire shop.
I was forced to take off my 285 and put my 265/65s back on because the place didnt want to put my rims on the machine and possibly mess them up.
After the alignment, I now rub the cab mount on the drivers side very hard on any large turn. The Pass side isnt quite as bad, but I still rub a little on large turns. (I did not have this issue pre-alignment, was only going over bumps in reverse that I rubbed)
Here are my numbers: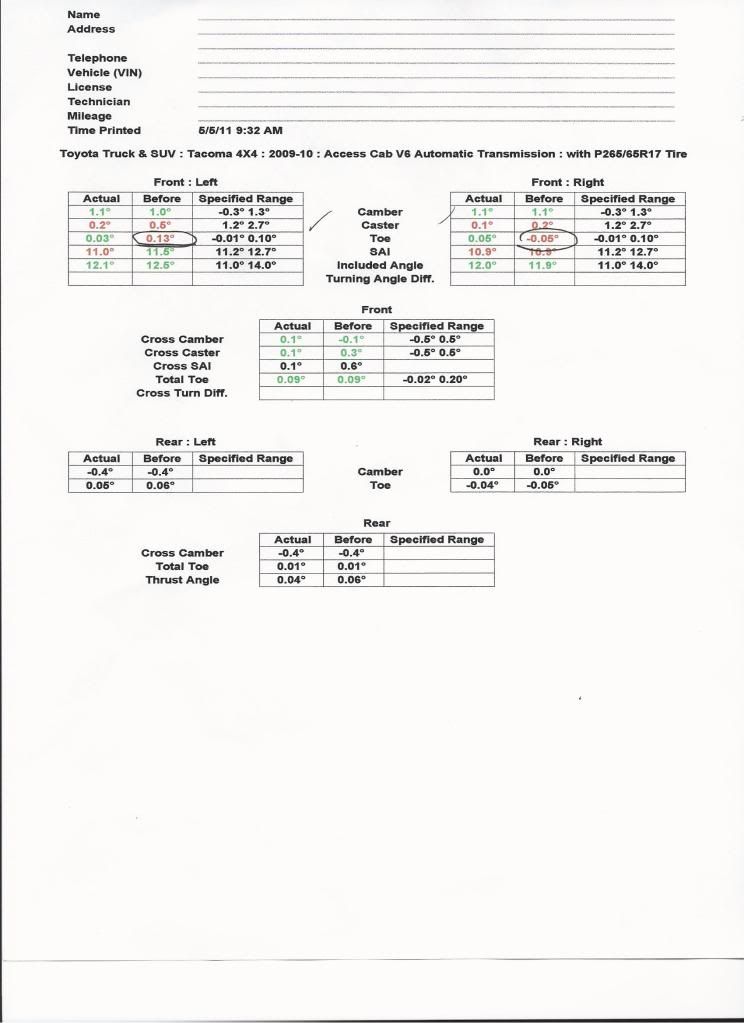 What if anything can I do to help solve this? (besides chopping the cab mount, that will come) Since it didnt do it before, I have to assume its something to do with the alignment. I dont understand it well enough to know what to ask if I take it back.
Do I need more lift? I could add a 1/4 spacer on top of the 5100/Eibachs to get another .5" of lift I guess.