I was at my favorite machanic's shop the other day just talking prices about random stuff and he ended up offering me some coils he had lying around the garage from when they took them off a Tundra. Since he was giving them to me for free, I took them and figured I could just sell them if I can't use them for myself. I looked at them more closely when I got home and realized they are actually from Fabtech coilovers because they are flat on the ends. They are FT 2400s meant for 00-06 Tundras.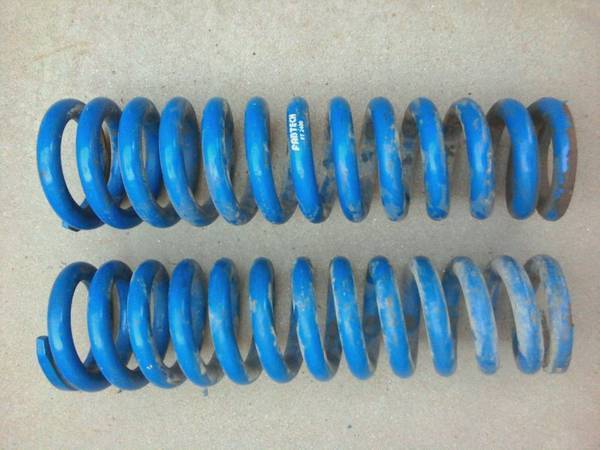 My question is: can I still use these on my truck?
Right now I see 3 possible uses for them:
1
Use a grinder (not sure if this would work) to chop the ends and make them 15" long (like eibachs) instead of 17" and use them with my Bilstien 5100s on the lowest setting. Would using a grinder ruin them? I measeared the width as best I could and they are the same (if not very close) to the width of my stock coils and should sit nicely on the billies.
2
Purchase the shock part of the coilover and use them as actual coilovers. The possible problem with this is that they are meant for a 00-06 Tundra and would be too stiff or not fit. Plus, can I even get the shock part of the coilover by itself? I can't seem find anything online that sells them seperately.
3
Stick with my original plan. Sell them and use eibachs on the billies. I know this is the best option but I am also considering money in this whole equation.
I'm leaning towards #3 but it would be awesome if I could do #1 and save a little money. Thanks for your opinions and ideas.