I have read a lot of posts with people wondering which lift to go with; 5100 bilsteins and Eibach coils, or 3" pro comp. I figured since I have had 2 tacoma's (which i have ran each lift on) i should give my overall opinion to help with peoples questions.
05 access cab:
5100 bilstein adjustable struts set on 1.75", rear 5100 shocks, Eibach coils, toytec add-a-leaf, w/285/75/16 Mickey Thompson MTZ:
05 Double Cab Long Bed:
3" Pro Comp coils, shocks, and add-a-leaf, w/285/70/17 BFG KM2: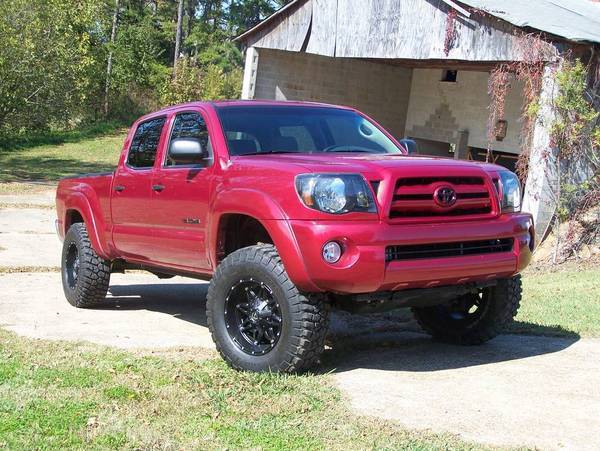 Pro's of Toytec Lift:
The toytec lift was a great looking lift. People noticed the stainless coils, and shocks. My favorite thing about this lift was how smooth that it rode. I have no complaints on how soft it took bumps, and it did great off-road, and allowed the suspension to flex as needed. Also, toytec customer service is PHENOMENAL lift was at my door in 6 days, and I am on the east coast.
Con's of Toytec Lift:
The toytec lift was around $650.00 (granted, you get what you pay for). I wasnt impressed with the amount of lift that I achieved from this lift. I had the struts adjusted to 1.75" and eibach coils (give 1.6") so combined I had 3.35" of lift, and yet my 285 MTZ's rubbed even after trimming. The biggest complaint that I had about this lift was how my truck didnt sit level. My rear sat about an inch higher than the front and I wasnt impressed with that considering the quality of this lift.
Pro's of the 3" Pro Comp:
With the Pro Comp, I achieved about 3.5" of lift. My truck sits perfectly level. I have 285 BFG KM2 tires, which do not rub AT ALL, after I did the normal amount of trimming. The truck looks great because of the amount of lift i achieved. The lift is only $470.00.
Con's of the 3" Pro Comp:
This lift does ride
a lot
stiffer than my previous toytec set up. I did remove my sway bar (which helps a little) but it is still a lot stiffer. The biggest thing is that
4wheel parts
is the main distributor for Pro Comp, and there customer service is terrible.