Alright, so I finally am able to make one of these threads and provide some pictures! I was so envious of everyone else that was making this kind of thread, until now! Got it back from the shop this morning. They did wonderful work, I must say. They installed everything from unmounting the TPMS in my old wheels to aligning the truck. Here is the list that was installed:
Eibach/
ToyTec
Coils
Bilstein 5100's front (.85) and rear
ToyTec 1.5" TSB AAL (I dont have the TSB leaf pack but it was closest to level)
SPC/LR UCA's
18x9
Moto Metal
951's 4.5"bs -12os
Cooper Zeon LTZ 285/60/18
Overall, very pleased with the look. I know everyone and their mother is doing the whole "blacked out" look, but there is something about chrome and black that just work well together.
As far as future mods go, I have a pair of Hella 500ff's that are going to go behind a 5pc black powder coated billet grill mounted on a Black Diamond Light bar (should be here sometime next week). I have a nice little chrome TRD emblem that should work well with all of the other chrome accents I have (lower left corner of grille). Other than that, thank you TW for making me broke as shit!
Without further ado, here are the pics (cell phone for now, T3i SLR after Christmas)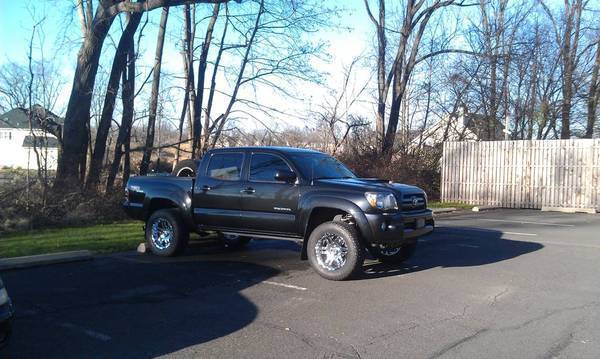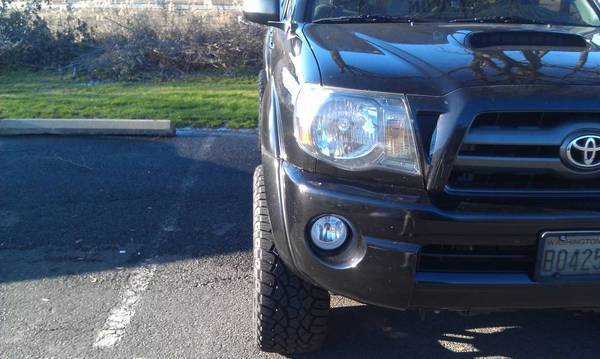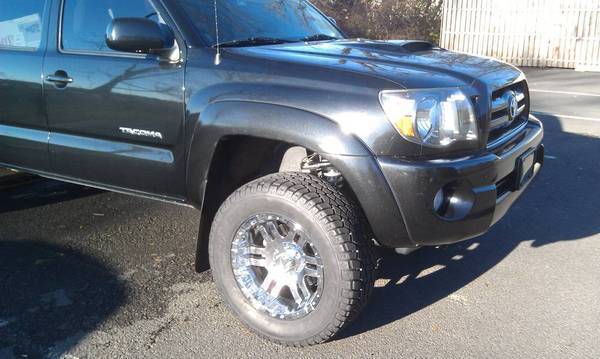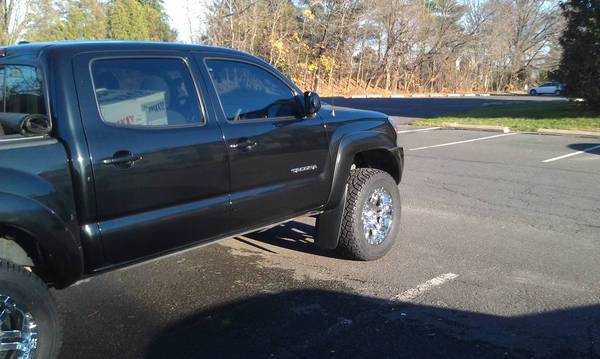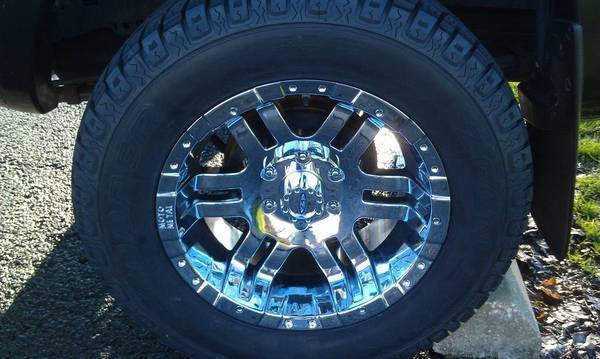 By no means am I a photographer (especially with my phone), but the pictures do the truck no justice.
I actually had a question regarding my mud flaps. Now, my tire is not that big (31.5"), but not even at full lock I am rubbing them. I was hoping to keep them on (don't want rocks scratching my truck), but they rub at 3/4 turn in the center of them. Is it possible to trim the middle out, or am I SOL on that?
Thanks for looking, hope you enjoy it as much as I do, and if not, well, be happy it's not your truck! haha