Many people have experienced a grinding noise from there rear driveshaft after lifting there regular cab. Some have even had it happen to a stock suspension. After reading alot of different threads most people seem to think the noise is coming from the slip yoke on our one piece drive shafts. Even though this is a simple job I thought it may give some the confidence to go ahead and try it.
Tools needed:
Two 14mm wrenches
Cheater bar or breaker bar as the bolts are pretty tight
an extra person makes the job alot easier
Here is a picture of the shaft after it has been flipped with an arrow pointing to the area the noise was coming from.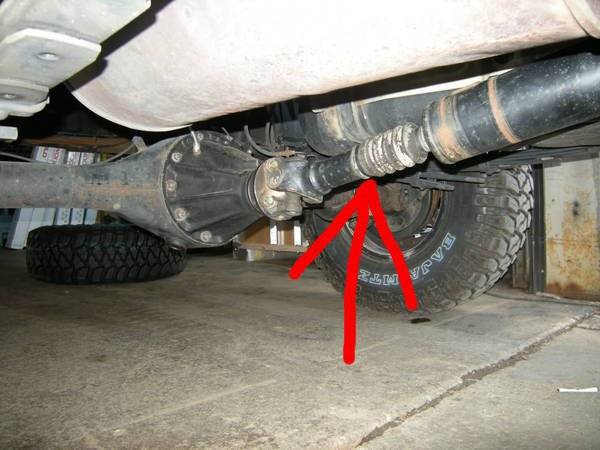 The above picture is what yours will look like after the flip is done.
1) Begin by blocking your front wheels on level ground and lifting the rear tires off of the ground just enough so they free spin.
2) You can start on either end of the shaft but I chose to start with the transmission end.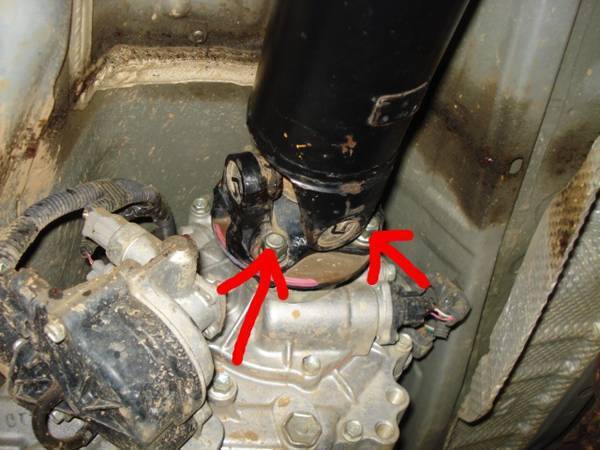 3) Begin by loosening each of the four bolts on this side of the shaft. Only two are pictured but the other two are just opposite on the other side of the shaft. It makes it easier to spin the shaft where you want it then lock the parking break to hold it steady. The bolts will stay in place on this end; only the nuts and washer will come off.
4) Now go to the other end and repeat the same process. On this end you will need a wrench on either side so the bolt doesn't spin on you. You will remove the bolts from this end so when you do make sure it doesn't fall off. The shaft is light and can be supported with one hand so don't worry about the weight of it.
5) Once you have everything undone lightly tap the transmission end off with a hammer. Note that the slip yoke will slide in and out allowing you to get the shaft off. Also note that each end of the shaft has a centering hole / set pin in the center of it so you will have to slide the shaft straight out.
6) With the shaft off go ahead and grease the zirk fitting on each U-joint, flip the shaft and repeat all of these steps in reverse and you're done!
Just a few more notes:
All of these pictures were taken after I did the flip but it doesn't change the steps. Sorry if this is confusing.
Don't worry about draining fluids to do any of this as everything stays sealed up.
Be extra careful not too damage the rubber boot over the slip yoke.
I didn't use torque specs. Just tighten it all back up pretty snug and check them again after a day or two.
Again here is the finished product.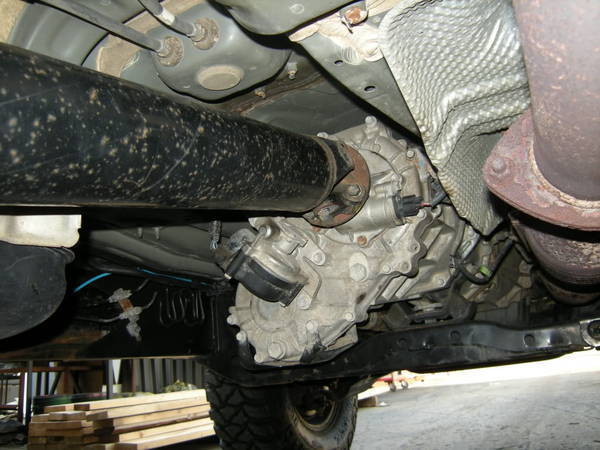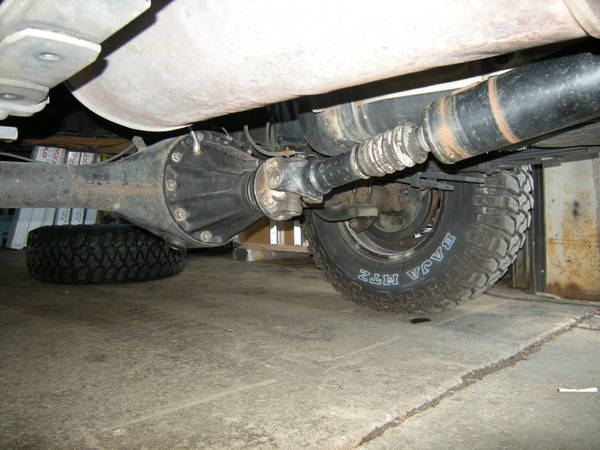 Feel free to discuss theories as to why this is happening but here is my theory based on my grandpa's theory.
He seemed to think that the transmission is mounted on some rubber supports or something like that and allows for more vibration at the slip yoke. Basically when you flip it you are putting the yoke on the end that is less prone to any vibrations. Also from reading it seemed like whenever others packed there slip yoke with grease or put in a new driveshaft with new grease the problem stopped only to return when the grease compacted. This theory seems good enough for me but I am interested to here what others think. Also sorry I didn't get better pics but my truck bed was full of snow and when I started working and between a heated shop and all that snow I got a little wet and had to take pics this morning instead.