So I finally talked the wife into letting me spend some dough on a lift kit. Problem is, my budget is somewhere south of $1200 completely installed. Now some of you may think I'm a retard because I can't make a lift work for $1200, but that's why I'm coming to you guys. Here's my dilemma:
1)I'd like a roughly 3" lift, slightly below 3 is ok, but I do have a DCLB, I think it looks better a little higher than lower.
2)I don't want to have problems with the alignment because I have a tire warranty (
Autonation Tire Warranty
) that'll be voided if my alignment is jacking up the tires, so I guess I have to get UCA's now..
(more money)
3)I have no clue how to install any of these things, and the only think I would feel comfortable to "tackle" is the rear lift (with some knowledgeable people and plenty of beer/pizza). So that means a professional installation w/alignment. (more money)
Looking at
Toytec's
website, I can't afford a decent "complete" lift kit (w/UCA's and installation) So I'm considering starting with a front lift only at this time. And slowly save up for the rear.
I'd like to try to make it as affordable as possible so I was thinking
Down South Motorsports
for the Billies and maybe
toytec
for coils (OME/Eibach??). I have no clue where to get UCA's I heard Light Racing makes decent "affordable" ones and supposedly
Fat Bob's
is the cheapest..
Do I need all the other things that come with the "complete" lift kits? like the Diff drop, Sway bar relocate, etc.. What am I missing here? All this thinking of what is a need/want is confusing the shit out of me.. someone please help!
Below is OZ-T's build. I love how he has his ride set up. But I think he spent more than I can afford, thus my breaking up the costs. I don't want to skimp on anything that I will regret later... "buy once, cry once" right??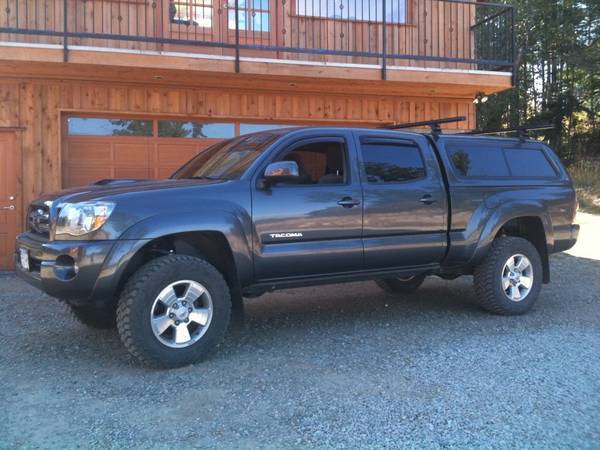 So.... Help??
If I can get some suggestions on how to lift my truck PROPERLY (so as to not void my tire or any other warranty) and installed below $1200 I would be ever indebted to you..