How To Convert 2.5x6" Coilovers for OEM Replacement Use
I recently converted a 2.5x6" King Coilover from a generic off road vehicle (non-toyota) to be used in the OEM shock mounts. This is a brief write up of how I did it.
I first did a lot of calculating to determine which shocks I would need to get to fit within the stock mounts. I consulted the King website to get some numbers:
King OEM Tacoma front Coilovers: 16.750" compressed length, 21.687" extended length, 4.937" total travel
King Performance Series 2.5x6" Coil Over: 14" compressed length, 20" extended length, 6" of total travel
Now, what makes the King OEM series coilovers fit on a Tacoma?
- 1.25" bearing spacers to fit in the top plate adapter (YOU MUST CONFIRM THIS WITH THE COMPANY YOU ARE PURCHASING THE TOP PLATE ADAPTERS FROM FIRST)
- 1.5" bearing spacers to fit in the stock lower control arm shock mount
- Raised lower spring cup to clear space for the CV axles
- A 2" thick rod spacer that fits between the rod end and the spring cup to raise the coils even higher to clear the CVs. Note that this robs the coilver of shock travel
- Top plate adapter on top of the coilover that converts the top mount from eyelet to the Toyota 3 bolt design
- 600 – 650lb springs
After recognizing these necessary conversions, I set out to obtain the following parts:
- 1.5" bearing spacers from Polyperformance: Part Number: KRS-25016-008
- Raised lower springs place: part number: KRS-25301-003
- 3" extended rod end: Part number: KRS-25005-004. I ditched the rod spacer and opted for a rod end because it allowed us to use the full 6" of shock travel
- Top plate adapter from a buddy's
Camburg
LT kit that he didn't need. You can either make these yourself, or get it from King, Camburg, Fox, Total Chaos, and Engage. I know Engage sells a set of these for under $100
- 14" 600lb King Springs from a swap meet
If you don't want to piece it together, you can buy a 2.5x6" King Coilover from
Downsouth Motorsports
and, in the lower options drop boxes, choose:
- 6.0" travel
- +3" Length Longer Rod End (+$50)
- 90 Degree Hose Adapter (+$15)
- Raised Lower Spring Plate (free)
Mention that you need a 600 or 650 lb spring too. When all is said and done and 2 are added in the cart, the total price comes out to $1,142.00, around $300 cheaper than the King OEM replacement shocks. Now all you have to do is find the 1.5" bearing spacers and the Top plate mount and you are set.
The coolest thing about this is you can find used 2.5x6" coilovers for way cheaper than OEM King Replacement Toyota Coilovers. All it takes is to find the rest of the parts you need to convert it used or new and, depending on how resourceful you are, you can have a King Coilover that pulls more shock travel than the OEM series for way less than a OEM King Coilover.
Here is our finished product mounted on Jen's truck. It cycles nine inches of hub travel without the CVs or anything else binding, and uses almost the full 6" of shock travel before hitting the stock bump stops:
Full Compression Cycling: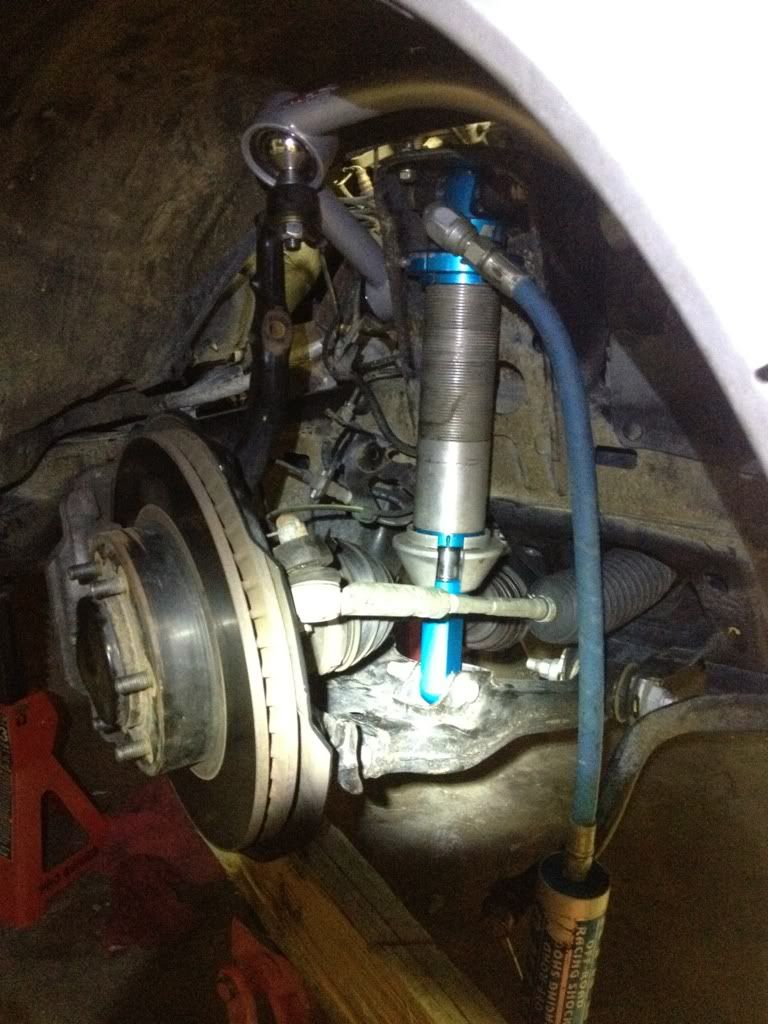 Full Droop Cycling: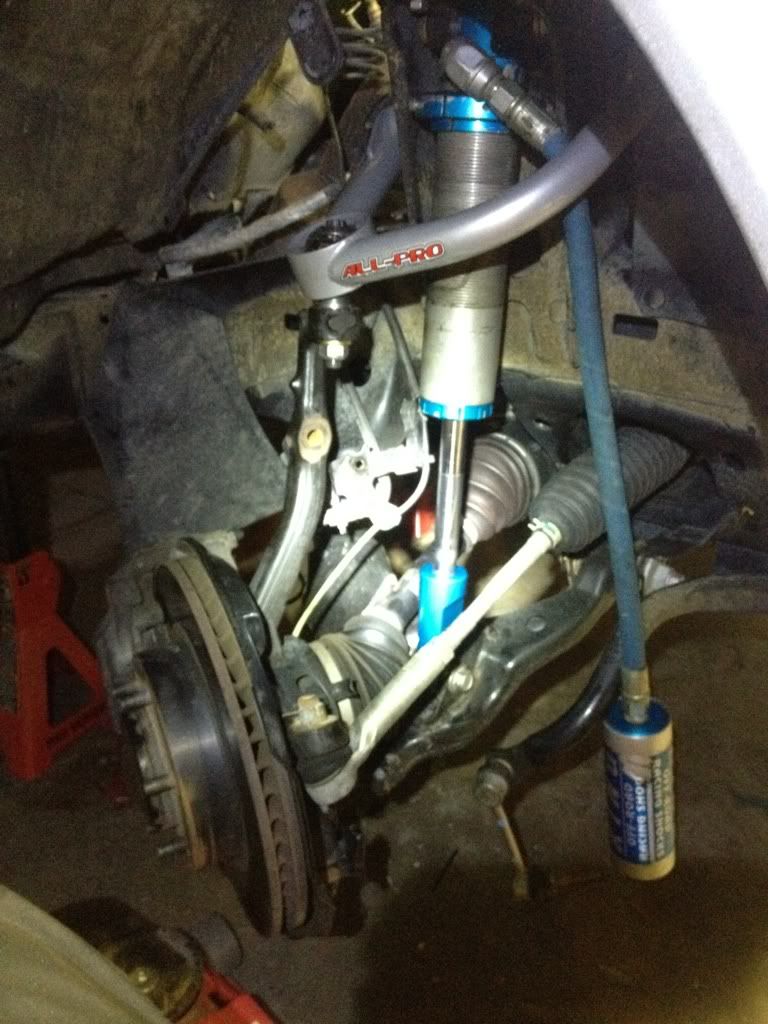 With 12" 550lb springs on. These were way too soft so we later switched to 14" 600lb springs: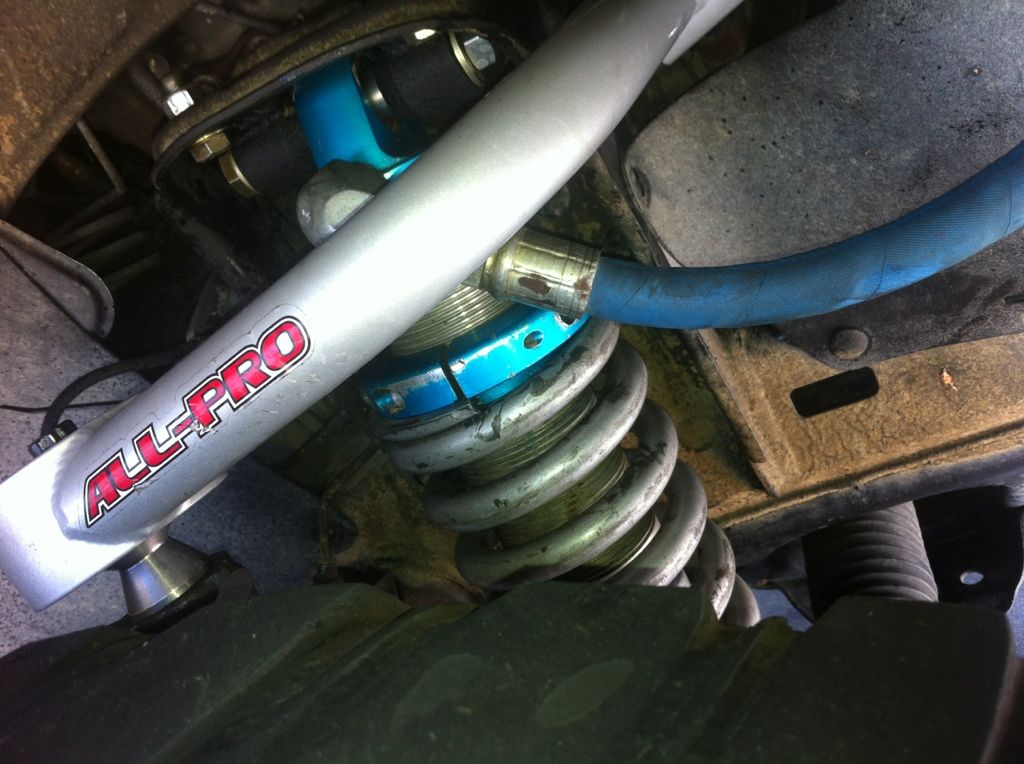 Ride Height: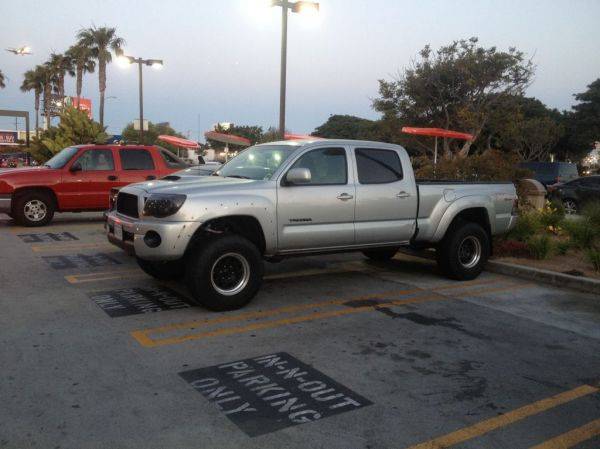 And this is a picture pointing out where the rod/shaft spacer on the OEM replacement Kings are that robs travel: