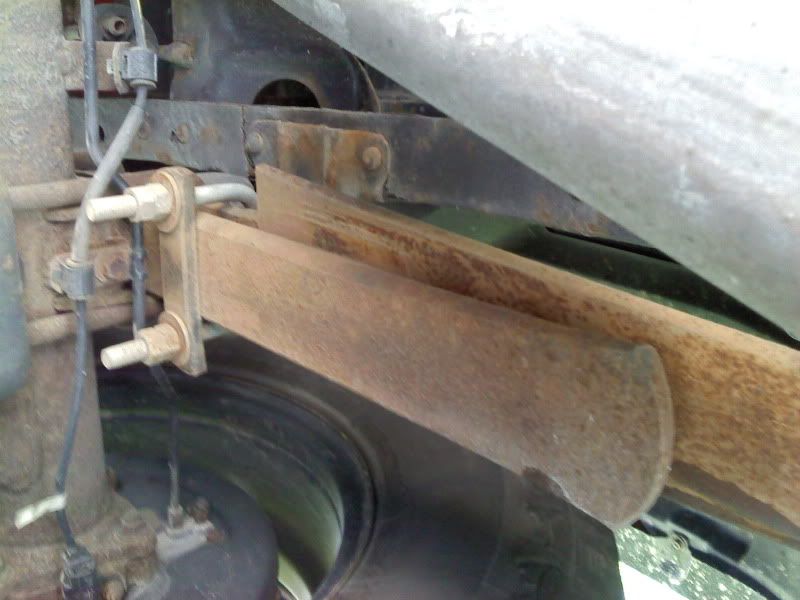 so this is what i found the other day. trying to weight out my options. i never really wanted to lift my truck at all. i'm content the height it is at now. i have a set of used springs from a double cab, but it looks like they are about an inch too short (i will hopefully be confirming this today). The more i think about it though, i really don't want to put the same Toyota crap on the truck if this is all the leafsprings last. i've been speaking to 4wd and following his thread on replacing the leafs in the tacoma leaf pack with chevy or ford leafs. i like this idea, but i do not have the resources to do this in my driveway. so here is what i want, either the same ride height or a lift maybe 1.5". any more than that, and i will have to start looking at bigger tires, then bigger tires = gears, and that's just a lot more than what i want to get into.
my options i have found so far:
factory tacoma springs (if the double cab ones do in fact fit) until they give out again in another 60 or 70K miles.
http://www.autopartswarehouse.com/de...97TCR515S.html
i found these skyjacker leafs. reasonable price, 4 leaf progressive system with a minor lift. i like these because they keep the OL leaf, which for me i like. i do haul mulch and topsoil occasionally.
http://www.wheelersoffroad.com/05upt...eafsprings.htm
i found these ALCANs. these are probably more than what i need, as i do not do a lot of offroading. the only offroading i really do is when i need to travel up gas well access roads for work. i also don't like these as much because the remove the factory OL leaf, decreasing the weight capacity. these are also about 200 bucks more than the skyjackers.
other ideas?
i already have 5100s for the front and rear waiting to be installed, so i think those will work with the maximum rear lift i'm looking at.