Posting this here too for more feedback, comments and advice.
(Already posted on XRU).
After towing/hauling a few times a month since January and bouncing off the bump stops in my X-runner, I finally installed the "Air lift ride control kit" a few weeks back and just installed the compressor kit this weekend.
I strongly recommend looking into this if you tow or haul often, it makes a world of difference! I've been towing a 6x10 enclosed trailer with 3-4 dirtbikes inside (approx 2500lbs) and most often one in the truck bed too.
Before the bags it would sit low and bottom out over small bumps, with the bags it sits normal, never bottoms out and feels solid going down the freeway.
Air lift bag kit-
http://www.summitracing.com/parts/AIR-59564/
Compressor kit-
http://www.summitracing.com/parts/AIR-25854/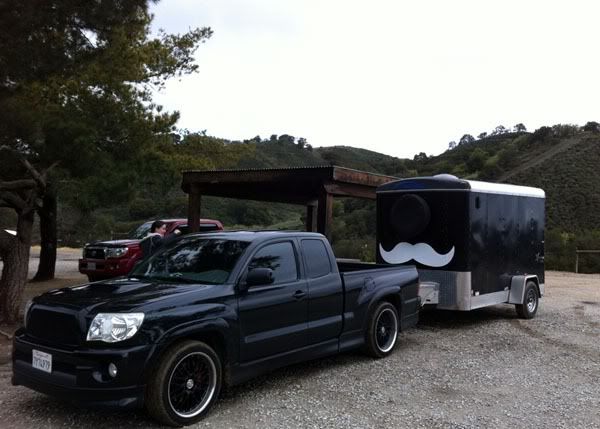 Click pics for full size pics
I mounted the compressor under the hood, it is a direct shot to run the wires and air line through the large wire boot.
The air line is hooked to the low pressure auto switch then goes to the right, to the gauge.
The directions say to power it from the ignition, but I put in another solenoid so it got a solid 12v from the battery (when the ignition is switched on), I grabbed ignition power from the tiny wire and the fuse panel.
I hooked it all up and tucked it up into the dash, left of the coin drawer.
This small plastic panel pops out and behind it is a perfect cutout for a gauge!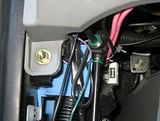 I "T"ed the airline there for the gauge and ran it down.....
....under the door jam panel......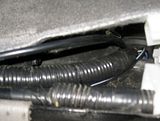 and down through the large grommet under the left side of drivers seat.
It then travels under the truck inside the frame out to the rear wheel.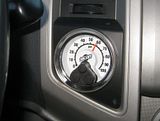 Pumping it to 60psi only takes about 20-25 seconds (I pumped it up for the pics).
This kit needs a minimum of 10psi all the time (feels same as stock with 10 psi) and has a max of 100psi.
40-50psi is plenty with a full load.
Driver side clears the sway bar and just barely clears the shock.
The passenger side fits beautifully after re-drilling the top and bottom bracket.
Plenty of room for the sway bar (Passenger side).
I placed the air valve in the hitch before buying the compressor for easy filling, but will most likely replace it with an air fitting for filling tires.