Before I get started here let me preface something. I am not asking for flaming or "you shouldn't do that because it is not safe" gripes. If you have something to say, I simply ask that you say it with some tact. If you think the thought is unsafe, don't just SAY it, but support your reasoning. I am looking for real input here from professionals, and those who may have ventured down this road. I have seen the thread of the 19 year old who welded a tube to extend his shock, and I am not looking for that kind of response. Yes, if I wanted to spend the money and just buy a lift, I could. I am just thinking of an idea, and how it might work out. CAN it be done? Yes, SHOULD it be done? maybe not.
That being said, here is my thought: I have a 1997 Tacoma (1st Gen) that is at stock suspension height. I have obtained a pair of front shocks (struts) from a 2nd Gen(2012) as well as the factory coil springs, and was looking at something interesting.
The 2012 Tacoma factory struts are nearly 6 inches longer (fully extended) than a 1st gen. This is WAY too high I believe for a swap (As I recall most people on this board state that anything longer than 3 inches is too high, and causes a lot of problems for a 1st Gen) This makes option 1:Straight swapping out, a no go.
Another option I was looking at: The 2012 strut has a long lower rod (approx 4 inches in length) that is welded to the bottom of the strut.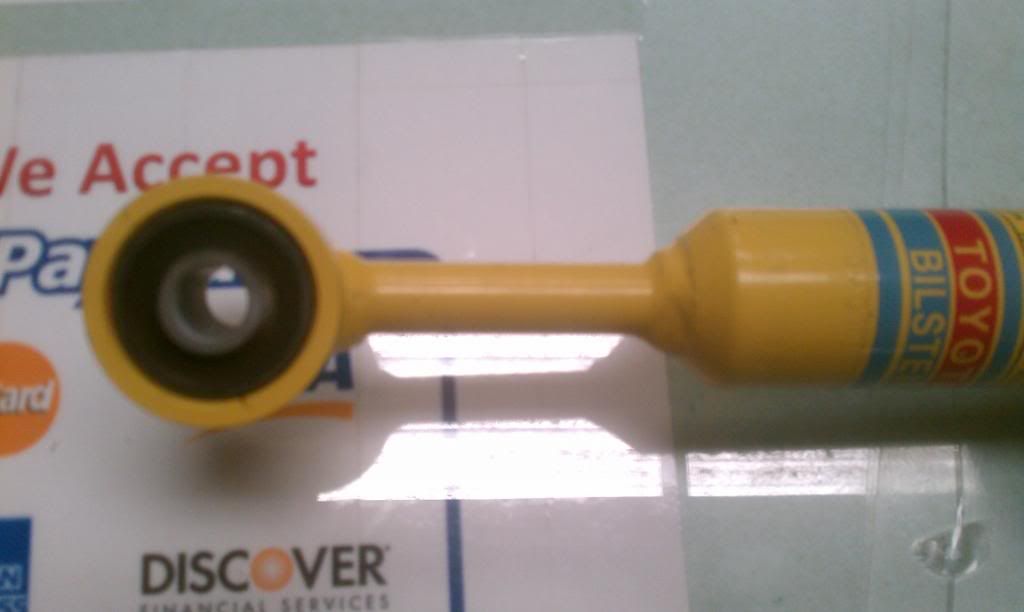 Here is my question:
Can one safely SHORTEN the rod? I am thinking reverse of the other guy, where I would cut off the lower mounting, cut an appropriate amount of rod out, and reweld the mounting back on. I am an experienced welder and fabricated high-tensile parts when I was in the military, so welding knowledge and experience are not an issue. What I am thinking is that by shortening the shaft itself, I can maintain a decent length of a strut, but one that will still be say 2 inches longer than my stock 1st gen. This would result in up-to 3 inches of lift. What I am also considering is the ride quality. With a factory strut and spring, I would have a less stiff ride.
So let me here your thoughts. PLEASE try to be constructive here. Let's keep the flaming to a minimum. Thanks in advance.