First off, sup dudes! I've been lurking TW for some time. Wanted to start off saying I've "searched" this site and others extensively and I'm looking for some first hand experienced advice from those of you good fellas willing to spend a few minutes.
My Rig
- 06 Sport DCLB
Current Suspension
- OME mainly (885s, old N140 Struts, AAL & Dobson? Shocks)
Wheels & Tires
- 285/75/16 BFG ATs & crappy 16" decaying chrome wheels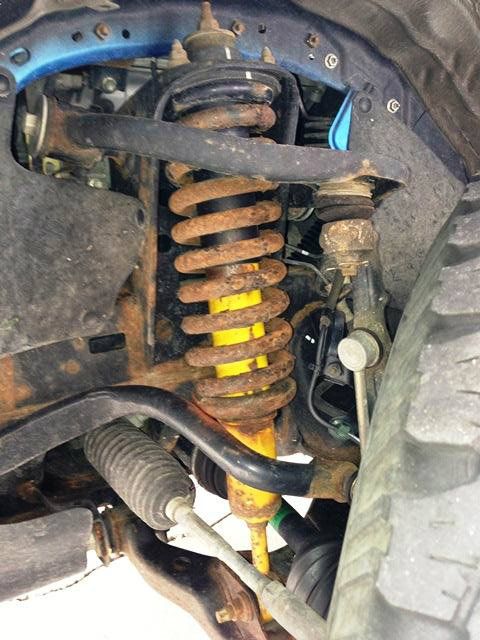 It's been a good setup, I picked it up from Slee offroad when I bought the truck new in 06. I get minor rub when backing up in full turn mode (planned to trim but never got around to it.) It's time to replace the shocks and struts and the 885 have cancer (gotta love the Utah road salt, also killed my wheel looks.)
Common questions from the good guys:
Budget - I'm anticipating 4-5K between Suspension, Tires & wheels, Install & Alignment.

Use - Lots of highway miles (primary vehicle) occasional desert and mountain off-road. Likely more off-road with the changes I'm deciding between.
What I'm considering:
Fabtech
- 3" Upper Control Arm & Dirt Logic 2.5 Coilover System w/ Dirt Logic Rear Resi Shocks.
LINK
I've got a friend who can get a good deal on this kit and it's more functional for me than a 6" lift for looks (although 6" on a DCLB looks pretty badass)
Custom 3" Setup
-
Camburg
or TC UCA (6s?) Shocks - King or
ICON
all around. I'm leaning more this direction at the moment than the Fabtech kit. The extra $500-1000 isn't a big deal looking at what's going to be better ultimately down the road.
Tires & Wheels
- Toyo MTs Not sure on size or if I should run 17" or 18" black rims. On the street I'd like something more aggressive, other than aesthetics, the less sidewall the better response (or so I'm told.)
Questions
-
Go with the Fabtech or Custom? For 25% or less off-road time would I notice a huge difference?

On Custom Setup - UCA - TC or Camburgs? King or ICONs?

Extra Stuff? - Am I overlooking parts? Brake line, etc?

Tire size - Looks are cool, but functional is better. Should I down size the 285s with the Toyo's? Are Toyo's too much tire? What do you folks think would be the optimum tire size for either config? I realize 17" or 18" is really a matter of looks and perhaps some street handling.
Thanks for helping me out. I truly appreciate it. I plan to pull the trigger over the next few weeks. I'll be happy to post some pre and post pics for those of you that help me out to see what their advice ultimately led to.
Thanks!
Chris L
SLC, UT