I have a 2010 2wd sport 4D Long Bed. 2 weeks ago I had the rear tsb installed, no much change since I have a
snugtop
cover ( also no change from the 3 leaves, I loaded the truck with 600lbs twice and it was at 1" from hitting the bump stops).
Finally I pulled the triger and purchased a set of 17x9, 6x5.5 OS: 0mm BS: 5.00" and P265/70R17 (113S) - Terra Grappler.
Went to 4wheels pats and ordered a 2.25 front-1" block in the back to have it installed next week. ( I wanted to keep the factory ride)
They suggested the 3"front-2" back but I wanted to make sure i can align it and i wasn't going to be nose high ( I can deal with the rake, not so much with the bro lean).
Question # 1 is:
Can I have the tires and wheels installed before the lift without rubbing?? I would like to do this tomorrow so I can play with a floor jack and try the different heights and have time to change the lift if I need to.
Question #2
: do I need a spacer for the driver side lean? I didnt notice it, but i dont know if the lean happens after the lift is installed.
Thanks
PS: I will keeping the stock suspension, just adding the procomp leveling kit
This is the kit: 2.25" front/1" rear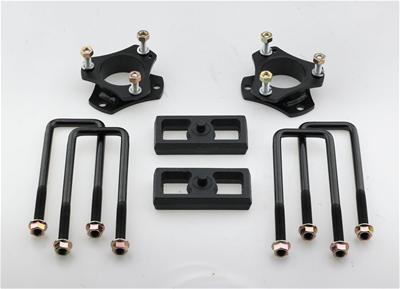 Anybody has this set up, or if you have this wheel set up, what kind of lift do you have.