I see a lot of threads popping up regarding the different options and what kit is better. Figured I'd put all info in one thread to make it easier for folks interested in a 6" lift.
Information below is for 2005-13 Tacoma Prerunner/4wd 6 lug trucks
For all the 6" drop bracket haters, keep on movin' along.
FABTECH
http://www.fabtechmotorsports.com/
Basic Kit
- with strut spacer
Part Number: K7019
Performance kit
with Dirt Logic 2.5 Coil overs & shocks
Part Number: K7020DB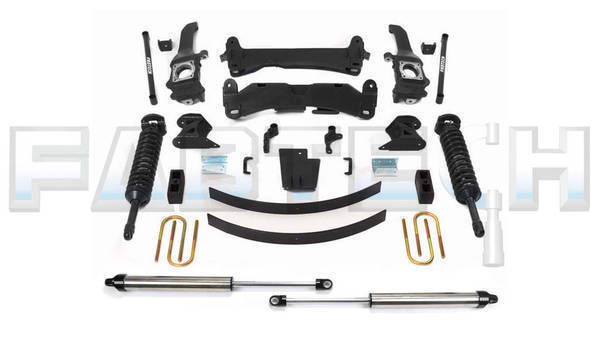 FABTECH Installation instructions:
http://www.fabtechmotorsports.com/pd...l_FT26026i.pdf
Pro Comp
http://www.procompusa.com
Basic kit
with strut spacer lift
Part number: K5080B
-trying to locate accurate parts picture-
Performance kit
with Pro comp MX2.75 Coil over with MX-6 rear shocks
Part number: K5073BMX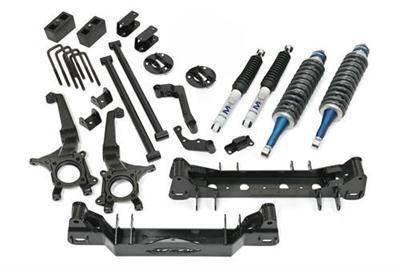 Pro Comp Installation instructions:
http://www.procompusa.com/downloads/PDFs/is/57096B.pdf
BDS
http://bds-suspension.com/
Basic Kit
with strut spacer lift
Part number:
815H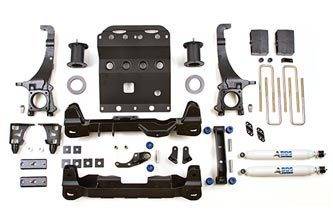 Performance kit
with w/ Fox 2.5" coil-over remote reservoir shocks and Fox rear shocks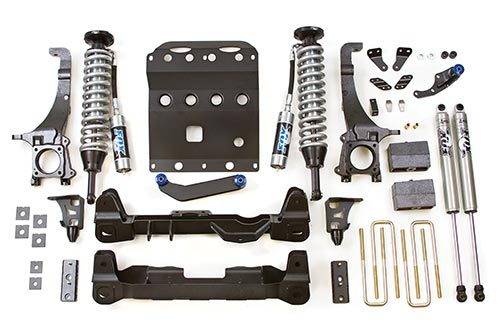 BDS installation instructions:
http://bds-suspension.com/instructions/028601.pdf
Other Kit info that will be added:
Zone Offroad 6" Drop bracket kit
Tuff Country 6" Drop bracket kit
Anyone with real world experiance with those kits please post what your take is on them.
Is cutting/welding required?
All kits require cutting of the front crossmember and welding in filler plates if the truck is 4WD. Pro Comp and BDS require additional welding of steering stops, Fabtech does not.
Depending on your tire size, a cab mount chop may be required.
Which basic kit is better?
All of the basic drop bracket lifts serve the same purpose, there are no known issues as far as I know with any of the kits quality or design.
The deciding factor for most people is pricing, and free shipping availability.
Main differences in the basic kits:
BDS only includes rear lift blocks. Fabtech and Pro Comp include AALs (add a leafs) and Blocks.
BDS has a slightly larger front differential skid plate.
Fabtech requires less welding or no welding if your a prerunner
Which performance kit is better?
Same differences apply as the basic kits with rear suspension, welding and skid plates.
BDS is the only company to offer a popular "name brand" performance coil over other then their own branded product. Fox racing remote reservoir coil overs and rear shocks (non-reservoir) with their performance kit
Fabtech and Procomp coil overs are a major improvement over strut spacers with stock components but fall short in performance compared to the Fox's. They are still a viable option for coil overs for an "out of the box option" instead of a custom built alternative or going with the BDS performance kit.
Warranty Policy:
Looks like BDS wins this category, with their no fine print warranty.
Fabtech http://www.fabtechmotorsports.com/policies.php
Fabtech's obligation under this warranty is limited to the repair or replacement, at Fabtech option, of the defective product only. All costs of removal, installation or re-installation, freight charges, incidental or consequential damages are expressly excluded from this warranty. Fabtech is not responsible for damages and/or warranty of other vehicle parts related or non related to the installed Fabtech product. This warranty is expressly in lieu of all other warranties expressed or implied. This warranty shall not apply to any product that has been subject to accident, negligence, alteration, abuse or misuse as determined by Fabtech.
Pro Comp
http://www.procompusa.com/installation.aspx#warranty
It is Pro Comp's Promise that if one of our suspension products breaks not due to misuse, neglect or vandalism, we will replace it.
Whether you are the original purchaser or not
, you can be assured that we will make it right. The Pro Comp Promise covers all suspension products including shocks and steering stabilizers. Buy Pro Comp Suspension today and enjoy it for the rest of your life!
BDS http://bds-suspension.com/policies
All BDS Suspension lift kits come with the security of knowing you purchased the finest lift kit in the aftermarket suspension industry. We back our commitment to engineering reliable, quality 4x4 off-road Jeep and truck suspension products with our unique "No BS Hardcore Lifetime Warranty".
If you are the original purchaser of any BDS lift kit and it breaks, we will give you a new part. Period.
More to follow...please add any info you see fit. For pictures of trucks with 6" lifts check out this link:
http://www.tacomaworld.com/forum/sus...-pictures.html