My 2009 Off-Road DC is ready for its 3rd set of tires @ 140,000 miles. With an expected life, for me, of 300,000 miles itís time for shocks too. Studying the Taco forums I learned the general opinion is that the rear springs are cruise comfy by design, not work strong. By coincidence I see Toyota has just announced a recall for these springs. My hope is to work the truck harder the last half of its life so a set of General Springís HD 3+1 and a set of 4 Bilstein 5100s were ordered. Iíll plan on a conversation with Toyota about an offset when they figure out how to fix their springs.
There are plenty of ďhow tooĒ blogs for installing the springs, but here are several points I didnít see covered which may be helpful to anybody interested in a similar upgrade regardless if itís a DIY project or hired out. My rear Bilsteins came with a rubber bushing in the eye end of the shock that werenít right for a Tacoma, too fat. These shocks are made for a variety of vehicles and General Spring assures me they were correct in all other respects so my fix of taking one of the included steel bushings, grinding it shorter by about 1/16Ē so it just fits in the axle bracket, grind the excess rubber bushing off both sides of the shock, then, using my vise to press the steel bushing into the rubber was an acceptable fix.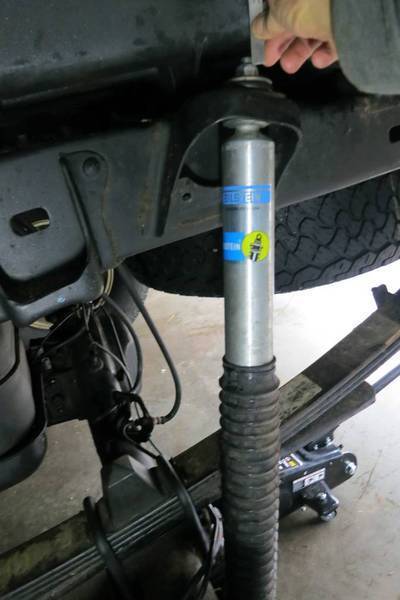 General Spring ordered my Bilsteins from a California place so I wonder if I had ordered the shocks from a Toyota oriented supplier would theyíd have come set up with the proper rubber and steel bushing in the eye end of the shock. Second shock issue was that the torque spec for the top nut didnít really work. Canít recall now if the torque spec listed in Bilsteinís instructions for the upper stem nut was for 24 or 37 ft. lbs. but I believe you could tighten the nut until the rubber bushing was completely crushed before reaching the specified torque. I tightened the nut so a quarter of an inch of the shock stem was showing above the nut.
I measured my truckís ride height, before starting. I donít know how much the original springs settled over 140,000 miles but I may stop at my Toyota dealer and measure a new one. Iíd like to feel how much movement is in a new driveline carrier bearing too, but more on that latter. The new springs increased my ride height by a little over 2Ē. General Spring had explained, when I asked them about the bushings, that the shocks were actually for 2Ē to 3Ē lifts, not the less than 2Ē ones Iíd ordered. Their experience with the springs led them to be proactive on this even though their web info says the springs will raise a truck about 1ĺĒ. My results explained why their decision was a good call. I had the front shocks installed by a shop that also did the new tires and aligned my truck. I didnít do a final ride height measurement after the front shocks were install but I used the ďadd 1.75Ē setting on the front Bilsteins.
The front leaf spring bolt doesnít have enough clearance for my torque wrench on the nut so I tightened it from the bolt head end, inaccurate for sure but I realized I first lay on a garage floor in below freezing weather wrenching on a vehicle 46 years ago and decided my technique was good enough until my normal May workathon when Iíll recheck all the nuts.
The driving results are good, the truck feels more truck like, subtlety, but I like it. I havenít loaded the bed, yet, but Iíve no doubt that itíll handle loads much better, now. However, a driveline judder appeared that other bloggers report is very common on Tacos, even straight off the show floor. I think I had a slight amount before, itís hard to know since I wasnít aware of the Taco issues and it wasnít enough to trigger my curiosity before, although I had been keeping my senses tuned to a tire balance issue and felt something that wasnít in the steering wheel and didnít really feel like a back tire, seat of my pants sort of feeling. Now Iím pretty sure I was feeling a little driveline judder before the changes. BTW, I was a Jag mechanic for a few years, a sales manager that appraised trade-ins for 25 years, and have restored a number of old cars, so I have a fairly well developed sense for the subtle signs a vehicle will give you, if you know how to receive these messages. Solutions offered on the blogosphere to the judder include wedges to adjust the axleís angle relative to the driveline, driveline bearing spacers, or even a complete one piece new driveline. Wedges are $35 and make sense for improving the u-joint angles so I ordered a set of 2į wedges from Tom Woodís Custom Drive Shafts figuring a 2Ē lift is on the lowest end of what people do to their trucks and 2į is the least amount of wedge offered. They worked very well, Iím completely satisfied that I have less low speed judder now than before the changes. The wedges are 2ĹĒ wide, General Springís leafs are 2⅜Ē so I took some material off both edges of the shims on my belt sander.
Having to take stuff apart, again, to add the wedges/shims I took the opportunity to paint the u-bolt hardware. More an experiment than anything, Iím curious to see how well a bath in phosphorus metal prep, Rustoleum etching primer and Rustoleum mat black automotive paint will hold up under there.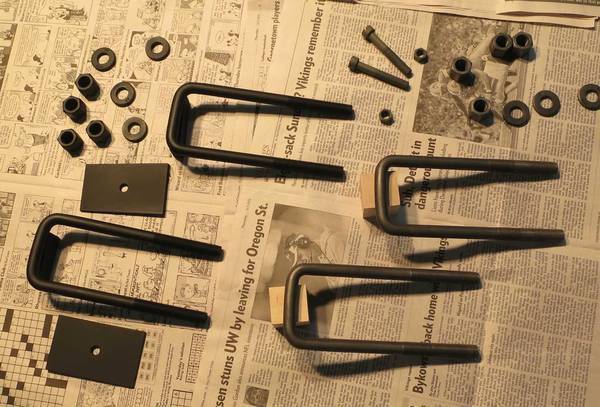 I like Michelin MTX M&S for my trucks (previously a 98 Dakota, 2 sets) since Iím not an off roader but do live in the Mpls/St. Paul area, i.e. lots of winter. They do generate more road noise than the OE tires did but are still my favorite for my driving needs.
Iím sure my truck is not perfect but the 40sį temps we were gifted this past December weekend will be the last tempts for a long time that Iíll do work in my garage just to try for perfection. Itís a truck. With the wedges in and my front end up 1ĺĒ, my final rear end ride height increase turned out to be about 2ĺĒ. When I restored an old car it took a year to stop seeing the flaws and to be able to view the completed job. I hope by next spring Iíll be done wondering how much difference there would be with a nice fresh firm drive line center bearing. Hmmmm.