Hello. I have been doing a lot of research about what to put on my 2012 ACLB V6 six speed 4 x 4 Tacoma, and just get more confused the more I look.
I recently got a SWEET deal here (I have gotten a LOT of SWEET deals here, but this was on suspension.
Quote:
Originally Posted by
MGtaco2.7
For sale is brand new in the box (pair) 5100 bilstein and deaver aal. I was told the aal would add 1-1.5 in of lift depending on the model. Ordered a complete kit from wheelers so i am selling this set. Aal comes with new center pins.
$235 includes free shipping to lower 48 only.
PayPal and V/M accepted. Any questions please just let me know.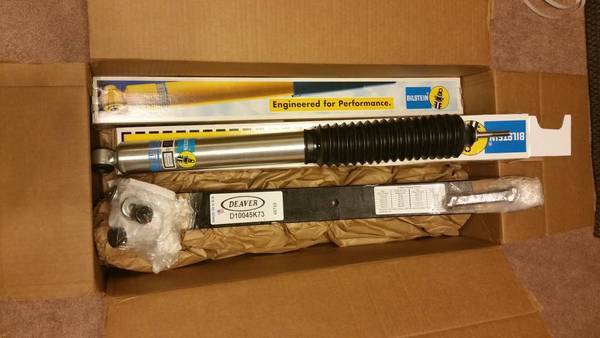 As I was considering going 5100s all the way around, I feel I need to get about 2 to 2.5 inches on the front to level the truck. First thing that came to mind was Old Man Emu with the 885 springs. Then read this post
Quote:
Originally Posted by
Mr Salty
He got the coils to get the lift vs having to preload the factory coils just using the adjustable shocks. The lift achieved from the coils depends on the truck, for example if you have a double 4x4 V6 most get approx. 3" with the 887, 2.5" with the 885 and 1.5-2" with the 884 coils. With an access cab you will end up a little higher since there's less weight.

The shocks he's running is the Bilstein 5100 shocks not the 6112s, those don't work with the OME coils.

With this set-up you might need aftermarket UCAs depending on the lift height, but there shouldn't be any issues as long as you keep it at or under 3", preferably under 3". 2" or less is ideal though.
The key things I want, besides a small lift, is not to have to break the bank to do it. Yes, I intend to offroad the truck as much as I can, but it is still a daily driver. We feel the ride of the stock Toyota is GREAT, and we do not want to mess it up.
Will the 5100s up front load up the 885 springs? (I doubt it, but thought I would ask). Will UCAs be needed? There is also questions about drivers side droop....and who would want that?
Despite all my searching, I can not find a very clear answer. Any help here would be greatly appreciated.