Quote:
Originally Posted by
TacomaChris
I recently lifted my doublecab Prerunner and have some slight vibes from 15-25 mph. I lifted it 4.85 up front by way of
Camburg
spindles and .85 on my 5100s. 4 inches was lifted in the rear by way of
All-Pro
Expo springs. I decided to take some measurements prior to diving in and buying shims or a carrier bearing drop.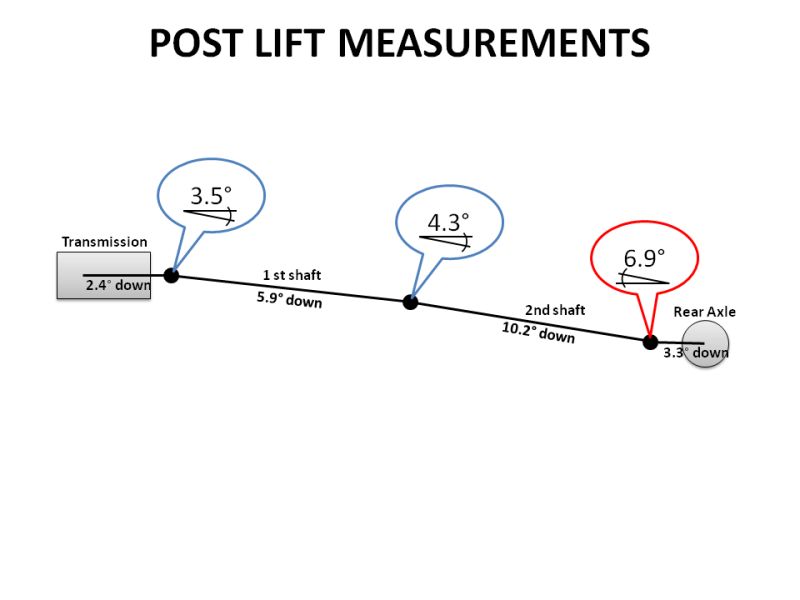 I've come to the conclusion that I can put a 3 degree shim in the rear that will bring the angle to a more optimal 3.9 degrees (6.9 - 3). This should cure my small vibes. A few other things to note:
- My trans output to my 1st shaft is at 3.5 degrees as shown in the picture above. This angle could not change with my lift as both the transmission and carrier bearing are on fixed mounts...so this angle would stay the same post lift.
- I could also throw in a small carrier bearing drop (washers) in a addition to the shims; however, bringing the carrier bearing down will also cause my trans to first driveshaft angle to increase while decreasing my 1st to 2nd shaft angle....by my calculations. Not sure if I want this as my factory trans to 1st shaft angle at 3.5 degrees already seems a bit high. We'll see
All in all I'm ordering the 3 degree
ToyTec
shims this weekend and I'll take new measurements once installed.
Thoughts?
Well, I'm glad I took the measurements posted above. I installed my 3 degree shims this weekend and the vibes are
completely gone
just as I thought. It's very important to take measurements so that you know just where to decrease/increase your angles and which accessories to purchase