-------------------------------------------------------------------
I traded in my Tacoma in September 2011, therefore I'm no longer actively monitoring or updating this thread.
-------------------------------------------------------------------
I often see questions regarding wiring, lighting, wattage, voltage, etc. Being an electrical engineer, I felt I could provide some insight into the mysteries of electricity. I am by no means an expert in all fields, so I humbly accept any responsible feedback worth including in this thread. It is by no means an all-inclusive reference, but hopefully it's a good reference worthy of a sticky.
WARNING: this is a reference only and I take no responsibility if you burn your truck down, hurt yourself (1A is enough to kill you), or void your warranty, etc.
Electricity and Water Analogy:
If you're completely confused by electricity, always think of its water analog. For example, think of a bucket or pool of water as a battery. If there's water in the pool, there is a potential for that water to flow out of the bucket if you punch a hole in the bottom...this potential energy is Voltage. When your 12V battery "pool" is measured to be 8V, this indicates the "pool" has been drained a little but has the capacity to be filled back up to 12V. Note: voltage is independent of flow...this is why a battery measures 12V when the car is turned off or if the battery is completely removed...a bucket of water still has water in it if you carry it somewhere!
The actual flow of water is electrical current, measured in Amps. A wire is simply a pipe that carries the flow somewhere...the bigger the pipe, the more flow it can handle (see the wire section). Resistance, measured in Ohms, is the resistance to flow. It could be some end device or the pipe itself has an inherent resistance. Just like water, electricity always wants to flow to ground in the shortest least resistance way. Even if you have a pipe connected to your pool, if you punch a hole in the side of the pool, all of the water will rush out of the hole and no water will flow through the pipe...this is called an electrical short.
An alternator is a pump that refills the pool. If the engine and pump are off, but you keep your headlights on, the battery continues to drain. When refering to a "large electrical load", we are talking about some device that draws a lot of current. The pool/battery, pump, and pipe/wire needs to be balanced to handle this load.
Basic Equations:
V (Volts) = I (Amps) * R (ohms)
Power (Watts) = V (Volts) * I (Amps)
I will show how to use these equations properly in the circuit design section at the bottom.
Fuses and Fusible Links:
A fuse is a device designed to melt or "blow" at its rated current. Fuses are not designed to protect some end device (e.g. lamp, stereo, etc) but rather the wires within the vehicle to prevent a fire. Your device may be fried, but your truck didn't burn to the ground.
WARNING: A blown fuse is typically a signal something is wrong...don't just replace the fuse and assume everything is ok.
The pic below shows 3 types of fuses typically used in vehicle applications. The top two are blade type fuses: top left is a low-profile mini fuse designated as ATM or APM, and the top right is a regular type, designated ATO, ATC or APR. The third type is a barrel fuse with an in-line holder.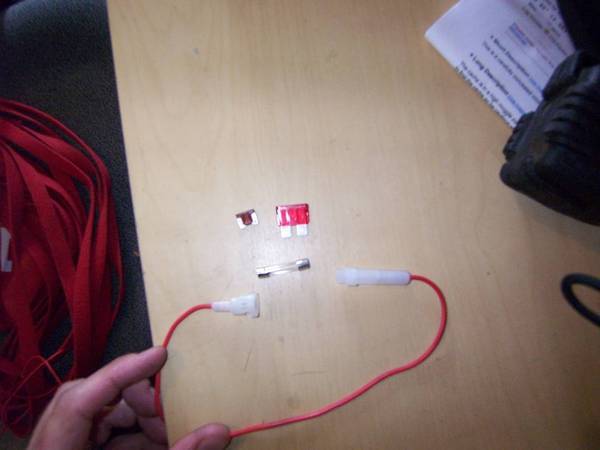 Wire:
Wire is classified by gauge...the higher the number, the smaller the diameter of wire. Wire has an inherent resistance and therefore creates heat, which is the main concern when properly choosing wire. Insulation is rated for different dissipation abilities, and the heat of the outiside environment may make it more difficult to dissipate that heat. If it gets too hot, it can burn up and/or melt and possibly create a fire. This is the purpose of a fuse...to burn up before the wire does in a controlled manner.
A "solid" wire is one piece of copper (or aluminum) sized at the wire gauge indicated; a "stranded" wire is a bundle of smaller diameter wires that when bundled together add up to the gauge indicated. Stranded wire is more flexible and can dissipate heat slightly better than solid wire, so it is prefered in automotive applications.
You can estimate the size of a wire contained inside insulation by fitting the wire into a stripper. For example, if the stripper's 18 gauge hole closes around an insulated piece of wire without cutting it, then assume the wire contained inside is ~20 gauge.
WARNING: be sure to get wire rated for outdoor wiring and/or for automotive, oil, and gas applications. This ensures the insulation won't degrade, soften, crack, and can handle heat. It is typically readily available at hardware and automotive stores and is written on the package. Also, use plastic conduit (a.k.a. split tube) when running wire along your vehicle to prevent scraping and shorting.
WARNING (update compliments of TRAP @ post #9): The list below is the ampacity (max current capability) of common wire gauges for short wire runs (e.g. 5 ft or less) in an open 86 degree F environment. For longer wire runs, the inherent resistance in the wire will reduce its ampacity (See:
http://www.engineeringtoolbox.com/amps-wire-gauge-d_730.html
). Furthermore, you will need to consider things such as your climate, location of wire (e.g. engine bay or free air), and if it is run by itself or in a bundle. All of these factors can increase ambient tempurature thereby reducing the insulation's ability to dissipate heat. Although you can purchase wires with increasingly efficient heat dissipation abilities (typically written on the package or directly on the insulation, Google Search for "NEC Ampacity" for ampacities tables for improved insulation efficiency. See also:
http://www.allaboutcircuits.com/vol_1/chpt_12/3.html
and
http://www.stormcable.com/uploads/Wire_conductors.pdf
), the numbers below are a very conservative ball park number. You will need to design to your specific application...when in doubt, choose the next larger gauge for a margin of safety!
(DO NOT USE
www.powerstream.com
for ampacity information. Although it is high on google hits, it is meant for a very specific situation and is not appropriate for vehicle wiring!)
Conservative ampacity (For options, google search for "NEC Ampacity Table"):
10 gauge - 30 Amps
12 gauge - 20 Amps
14 gauge - 15 Amps
16 gauge - 10 Amps
18 gauge - 7 Amps
*
20 guage - 6 Amps
*
*
WARNING: Anything 18 gauge and higher (thinner wire) is not recommended for any application using any significant amount of current and/or for any significant distance (e.g. over a couple feet). I'd ony recommend 18 gauge if you're running some low current LEDs or some other device that draws little to no current (e.g. less than 1A). Wire is fairly cheap (~10-20 cents per foot), so there's no need to cut corners here...even hardware stores sell 16 and 14 gauge wire with quality insulation in 25 ft spools for under $10.
Switches:
We all know what a switch is, but maybe not the construction. The image below illustrates the difference between a SPST and a DPDT. A "pole" is a connection and a "throw" is the number of connections made within the switch. For example, a Sing-pole-single-throw (SPST) is the simplest on/off switch...it connects a single input pole to a single output pole via a single throw. Taking it a step further, a single-pole-double-throw (SPDT) is an "either or" switch. The single input pole can be thrown in two directions. (Note: you may realize that a SPST is a SPDT switch with one output lug disconnected). Lastly, a double-pole-double-throw is basically 2 independent SPDT switches contained in the same package. There are two independent input poles that each have their own throw to an independent output. These are useful if you want to turn on multiple device using different power supplies via the same switch.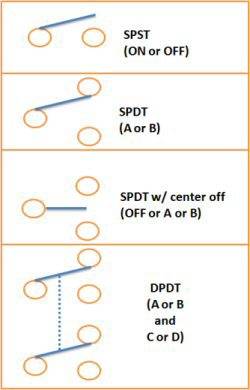 WARNING: If you plan to run any significant current through the switch, make certain it is capable of handling that current. Unfortuntely, most switches are rated for Alternating Current (AC), not Direct Current (DC) which is what vehicles use for power. You should look for a switch specifically rated for DC current because an AC rating is
NOT
the same as its DC rating. For example, a switch rated for 10A at 120VAC does
NOT
mean it can handle 10A at 12VDC. This is because when you abruptly open the contacts of a switch while there is high current flowing, an arc (like lightning or a static electricity shock) is formed inside the switch which will eventually over time melt the contacts of the switch, either destroying it or maybe causing a fire. Unlike DC, AC voltage is a sine wave, so when it naturally crosses 0V, it naturally helps to shut off the voltage before an arc is formed...DC voltage on the other hand will continue to try to maintain its contact resulting in an arc.
Therefore, due to heat, fire, and the possibility of electrical shock, running high current through a switch is undesirable. Also, high current switches rated for DC current are hard to come by, expensive, and come in a limited variety of styles. Enter...the relay...
Relay:
A relay is a type of automatic switch. It is designed to handle the high current while allowing the user to switch it on without fear of electrical shock or fire due to high current at the switch panel. It works by energizing an electromagnet that pulls the switch throw arm, thereby connecting the input(s) to the output(s). When the electromagnetic coil is deenergized, the internal spring pulls the throw arm back open. This relay is a "normally open" relay...you can get relays that are the opposite and are called "normally closed". Relays are typically available in similar configurations to switches (e.g. SPST, DPDT, etc). Also, some relays have an internal diode (I won't explain why), so you may have to swap the coil wires if it doesn't work...read your wiring diagram.
Note: the control wire and switch can now be of a lower current rating because the relay now handles the high current, freeing you to use just about any style of switch.

WARNING: Relays are also rated for max current capacity...make sure you get one that can handle your application.
LEDs and Bulbs:
A bulb is basically a controlled short and therefore draws a high current (on the order of 1-10 Amps). This high current flowing through a carefully selected metal filament will glow brightly. A bulb is in a vacume which allows it to continue glowing without burning out. An LED (light emitting diode) glows due to properties of semiconductors and p-n junctions (I won't go in detail here). All you need to know is that they glow with extremely high resistance and low current (on the order of 10's of milliamps). Therefore, they require less power to operate, smaller wires, and can be tapped into most existing systems without much concern for added loading and fusing.
This is why you need a new blinker module when installing LED blinkers. Your stock blinker module uses the resistance inherent in a bulb to control its blinking speed...this is why your blinkers stop blinking or blinks faster when a bulb is burnt out. Therefore, if you install LED blinkers without this module, they will blink extremely fast. You need to install resistors in the in the circuit to make it look like a stock bulb or replace the blinker relay with one specifically designed for LEDs. LEDs are desirable because they draw less current which places less load on the battery and alternator, increases safety because there's no high current running through the vehicle, as well as requiring smaller wires possibly reducing weight.
Note: in circuits that don't blink (e.g. map lights, brake lights, etc), you can typically install an LED instead of a bulb with no negative effects.
Connecting Wires:
Soldering
Soldering and heat shrink is the best. It is a simpler task to learn than you may think and provides a safer and cleaner connection than any splicing option. For the beginner, you can get a decent soldering iron from Radio Shack for $10. Irons rated at 15W are meant for integrated circuit chips, transistors, capacitors, etc. and won't get hot enough to solder thick wires, therefore I recommend something on the order of 30W-55W. I prefer soldering irons to soldering guns because they are great for meticulous work.
Check out
http://www.tacomaworld.com/forum/tec...ing-101-a.html
for an excellent how-to. Also, see post #28 from
Trap
which contains great info regarding rosin/flux, which may be helpful particularly for the novice. Practice on some scrap wire to get use to it, here's a brief pictorial demonstrating a good solder joint:
There are numerous ways to initially connect the wires...you can twist them together or use a hook method as I've done here. Notice the piece of red heat shrink tubing (be sure to put it on before you connect the wires), be sure to keep it away from the soldering heat or else it may begin to shrink prematurely.
Use the soldering iron to heat the wires, not the solder! Add solder to the heated material until it begins to melt and connect to the wires. Continue adding solder until the entire connection is covered...the solder should flow into all the threads and crevices of the connection. Be careful not to touch the iron to the wire insulation or it will melt it. Also, try to solder quickly so that you don't heat up the wire too much...sometimes if it gets too hot it can melt back the insulation or, if it is thin wire, can actually melt the wire itself. If it gets too hot and you aren't done adding solder, stop for a bit to let it cool, then begin again by warming up the existing solder until it turns to a liquid, and begin adding more solder until you're satisfied. Your iron is most efficient when it is kept clean: keep a wet sponge nearby to clean the tip in between solder applications. Also, if your iron is new, be sure to use some rosin paste and pre-tin the tip (coat the iron tip by melting some soldering directly to it) before you start soldering your project.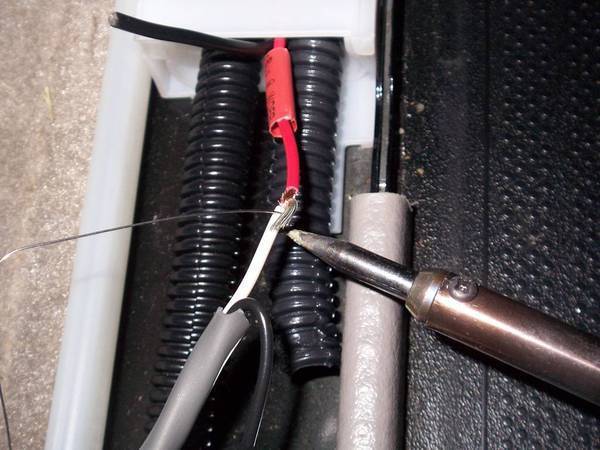 Here's the finished solder joint. Don't glob a ton of solder on the connection, but use enough so that it is a strong connection evident by the flow of the solder into all the crevices. You shouldn't be able to see any of the raw metal, but you should be able to make out the individual wires and the basic shape of the connection. Also, the connection should have a shiny luster, not a dull grey, if it is, just briefly reflow the solder (touch the iron to the solder until it all "flows" and looks like liquid, then simply remove the heat and let it recool).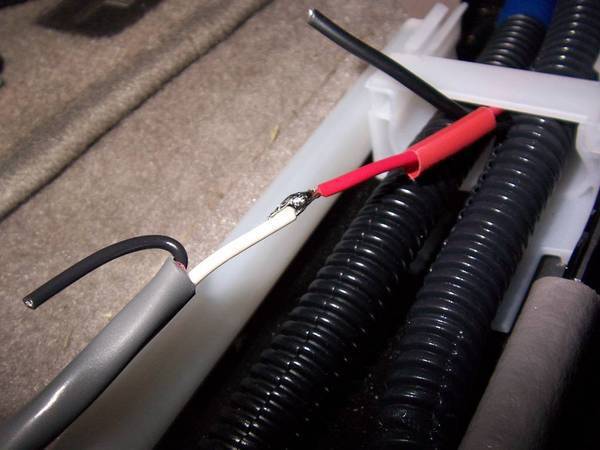 Slide the heat shrink over the joint, gently heat it with a heat gun or cigarette lighter...and you're done. Don't overheat it or you could split it and expose the bare connection. Also, I typically use two layers of heat shrink to ensure a safe connection in harsh environments.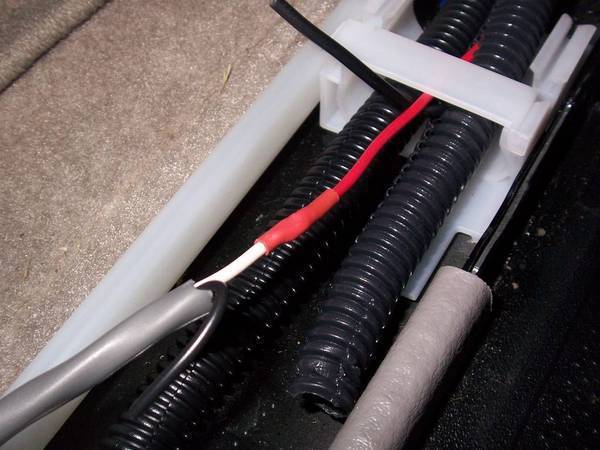 Crimping
Crimp connectors are the next option. The pic below shows a
cheap
crimp tool with some various connector types. This crimper is fine for the occasional crimp, but if you plan to do a lot of crimping, get a quality tool such as the one in the second pic below.
At the very top is an electrical wire nut which is designed to twist 2 or more bare wires together in a temporary connection. I do not recommend these for permanent connections. The next one is an in-line connector...insert a stripped piece of wire into each end and crimp each end to secure the connection. Note that there is a standard color coding that fits certain wire sizes. If you're still unsure, there are other connection options available from auto parts stores like the one found here:
http://www.posi-lock.com/posilock.html
.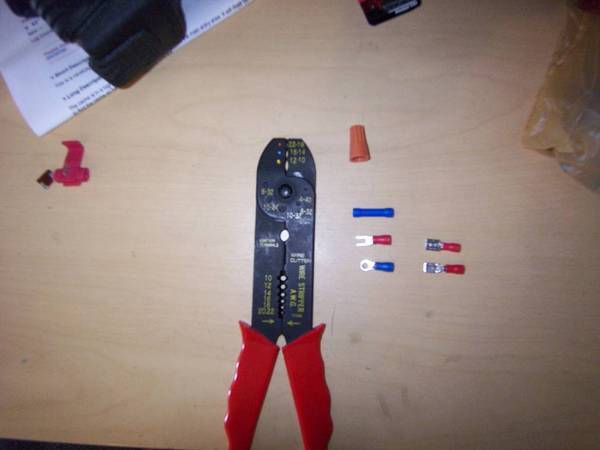 Although the crimper in the pic above is suitable for the occasional crimp, the crimper style below is of slightly higher quality and can typically be purchased for under $10, and are well worth it!!

This represents a higher quality or specialty crimper...this is unnecessary for the occasional or novice crimper.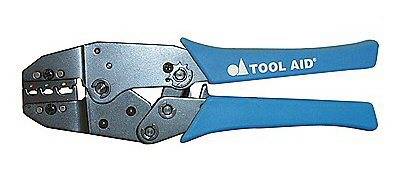 WARNING: Soldering and heat shrink tubing is always the best and safest connection, particularly in a harsh environment, but crimp connectors are ok for the novice. Even if using crimp connectors, I typically use heat shrink tubing around the crimp to ensure a clean/safe connection. I also like to zip tie the connecting wires together for strain relief. Electrical tape is over rated and I do not suggest using it for any connection. Wire nuts should not be used for any permanent connection.
Wire Strippers
Similar to crimping tools, you can get a cheap stripper for occassional use, or you can spend a few dollars and get a higher quality stripper. However, you don't need a professional stripper or ones called "automatic". Below is a pic of the one I use...although this particular one is a craftsman, many other manufacturers have quality tools and some are recommended by other posters in this thread.
Note: this style stripper is also useful in sizing an unknown wire gauge by closing the stripping hole(s) around the wire. If the unknown wire is insulated, assume the wire inside is the next smallest gauge. For example, if the 18 gauge stripper hole snuggly fits around an insulated wire, assume the wire inside is actually 20 gauge.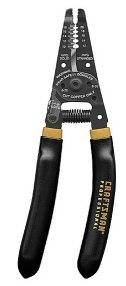 Fuse Taps:
One way to power a new accessory is via a fuse tap. This expands a singular existing fuse location into 2 locations. Be careful when using these because the wire coming from the battery to the exisiting fuse must be able to handle the additional current of the added circuit.
This tap allows you to add a fuse for your new circuit.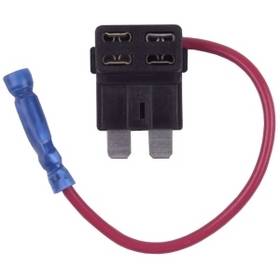 This tap uses the existing fuse and you can tap either the input or the output side of the fuse. The hook on the right side loops around one of the fuse lugs allowing the lug on the left to be attached to a crimp connector.
WARNING: If you use the input side, be sure to fuse your added circuit properly. If you chose to use the existing fuse to handle your added circuit, take care not to overload the existing the fuse.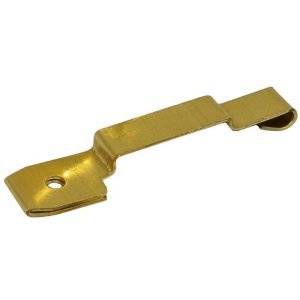 Wire Tap/splice:
These devices are great if you want to tap a stock wire and you don't want to cut it. For example, if you want your fog lights to turn on when your parking lights do, use a splice on the parking light bulb's wire. These are great because you can easily locate the right wire and tap it without cutting wires (improperly modifying your electrical system is a quick way to void your warranty). Another example is if you want running lights to turn on when you open the door...simply splice into the courtesy light wires (see my build).
Note: these are color coded as well for the wire gauge they are meant to splice.
WARNING: They are not water proof, so beware. Also, they expose the bare wire when removed, so I recommend not removing them, or repair the wire using tape or liquid tape.
Here's what it looks like: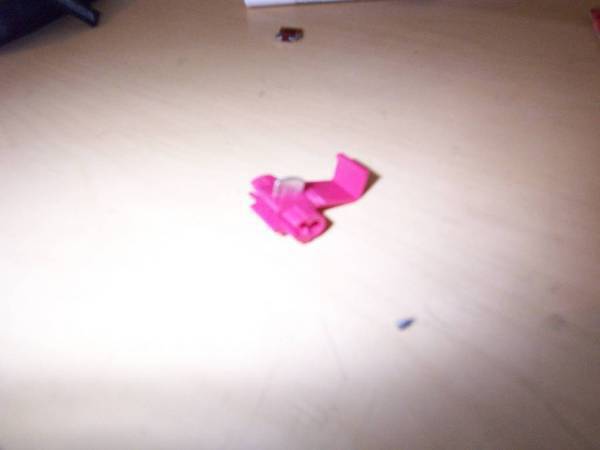 In this pic, the red wire represents the existing stock wire. The white wire is the one I want to tap into the red wire. Next, push down on the metal piece which will cut into the red and white wires, connecting them.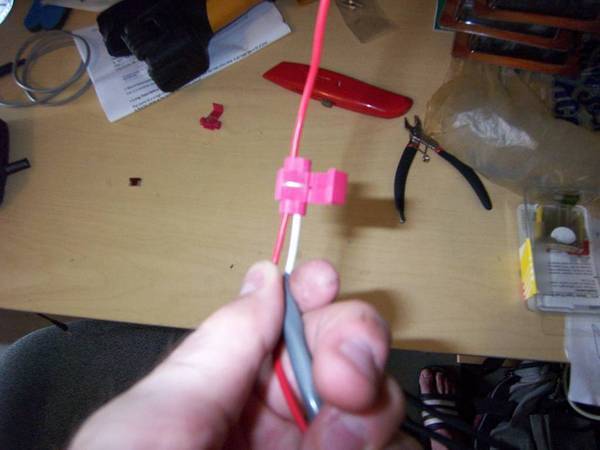 Now close the plastic lock over the metal piece to secure it...you're done. Now zip tie the wires for strain relief.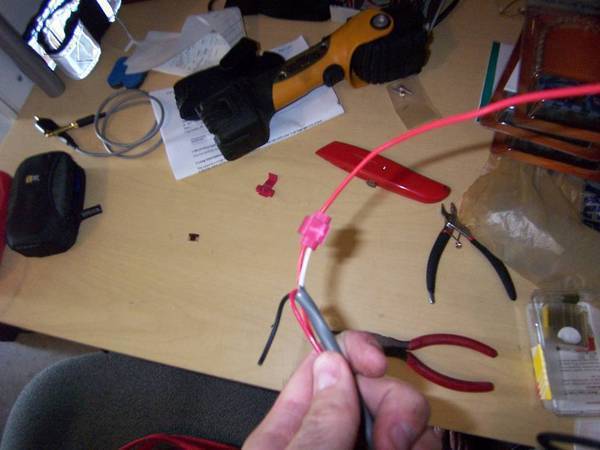 Batteries, Alternators, and Starters
Another topic regularly brought up is problems starting your truck. It can be a hard problem to solve and the examples could go on forever, but here's some info to help you do some educated debugging. I'm not an expert on alternators and such, but even if I'm not 100% spot on, you'll get the idea.
Batteries
A battery not only has voltage but also a "capacitance" (for lack of a better word), this is one of a number of things that improves your "cold cranking amps" rating. The capacitance is the battery's ability to hold its charge under a heavy load. Case in point: there's no way a small 9V battery could start your truck! This is also evident by the fact that your headlights dim a little when you crank the engine...under the heavy load of cranking, the voltage dips a little which provides less power for the lights resulting in their dimming.
In terms of a water analogy, compare a 5 ft tall swimming pool of water with a 5 ft tall bucket of water. They are both 5 feet tall and therefore have the same potential (voltage), but the big pool of water can sustain its flow of water much longer than the smaller bucket.
Alternator and Regulator
An alternator, for the layman, is simply a generator that keeps the battery charged up like a water pump. Without going into too much electrical theory: a generator basically generates electricity by spinning a magnet inside a coil of wire. The laws of physics state that a magnet spinning inside a coil of wire will generate a current in that coil.
Note: a magnet can be a permanent magnet (like the type on your refrigerator) or a coil of wire with current flowing through it...this will be important in a minute...
Now imagine that the magnet is a permanent magnet (or a wire coil magnet with a constant current), then if it were a true generator, the faster it spins the more voltage it produces in the outside coil...since it is tied to the accessory belt, its voltage would be a function of engine speed.
This highly fluctuating voltage would be difficult and wasteful to harness for powering the car's sensitive systems, so there is a regulator inside the alternator. This regulator adjusts the current inside the magnetic coil, thereby reducing the magnetic field. Therefore, if the engine is at an idle, the current in the magnetic coil is increased so that the boosted current in the outside coil is ~13V. As the engine spins faster, it would produce an even higher voltage, but the regulator instead reduces the current in the magnetic coil, thereby maintaining the ~13V in the outside coil. This method is much cheaper, simpler, and safer to do.
Note: sometimes there's another regulator behind the battery meant to supply all the main systems with smooth voltage.
Starter:
Is basically an electric motor than spins the crank.
Some debugging notes: (just some ideas, the root cause could be anything)
- Deep discharging a battery typically results in permanent damage. Do it more than once and your battery will die earlier in life, typically due to a bad cell. When discharged, it takes much longer to charge back up, and if it's old, it may not charge back up at all.
- A clicking starter typically means it doesn't have the power to spin the crank. The starter could be bad, but more than likely it doesn't have enough cranking power from the battery. Therefore, either the battery is bad or the alternator isn't keeping it charged up.
- If a starter struggles to spin the crank but successfully starts the engine, your starter is probably okay but you could have a tired old battery or a bad alternator. In other words, the battery isn't holding up the capacity needed to spin the crank.
- If a starter doesn't even try to turn the crank, the starter could be bad or the battery's discharged and/or bad
- If systems act wierd (like blinkers not working or dash lights doing strange things), then you may have low battery voltage, a short or load pulling down the battery capacity and its ability to hold up the voltage, a bad voltage regulator. An easy way to test this is to measure the battery voltage with the engine running. If it measures well below 12V, then the load on the battery is exceeding its capacity abilities...your battery is probably dead or the alternator is not keeping it charged up.
Bad battery or alternator? Here's a way to isolate each:
(this may not work on all vehicles and I take no responsibility if you hurt yourself or your truck)
--With the engine off, disconnect the alternator and disconnect the positive battery cable and measure the battery voltage.
--Keeping the alternator disconnected, reconnect the battery, start the engine and let it run for a few seconds. Turn it off and measure the battery voltage again, it should be slightly discharged.
--Reconnect the alternator, turn on the truck and let it run for a few seconds. Turn it off and measure the voltage...if it went back up, then the alternator is successfully recharging the battery. If not, the battery may not be accepting charge, but it's more likely that the alternator is bad
--With the engine off, loosen the positive battery cable, turn on the engine, then remove the battery cable. This forces the engine to continue run off the alternator only, which most cars should be able to do. However, if the engine struggles or shuts off, the alternator may be bad. (Note: the car will not start on the alternator alone, you need the battery's capacitance to help)
Basic Circuit Design
I also see a lot of questions on how to wire lights or some new accessory. Here I will take you through the step-by-step design of a simple circuit. Included is a discussion regarding component and wire selection.
WARNING: I am not designing a circuit for you, but rather showing you the steps you should take to put a circuit together...or it can be used to understand how a pre-wired circuit is wired. You should take this generic circuit and modify it for your specific application...specifically, you should consider things such as current draw, wire location (e.g. heat, scraping, shorting, etc), wire length (effects chosen gauge), fuse size, etc.
We'll start with the simplest building block and we'll build from there. I'll use a light bulb as an example.

So how do you know what wire gauge and fuse to use? You need to figure out the maximum current your accessory will draw. However, lights (for example) are rated in Watts not Amps...so here's how to calculate current draw from wattage...
Let's assume that this light bulb is a 130W bulb. Recall the two formulas P=VI and V=IR. The power rating of the bulb (130W) is in reference to its operating voltage (12V). Therefore, from P=VI...130=12*I, solving for I=10.8 Amps. Now, using this new information, plug it into Ohms law (V=IR) to determine the resistance of the light bulb.... 12=10.8*R, solving for R=1.11 ohms. For simplicity, it is reasonable to assume that the bulb's resistance doesn't change.
Now we're interested in knowing the worst-case scenario for the current draw. This is important because as we all know, the battery voltage fluctuates as it gets old or charges/discharges. Assume that the battery could be anywhere between 8 volts and 14 volts. Therefore, using ohm's law (V=IR)... 8=I*1.11, solving for I=7.2 A. Now do the same for 14V... 14=I*1.11, solving for I=12.6A.
Therefore, one 130W bulb draws anywhere from 7.2A to 12.6A depending on the state of your battery voltage. Since you typically have two bulbs, and each bulb draws 12.6A, the total draw of both bulbs on the battery is 25.2A (12.6+12.6=25.2). Therefore, we must select all components sufficient enough to handle this load.
Here's the updated diagram with the maximum current draws indicated.

Referring to the wire section of this post (assuming a conservatively low-efficiency insulation), 14 gauge wire would be sufficient for each light because it can handle 15A. However, the wire coming from the battery has to carry a total of 25A, therefore 10 gauge wire is the minimum. If you're on the edge or not sure, it's always a good idea to go one gauge up to provide some overhead. Don't forget that the wire going to ground from each light has to be as big as its power wire because the same amount of current has to continue through the bulb to ground.
Note: as discussed in the wiring section of this post, these are conservative ampacities and can be improved upon depending on the heat dissipation rating of the wire you choose. This is why pre-wired lighting kits use more reasonably sized wire.
Next, we'll need to add a fuse. As previously mentioned, the fuse is meant to protect the wires from burning up and starting a fire. The fuse capacity should be selected so that it burns up ("blows") before the wire burns up, but capable of handling the typical current load for long periods of time. A good rule of thumb is to select a fuse that is 10% below the wire's ampacity. For example, since we've selected a 10 gauge wire that can handle 30A, the fuse should be 10% below that...30A-(30*10%)=27A fuse. The closest standard fuse to this is 25A. However, remember that we could potentially see a 25.2A max draw if the car battery is up around 14V, but since this is highly unlikely, selecting a fuse at 25A is better than picking a 30A fuse that doesn't blow before the wire.
WARNING: always physically place a fuse as close to the battery as possible. This is because if you have a few feet of wire in between the battery and the fuse, a short could occur in the unprotected length of wire resulting in a possible fire.
WARNING: try to use the same gauge wire throughout your circuit to ensure proper fusing. Always choose your fuse to coincide with the smallest/weakest wire in the circuit. Similarly, if you add a circuit or need to repair some wire, always go equal or bigger in size.

Next, we'll want to add a switch. You could simply insert a switch in between the fuse and the lights...simply find a switch that is rated at for at least 25A at 12VDC. However, as discussed earlier, it is undesirable for safety reasons to have high current run into the cab and to the switch panel. Instead, the switch should power a relay....again, the relay in this example should also be rated to handle at least 25A. Also note that if you wire the switch directly to the battery, you should also add a fuse for the switch and wires. However, if you're tapping off a factory wire, the factory fuse should provide sufficient protection assuming you use a reasonable wire size for the factory fuse.
Here's the end result: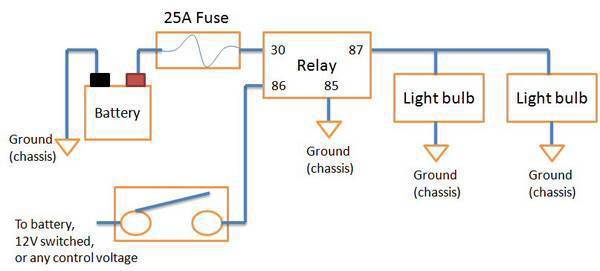 Another Example??? Here it is again for another common bulb size: 55W...
From P=IV....55=I*12, therefore the standard current draw is I=4.6A. Use this to determine the resistance of the bulb (calculated via V=IR)...12=4.6*R, therefore R=2.6 ohms. Next, solve for worst case maximum possible current draw if the battery voltage fluctuates: since we know the resistance of the bulb (which is assumed constant), we can vary the voltage and see how the current changes (via V=IR)...if the battery is discharged to 8V, 8=I*2.6...therefore I=3A. If the battery is fully charged, it could be at 14V...14=I*2.6...therefore I=5.4A. In conclusion, depending on the battery's voltage, this bulb could draw anywhere from 3A to 5.4A. Since lights typically come in pairs, you'll have 2 lights pulling 5.4A, therefore you'll see a total of 10.8A.
Next, pick your wire and fuse: from the quick snapshot table in the wire section, a low efficiency 14 gauge wire can handle 15A and should be ok for longer wire runs too (i.e. to the back of the truck). However, since this is a conservative number, you can take into account the fact that your battery is rarely 14V, the length of wire you run, and/or if you purchase a quality wire with a high efficiency insulation (read the label on the package), you could be ok using a 16 gauge wire which can conservatively handle 10A...but I can't make that decision for you, that's your call.
Now choose a fuse...since the 14 gauge wire can handle 15A max, a 15A fuse may not blow in time to protect the wire, so choose the next lowest standard size: 10A fuse. We can verify this guess by calculating the safety margin by the 10% rule of thumb: 15-(15*10%)=13.5A. This says to theoretically choose a 13.5A fuse to ensure it blows before the wire melts, so choosing a 10A fuse is perfect. An aftermarket pre-wired circuit likely uses higher quality wire and therefore you may see fuses sized slightly smaller, but for the layman wiring his own circuit, it is recommended to use conservative numbers presented here.
Tacoma Specific Info - Tapping Ground Activated Circuits
Many systems use a ground activated circuit. These circuits are extremely common on vehicles and can result in wacky stuff if you aren't careful when tapping into the stock wiring (for example, you turn on an aftermarket device and it turns off your CD player or turns on a dash light) and this thread would be incomplete without mentioning these types of circuits. You should refer to a Haynes manual or the manufacturers wiring diagrams that are available on this site.
Here is an example of a ground activated circuit. Instead of the switch controlling the power going to the device, it instead controls whether or not the device has a ground. I don't recommend this when designing your own circuit, but you need to understand it when dealing with the factory wiring.

Now, suppose that you want your aftermarket device to operate with a stock device. Most people would assume that the power wire is switched and may wire as seen below. The problem here is that Device 2 will be on all the time. Now lets say you turn on Device 1...if it has a lower resistance than Device 2, electricity will bypass Device 2 all together and it will shut off. The opposite is true too...if Device 2 has a lower resistance, than Device 1 may never turn on. This is true even if you install a switch on the positive side of Device 2.

The problem in the diagram below is that Device 1 and Device 2 will be on all the time and will not respond to the stock switch (Device 2 is acting as a bypass). If you placed a switch on the positive side of Device 2, it would turn on both Device 1 and 2...but turning on the stock switch would then bypass Device 2 and only Device 1 would be on.

In the diagram below, Device 2 will never turn on because electricity takes the shortest path to ground. Device 2 is basically tapped off ground.

So how do you do it properly??
It should become apparant that there is a myriad of ways to mess this up and you won't know what's happening unless you have a factory wiring diagram. You could even do permanent damage to your wiring and devices if you're not careful. Once you've obtained a wiring diagram and realize your dealing with a negative activated circuit, here's how to do it properly.

Note: you could place a switch on the positive side of Device 2 if you want the option to turn it off even if Device 1 is on. You should also insert a fuse if the wires of Device 2 are smaller or in a harsh environment (see below).
This is the exact circuit diagram for my running board lights (see link in my signature)...I wanted the running board lights to turn on when the dome light comes on (e.g. when the door is opened or doors unlocked). Therefore, Device 1 is the dome light and Device 2 are the running board lights. Since the running board lights are outside the cab and use smaller wires, I wanted to specifically isolate the factory wiring from my aftermarket wiring...also, in the event of a short, the smaller wires of the running board lights would burn up before the factory 7.5A fuse for the dome light, so the 1A fuse specifically protects the aftermarket wiring.
Note: you could provide its own power wire and fuse, just ensure the ground wire can still handle the added load...see more below...

WARNING: If the factory wiring and fuse can't handle Device 2, don't assume you can run an independent power wire and fuse while still using the factory ground. The ground wire has to handle the load too!! (see below) In this diagram, the ground switch and wires have to handle 50A!!
(***This is incorrect and could result in a fire***)

(***This is incorrect and could result in a fire***)
Therefore, just like before, you need a relay to provide the high power. A relay can be operated using a negative activated circuit via the diagram below. Basically the relay has power, but the coil's ground is floating and is therefore not activated until the stock switch provides the ground. Therefore, the low power coil can be safetly activated via the stock wiring but the high power wires are provided by you.
**WARNING: This is a theoretical solution because I've never actually done it before. Again, I'm providing ideas and take no responsibility for your actions!! I recommend you prototype this idea before actually attempting it. When in doubt, get help or wire your circuit independent of the factory wiring**

---------------------------------------
Hopefully this answers some questions and builds confidence to perform wiring projects. Remember, this is not meant to design a specific circuit for you, but rather demonstrates a generic approach and gives you the tools necessary to make an educated decision regarding fuses and wiring.
This write-up is for reference use only...I take no responsibility for your decisions and/or any damage caused to you or your rig.
Have fun...