I started this thread because I noticed a lot of the similar, but re-worded questions about the same basic functions and components of your truck's A/C. I wanted to give you all some information that will help you better understand how your A/C works, and show you how to differentiate an easy fix from a major problem.
The basic principle behind A/C is that it uses the pressure/temperature relationship of compressed gases to absorb heat from one location (the cab of your truck) and reject it into another location (outside) were it makes little or no difference.
First, the four basic components.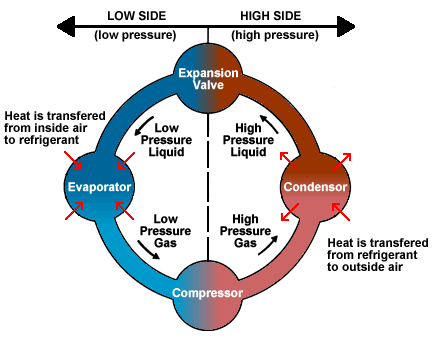 1.) The Compressor - pumps the refrigerant (also referred to as Freon, which is a brand name) through the system.
2.) The Metering Device (also known as the expansion device)- causes a pressure drop in the system, which drastically drops the temperature of the refrigerant for cooling.
3.) The Evaporator Coil - Absorbs heat from the area to be cooled.
4.) The Condenser Coil - Rejects the heat from the system to outside the truck.
Two other very important components are the condenser and evaporator fans. Without airflow across the coils, serious problems can occur.
1.) If your condenser fan (the serpentine fan located in your engine bay) fails, it will not reject heat from the system. This will eventually cause your head pressure to rise and cause compressor failure, or a high-pressure safety will disable the compressor from running.
2.) If your evaporator fan (the blower inside the truck) fails, it will not absorb heat from the system. A lack of airflow across the evaporator coil will cause the coil to build up ice and eventually freeze solid.
Note that fan failure is not always the root cause of lack of airflow- dirt and dust, or a clogged cabin
air filter
which filters the air can restrict airflow across either coil and cause these problems.
Here are some things you should know.
1.) Make it a habit to check your cabin air filter every time you clean out or wash your truck. It is a common misconception that the cabin air filter is there to filter the air you breathe- this isn't the case. It is there to keep your evaporator clean so it doesn't become insulated by dust. Also check your condenser coil for dirt deposits, excessive bugs and things like that for just the same reason.
2.) The different refrigerants found in automotive applications, R-12 and R-134a, have a very similar pressure-temperature relationship but are NOT direct drop-in replacements for one another. The reason behind the R-134a conversion is that because an automotive AC system is made up of a lot of rubber hoses, leakage is expected. R-134a is a HFC refrigerant (hydrofluorcarbon) and does not contain the chlorine molecule like R-12 (chlorofluorocarbon) which is known to deplete the Ozone layer. An R-12 system is not "more efficient" or "colder" than an R-134a system, and in fact, their pressure/temperature relationship is extremely similar.
3.) Not EVERY problem with your system is "low-charge". You can't assume that the air coming out of your vent's temperature is an indication of a low charge. You must take into account serval different factors.
1.) The temperature difference across your evaporator and condenser coils.
2.) The superheat of your system (temperature difference between the actual refrigerant temperature and the temperature corresponding to it's given pressure)
3.) The subcooling of your system (same as superheat, but cooled below it's corresponding pressure)

This is why I would advise anyone NOT to add charge to their system if they are unhappy with their cooling. While being low on charge causes system inefficiency, so does being OVERCHARGED
. In fact, overcharging your system or charging in improperly can result in refrigerant liquid-flood back (resulting in compressor damage) and elevated system pressures, which will also either damage your compressor, blow through a high-pressure relief or simply lock-out your cooling mode via high-pressure safety.
The only TRUE way to properly charge a system is to know the design specifications for superheat and subcooling under specific operating conditions. Buying generic charging tools from
AutoZone
is neither accurate nor recommended.
Well, I certainly do plan on adding to this information in the future- also, I'm ready to answer any specific questions you guys might have and add them on here too.