Brian and Chris did such a nice job with a Rear Diff How To I've decided to try and make a front diff how to.
How to change the front differential fluid in your Second Gen Tacoma:
Check your Owner's Manual to be sure you purchase the correct fluid and the right quantity. I picked up three quarts of 75W90 just to play it safe. The Front Differential is not a Limited Slip so you do not need any lsd/posi additive or friction modifier.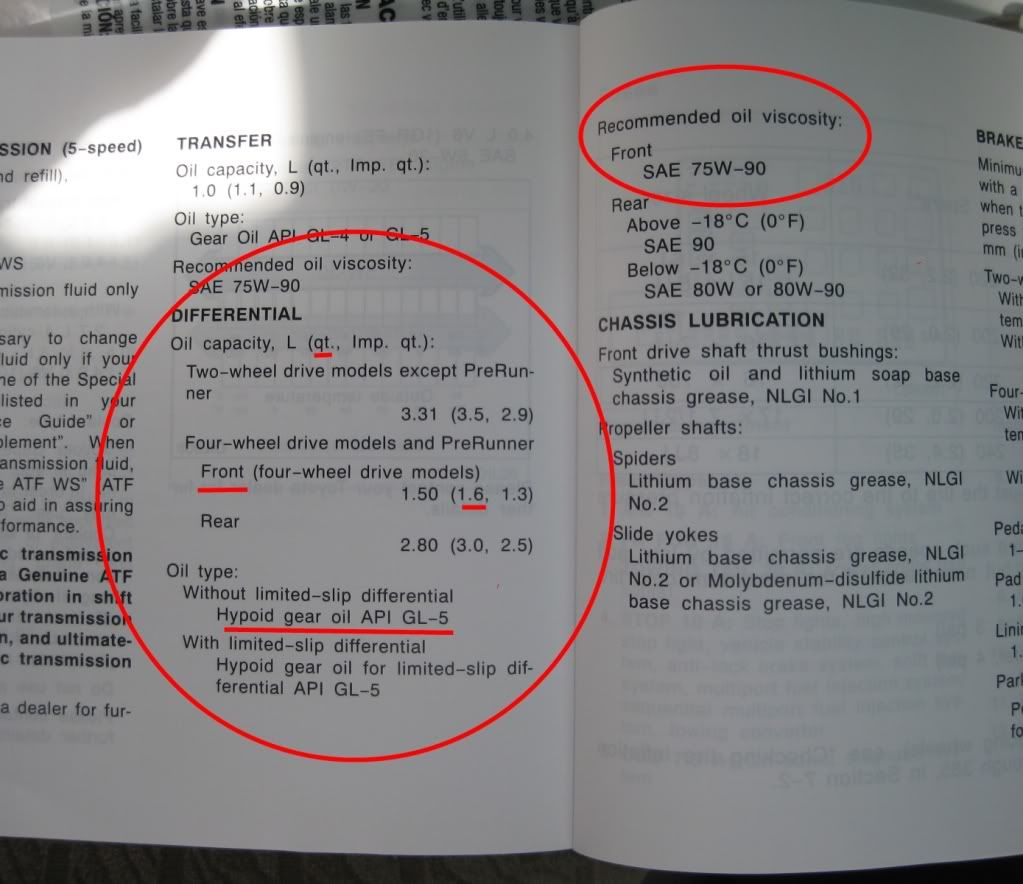 I bought these at
Autozone
: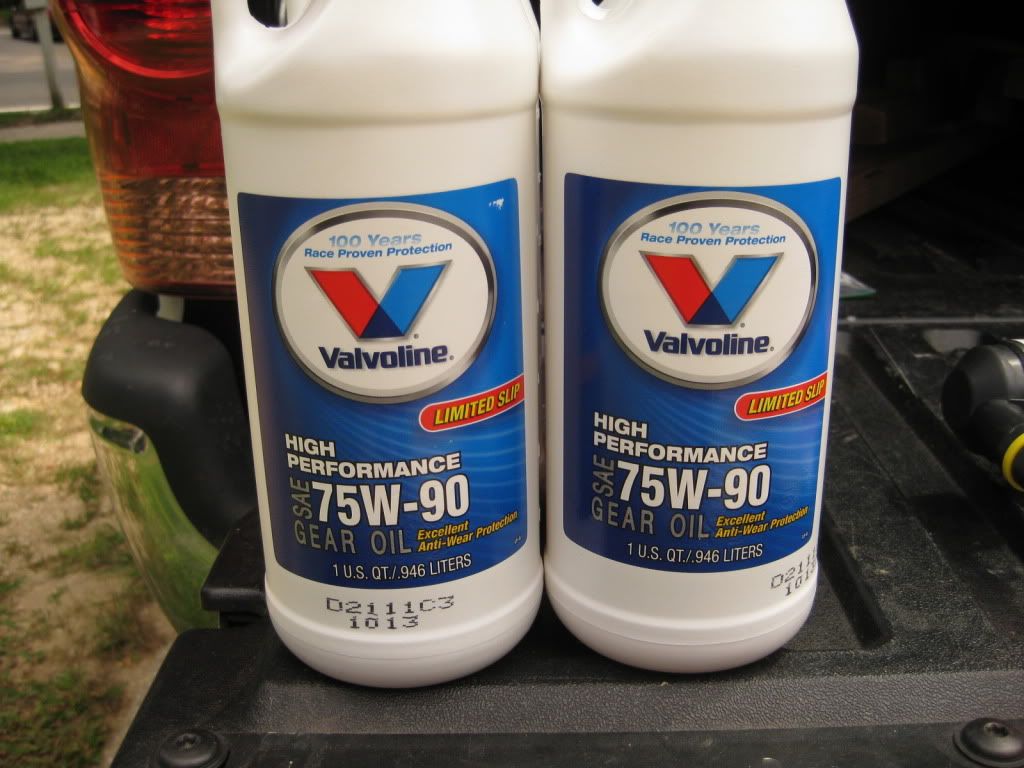 You will need:
New 75-W90 Gear Oil that's GL-5 Rated
10MM Hex Bit Socket or 10MM Allen Wrench
Ratchet and extension
Drain Pan
Gloves - used gear oil really stinks, wear the gloves
Pump
Shop Rags or Paper Towels
Container for the used Gear Oil
Here's the Craftsman 10MM Hex Bit, you can get one through
Sears
: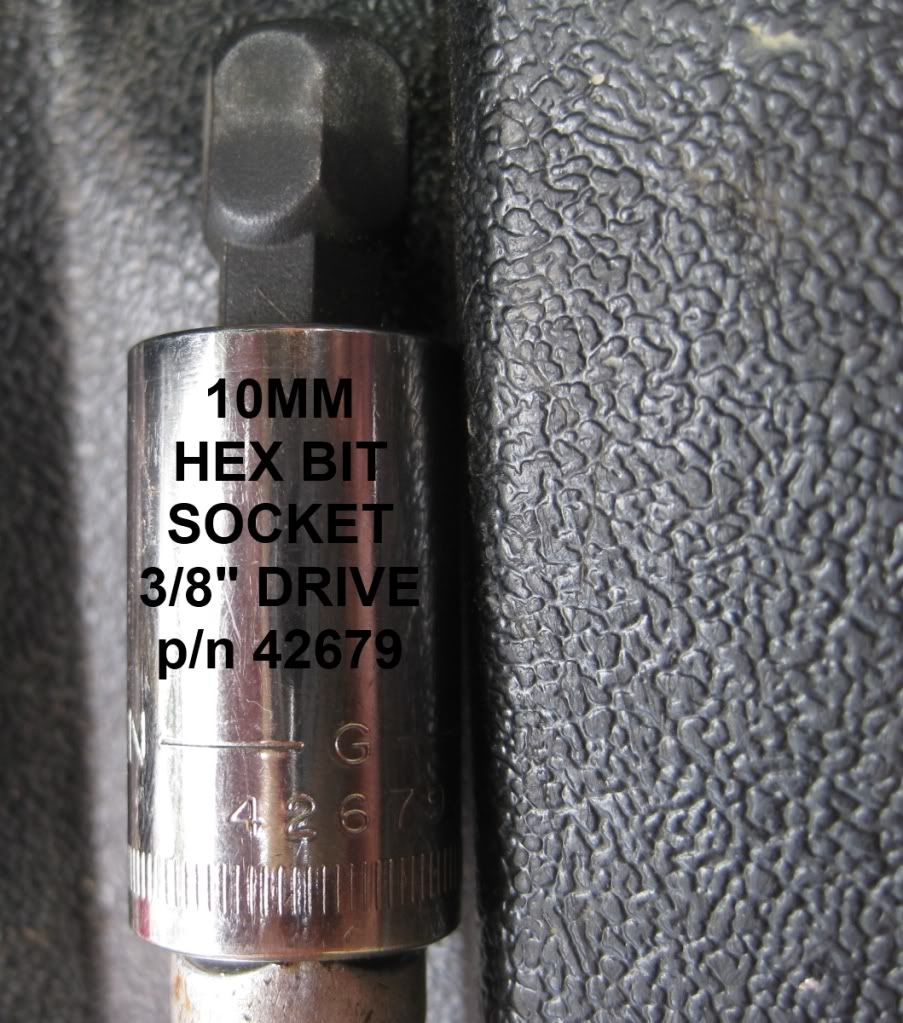 Here's the pump I chose. I bought this at the local hardware store. I know
Harbor Freight
carries something similar. I've read about these coming apart so I added some hose clamps and zip-ties to keep everything together. I also drew an arrow on it to indicate the direction of flow. I think I'll get some smaller worm clamps for the hose connections just to play it safe.
ShopCraft p/n 36667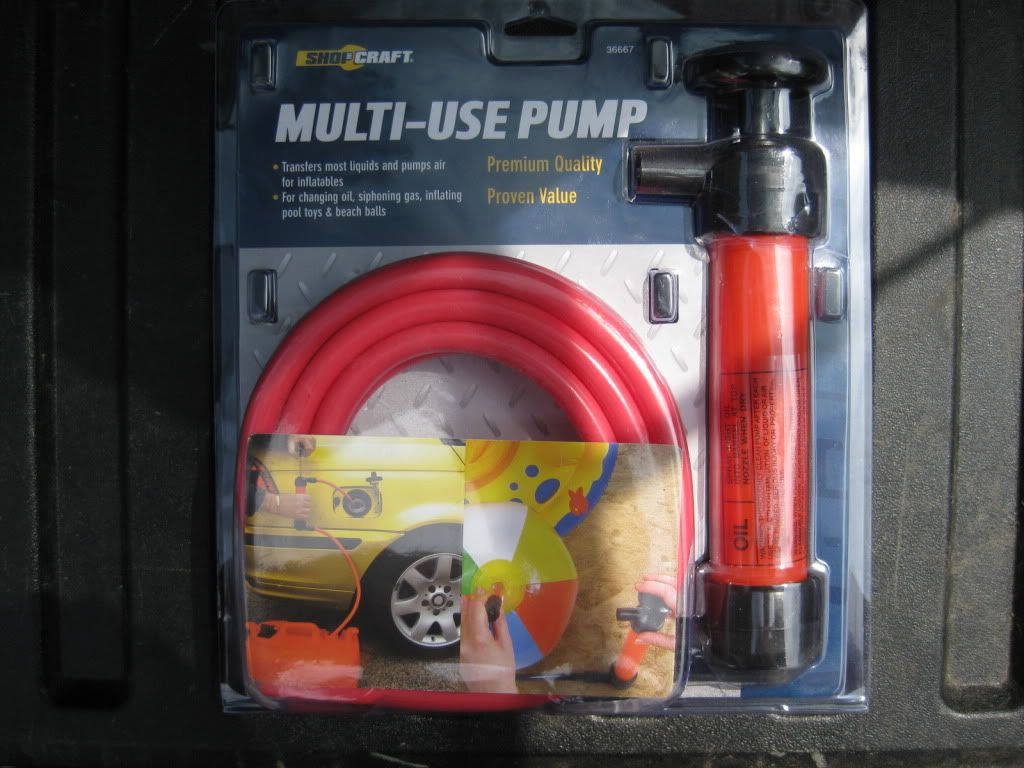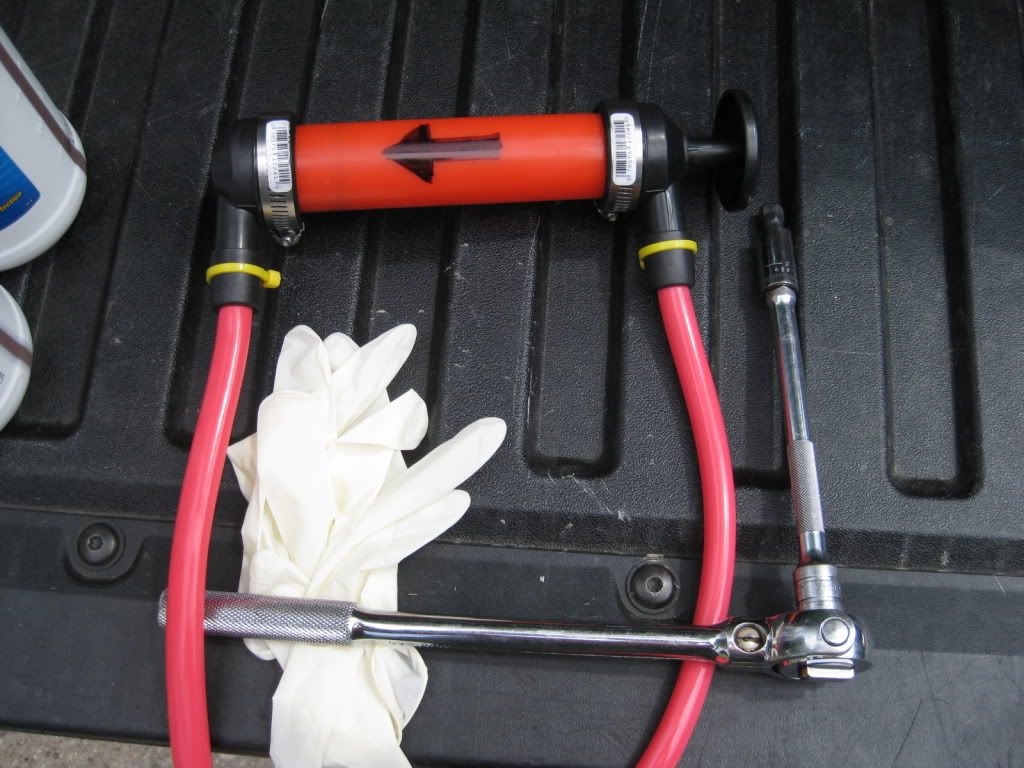 I chose not to jack up the truck. It was on level ground and I had access to both the fill and drain plugs so I didn't bother to raise it up. I'm sure it's much easier on a lift but working on the ground I didn't think it would be worth the extra work to get the truck up on jack stands, YMMV.
I like to drop the fluids when they are warm. They seem to flow a bit better and I hope they carry a bit more dirt with them on the way out. I got back from the auto parts store, gathered up my tools and headed out to the truck.
Here's what your front differential looks like from the front drivers side: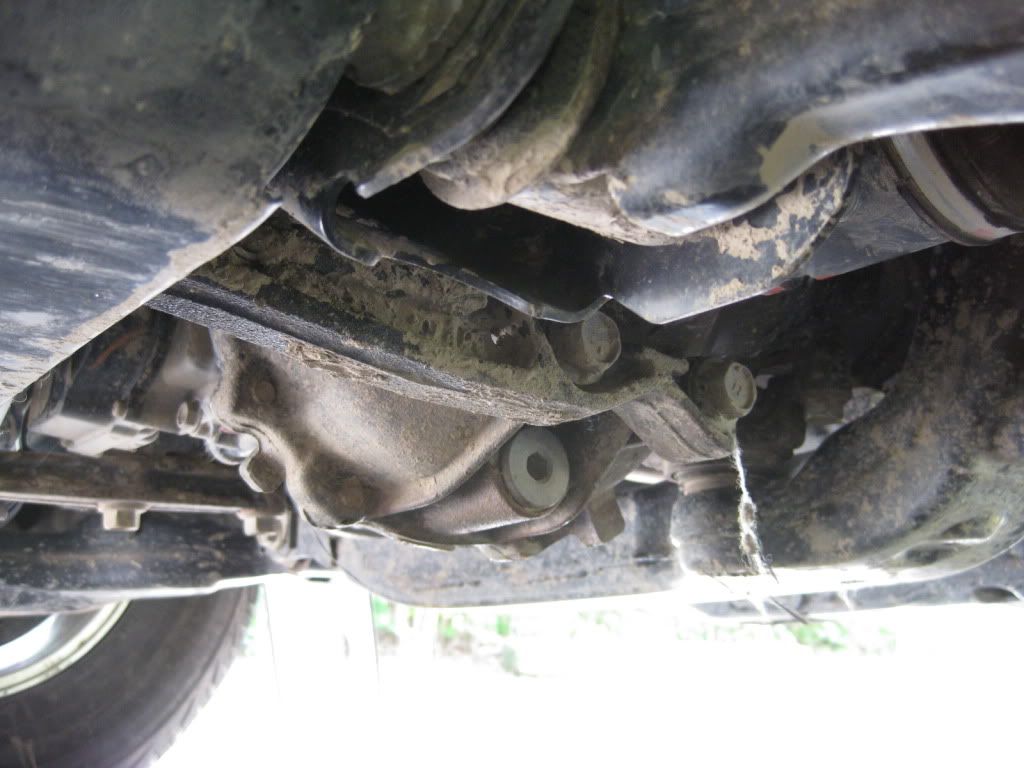 Move to behind your left front wheel and look forward for your front differential.
Here's what you need to see: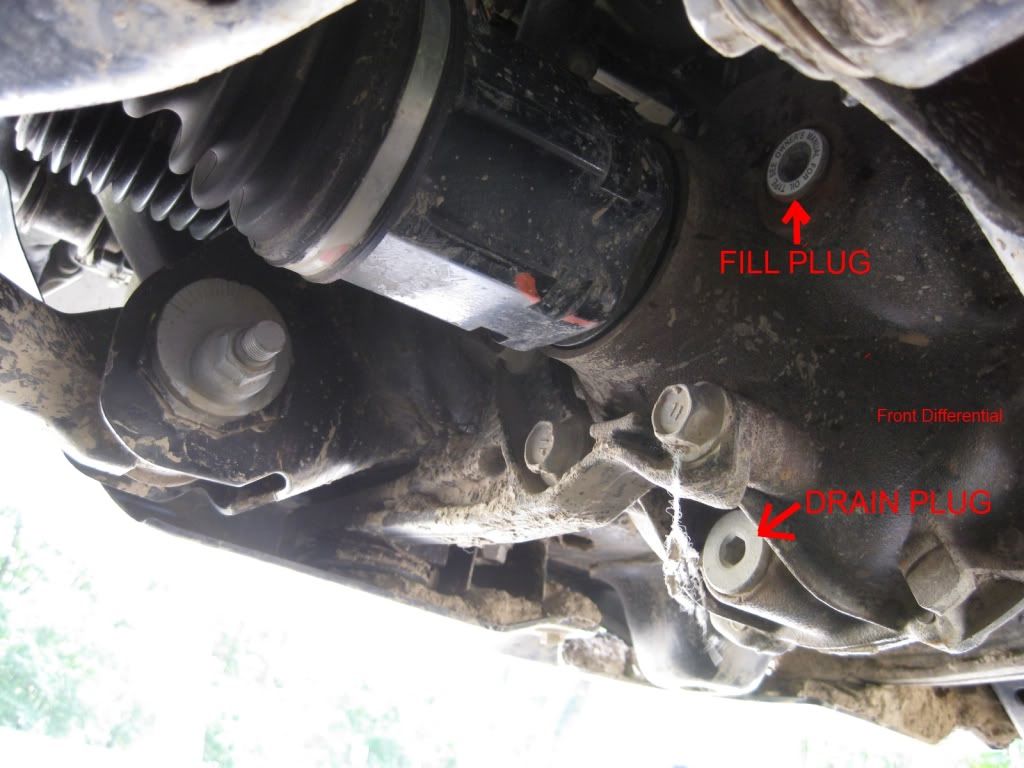 Using your 10MM Hex Socket make sure you can loosen your Fill Plug before you attempt loosening your drain plug. As Wolfpack5150 pointed out in the read diff how to thread, there's no point in draining it if you can't refill it.
Remove the fill plug: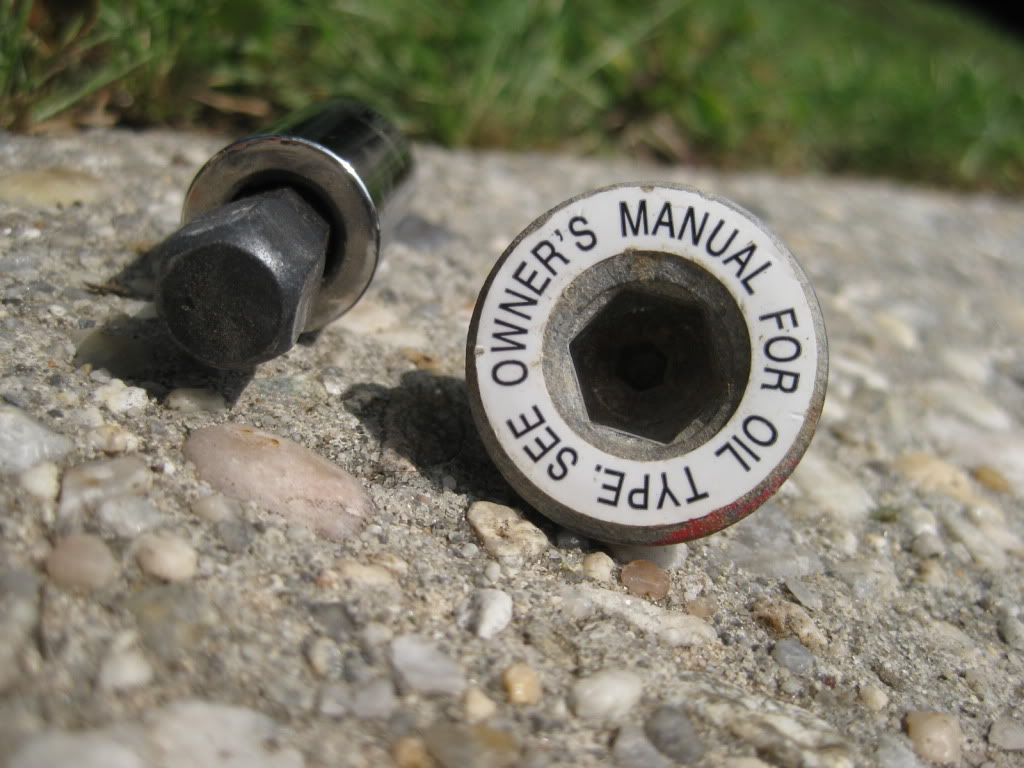 Get your drain pan under the drain plug and loosen the drain plug. Try to keep the plug from falling off into the stinky gear oil.
Let it all drain out.
While the old gear oil is draining take some time to wipe off and clean both your fill and drain plugs. The drain plug is magnetic and will most likely have some build up on it. Be sure to wipe it clean.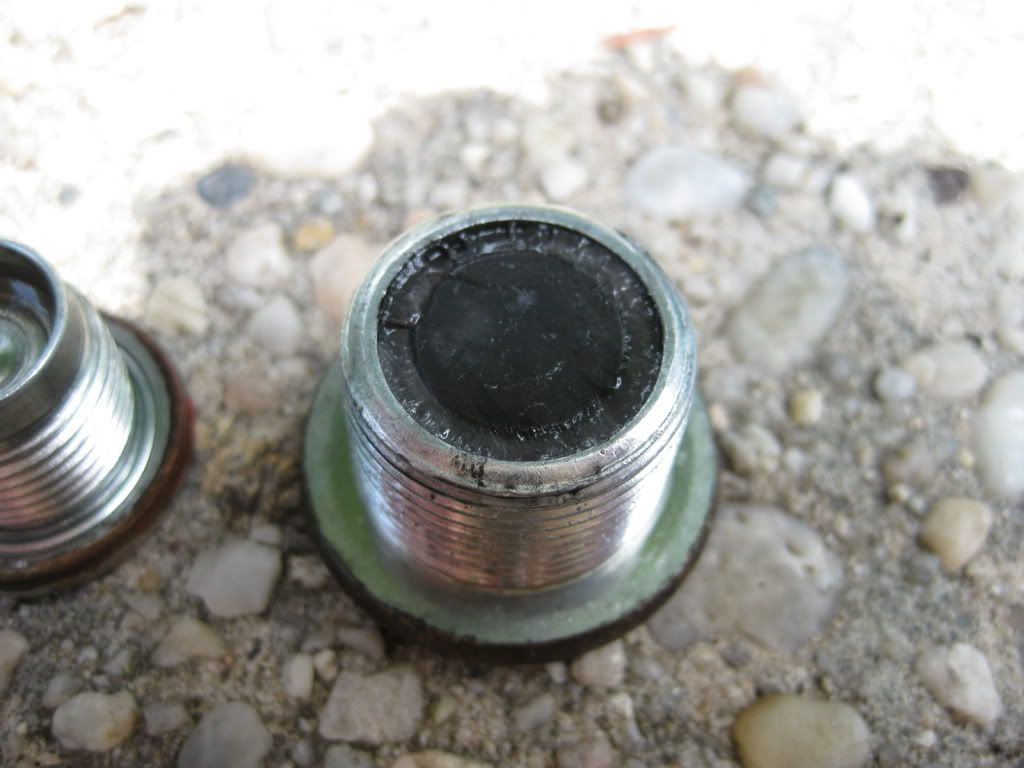 In this photo you can see the fill plug's gasket is stuck on the fill plug. Take a moment to be sure you know where the gaskets (washers) are.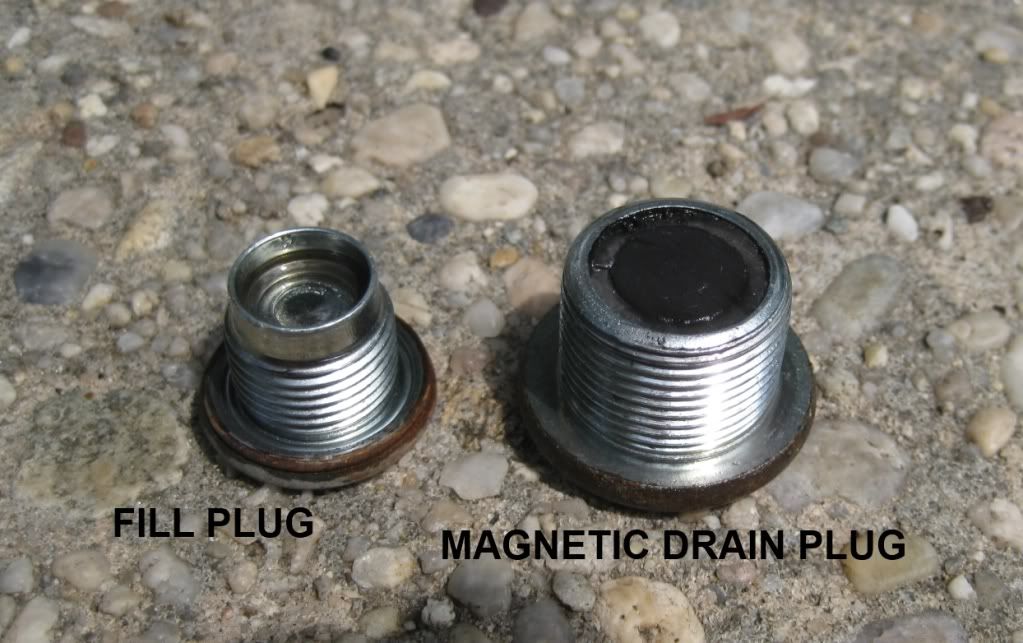 Here's the drain washer still stuck to the housing. I left it there and just made sure I wiped it down before installing the drain plug.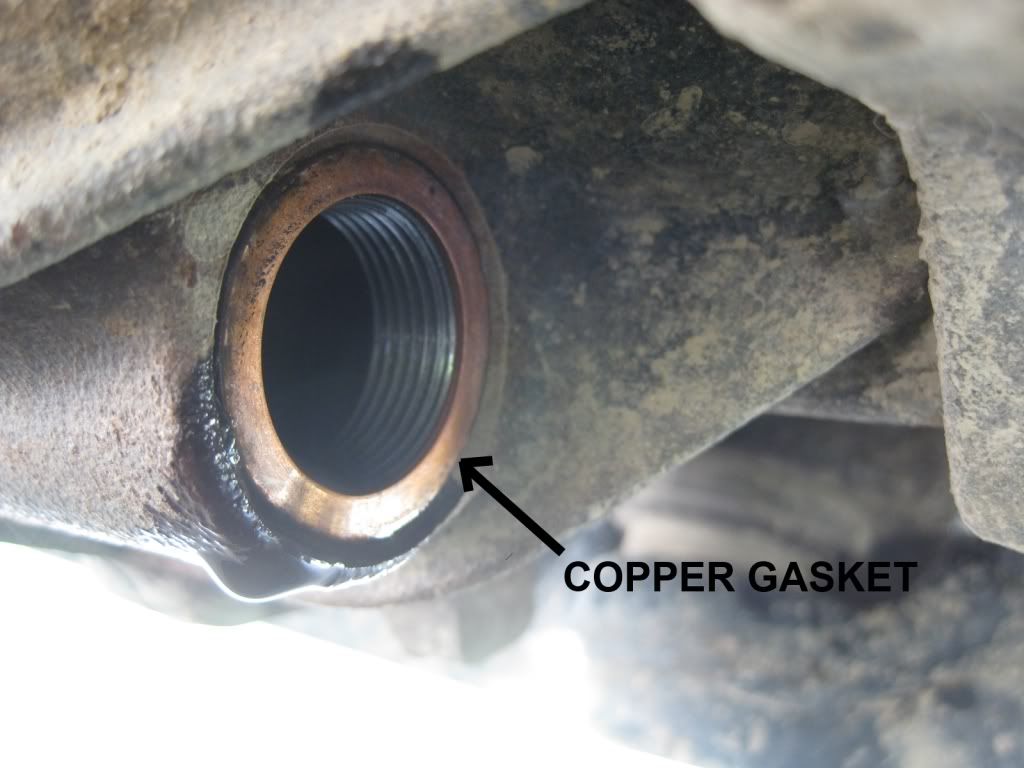 Install your clean drain plug: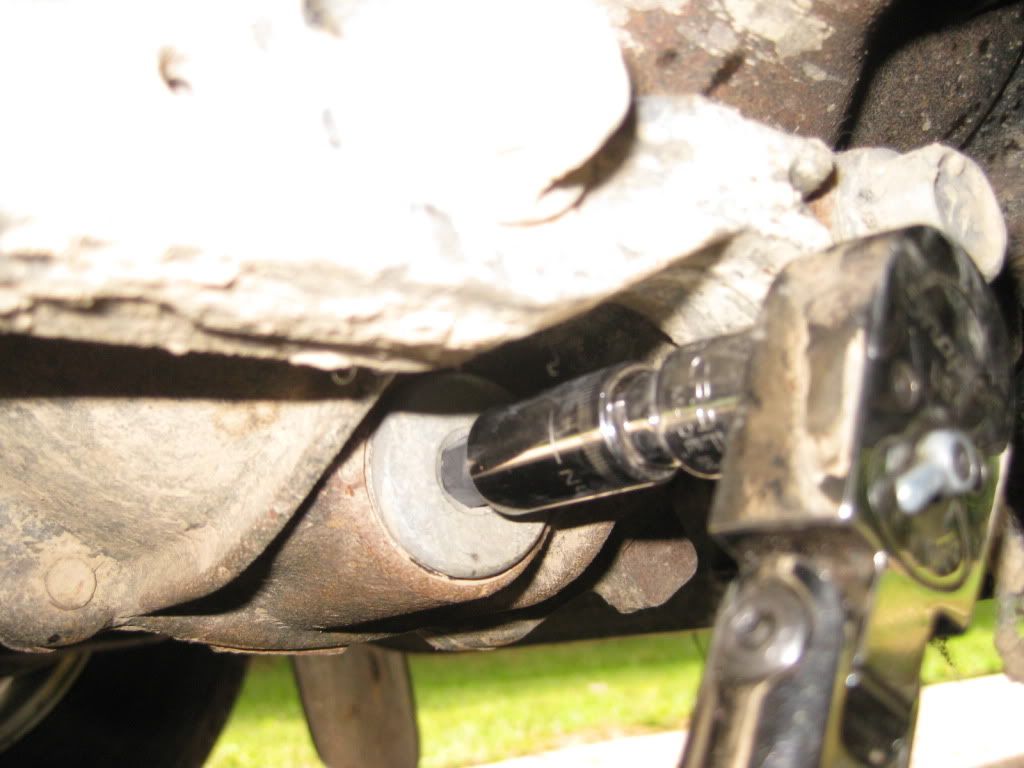 Now you have to get the new fluid up into the front differential. The pump I used needs the intake side elevated to work. I just put the pump's discharge hose of the hose into the front differential's fill hole and the pump's intake hose into a new quart of 75W-90.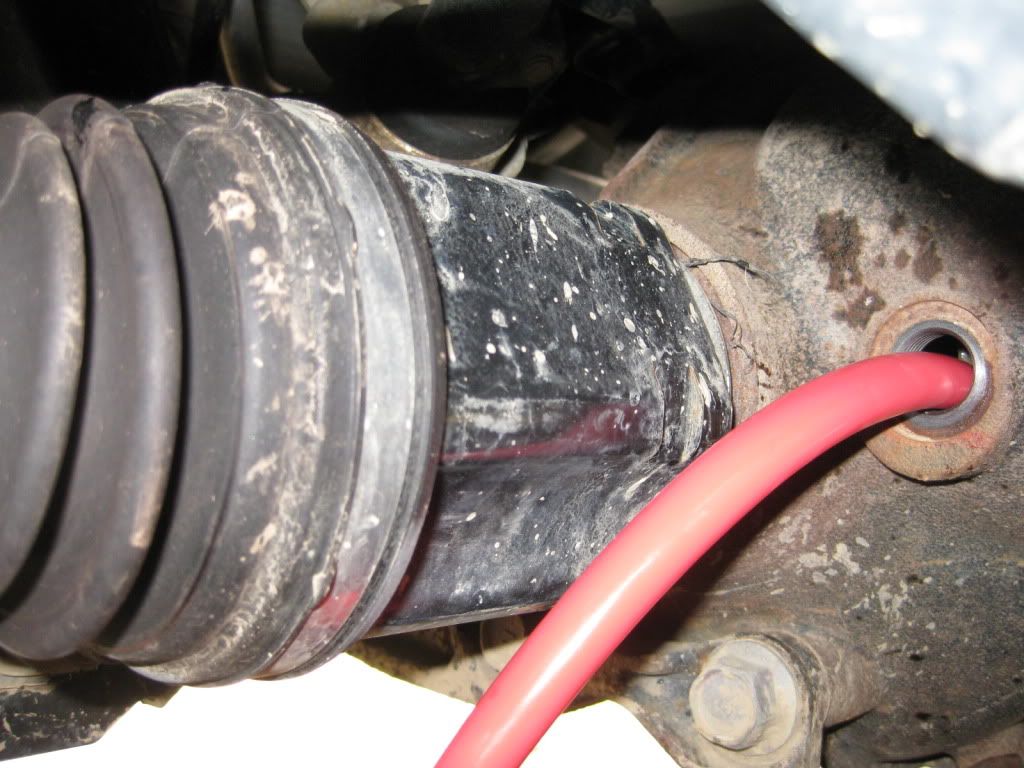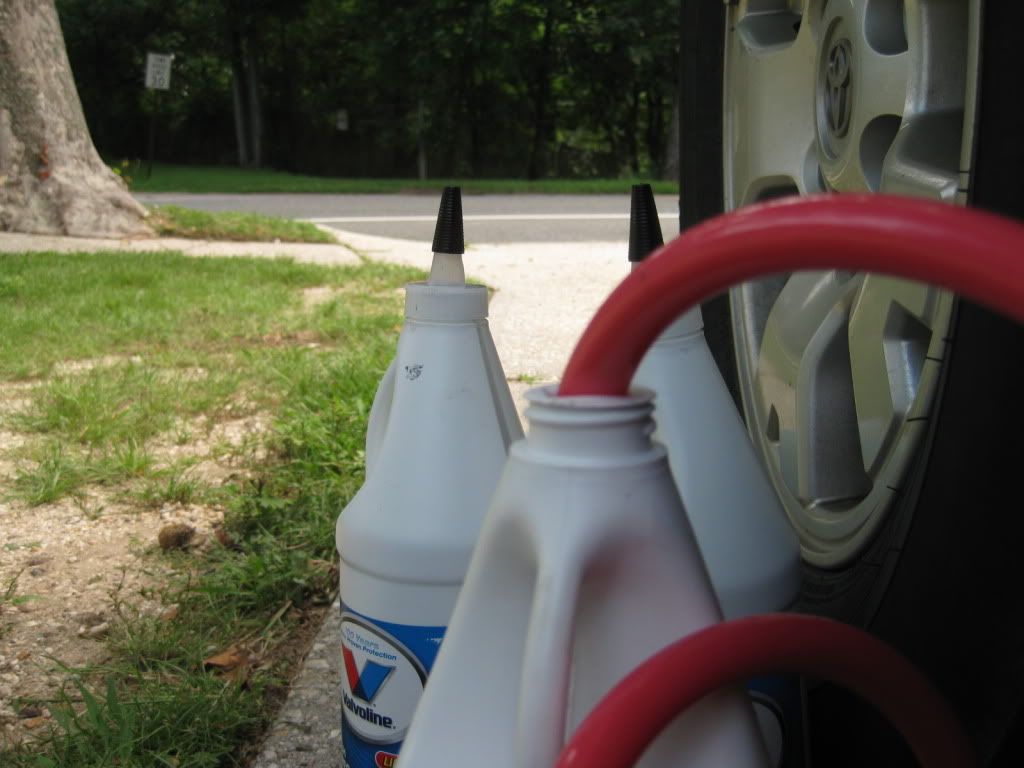 Since I was working alone I just tucked the container of gear oil into the wheel well. I rotated the bottle so I could see how much I was adding. That got the pump primed and the gear oil flowing nicely.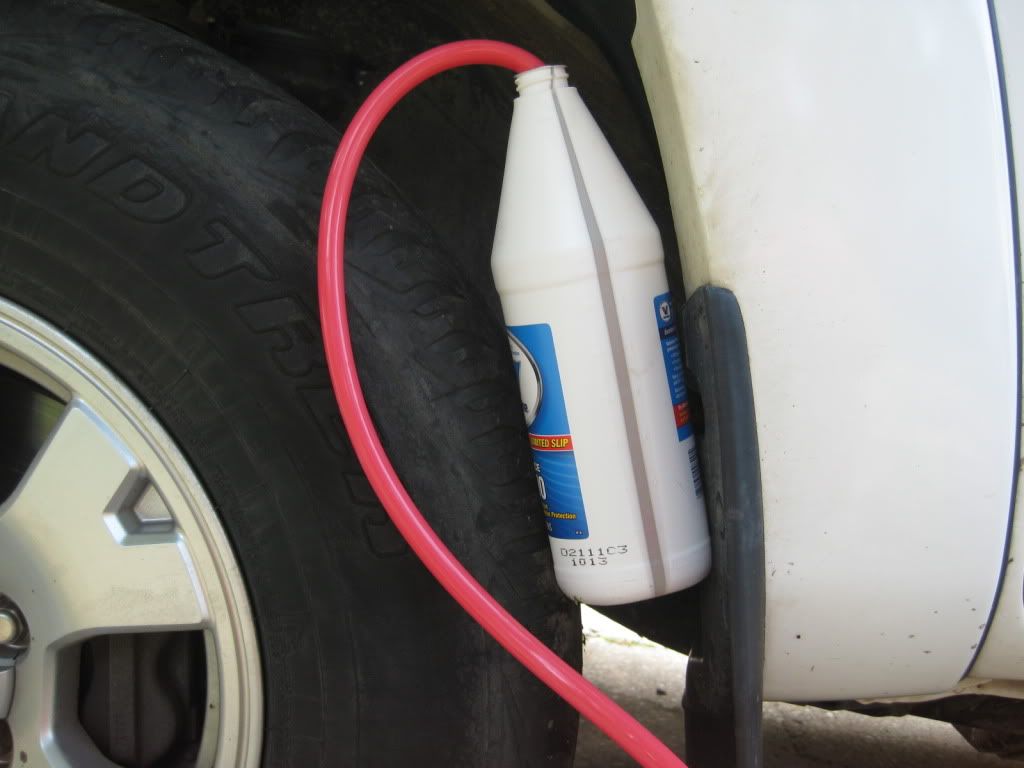 After 1.6 quarts I pulled the fill hose and installed the fill plug.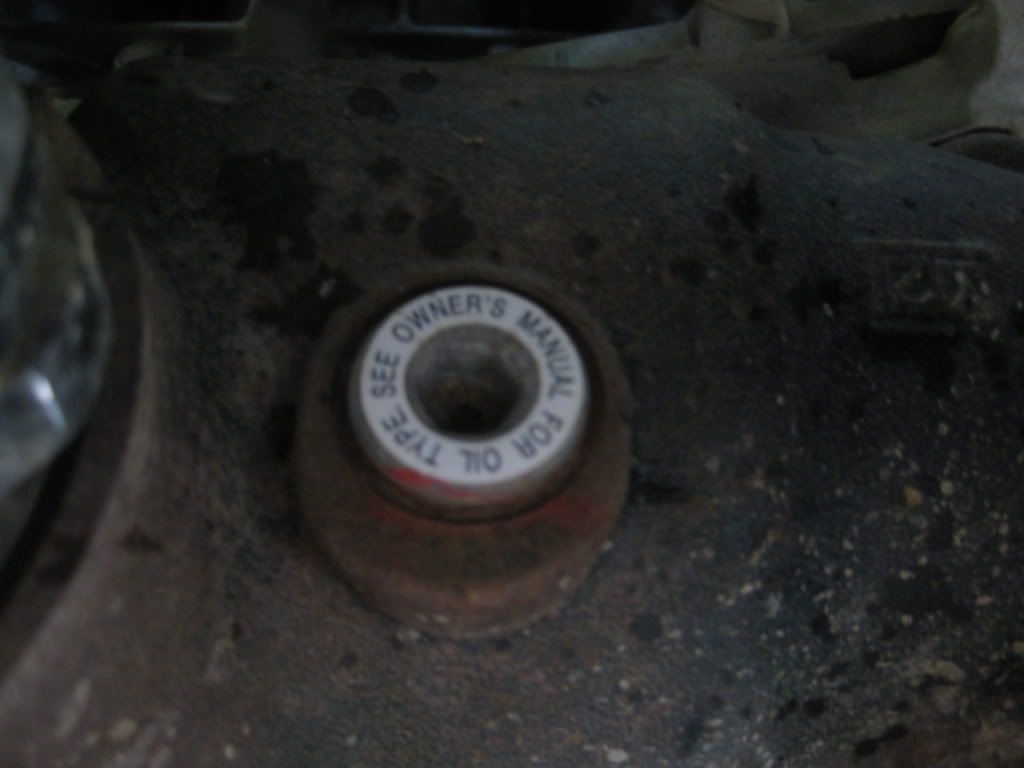 All that's left to do is clean up and get the old gear oil ready for recycling.