I recently swapped my 2011 Bench seat W Airbags for 2007 OEM NON-AIRBAG buckets. After searching for 12+ hrs, i found only scattered information about an oem tacoma Bench>Buckets swap.i created this mega thread to put all the information in one place . Feel free to share any information about bench>bucket swap here!!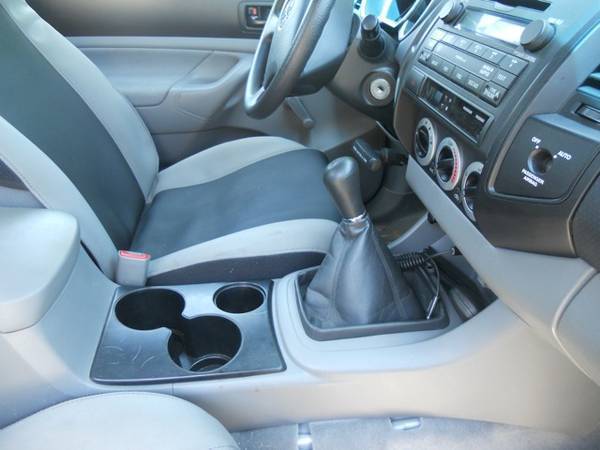 Disclaimer; any alterations, mods, that deviate from the factory are done at your own risk. This thread is to be used for entertainment purposes only .The author assumes no liability for your actions or vehicle damage or death/injury as a result of modification to your vehicle.
Never attempt to bypass,modify, or remove factory safety equipment!
Seats;
All Eight mounting holes are already under the carpet with threaded nuts. The two rear holes closest to the center tunnel have a round black sticker over the holes, just peel away the stickers! You cannot use the bench seat rails on the Bucket seats, TOTALLY different shape Rail size and design. The passenger side Bucket seat CANNOT be moved all the way forward with the bench console (hits the bench center console). The drivers side bucket has no issues moving all the way forward or backward with the bench console. Note; If the OEM bucket seat rails wont line up with the floor holes don't panic, Squeeze the seat adjustment lever and gently push/pull seats till they line up. Seat install pics here;
http://www.tacomaworld.com/forum/2nd...d-down-17.html
Seat belts;
The center seat belt can be unbolted from the floor and removed, there will be no need for it now. The Bucket seats Female receptacle will NOT accept the seat belts for the bench seat (too wide).
There is (3) options to overcome this;
1) Reuse bench seat female buckles and retain original mounting point on floor.
2) Get (2) new bucket seat belt assembly's and use the bucket female receptacles.
3) Grind a tiny bit off the width of the bench buckle's to fit into the bucket female receptacles .
Airbags;
Most of the Airbag system wiring components will not interchange. The passenger floor harness plugs are totally incompatible, The seat rail sensors are different, different computer occupant detection systems, etc. You basically have (4) options with the airbag system here;
1)
Disable the entire airbag system
(NOT ENDORSED).
2)
Swap bench components into bucket seat/Bypass Airbag safety features
3)
Swap in OEM non-airbag buckets and use OEM bucket electronics
4) Utilize newer OEM buckets with seat airbags
and retain 100% usage
Disabling Airbag System;
Though not recommended, some may choose to disable the entire airbag system. Some state inspections may fail your vehicle for non-functioning airbags so check those local laws first! The only benefit here is Cost.
Swapping bench components into bucket seat;
If you decide to swap bench components into bucket seat, you need to swap all of the bench components and bypass some writeup here;
http://www.tacomaworld.com/forum/2nd...ket-seats.html
You WILL lose the seat airbags and need to fool the system with some resistors so you wont trip the airbag light;
http://www.tacomaworld.com/forum/2nd...0-reg-cab.html
The magnetic rail sensors from the bench seat will not attach to the bucket rails (different design). This shuts off the airbag if the seat is too close. Some have zip-tied metal to fool the sensor, this defeats its intended purpose.(safety concern). Lastly, you will need to transplant the weight sensor into the passenger bucket. Note; DO NOT CUT WEIGHT BLADDER HOSE, you will ruin the bladder and it leakes out an oily mess! Do not try to rip it out, Remove very carefully by disassembling bench seat cushion first.
Swap in OEM non-airbag buckets and use OEM bucket electronics;
The early 2nd gen tacoma (05-08) came factory with the front Drivers/passenger airbags only. If you decide to swap non-airbag equipped buckets into a late model tacoma, this option will delete seat/side curtain airbags and allow the front drivers/passenger airbags to function as an 05-08 tacoma. The benefit here is you have 100% OEM airbag functionality with no bypassing of seat rail sensors and no transplanting of any bench seat hardware. Using the correct bucket seat occupant detection system/airbag module/wiring harness(s) designed to work exclusively with the bucket seats. This option will cost a little more in parts(See part-2 Below for more info)
Utilize newer buckets with airbags and retain 100% usage;
I've never seen or heard of it being done as of yet however, it can be done if you swap in the correct airbag wiring harness(s)/Module. This option is the best in terms of preserving all the seat/side curtain airbags on a late model 2nd gen tacoma. This option is also the most expensive, as airbag equipped buckets are not cheap.
Center Console;
Many people want to swap out their center console with the seat swap but there is some compatibility issues that you should know... The 4.0L V6 automatic center trim is not compatible with the 2.7L Automatic transmission (different transmission placement) However, the Manual 6-speed center Trim will work with the 2.7L Manual transmission! All threaded bolt holes are already under the carpet. Note; If you swap in the bucket seat center console, You must use the bucket seat female receptacles. The bench receptacles will interfere with the movement of both seats and bind against the center console. Ask me how i know!! Removing the bench center console will reveal (2) notches in the carpet w painted metal. These are the bench console mounting points. The full length console is more narrow and doesn't utilize those mounting points. (Minor cosmetic issue).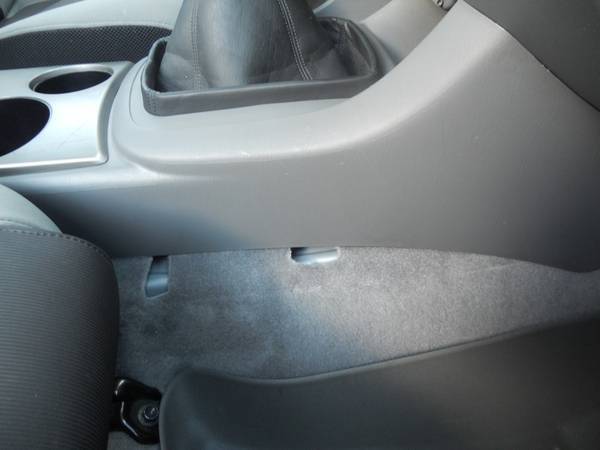 Interior rear cab panel;
The regular cab bench seat equipped tacoma comes standard with a painted metal rear interior wall behind the seats (no carpet panel). You can swap in the interior rear carpet cab panel from a Reg cab with buckets or just leave it as is. If you leave it bare, expect to hear some road noise.
Tech Resources;
05-08 Tacoma Tech manuals
05-08 Tacoma Wiring manuals
09-12 Tacoma Tech wiring diagrams + manuals
($15)
Toyota part Number resource
Part Resources;
http://www.ebay.com
http://www.lkqonline.com
http://www.tacomaworld.com/forum/2nd...a-marketplace/
http://www.craigslist.com
http://1sttoyotaparts.com/
http://www.toyotapartsbarn.com/?gcli...FcNo4AoddQEDmA
http://www.villagetoyotaparts.com/
Is it a good idea to go the "Bypass" route and just transplant the bench hardware?
Bypassing means using incorrect parts not designed for the buckets. The bench Seat rail sensors have no way to mount on the bucket rails (different style and size) which means bypassing them to fool the system. The seat rail sensors report the seating position to the airbag module which decides to turn the airbags on or off . The danger in bypassing means the airbags are always "on" regardless of the seating position which poses a safety concern.
How much does a Bench>Buckets swap cost?
There is no specific dollar amount. New/Used parts can be a factor in cost. A used pair of bucket seats can typically range around $500. Additional mod equipment can jump the cost around $1000.
Is it street legal to mess with the airbag components?
Per the Nhtsa, it is NOT legal for any shop or business to modify,bypass or disable your airbag system. Depending on your home state, messing with the airbags MAY fail your vehicle inspection. Check your local state laws. Some states do not inspect the airbag system, some do.
Is it worth the effort?
Only you can decide that. Toyota obviously went through a lot of trouble to ensure that the the airbag/seat belt/occupant detection components will not be interchanged easily thus discouraging people from making the swap. However, It can and has been done by many people and with great success.
What airbag components are interchangeable from 2005-2011 ?
Most of the airbag components are not interchangeable. Bucket seats use a different computer occupant detection system,drivers/passenger seat floor harness, instrument cluster wire,and airbag module. The drivers/pass airbags are interchangeable from 2005-2011. The vehicle airbag sensors are also interchangeable. The drivers side floor harness 2 clips into both the buckets and bench however, this harness is not interchangeable and needs to be swapped. The passenger floor harness 1 cannot interchange between bench to buckets. (totally different plugs see pics below)
Drivers Bench floor harness-2 + yellow seat airbag plug; (bench specific)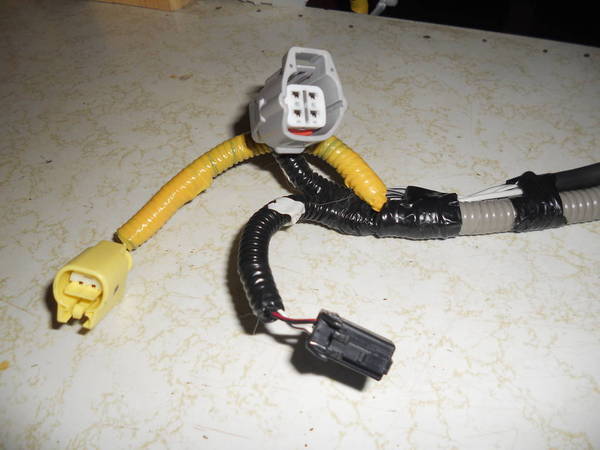 Passenger Bench floor harness-1 + yellow seat airbag plug; (bench specific)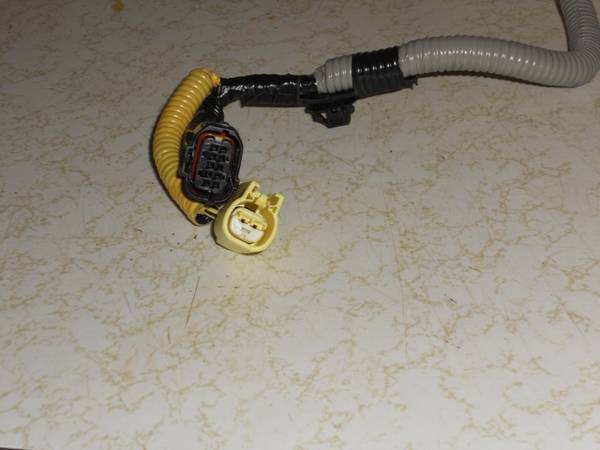 Passenger bucket floor harness-1 ; (bucket specific)