When I put my leather in my Access cab I found less info than I really hoped about redoing the rear seats etc... I decided to try and document this a little better.
Disclaimers:
Do this stuff at your own risk.
I'm no expert and don't pretend to know what I'm doing.
This isn't a stand alone DIY for the fronts - you'll need to use some other references.
First - I got my stuff from someone who had bought a set from John Huey in the Katzkin group buy:
http://www.tacomaworld.com/forum/gro...group-buy.html
The set didn't fit this guys truck so he sold them to me at a good price. I bought my seat heaters from John - and some hog rings and pliers. So John didn't make much at all on this deal - but he was very responsive by PM, email, and even phone when I had questions. He's great to deal with. See my note at the end of the write up.
I did my Access Cab in the following steps:
Front door arm rests.
Rear Jump-seat backs.
Rear Jump-seat bottoms.
Front seats.
Here we go.
To do the arm rests I used this DIY:
http://www.tacomaworld.com/forum/2nd...arm-rests.html

I used this adhesive:
http://www.tacomaworld.com/forum/gro...group-buy.html
This was the part that turned out the worst for me.
Things I learned:
When you are drilling out the melt points I think a big drill bit works better. Be careful though. The drill can grab and advance quickly if you're not careful.
I put the leather (vinyl for this actually) over the existing material. It takes some work to keep it from wrinkling as you work it onto the armrest. You will have to make some relief around the edges to make it better.
I planned to put the material on and then take some pics before putting them back in the doors. I don't know if it's true - but as I did it, it really felt like putting them right in the doors would help keep things in place as they dried. So I put them right in. Thus no pics.
This is how it looked from the back before I trimmed the extra vinyl:
One issue was the bulk of the material at the edges making it hard to put the inserts back in the door piece. I decided to cut the existing fabric away right at the edges and that helped them fit back in a lot easier. Not sure if that's a good idea or not.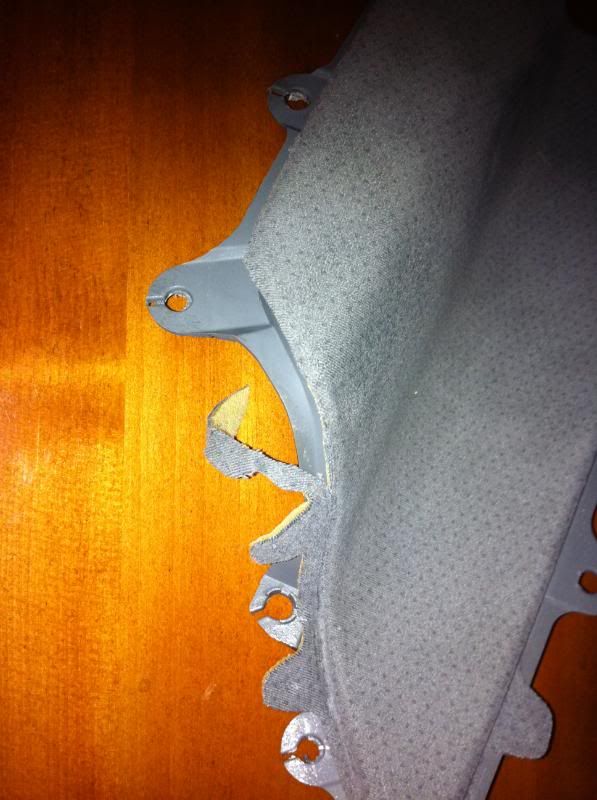 I read #10 1/2" screws. Couldn't find anything shorter than 5/8". So I went with #8 1/2". These worked OK - but didn't get any purchase in some holes so I used a few of the #10 5/8 with a couple washers when needed.
This is what happens when a screw is a touch too long. I don't think there's anything I can do about this - but don't let it happen to you.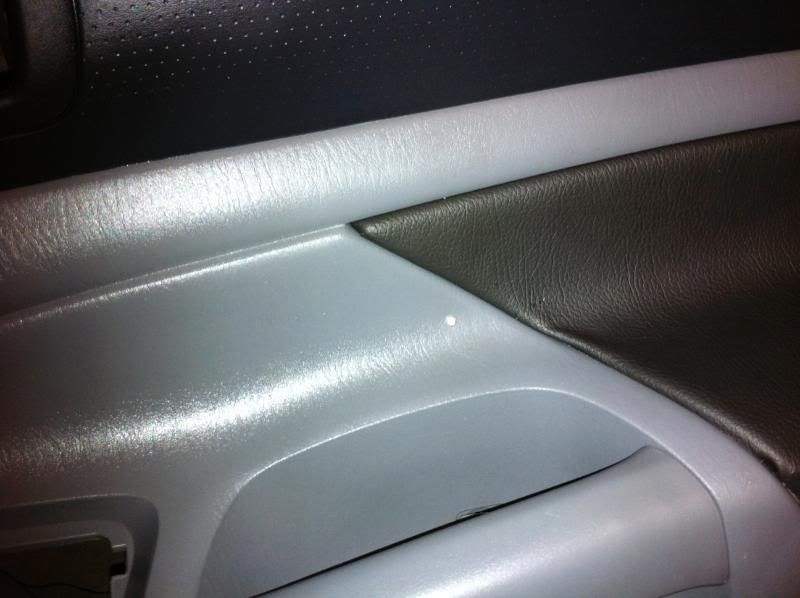 It came out OK, but my leather is lifting off slightly already. I suck.
While I had the door panels off I painted the speaker grills. I didn't think this up, but can't remember where I saw it.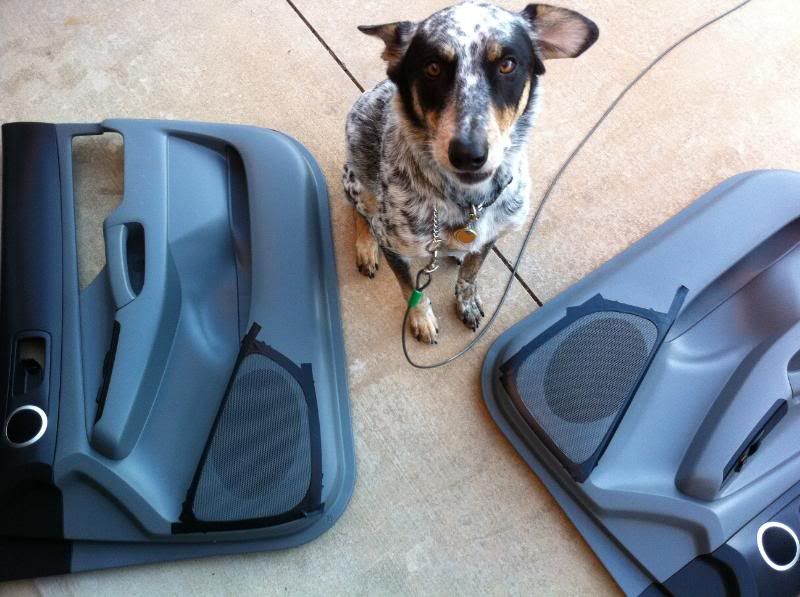 It's tough to mask the edge of the grill because there is a groove there. I learned (the hard way) that if a little overspray gets on the gray part of the door - it will come off with a little paint thinner on a paper towel. And doesn't appear to harm the panel at all.
I also used this:
http://www.amazon.com/gp/product/B002766T5U
That allows you to fill the groove around the grill completely if your paint doesn't look perfect.
OK - on to the rear.
The very first thing I did was pull of the seatback panel. It is only secured with clips that allow you to grab and pull straight forward. No screws or anything.
I'm not sure how it happened, but I looked down at my hand and saw this:
Get used to it. This job is a punisher for your hands. The whole weekend I was getting nicks and cuts and this one was opening up bleeding on everything.
First you have to peel back some of the insulation on the panel. It is glued down in several spots and you just pull it off.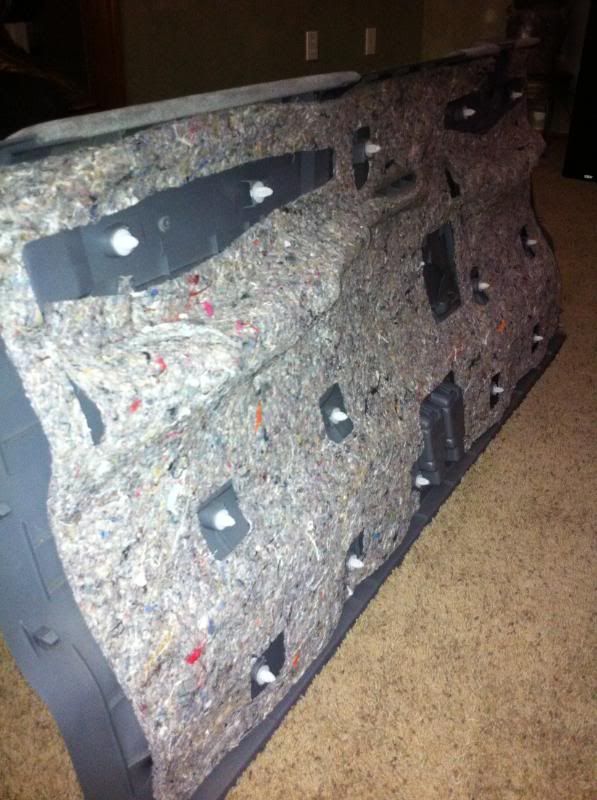 I left it stuck down everywhere I could. You can easily see where the inserts need to come out and you just have to access them. I made cuts in the insulation so I could fold it down where necessary. You can see that on the Left side here: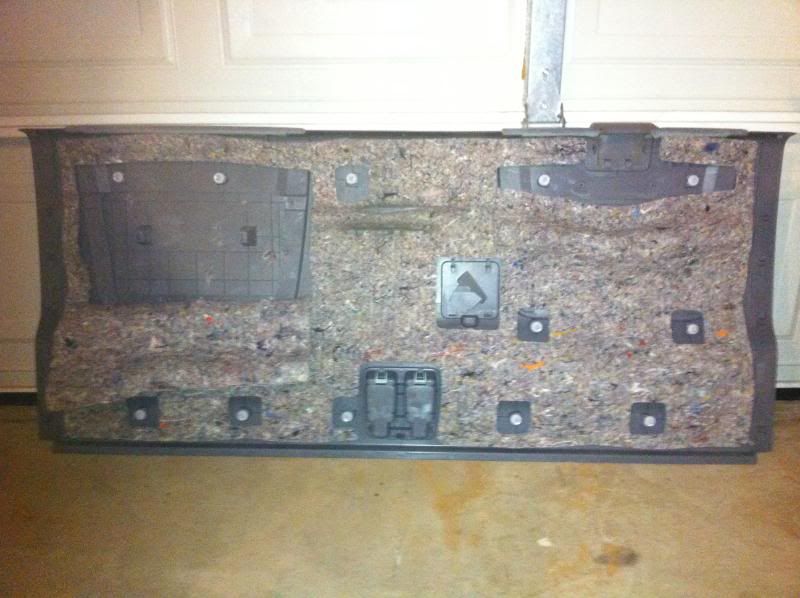 This process is just like the arm rests. Same technique to remove the panels, put the vinyl over the existing material with the same adhesive, then tug/fold/cut to avoid wrinkles. This is where I really thought putting the inserts right back in the large panel helped to keep things in place as the adhesive dried. Same screws as the armrests too.
Here is a pic of the insert just after adding the leather: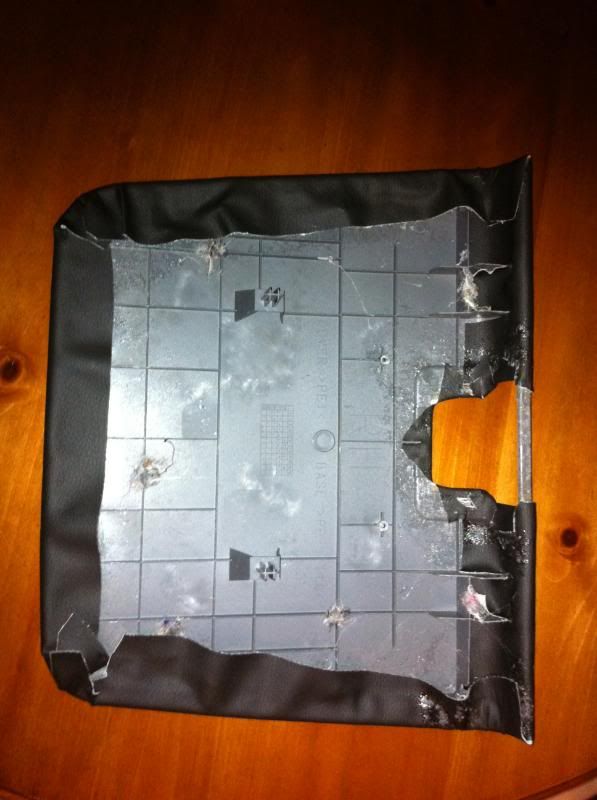 I used the same spray adhesive to tack the insulation back down.
This part is more forgiving than the arm rests - I'd do it first.
Jump seat bottoms
There are two bolts at the front/bottom of the seat that need to be removed. Then the whole seat comes out.
Next remove the small plastic tray in each seat and the plastic around the latch at the back. All just Phillips screws.
The fabric is held in place with plastic seam connectors of some type. If someone knows what they are called let me know and I'll insert it here.
Once you find a seam you can pop it open with a screw driver and then it kind of unzips. Some are easier than others.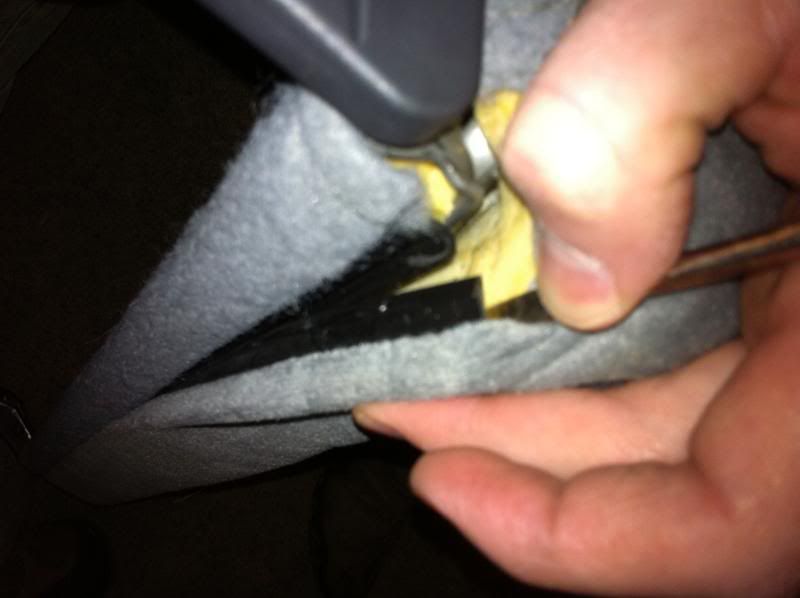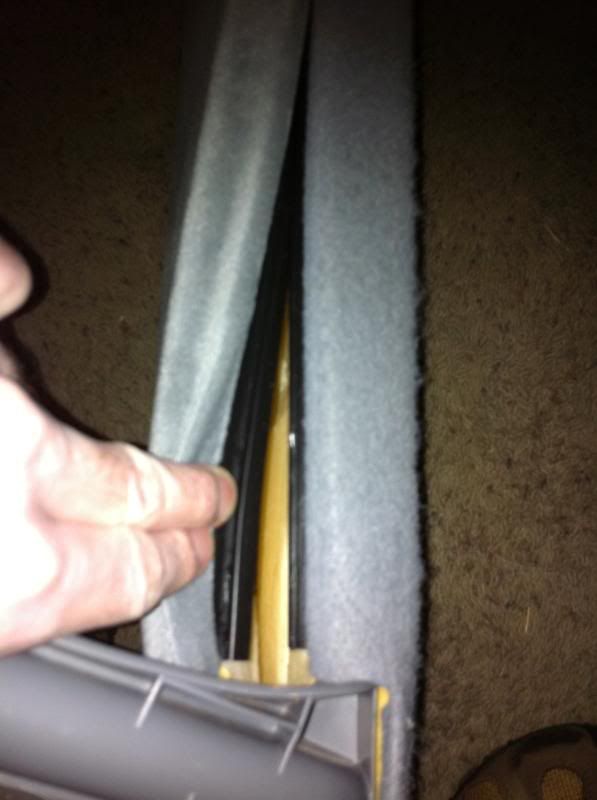 Eventually you can slip the fabric off the seat, which is just a metal frame and two loose pieces of foam.
Now to put on the leather (it's vinyl here too). Doesn't bother me a bit that it's vinyl. I do wish the underside of the seat was not carpet. Part of the reason I'm doing all this is because my copilot is a bit of a shedder. The carpet will hang on to the hair much more than the vinyl. If I were ordering a set for myself, I'd ask if they can use all vinyl instead of the carpet. Not sure if that is possible or not.
It wasn't obvious to me at first how to start. But this seems to be the best way to get it going:
Then get it around the latch mechanism:
It takes some tugging to get the material around the foam right, but you just have to keep at it.
Once you have the material in place you zip up the zippers and are almost done.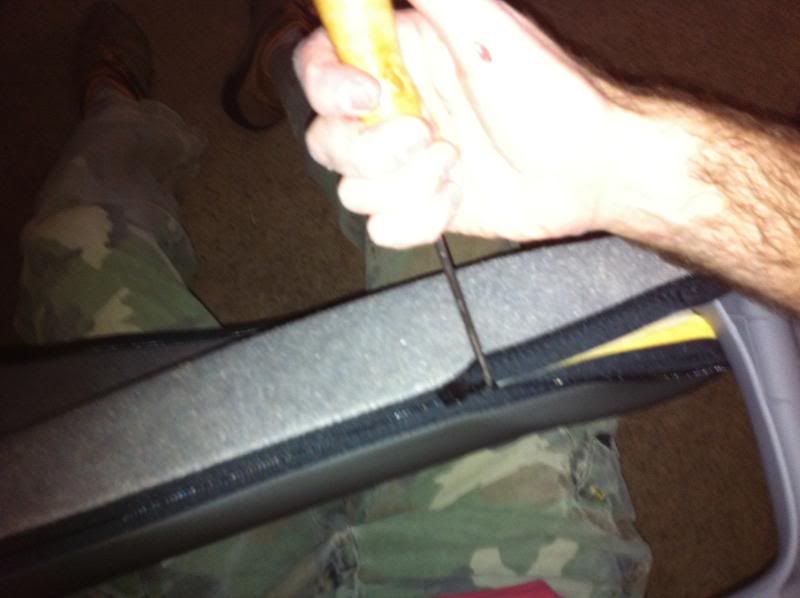 There is a plastic clip on one side that works just like the ones in the headrest - see below.
I didn't have much guidance on putting the little tray back in. It's important to remember how it goes in and part of it latches under a part of the metal seat frame:
I cut an X in the vinyl and worked the tray into place. Then gradually enlarge it just enough so that you can get the try latched and screwed into place.
Seat done:
Finally the front seats.
Read Homer Taco's DIY
http://www.tacomaworld.com/forum/tec...-interior.html
And this one by HBTacoma:
http://www.tacomaworld.com/forum/2nd...r-install.html
Now - if you're new to this - read them again, and again. There's a lot to think about when you do this. I'm going to try and add some things I found along the way - but most of the info is in there.
Note: Homer Taco didn't have a Katzkin kit. There are a couple of differences. Mainly Katzkin doesn't use most of the metal rods that come out of your fabric. There are plastic rods in the seams already. The only rods you use are the vertical ones.
Don't know what a hog ring is? I didn't either. HBTacoma has a good pic of the pliers and ring in action. Got mine cheap from John Huey. HomerTaco recommends twisting off the rings when you remove your fabric - John suggested I cut them. Both work and I ended up doing whatever was easiest at that particular location.
Before I took my seats apart, I had trouble imagining what the rings were connecting to in the foam seat. There are small bars in there that are easy to find. They feel like wood to me, but I don't know what they really are.
Here are a couple pics:
A few things I found helpful:
I started with the headrests. They have the same plastic clips that are on the jump seat bottoms. John recommended Saran wrap or silicone spray to help the leather fit over the foam. Mine had a small thin plastic bag in there from the factory so I just used it.
It takes some tugging to get the leather over the foam, but eventually it gets there.
Then you have to kind of invert the plastic clips together to close them. These are the best pics I could get: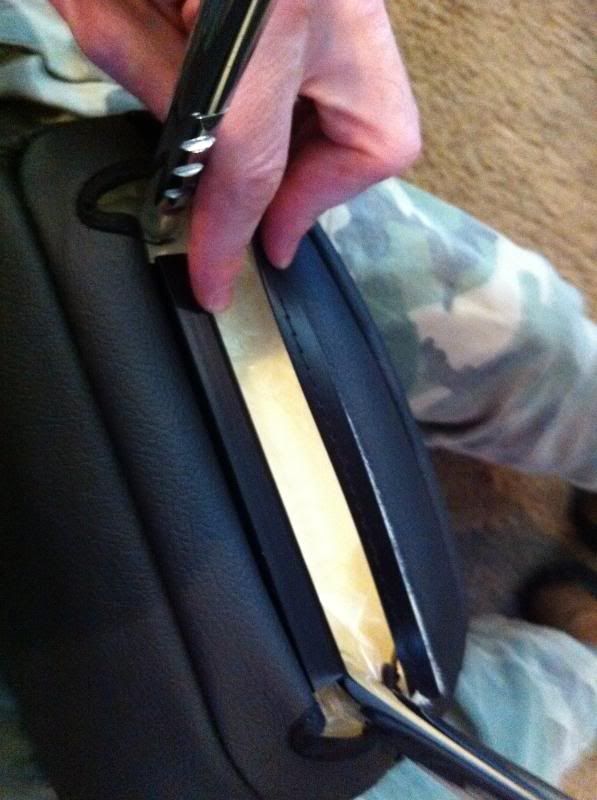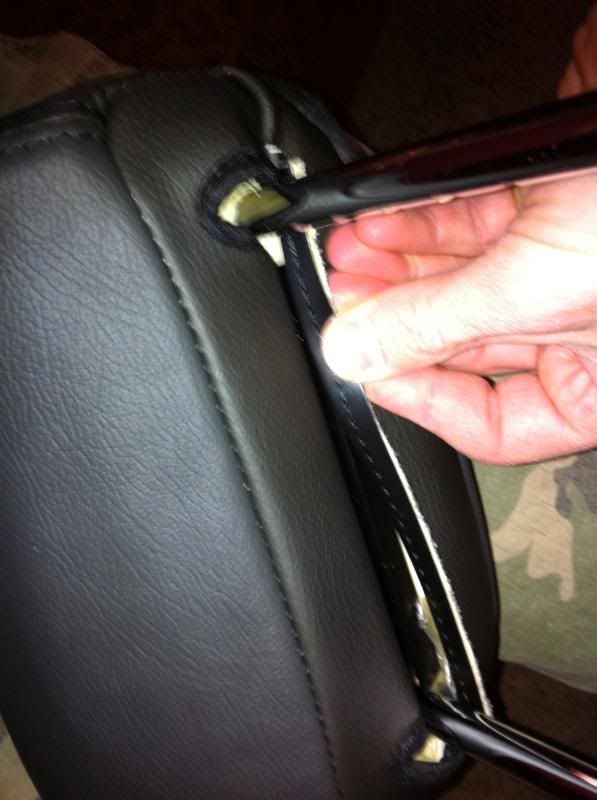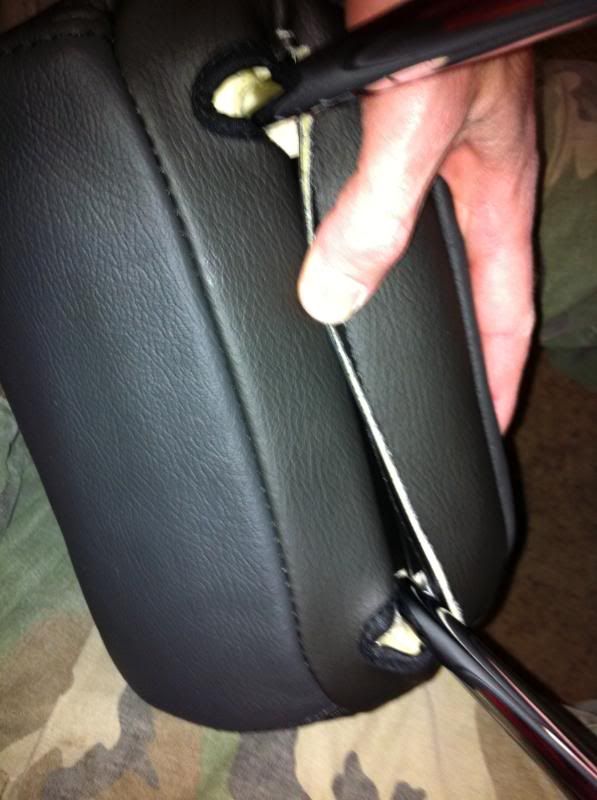 When you do the seats themselves make sure you know put the passenger leather on the passenger seat. The only difference is these metal fittings for a childs seat. John gave me a heads up about this. My leather was marked with a R and L on the inside so it was obvious.
I was also alarmed to find these straps/buckles inside my leather: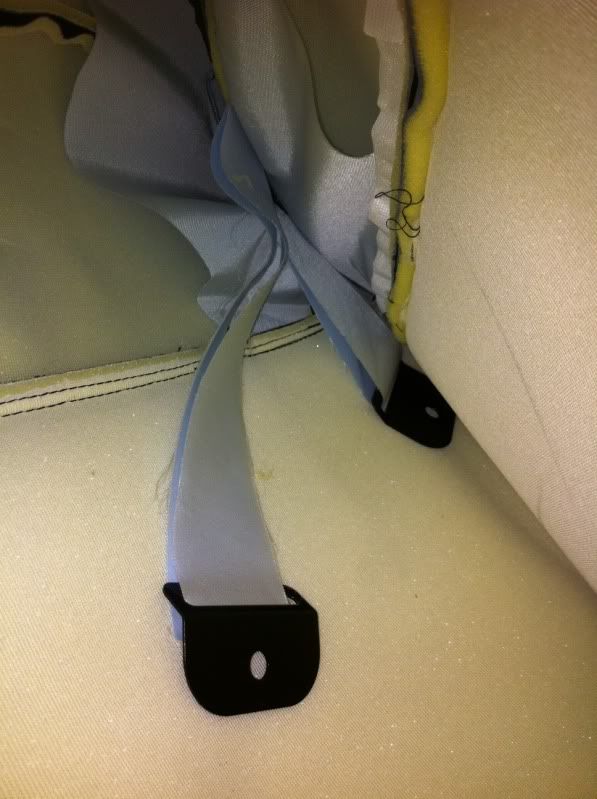 John tells me they are for seats with airbags. Since my seats don't have the bags I just cut them off.
Don't forget to add heat. If you're gonna go to all this trouble you ought to do this as well. The heating elements I got from John seem small. Hopefully they'll do the trick. They have adhesive on them - peel and stick. I made a slit in the foam for the wiring.
EDIT: We've had some mornings in the 40s. I've turned on the heat and it seems about the same as cars I've been in with factory heated seats. I'll continue to update on this, but so far seems fine.
I put the bottom heater under my butt. When I sit in my seats now, I think it would be better, if you only have one small element to put it under your thighs on the other part of the seat bottom. I didn't do this because I worried that the wire passing under the bar would cause problems. I'll bet you could just run the wire directly through the foam to the bottom of the seat and avoid that all together. If it wasn't such a hassle to mess with this stuff I'd probably change it. Oh well.
I plan to put up a DIY on doing my heat and wiring them so they are only available when the ignition is on. Stay tuned.
More advice from John: just put the leather over the plastic headrest mounts - then cut a hole. He felt like this was easier. I can't compare methods, but had no problem with this one.
It's easy to feel where the plastic part is through the leather. I just cut an "x" and made it a hole. I intended to put some duct tape or something over the plastic to protect it when I was cutting things, but I forgot - both times. It was fine.
These pics are out of order because some are from each mount on that seat, but you get the idea how you can work the small hole around the plastic and enlarge it, slightly, as needed.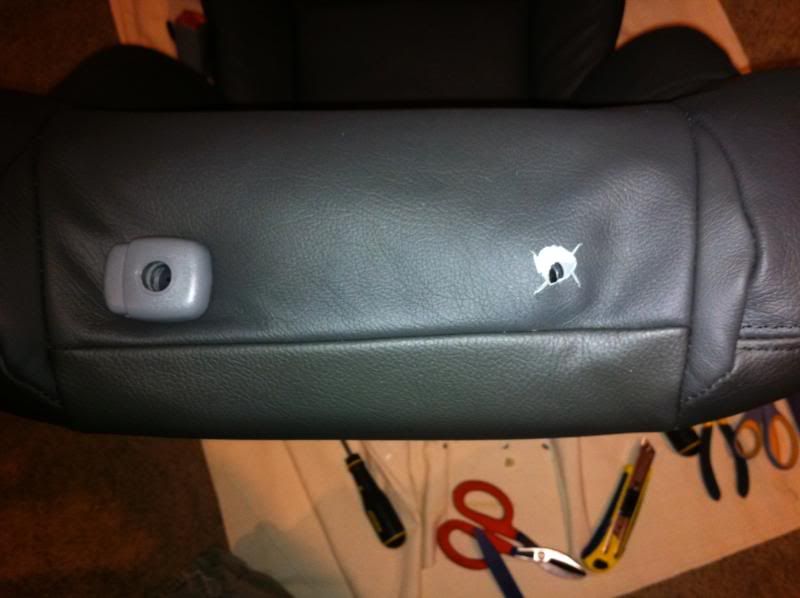 Rolling the leather over the foam is a chore. It seems like it's not fitting right at the top at first. I found it helped to reach underneath and make sure the seams are all sitting where they are supposed to. As things tighten up it seems to gradually look better.
The hardest part of the seatback seems to be getting the vertical rod under the correct place in the foam when you put it in. Find that spot on the foam before you put the leather on. Then you know what you're looking for. I slid the rod up the seam and then reached under the leather to feel where it was going. It took quite a while to get it in the right spot - but you can feel with your finger when it's there.
If I remember right, you can see the rod you put it under in this pic. It is at the top left of the pic right at the edge. You will be sliding the long metal rod under this blind.
Once it's all on you have to put everything back in the truck. I had another wiring project I did, and wired up the seat heaters so my truck was a bit of a disaster zone. Once I got it all sorted out I cleaned the carpet as well as I could. Then put everything back together.
The rear: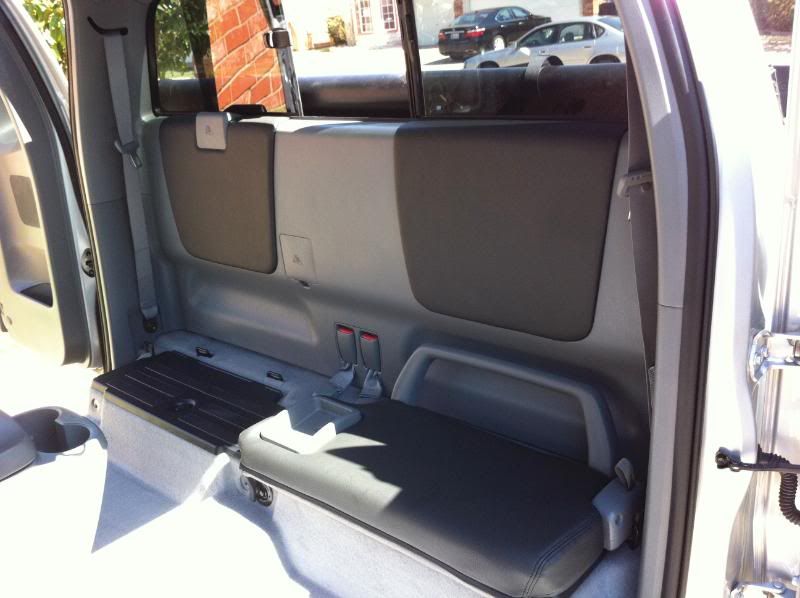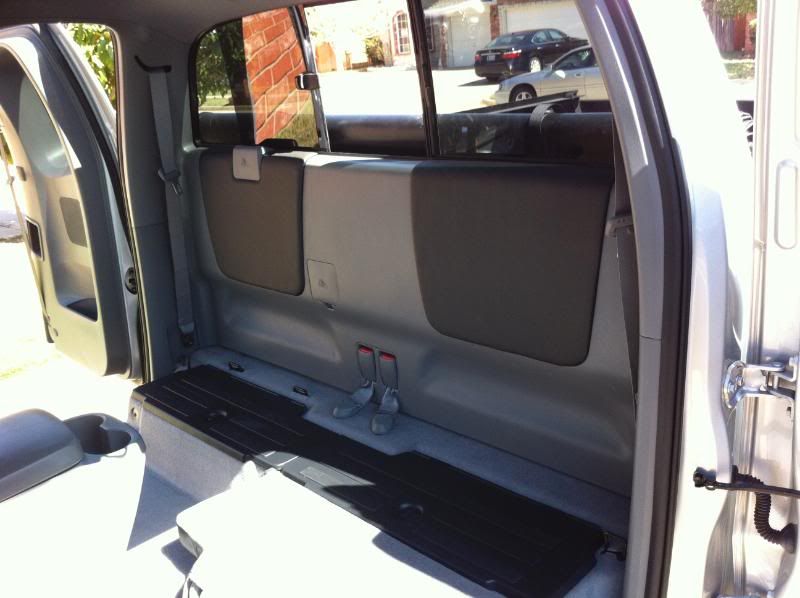 The front: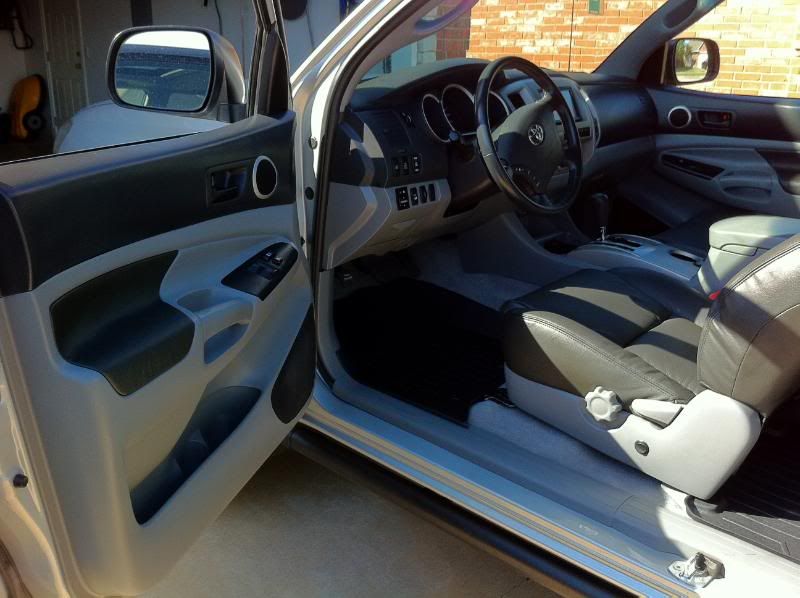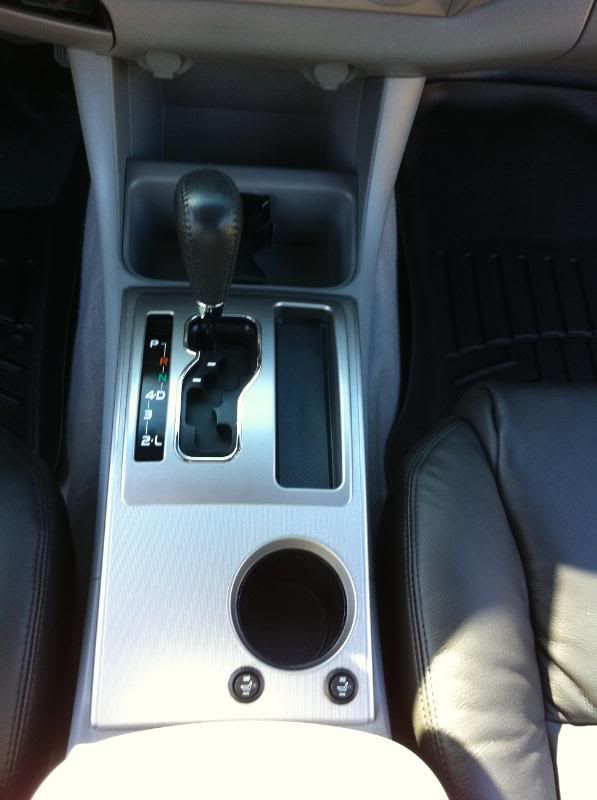 I need to take some more pics in better light.
Everybody says it looks better in person and it is true. The wrinkles are already settling out. The color of my set is Carbon. Seems most are going with the Dk Graphite now. Not sure how the two compare.
I had an issue with one of my jump seat covers. John and Katzkin are in the process of resolving.
EDIT: I'm very happy to report the issue was completely resolved to my satisfaction with little, if any, effort on my part. This was mainly due to John. The problem wasn't huge - but clearly one of my Access covers was mis-sewn. Due to my inexperience with these things it took me a while to figure out what was going on. John was accessible and helped me work through things. When I was convinced it was really a problem with the cover he told me to send it his way and he'd get it corrected. His main concern was getting the new piece to me quickly - which he did. His customer service is second to none. If you are thinking of doing this, I highly recommend working with John and Katzkin. This minor issue proved to me they stand behind their product.
Good Luck...