There has been many discussions on how to make the Tacoma frame more rust proof/rust resistance...and many opinions/arguments on what is best. This thread is NOT about that. I'm writing this simply to explain how I applied Fluid Film to the frame from the one gallon can.
If you know of other places the 2nd Gen Tacoma tends to rust, please add your experience to this thread:
2nd Gen potential rust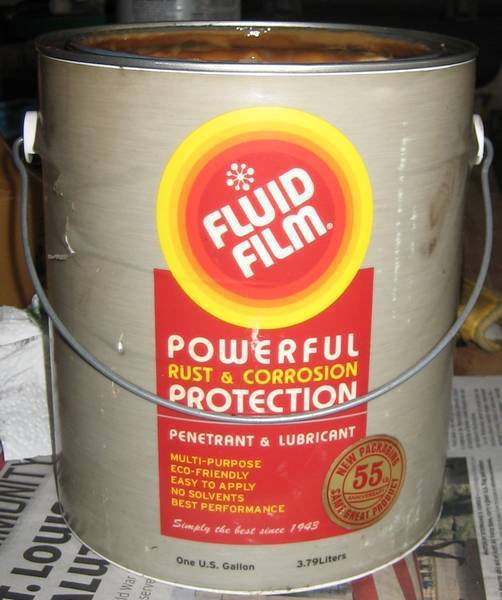 The first thing you should do is thoroughly wash the underside of your truck. I use a long reach, water wand type sprayer*. Use high pressure, try to blast out any places that sand and dirt accumulate, and let it dry at least overnight. If you already have light rust spots on your frame or floorboards that you want to deal with, now is the time to do it. I used a wire brush to knock off the loose paint and surface rust. Then I wiped that area with a denim rag (you want something tough that won't fall apart) that was wet with Prep All* to remove contaminants so I had a good surface for the new paint. I then gave these areas a shot of Eastwood's Rust Encapsulator* in flat black on the frame, silver on the floor boards. This is also a good time to protect fully boxed in section of your frame; it's not easy but if you are going to do it, do it now before you apply the Fluid Film. I used Eastwood's Internal Frame Coating*. Before any painting you want to put down a drop cloth to keep drips of paint off the driveway. After allowing the paint to completely dry you can finally start on the Fluid Film application.
Of course the easiest way to apply Fluid Film would be to buy a bunch of the aerosol cans and go to town. But since it was significantly cheaper in the gallon can, that's what I bought. I got mine from a local lawn mower supply/feed store but there are plenty of sources online including
http://www.kellsportproducts.com/
. Bob Smith from Kellsport Products is offering TW members a really nice discount:
Quote:
Originally Posted by
bob1008
As a small "thank you" for your interest in Fluid Film, we will offer all TacomaWorld members a 15% discount on all Fluid Film Products. Simply enter coupon code "tacoma" at checkout, and your discount will be applied.
To apply, you can spray it or spread it with a brush. I felt that spreading it with a brush would take too long and would not get into as many nooks and crannies as a spray could get. Fluid Film is thick and clingy, similar to Vaseline, which makes it great for rustproofing, but difficult to spray: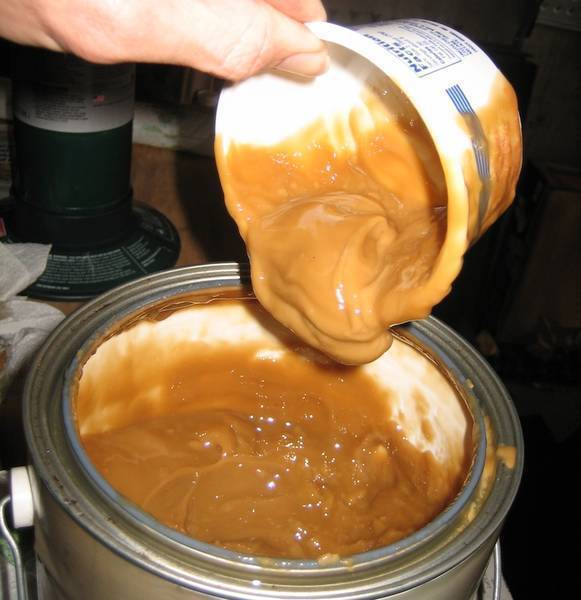 I have read that you can apply it with spray guns made for household paint (like those electric Wagner sprayers) or undercoating guns*. I had neither of those so I tried a different method: warming it up. Surprisingly, Fluid Film thins nicely when warm and doesn't require much heat to spray from a handheld spray bottle. Hot water was my source of heat for warming the Fluid Film; I took a large Pyrex bowl from the kitchen, filled it with water and placed it in the microwave until it boiled. Gotta be careful pulling this out and taking it outside...use heat proof gloves or pads. You could dunk the entire gallon can of Fluid Film into the hot water, but since you don't need that much, a smaller amount is easier. I used an disposable container to scoop some Fluid Film into a rusty old pot and then dipped that pot into the hot water. In other words I made a double boiler. I don't have pictures of the entire process (give me a break, my hands were full), but I do have:
I believe you could use an electric hot plate, electric stove, heat gun, potpourri heater...whatever you got. If you try something different feel free to post what did or didn't work. I wish I could tell you exactly how warm to get the Fluid Film, but I just don't know. I got it warm enough to flow like tomato soup, but not so warm as to melt the bottle or it's pump. I suggest you try it as soon as it's warm enough to pour through a funnel into your spray bottle; if that isn't thin enough to spray then dunk the bottle into the hot water to get the Fluid Film warmer. Speaking of my spray bottle, I used a "horse sprayer" purchased at the same shop I bought the Fluid Film from: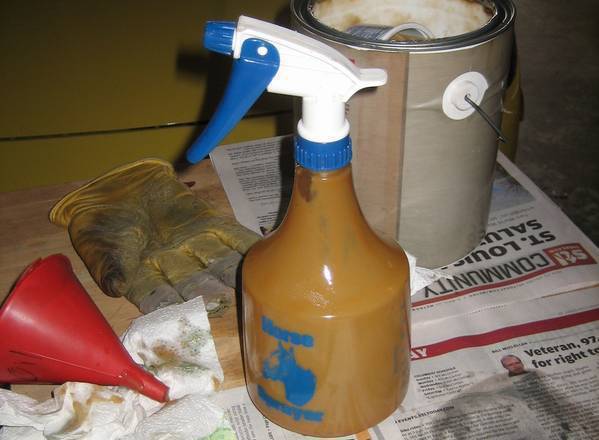 A disposable old Windex spray bottle may work, but I suspect it won't take as much heat as this reusable version will. As the Fluid Film changes temperature it will spray differently from your sprayer. Once I got the temperature/spray pattern the way I wanted it, I parked the truck in the grass to keep overspray off the driveway, and just started spraying the frame and body. You will have to occasionally stop to reheat your spray bottle. Again, how much heat your bottle can take without melting may vary. I stayed away from the exhaust (that will stink), the plastic bed & fuel tank (a waste of Fluid Film), the drivetrain (didn't want to attract dirt to those parts), and the brakes. I suggest you open the hood as there are parts of the frame only accessible from the engine compartment. Spray behind the fenders and in the wheel wells. I plan on putting some along the bottom edge of the inside of the doors and tailgate next time the panels are off.
I think this first coat needs to be the heaviest to make sure there is plenty of that Fluid Film "creep" which makes it so good at protecting places you can't reach or even see. And even with this heavy first coat, I used only about 1/3 of the gallon can. The yearly re-applications will probably require less Fluid Film since there will still be a lot left on the frame from the previous application.
*********** The asterisks (further explanation of things mentioned above) **************
* The long reach, multi pattern sprayer/water wand was purchased at
Lowes
for around $10 but are available at lots of hardware/outdoor shops. I recommend everyone living in a rust prone area buy one. It makes it very easy to do a really good job of washing the underside of ALL your vehicles. And keeps you from doing a lot of bending over in the process.
* Prep All is available from many sources. Check your local
Home Depot
, Lowes, auto parts store, etc...even if they don't have this particular brand, they will have something that is designed to remove all wax, silicone, grease, etc. before painting.
*Eastwood's Rust Encapsulator is one of many choices you have for paint. Por15 is another popular choice. You could use the brush on or aerosol; I used aerosol.
*Eastwood's Internal Frame Coating is one of many choices you have to coat the inside of the fully boxed (front) section of the Tacoma frame. I have no previous experience with this product but it comes with a 2 foot long tube that has a 360 degree nozzle at the end. With all the small holes in this part of the frame, I was able to thoroughly coat the entire length of the boxed frame and one can was more than enough for the Tacoma. I was pleased with the results, but only time will tell if it works well.
*Undercoating guns can be purchased from various places such as Eastwood or Kellsport Products. If you go this route consider using it to coat the inside of the boxed section of the frame with Fluid Film. There is more advice from people who have experience spraying Fluid Film from undercoating guns and regular paint guns, read through the second page to get their advice. If you try it, please post your results.