Ok, I just got my bluetooth OBD II reader (
Amazon
)
http://www.amazon.com/s/ref=nb_sb_ss...bd%2Caps%2C256
and the Torque Android App (Google Play)
https://play.google.com/store/apps/d..._result#?t=W10
..
I am still learning how to set up and use the program but wanted to start a thread to document the application as I learn and hopefully get others interested in this product.
I WILL UPDATE THIS POST AS I CAN AND AS I LEARN SO CHECK HERE OFTEN IF YOU ARE INTERESTED.
I will also try to respond to questions within the thread.
The app is pretty powerful and not only read and clear fault codes but can display real time OBD information on your andriod phone or tablet. ( I have connected both my phone and tablet) In addition, it can log information as you travel and overlay it the data on google maps within the app or export the data.
The app alows you to choose what sensors you want to display and how you want to display it (different size gauges/needle gauges/digital/bar graphs etc.) There are different themes you can install that change the look of the gauges. or if you are into it, you can design your own theme.
Here is what I have set up at the moment on my real time display (not connected to the OBD when I did the screenshot so showing no data.) I really don't need the speed info but want to get a feel for how the GPS speed and the OBD speed line up. There is also a gauge that will display the difference between OBD and GPS speeds.
The fuel remaining and distance to empty are a bit disappointing as they are calculated by the program and not provided by the OBD. You have to input the % remaining fuel in the vehicle profile and that will drive those displays. It is ok I guess, but not as good as it could be.
The Transmission sensor data may not be accurate for my 5-speed manual. I am not sure if the transmission has a sensor! The PID (that is the programming behind the displayed info) I used was one I found for the Tacoma's with automatic transmissions.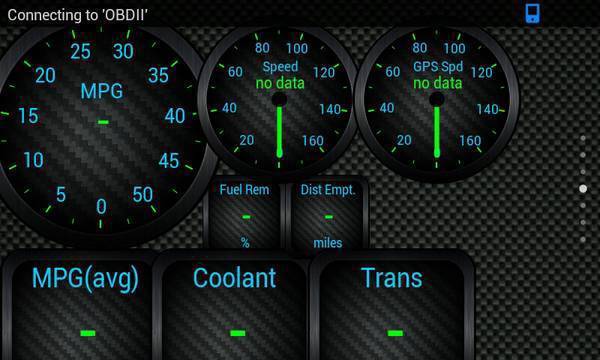 Different Theme - same screen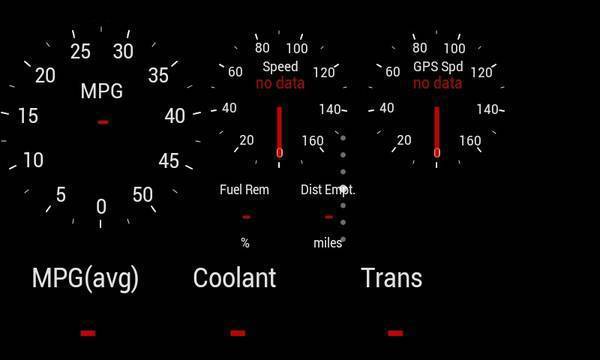 There is also a HUD toggle-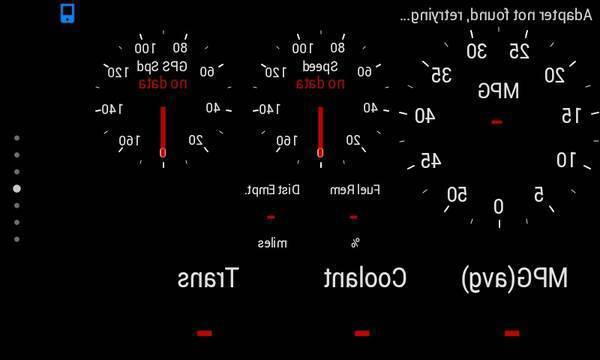 In the above screen shot you can see there are 7 screens available to me to display real time information. This can be set as anything from 1 to 15 screens (odd numbers only) so there is the possibilty to dedicate screens to groups of sensors. 15 screens would be way more than you need.
You can create vehicle profiles for use in all you vehicles and those profiles can show different information/themes etc. Moving from vehicle to vehicle is as simple as unpluging the reader from one and pluging into the other.
Trip log - This is a trip log on google maps. You can show on basic map as here or on satellite map. The trip log is automatic unless you disable it. This log is tracking speed only but you can add any sensor you wish to the log.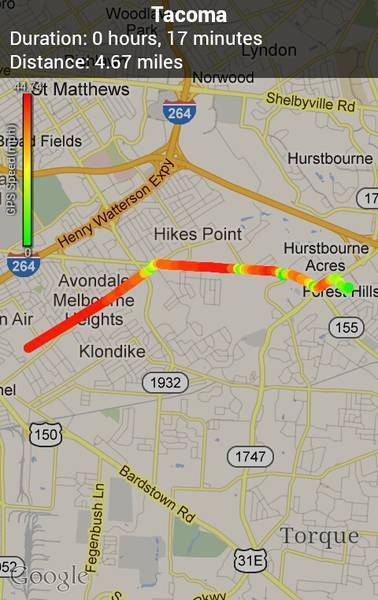 When you zoom in you can see each data point.