EDIT: not sure if this is the best place for this. but is anyone, dissatisfied with the poor low range of your factory keyless/alarm? originally i wanted to connect the keyless entry's antenna wire to the radio antenna, but wasn't sure if it would even work. so instead ended up doing something simpler and had great results. I can now use my remote from across my street and I've used it from 3 stories up.
here's my write up.
first step
is to remove the lower driver side dash.
this can be done by unbolting 4 bolts and unscrewing one screw. then remove the hood popper thing by unscrewing two screws. be sure to undo the wire harness(es) for the LED security light. i couldn't get the one bigger harness off, so i had to remove the two smaller ones.

second step
is to remove the trim along the bottom of the door sill and remove the kick panel. this can be done with a phillips screw driver and some elbow grease. then locate the alarm/keyless brain/module... what ever u call it.
the rs3000 brain is the biggest rectangular prism shaped module behind the dash/kick panel (confirmed on my 99 and another member's 00.)
but some other year models are located under drivers seat like the diagram shows...
the brain will have an inscription stating what it is. mine was very faded but i saw toyota rs3000 on it.
I located the brain behind the dash, between the fuse box and the firewall.
Step three
is to find the solitary grey wire coming out of the brain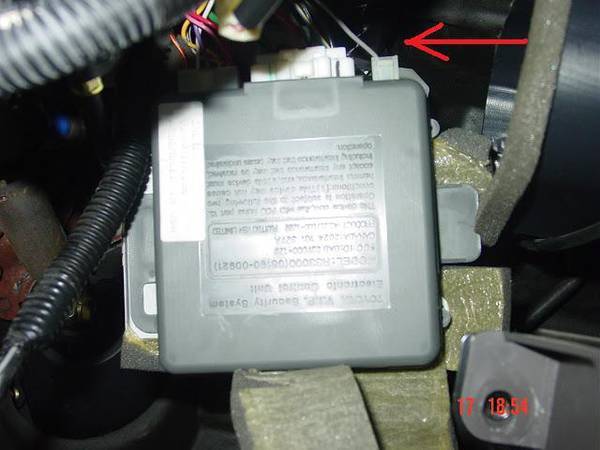 trace it as far as you can, you are looking for the loose end. Mine was wrapped around the rest of the rs3000 wires, multiple times. Unravel it and run it up the a pillar. you dont have to remove the a pillar, just push the wire in between the plastic and your windshield with your fingers or small flat head. be sure to tuck any excess wire into headliner.
if your brain is under the driver seat, run it up the driver side or rear wall, into headliner.
step four
is to test the new extended range and put all your shit back together.
step five
is enjoy your favorite vice, you earned it.
now i can use the keyless entry from about 5x further than before and if this isn't enough range for you for some reason, just stick the keyless clicker thingy to your temple or chin and push it. you will gain an additional 10 feet, or so i hear... i haven't tried because I'm so pleased with the range i have after this mod!!!!!
this took me a long time to do because I couldn't find much about it online (although if you look hard enough there is some info on 4runners and tundras and i attribute much of my success to them), but I'm confident with this write up, you can do it in 30 mins.
I didn't take any of my own pics.
i hope this write up helps some of you mugs!

RS3200 keyless entry to alarm upgrade
Quote:
Originally Posted by
TacoBran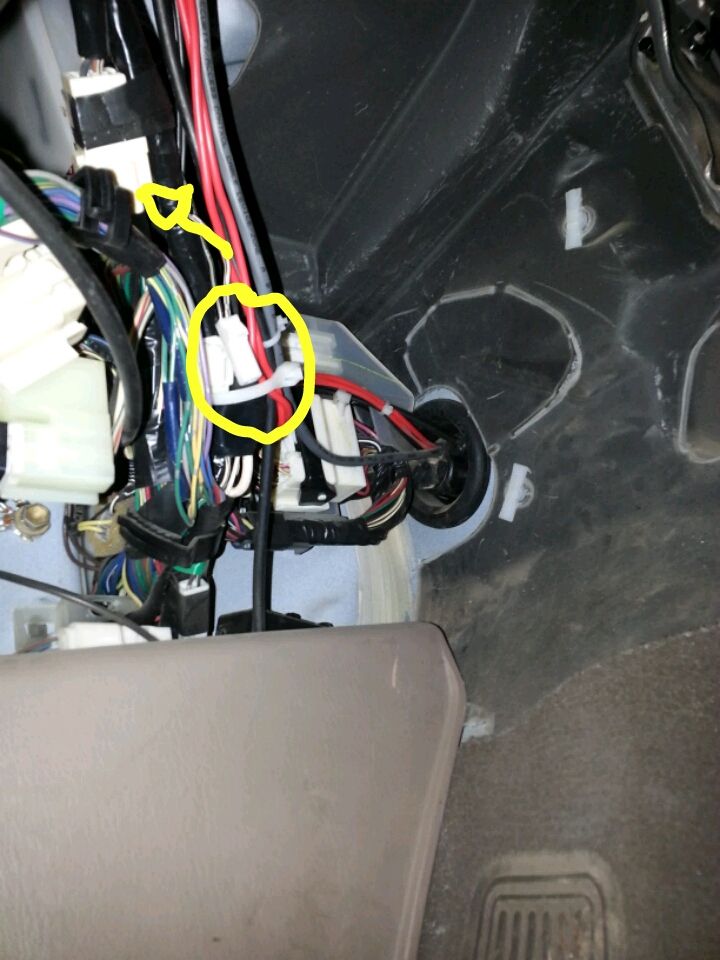 Gives you an idea. This is looking in the corner, you can see the footrest at the bottom to help get your bearings.
The single wire will be plugged into the harness. Just unplug and this will enable your keyless entry to be an actual alarm. As previously mentioned you can add the led so you have a visual theft deterrent and you can also add the shock sensor.
To test it roll your window down, close your door and arm the truck. Wait about 30 seconds and reach in and pull up on the lock to unlock it. You should get "alarmed"
This is where it was located on my 03 and another 03 I did. Other threads have mentioned other locations in different years. So if you don't see yours here keep looking around. I also did NOT need to pull the lower dash piece off. It took me longer to type this reply then do the mod Haha. Good luck!!
Now for an added bonus, you can find and purchase a glass break sensor and LED indicator. plug the sensor into the harness by the dash fuse box and the LED's harness is close by, you may need to remove the lower dash to find it... bam full alarm!
This mod will absolutely work with out the glass break sensor and/or LED.
The RS3200 should also be able to have it's range extended by the RS3000 range mod above and I believe there's even a range adjuster knob on its brain on the 04 models, possibly on all the 01-04 models, i'm really not sure. But that's what I heard.