First, I'm giving credit to this toyota nation forum post
http://www.toyotanation.com/forum/61...ml#post2456780
This mod requires no cutting of wires, bending of relay terminal, or even adding terminal connectors or wires. It is very clean, no trace that a mod was done, and completely reversible. This can be completed literally in a few minutes.
I got a little creative and made the mod simpler to do.
Read the toyota nation instructions first.
Here are the steps
1. Open the engine compartment fuse box.
2. Cut 4 plastic strips from old credit card. You will use this to hold the tabs holding the 2A junction block cover.
3. Push the tab using a flathead screwdriver and insert the plastic strip to hold the tab out. Do this for all 4 tabs.
4. Hold the 2A white connector firmly and firmly pull it out while wiggling it back and forth. It came out instantly on mine.
This is a picture showing the cover off and the strips I used.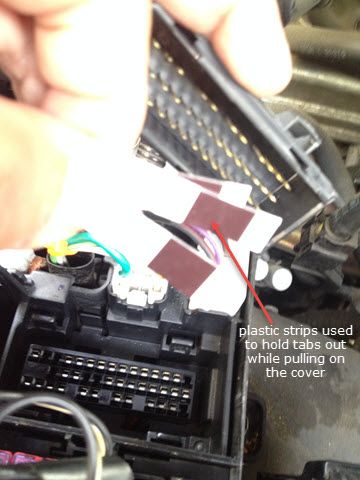 5. Next slide the panel holding the wires going to the three white connectors up and out. You can then unplug the three white connectors and move them out of the way.
6. Remove the nut holding the positive terminal connector located in upper left corner of the fuse panel.
7. Insert plastic strips to 6 tabs holding the fuse panel to the box. You can slide out the fuse panel easily once all 6 tabs are held by the plastic strips.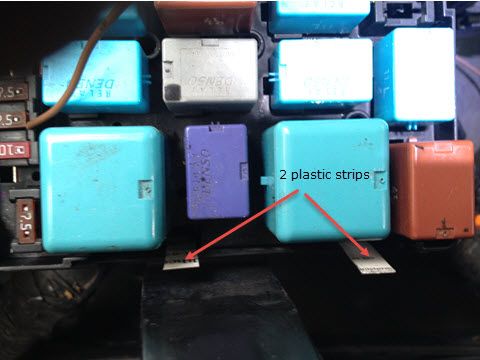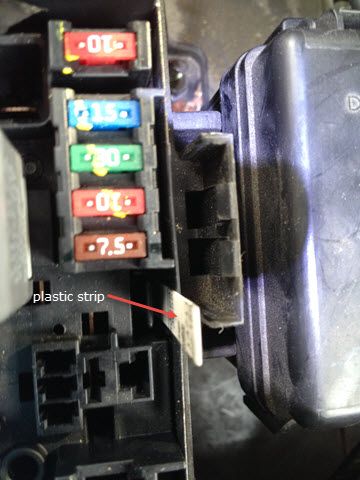 8. Once the panel is out, tilt the panel until you can reach the wire to pin #21. Its center row, 5th from the right. Once you get a hold of the wire, use a small flathead screwdriver to push pin #21 connector from the top front side pushing in. The wire should come out the bottom.
If you find it difficult to tilt the fuse panel, release the white clips holding the two large wire harness on the bottom left and right of the fuse panel.
8. Insert the pin to #13, its the center row, left most slot that has no wire.
That's it. Just put everything back together and you are done.
This mod basically disconnects pin#21 originally connected to headlight low beam power, to the EFI power source. The EFI power is on when the ignition switch is ON.