I just put my Taco to the test. I picked up an 18' trailer in Ohio and drove it home to the DC area. I have a WD hitch the rear spring TSB has been done as well
I pulled it across Ohio and the entire Allegheny ridge from west to east which was about 130 miles of mountain highway at a max grade of 7% and a 485 mile trip all together. The trailer weighs 3220 dry and I have few hundred pounds of stuff in it. With the WD hitch and keeping the weight in the 3k-4klb range the Taco did okay. There were times when it was working but nothing to be concerned about. The 4.0 was running at 3200-3500 rpm's or so climbing a good5-7% grade at 55mph. This rpm range seems to be the sweet spot and it pulled very well.
Checkout this vid and turn up the volume to hear the engine. There were some hills when it was running like this for more than 3-4minutes. Just a nice steady running engine at 1/4 throttle.
Click on image and it will open in photobucket to play(I think)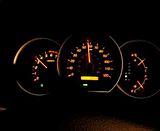 I kept track of my mpg and there was no difference between the mountains at 55-60mph or the flatter land in Ohio at 60-65. I was getting 10.3-10.7 mpg in both. One thing I found out is that using the cruise control makes the trans hunt a lot. If you use your foot to control the throttle lightly it will run in a higher gear and pull longer in that higher gear until it need to downshift.
There were really no big issues with the large trucks passing. I knew they were there and I may have had to firm up on the wheel a little but that would have happened if I had the TT or not. Semi's put out a nice blast when they go by or you go by them anyway. The fun part was the broadside wind in Ohio, but as stated before the wind would have knocked anything around .
With the properly adjusted WD hitch, and conservative speed, good tire pressure(35psi) there were no white knuckle times at all, I just had to get used to traveling in the right lane
I don't think I would go much over 4000lbs towing and 600lbs cargo in this truck especially in the hills. I'm going to try this rig out for a year and see how it does then decide if I keep the Taco or get a larger truck.
IMHO I think the Taco did very well and is a very capable truck for the load I will be hauling.
Hope this is enlightening to someone.
Paul