I've owned a number of Tacoma trucks over the years and I've needed to tow things periodically with all of them. Mostly just light weight pulls with a single axle utility trailer, towing riding mowers, ATVs, retrieving some wrong turn sedan out of a ditch or just helping a buddy move belongings across town. A hitch was and is for me a must have. Every (6) cylinder Tacoma I've owned has had a factory installed hitch on it. Both of my (4) cylinder Tacoma trucks, (2001 & 2012), required a hitch be installed in order to tow with the truck. I recently traded my 2008 Tacoma on a 2012 model that was "hitchless". Since I've seen a few posts asking about hitch installs, I decided to post a pictorial with some suggestions. I know it's not a grandiose wrench undertaking, but it might serve to help those less familiar. Keep in mind I use jack stands and pneumatics here, but this straight forward procedure can be accomplished with just basic tools. No garage or lifting equipment is really necessary. I hope you find something in this guide to help you with the installation process.
First things first, you need a hitch. I chose the Class III Pro Series. It was an
Amazon
find, a good deal at a buck 35 shipped to my door.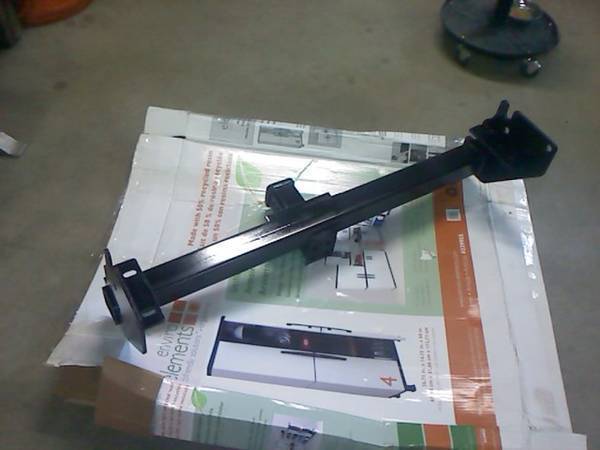 After verifying all my installation hardware was included with the hitch, I chose to raise my truck up to make more room for me to work under it. Never get under anything that's supported by a jack without first blocking a wheel and properly positioning dependable jack stands.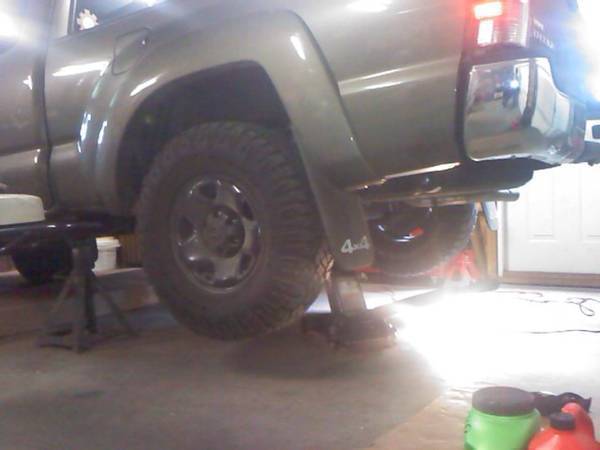 Mine are fairly heavy, as in duty... 22 inches without being raised, rated at 7 tons each. Overkill is good when kill is what can happen if the truck were to accidentally fall on someone.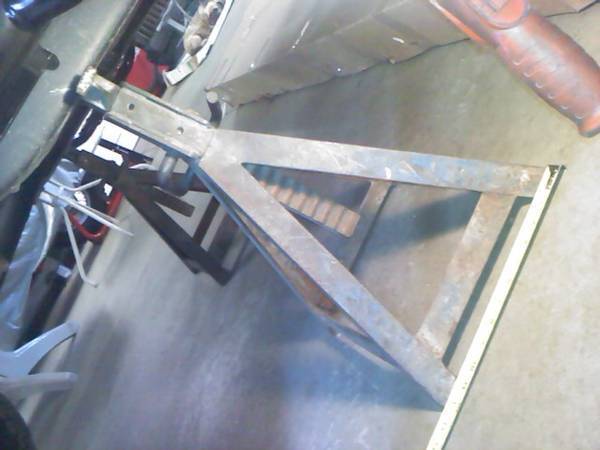 Knowing that I was required to loosen the rear bumper bolts, I decided to take a reference measurement to assist in returning the rear bumper back to its factory alignment location.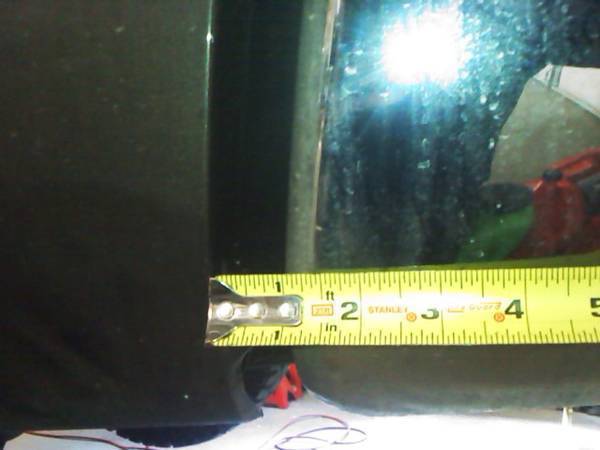 To further ensure I was spot on with the bumper relocation, with the truck raised, I marked both mounting brackets. I chose a high contrast color, (cheap rattle can yellow), and lightly dusted both the bolts and brackets. This way, you can verify that the washers and brackets are returned to their factory locations before torquing. Your eye automatically goes to the colored edges if they aren't aligned exactly. I did this on both sides.
BEFORE -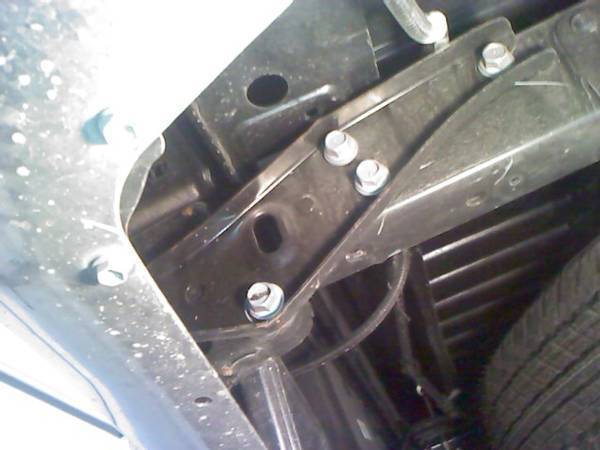 AFTER -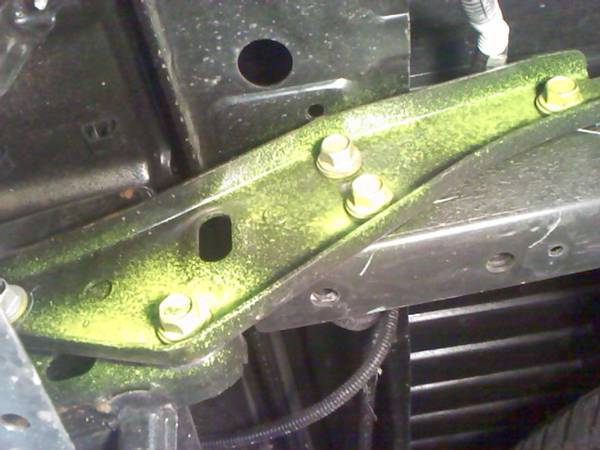 Knowing these bolt needed to be loosened, (two on each side need to be removed), will cause your rear bumper to pivot. Because of this, you need to protect your lower bedsides from any errant contact which could dent a panel or otherwise damage your paint. I used (2) methods.
First, just to see how far the bumper wanted to go when loosened, I propped up Mr. Chair and Mr. Little Jack stand with a block of wood to protect the chrome under the bumper center.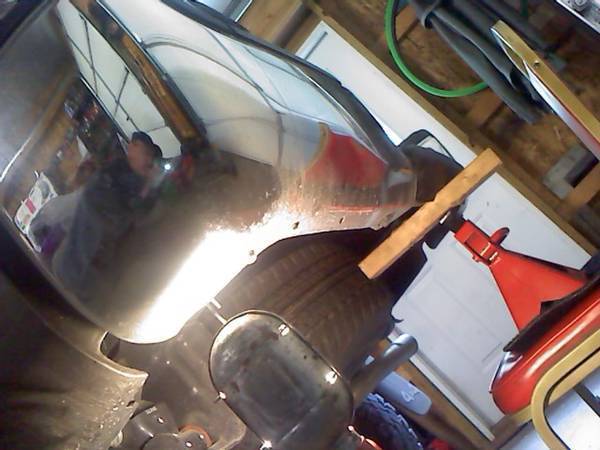 That gave me the weighted feedback to install a make shift "friend" to hold the bumper in place while I worked under the truck installing the hitch. I used a motorcycle quick pull tie down strap with a rubber coated hook to keep the bumper from doing what it wanted, which was to roll away from the tailgate. This kept the bumper corners from off the bed sides.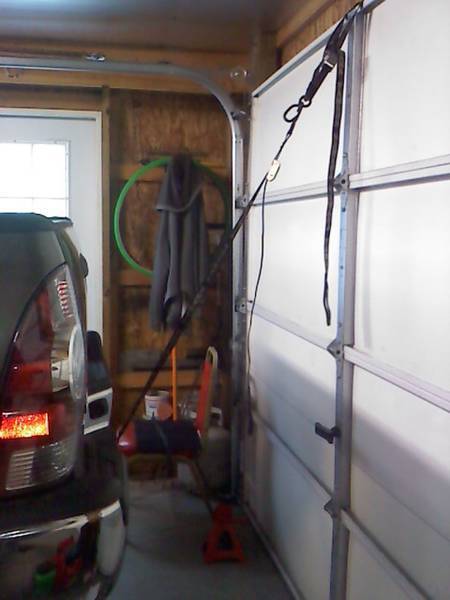 Granted, a real "friend" would have come in much handier here, but it seems that all of my real friends didn't need any work done this week and were all of of "cellular service range." Fortunately for me, Mr. Yamaha quick pull tie down strap was just hanging around the garage doing nothing when I pulled the truck in. TITS!
So with this done, it's time to fully loosen all the bracket bolts, plus remove the two from each side to be replaced during the install. I prefer to oil all of them, just to keep them running smoothly.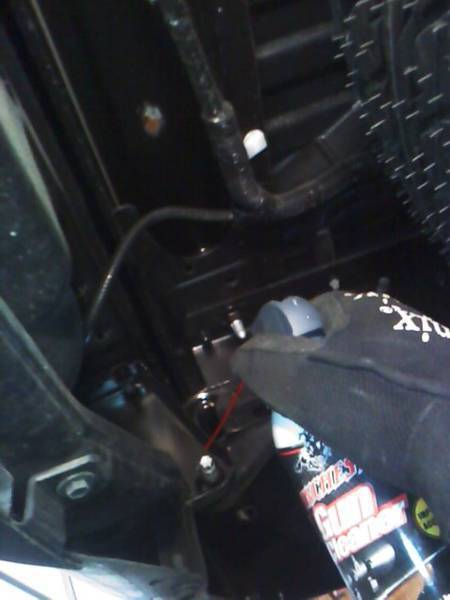 Speaking of oil, it's also best to take care of your tools before you use them. That way, they will be sure to work well when you need them to.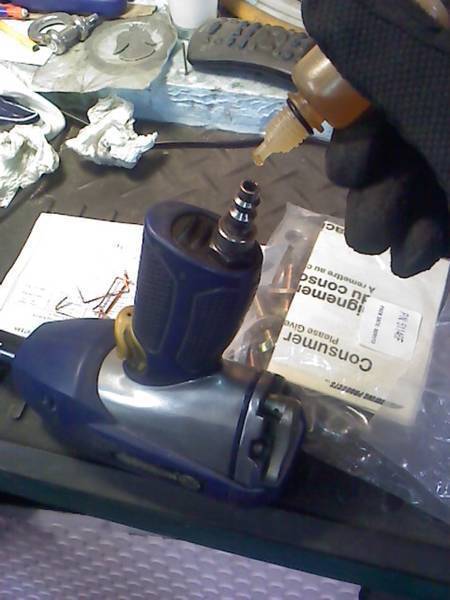 Make sure your gear is accounted for and moved into the area where you intend to be working. Keeping it in reach when you need it, especially if your only friend, (Mr. Yamaha quick pull tie down strap), can't reach it for you. Hey, he's freakin' busy holding the bumper already. Geeze Louise.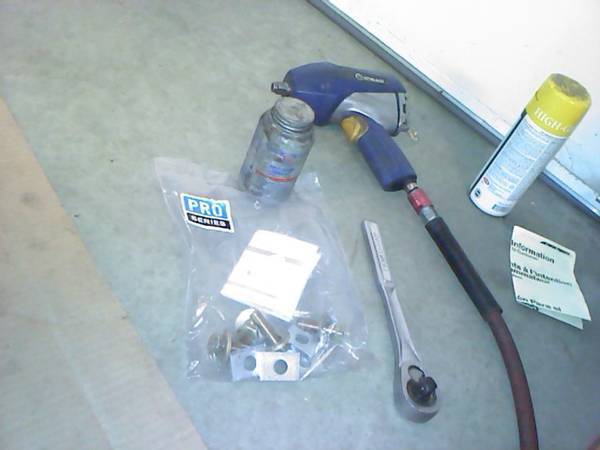 Oh and for goodness sakes, if you have a 6 point, use it. Leave the 12 point sockets for the lighter work. The 6 point socket is less apt to slip when you're putting the pain to it. Bolting it all back together is where you ring the juice and I never task a 12 point for that.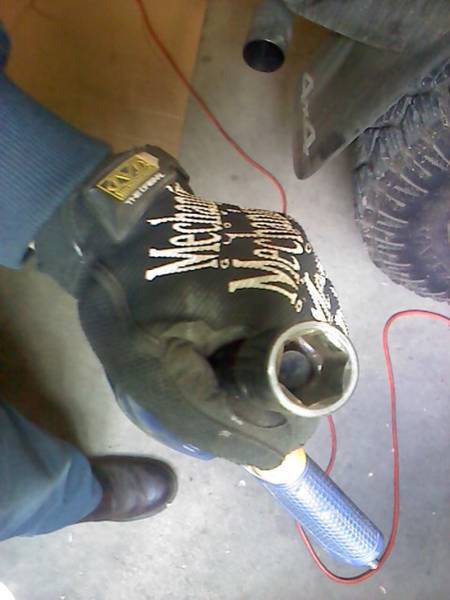 With all the bolts and stock mounts loose, it's time to position your new hitch. Since I was preoccupied working, I was unable to protect my investment. Living in a bad part of town means that your stuff can grow legs and walk off if you aren't there looking, so I employed the services of a guard dog.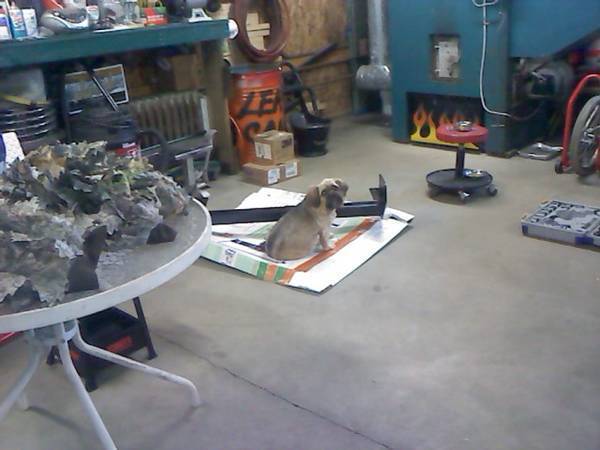 He works real cheap, only cost me a couple pieces of bacon, but that has a bad effect. He claimed it was because I work so damn slow, I say it was because he ate too much.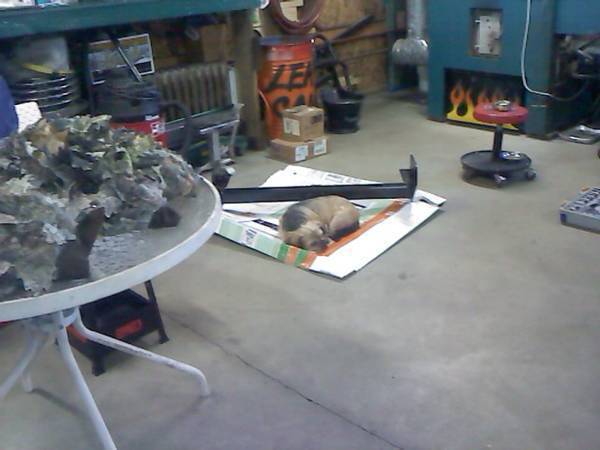 With great concern for my own personal safety, I reluctantly move in to get the hitch... then... it happened...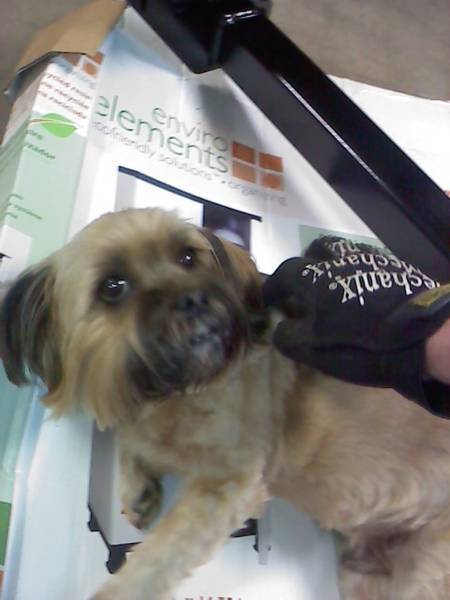 Fortunately for me I was able to negotiate another deal and gave him the entire package of bacon in exchange for my right glove. I thought it was a good trade and that allowed me to get the hitch into position underneath the truck.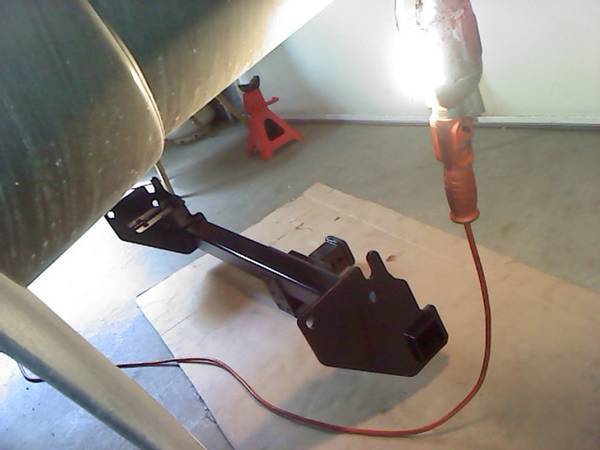 After a dry run, I elected to coat the fasteners used to secure the hitch and the captive nuts in the frame with an anti-sieve paste lubricant. This step can be skipped but I was there, it was there, a climb the mountain kinda thing. Didn't take any time at all really.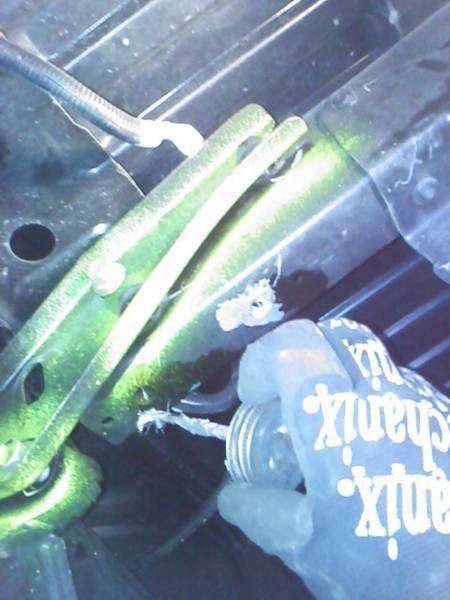 I used Mr. Chair one last time here, just to help get the hitch off the ground so I could get back under the truck to start the bolts evenly.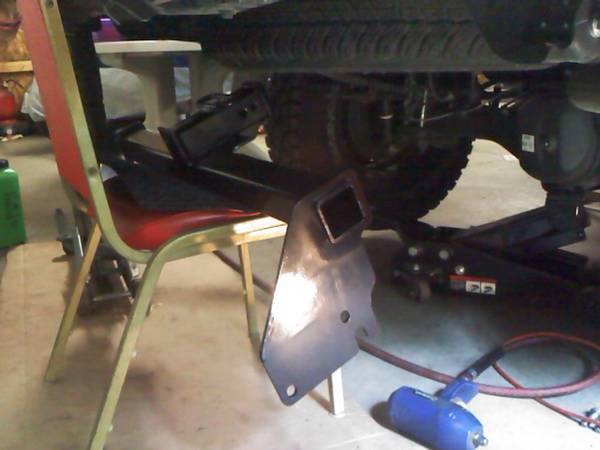 With the hitch lifted into position and the attachment bolts started, all that remained was to torque the fasteners to the recommended inch pound settings. Unfortunately, I was unable to take a picture of this process while running the tools. I did ask Mr. Chair, who said it was Union break time and the only other friend I had there was Mr. Yamaha quick pull tie down strap. He was busy and the watch dog was still sleeping. Nuff said.
So after having tightened all the related bolts to secure the new hitch to the truck frame, your once hitchless vehicle, as shown...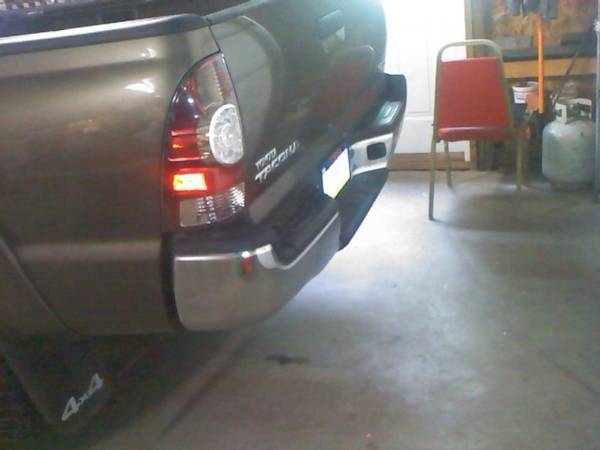 Will now look like and BE your tow ready vehicle...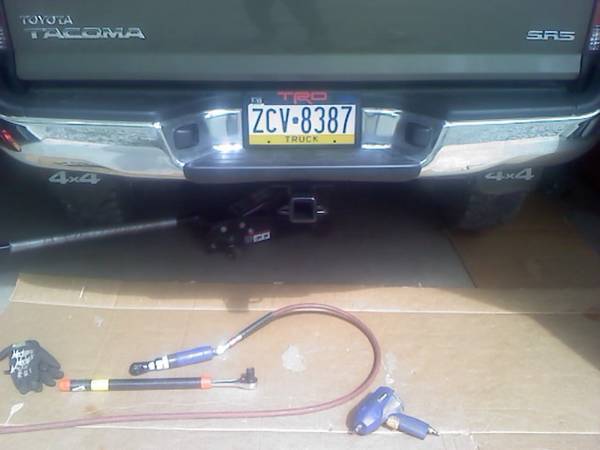 Of course you should take this time to fine adjust your rear bumper back to it's original factory location. Your reference measurements and the painted areas on each side of the factory bumper mounting brackets will come into play now. There is a small amount of lateral movement engineered into each side bracket which can now be easily relocated with the aid of the paint that you applied at the onset of this project.
Since I am a bit of a vehicle fanatic, I elected to paint over the (yellow) spray paint that I had applied for the alignment purpose with several coats gloss black. The finished undercarriage side of the truck then looked like this.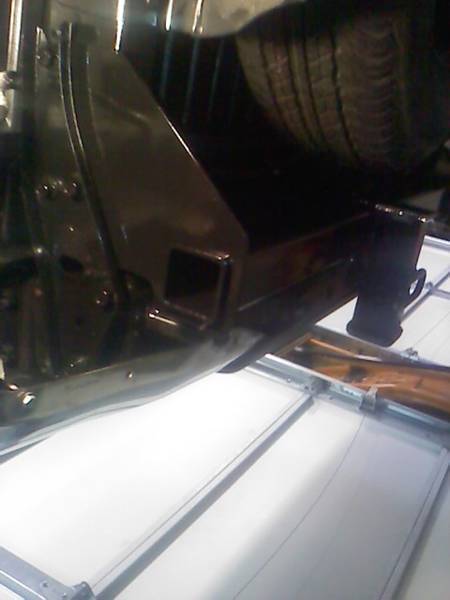 The clean up of the tools used took just about as much time as the entire operation. Remember, I'm slow. If ya don't believe me, ask the K-9. He was there for the whole show.
Seriously though, I do hope you are able to find something useful from this post if a hitch has been something you've always considered adding to your Tacoma!