Mattnatti
Mods as described:
1994 factory locked Land Cruiser w/ 212,xxx miles and counting. 2.5" OME, ProComp xterrain 33's, Creeper sleeper belly skid, Slee short bus front bumper, LilRick interior tire mount, GOTHODGIE sliders, Vango custom built interior cargo mat and painted grill.
Click for full-size image (960 x 640)
St. Andrew
mods as described:
Anything Toyota? Here's my DD, 1980 Corolla Tercel:

Click for full-size image (936 x 836)

arlypoo
mods as described:
85 Terc wagon
Box Rocket
mods as described:
'93 FZJ80
OME J springs
1.5" coil spacers
Slee Caster plates
OME L shocks
ARB front bumper
Trail Gear sliders
Custom homebuilt rear bumper/tire carrier
CB Radio
Portable CO2
315 75 R16 BFG AT's
Aussie Rear locker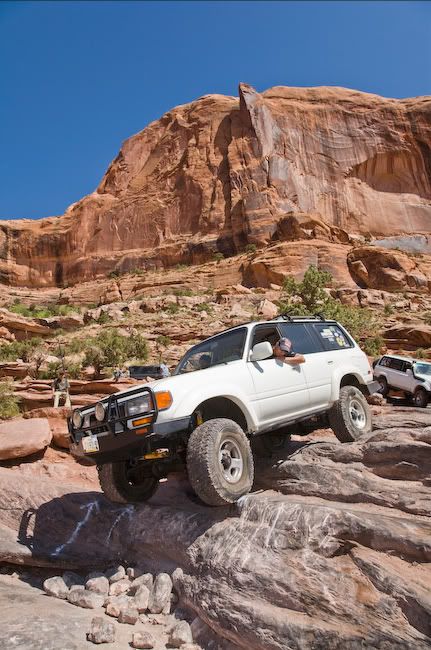 sbechtold
Mods as described
2007 FJ Cruiser
Diamond Axles front and rear
Howe hydro assist steering
FJ80 thirds, Toyota outters, ARB's
3-link with 14" Fox coil overs in front
Inchworm dual cases
Bumpers, sliders, tube doors, fully caged, etc
Running on 37" MTR's
Plus a bunch of other stuff...
Coming down Million Dollar Hill on the Rubicon...
Click for full-size image (1024 x 768)

Climbing the rock on SledgeHammer...