It really was about perfect... great place... great weather... great people... great vehicles! Too bad more TWers were not there to enjoy the weekend in person!
Through photos and text, I will share our trip with you all...
Trip details:
Hwy. 5 (Mexicali to San Felipe) has many, many dusty detour miles between La Puerta and Rio Hardy as they continue to widen the road to 4 lanes (or maybe just repairing the earthquake damaged section). Also, near the Hwy. 3 junction is a shorter dirt detour.
The new wider 2 lane runs for 10 miles. It starts about 2 miles south of the Hwy. 3 junction and the final 19 miles into San Felipe is 4 lanes wide.
The desert about 60 miles south of Mexicali was 100ºF at midday but dropped as wer neared the coast. It was never more than 86ºF during our days on the island.
We arrived about 1:30pm Saturday and set up camp. Ken and Leidys arrived an hour later... and in another hour we spotted Art's motorhome about 2 miles down the beach. Ken and I jumpen into the Tacoma to go help.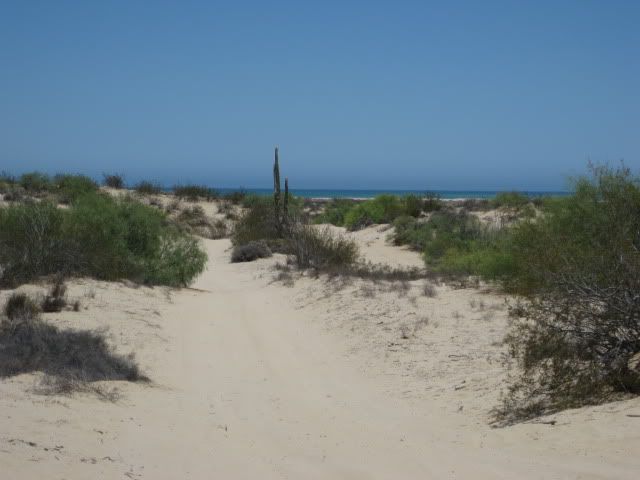 Road to Shell Island from Hwy. 5. It is less than 2 miles to the beach from the highway. Road is very sandy in a couple spots... 4WD best.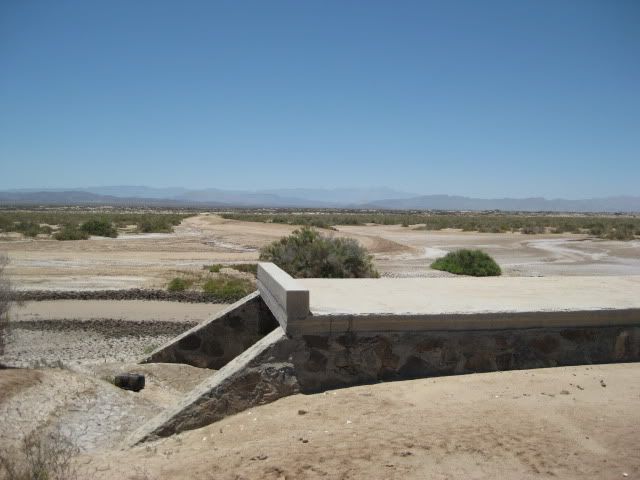 The useless (now) concrete bridge onto the island. Looking west across the mud flats that do go underwater at highest tides of the month. That 'road' across the flats was once an elevated causeway with the bridge at the end... built in 1984 for a development that never came. Being a barrier island, within the high tide federal zone, I doubt if anyone could 'own' it.
Ready to cross the deep sand.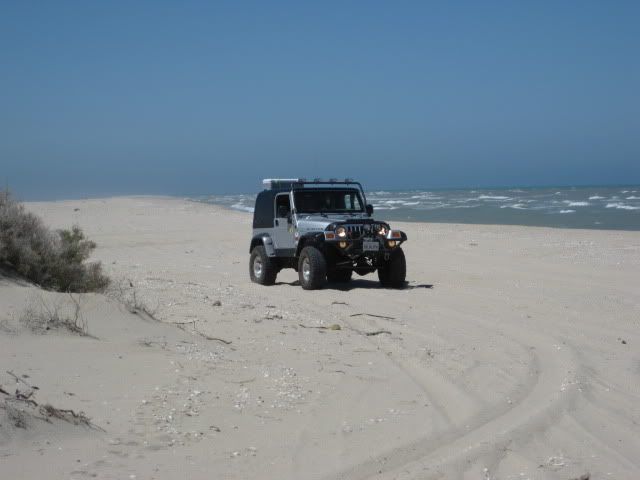 Ken and Leidys arrive.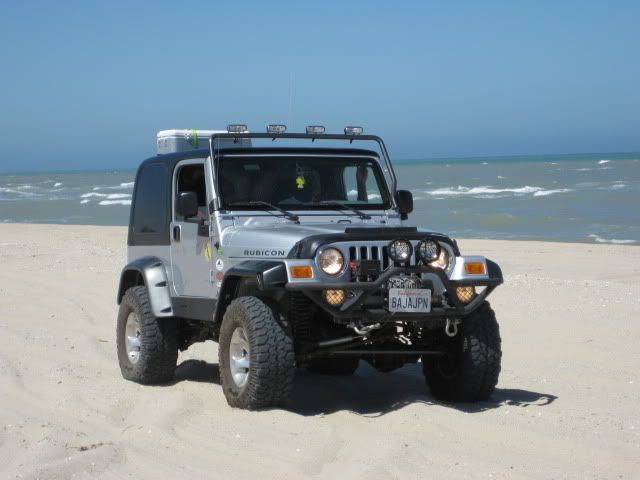 Art ('edm1' on Baja Nomad forums and
G35Vortec454
on Tacoma World) and his 4WD motorhome... Letting air out of the tires is required for floatation... Even my Tacoma and Ken's Jeep had to deflate to 12 psi.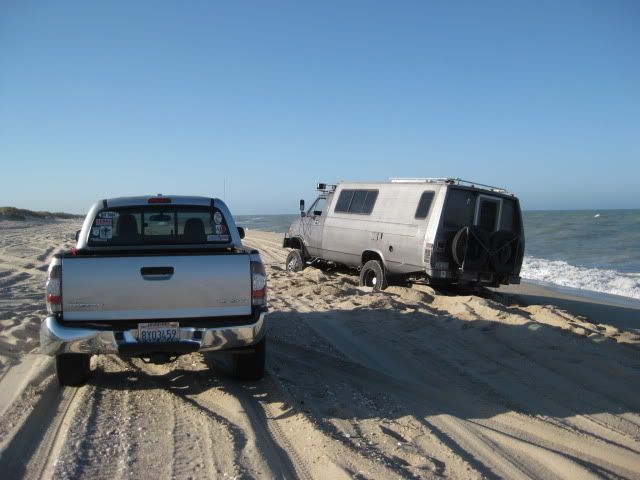 After some digging, and pouring buckets of sea water in front of the tires, Art drove out and with the tires deflated had floatation!
Our three camps, on the island... We mostly hung out at our camp and had nightly campfires there.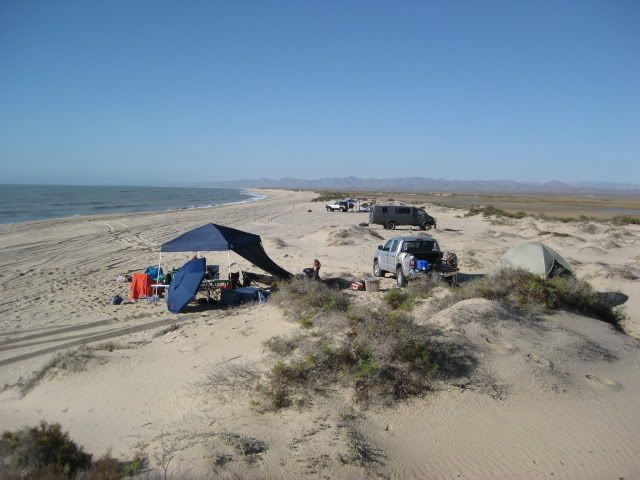 The terns were still active with nesting on the island, as they were in May... With the global weather getting so much cooler, maybe they thought it was May?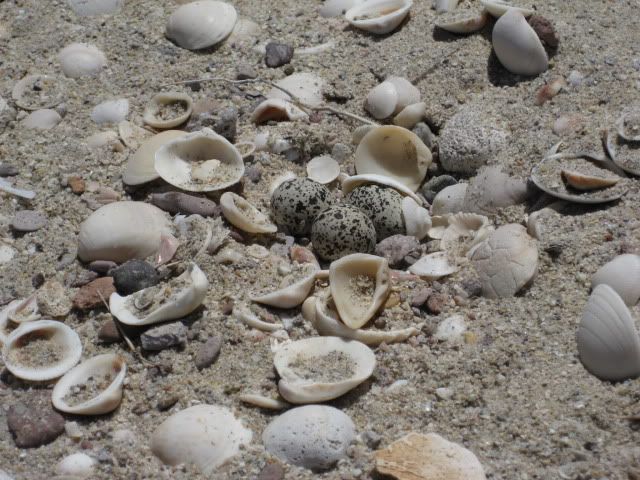 They are in the open, no nest other than the shells... and on the beach, just above the high tide line...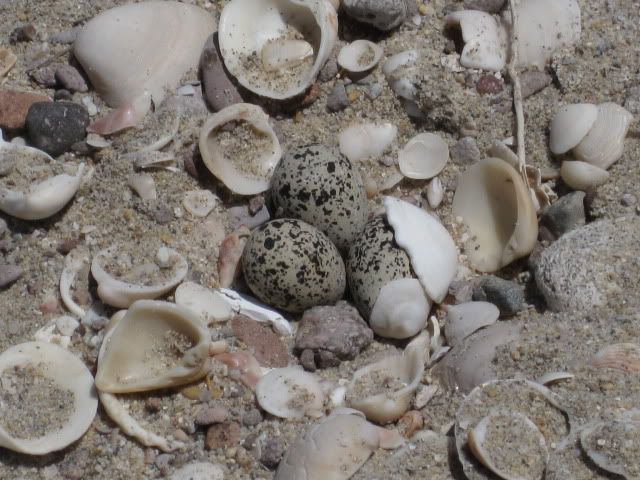 Mama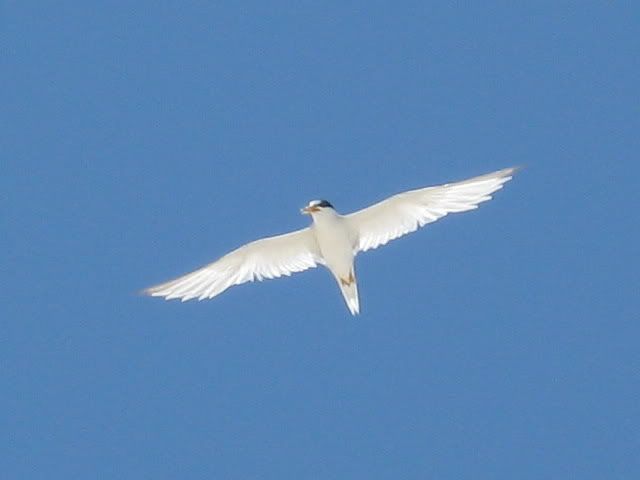 We went shell collecting while Art took a much needed nap. The young 'pre-flight' terns can be seen beyong the gull.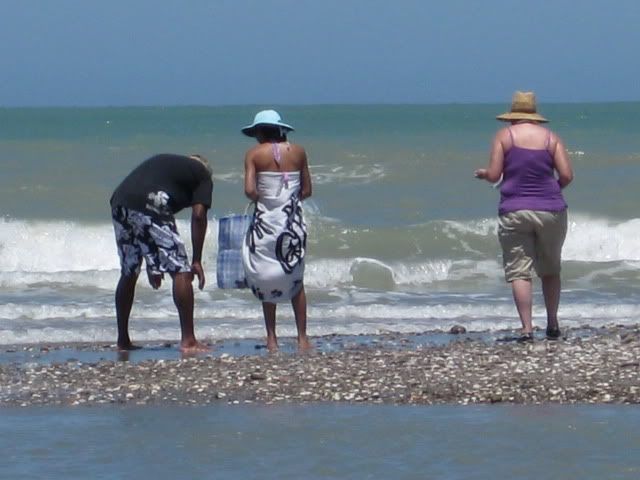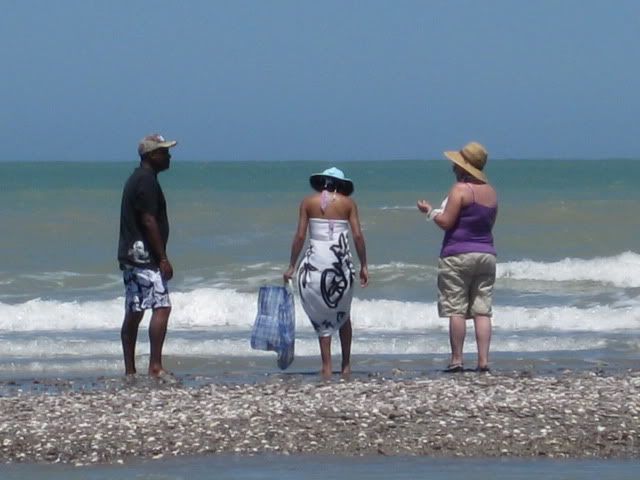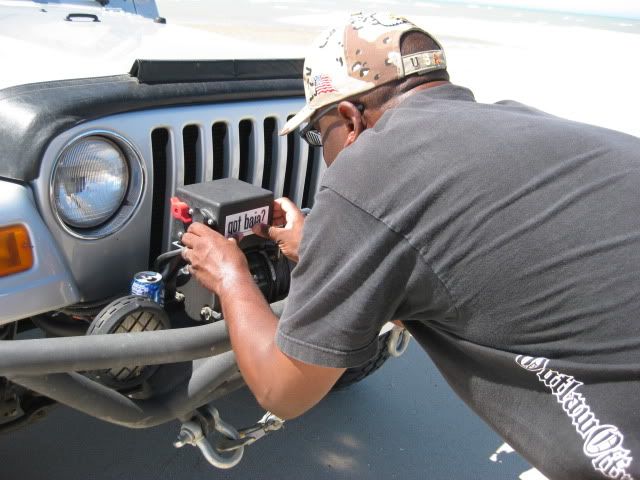 Ken 'got baja'... for Baja Jeepin'
There was a pretty strong breeze coming off the water that created waves and made swimming difficult, so we drove up to the north end of the island (across from Rancho Percebu) where the lagoon entrance was calm.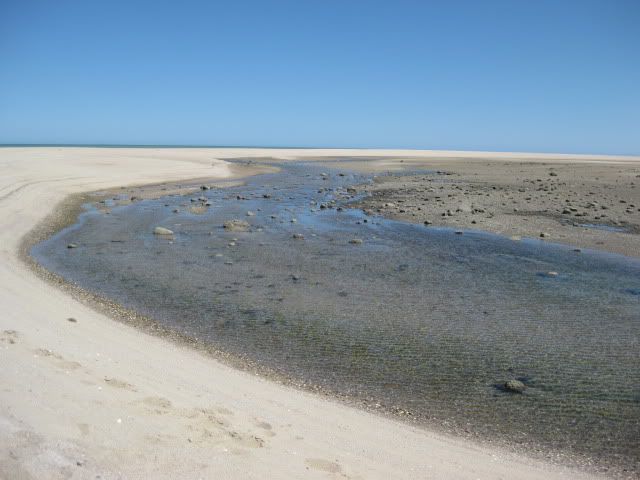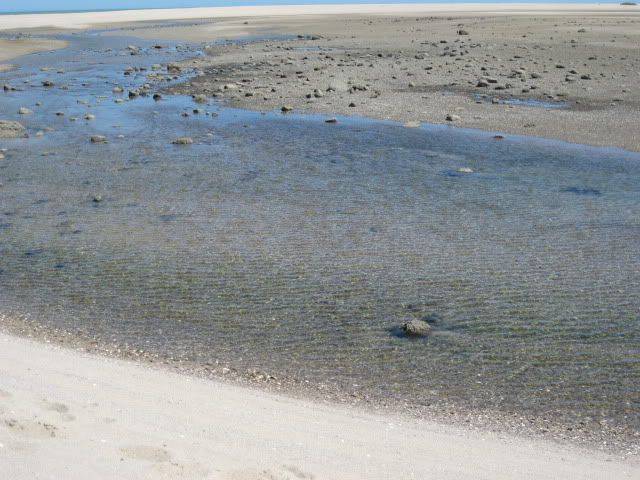 Lot's of shells, naturally...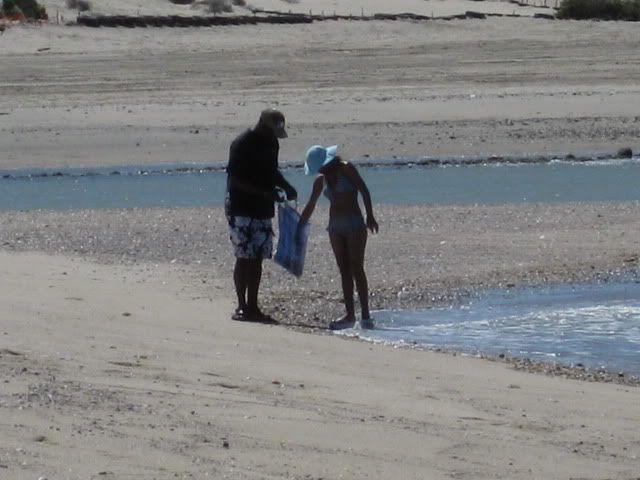 On Monday morning, Art fired up his motorhome and took a drive on the beach... He was so happy to achieve floatation with his monster on wheels!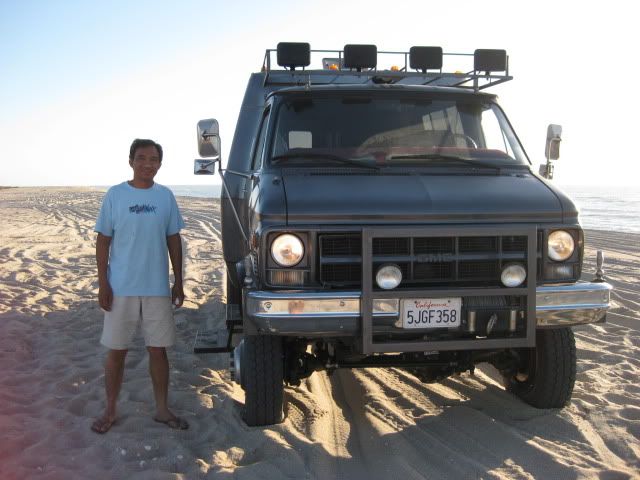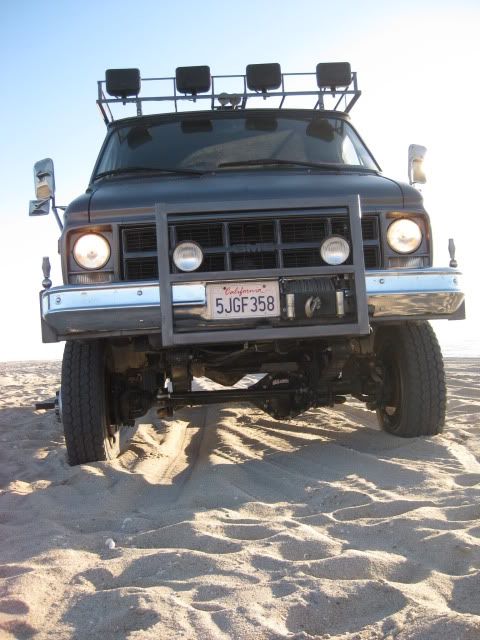 He parked by our camp and that beast created wonderful morning shade for us all...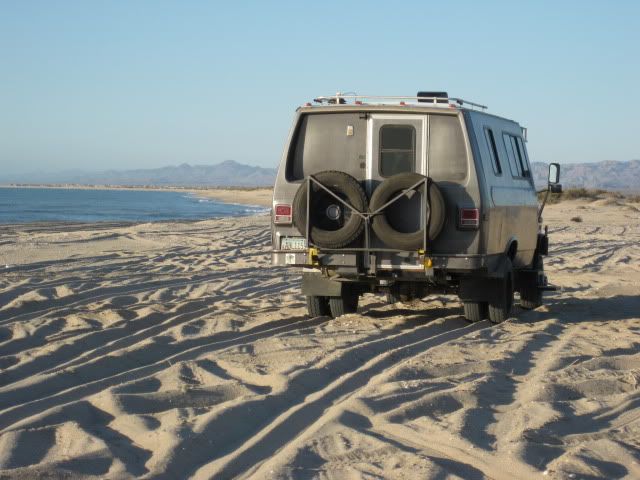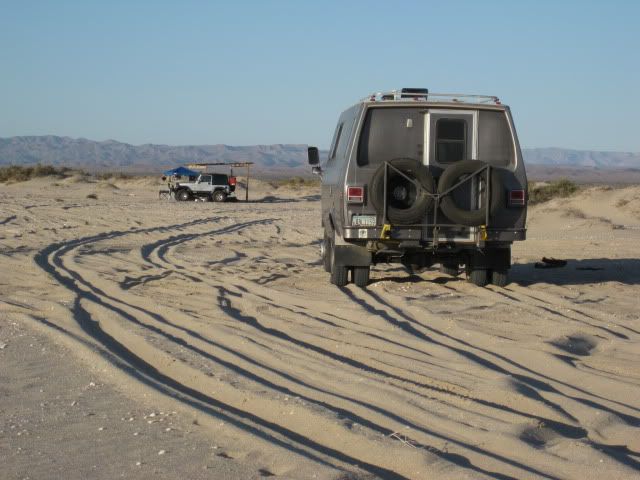 Art had to head back home on Monday, so we all went with him back to the highway to make sure he got off the island safely and Ken had his air system to offer re-filling help.
Because Ken and Leidys ice supply was low, we also refilled our tires and drove south the 9 kms. to Colonia Delicias (Km. 35) where there are stores that sell bags of ice (30 pesos).
Baja Angel and I returned to Shell Island, Ken and Leidys went to San Felipe for a couple hours.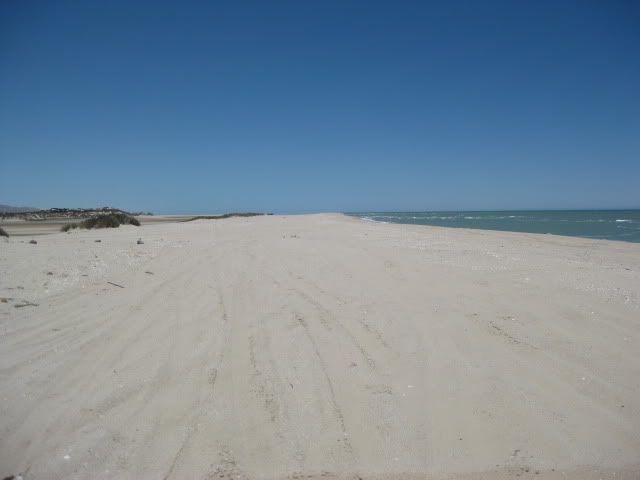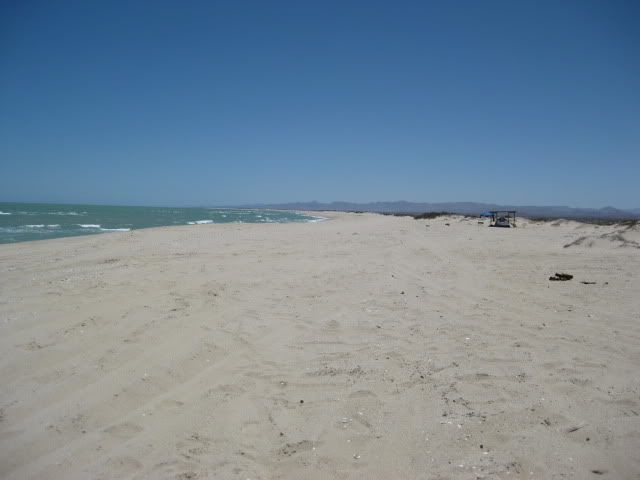 Hard to believe that such a beautiful beach is deserted on a 4th of July weekend! There were only a couple of campers at Percebu... so many empty palapas.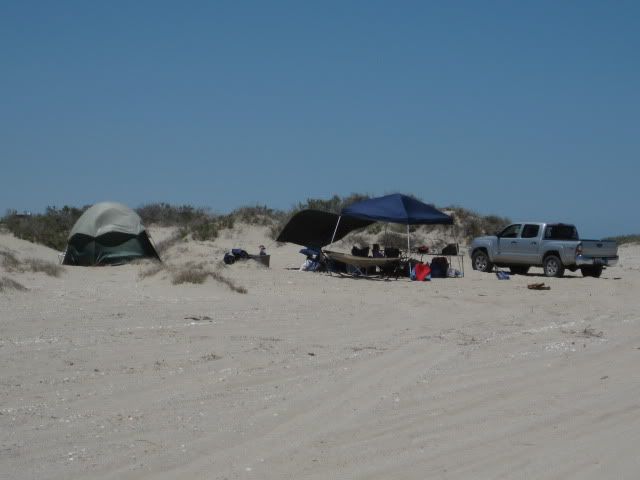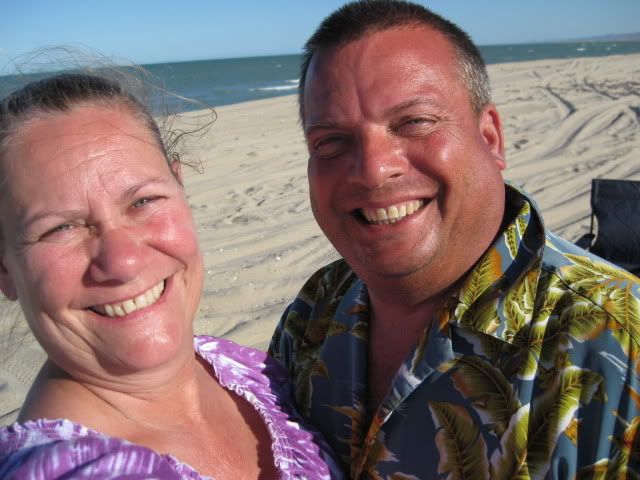 Monday night we had another nice campfire time... and Leidys had her first roasted marshmellows!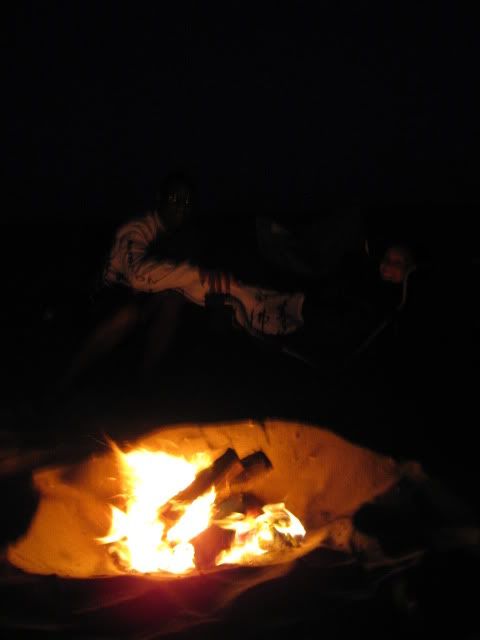 no flash
flash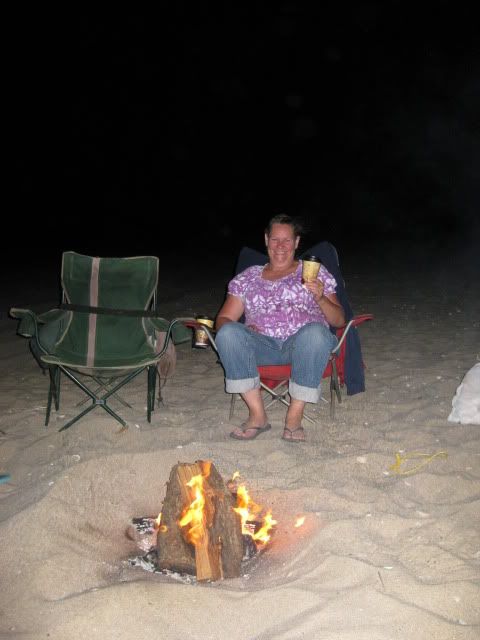 Hate leaving... but it was time to go!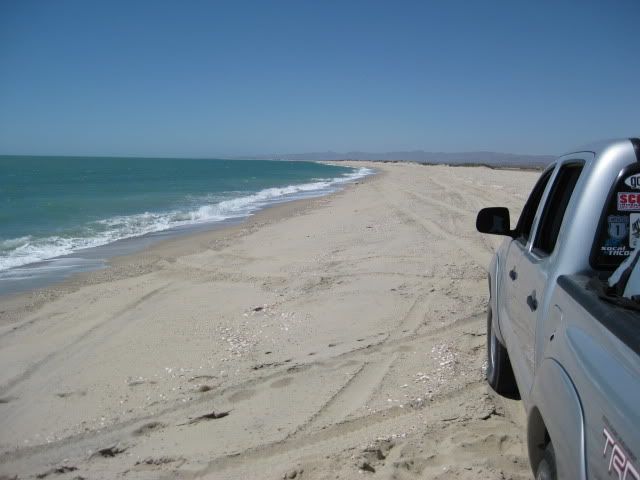 We headed home via Hwy. 3 to Ensenada to avoid the long dusty detour south of Mexicali. However, Hwy. 3 is in pretty bad shape with many miles of patched potholes that made driving rough, as well as some detours around sections they are repaving.
We pulled over north of Valle de Trinidad and found this bush that reminded us of eels in coral feeding...
We took the free road north of Ensenada to the Half Way House to have a Chef Johnny dinner... It was great.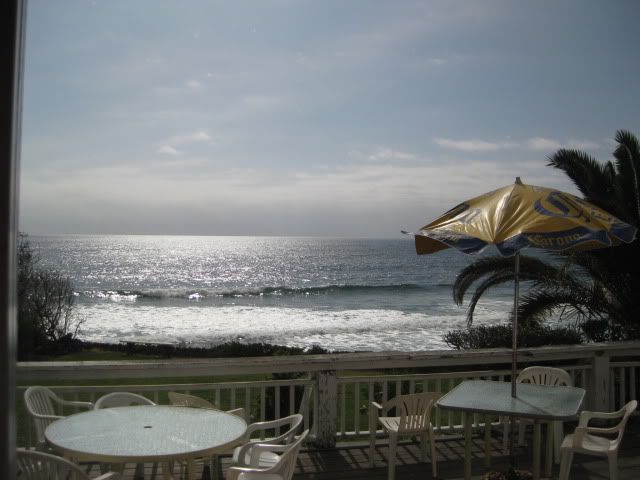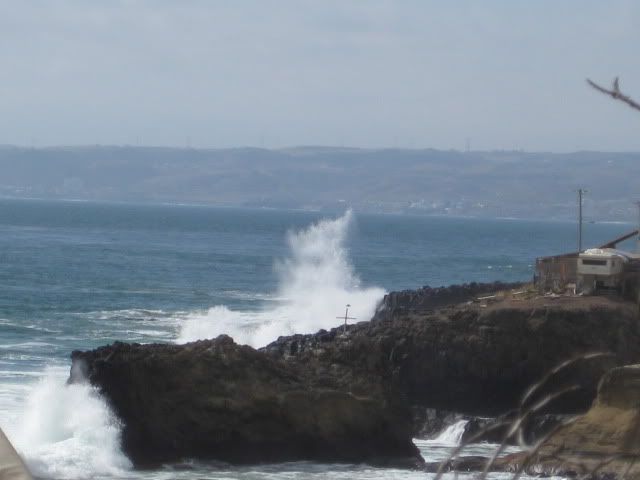 Filet mignon and Chicken Cordon Bleu (with Caesar salad and cheese cake) and three cokes... total cost $28!
We took the excellent Blvd. 2000 to the free Tecate Hwy. 2 and to the Tecate border where there was only a 15 minute line Tuesday evening about 7:30. They are allowing cars to park on the right lane on the border road, so get into the left lane to cross north. We were home by 9 pm.
A great trip to a great place with great Baja amigos!
:bounce::light::spingrin: