The Beach, Birds and Bumps in Baja: July 17-20, 2010
It was our second wedding anniversary on the 18th, and our favorite place to be just to ourselves is Shell Island, about 20 miles south of San Felipe where the Sea of Cortez is on one side and Laguna (or Estero) Percebu is on the other.
We started our weekend with breakfast at Sunrise Café, in Vista, CA and were on the road south at 7:30 am. Because of the traffic southbound at Calexico, last trip (2 weeks earlier) we decided to cross at Tecate this time. We crossed the border about 8:45 and headed towards Mexicali, getting on the fast toll highway (Mexico #2-D) a few miles to the east.
Three tolls are paid heading east to the San Felipe highway (Mexico #5). El Hongo was $4.30 (55 pesos), La Rumorosa was $1.50 (16 pesos), and Mexicali (at the Hwy. 5 junction) was 55 pesos (no dollar amount sign posted, we paid in pesos here). It was 10:30 when we got to Hwy. 5.
There was about 6 miles of dirt detour between La Puerta and Rio Hardy where there was earthquake damage and they may be widening the highway to four lanes. Another, but shorter section of dirt detour is near the Hwy. 3 junction, and military checkpoint. New, wider highway begins south of the Hwy. 3 junction and turns into four lanes closer to San Felipe. We got gasoline and a pack of Tecate beer at the El Dorado Pemex and market, and then went into San Felipe for a lunch of fish tacos and carne asada tacos before heading south.
Once again, we arrive on the beach and find nobody else there… solitude! Experimenting with my new truck's four wheel drive and traction controls, I drive with tires fully inflated to the water's edge, but the sand/ shell beach is just too soft for my fully loaded truck. Deflating the tires to 15 PSI does the trick. In this photo, where I deflated the tires, note how much better the truck 'floats' beyond. I circled back to take this photo.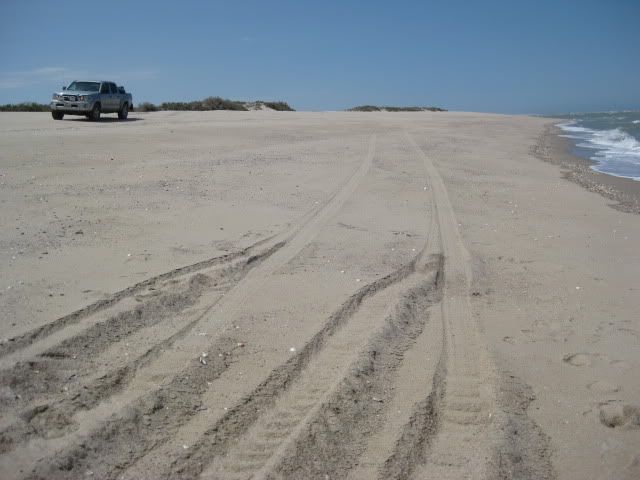 We set up camp next to the dunes… it is a bit breezy, but not too strong.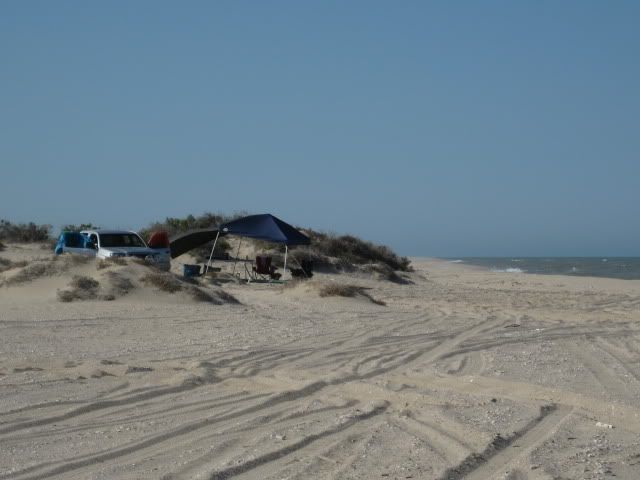 An osprey watches from the palapa just south, where Ken and Leidys camped 2 weeks ago.
We check where the terns had a nest, but the eggs have hatched or been consumed…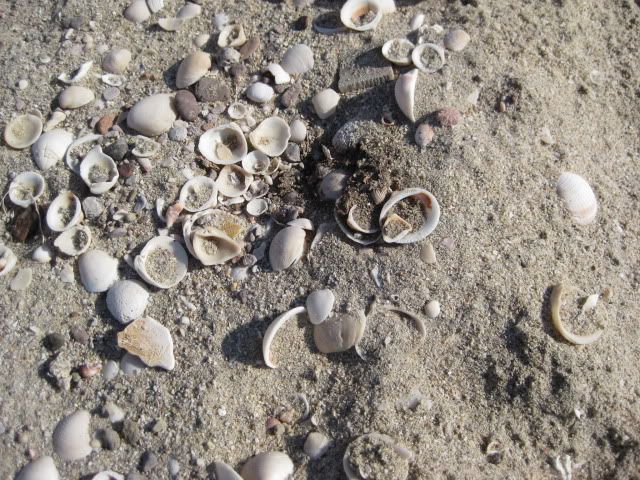 Two weeks earlier…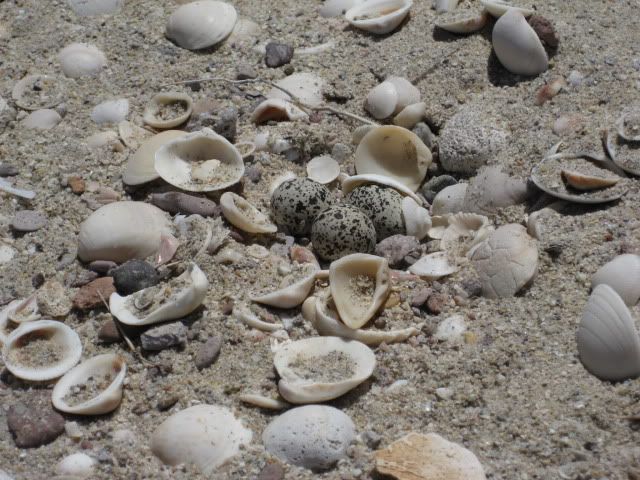 The lagoon, low tide…
Pelican diving for fish…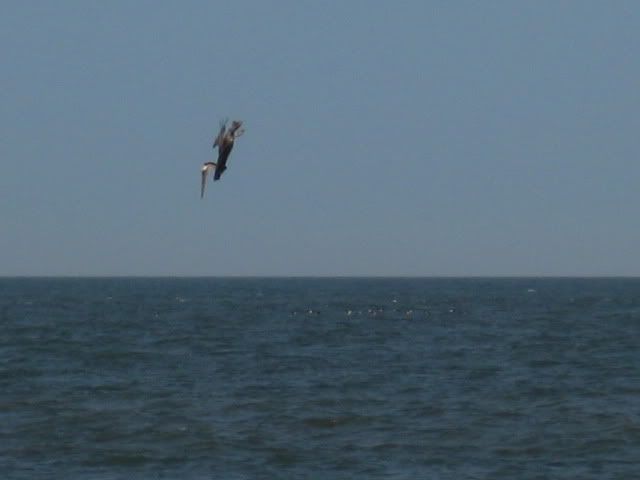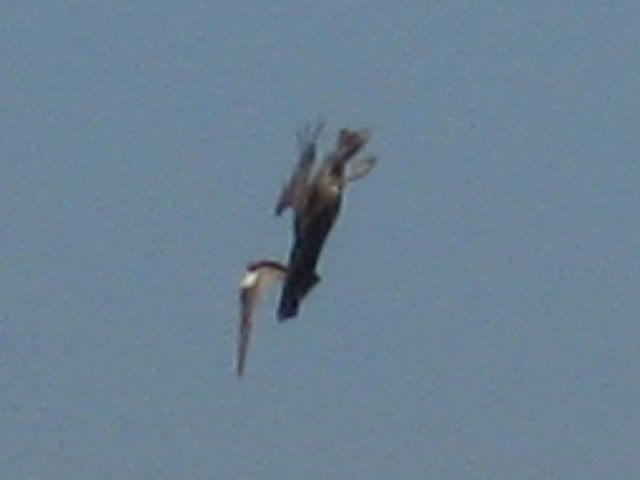 Life's a beach!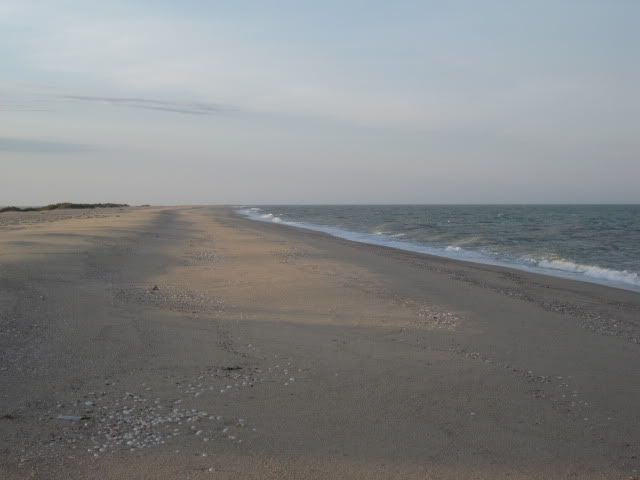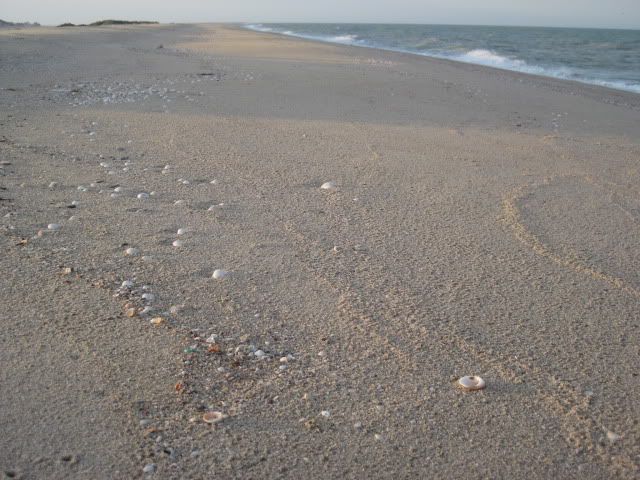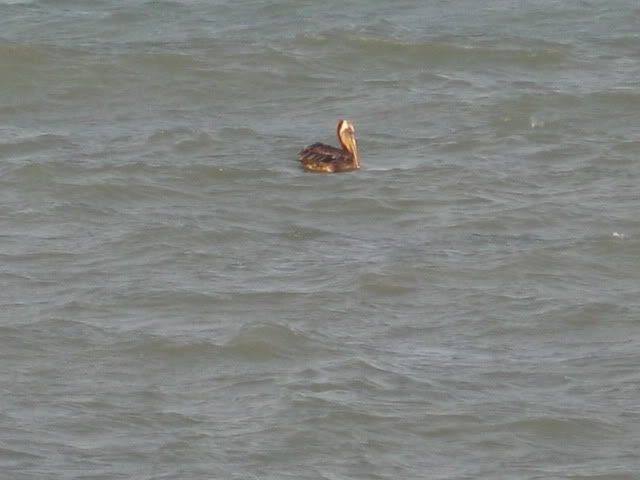 The end of our first day…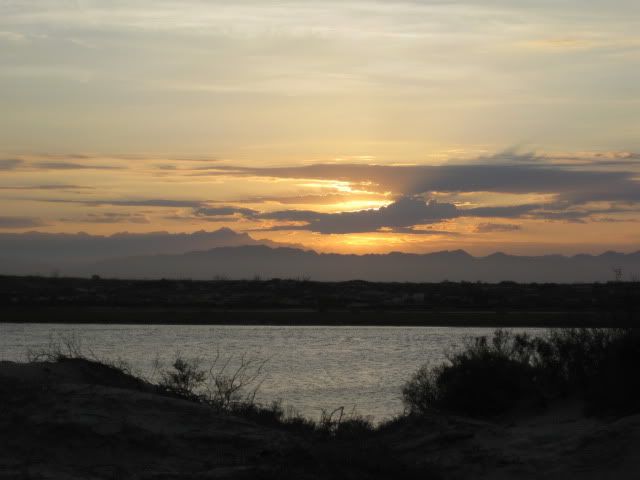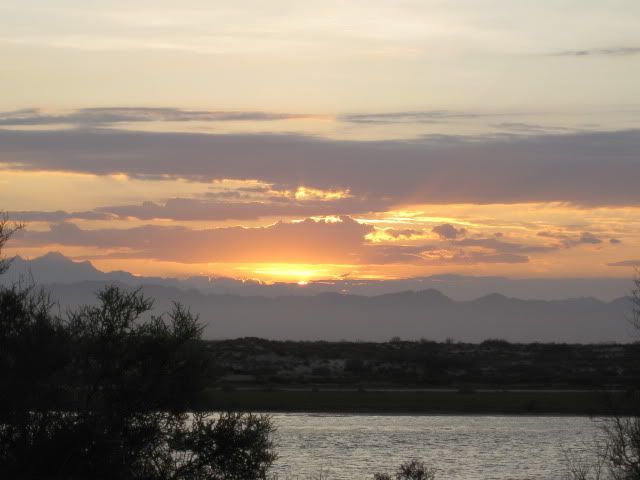 To Be Continued…
Overnight, maybe about 3 am, it started to rain… and we scrambled to put on the rain fly. It was very warm and with the fly on, quite a bit warmer in the tent. The rain drops soon ended, so we decided the next night to just take and drops that came through the screen ceiling!
The next day was beautiful (naturally, being our anniversary!) and I took my typical photos up and down the beach… Still there, after 32 years of camping, it remains unchanged despite global warming!
South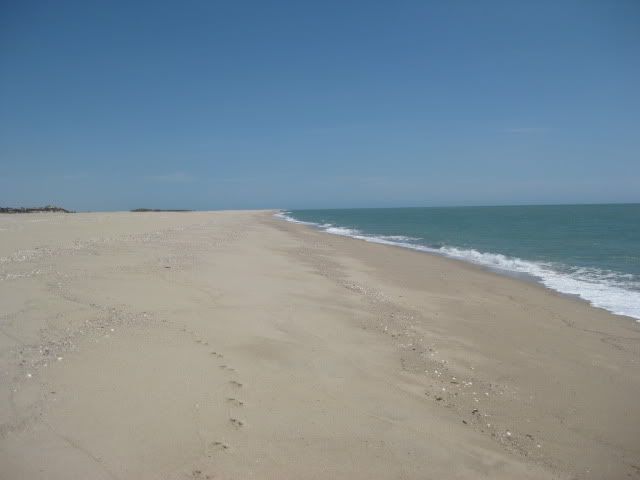 North
The view from my chair under our shade…
The pelicans were busier than usual diving for fish!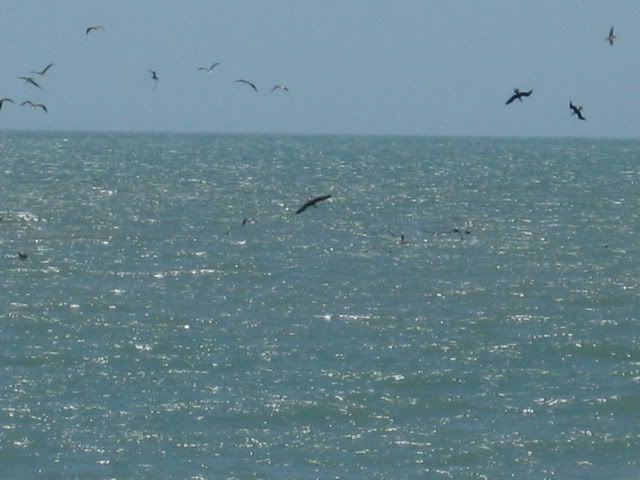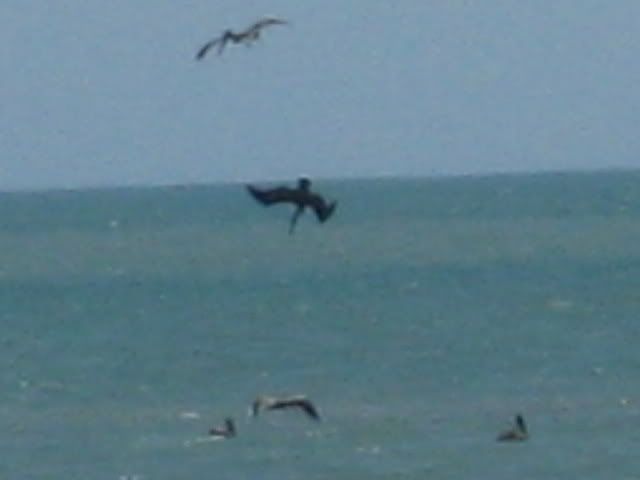 Usually, we just see them flying by…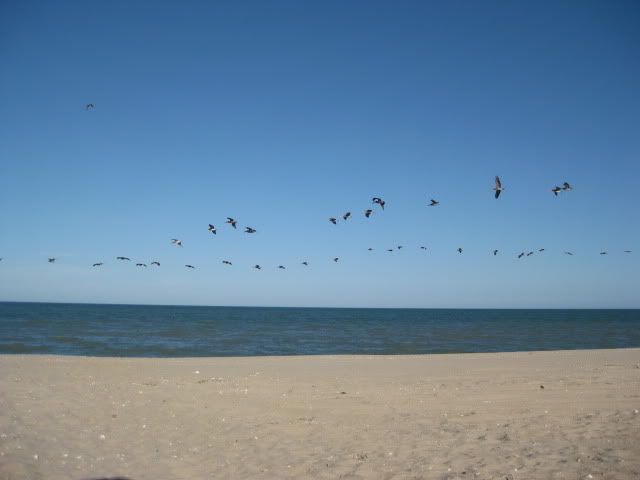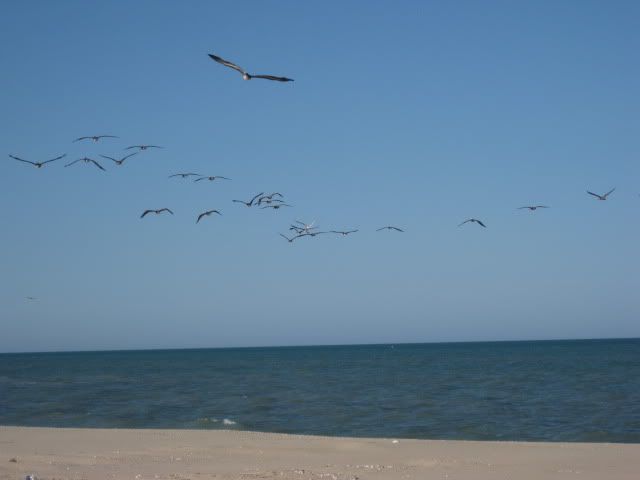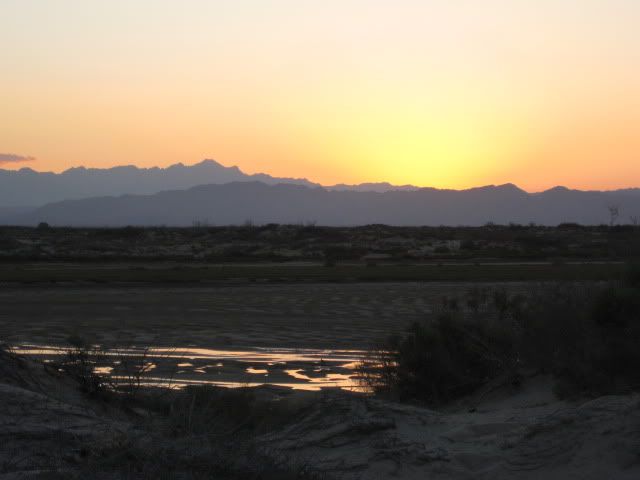 One thing special about camping in Baja, is the days last forever, it seems! We had a calmer night (no rain) and after a campfire with total peace, we slept soundly!
Since this day (Sunday, July 18) was so perfect and lasted so long, we decided to enjoy that memory (the sunning and swimming we did was great) and check out the new road south and go to Baja Cactus in El Rosario for the last night of our little vacation.
To Be Continued…
Naturally, the day we leave is the nicest day… it never fails! I guess that helps insure we will always want to return? No wind, calm seas, we go for a nice swim and then start to pack up the camp. We have a very simple and easy camp and it isn't a big chore to load the truck. One more swim before we go and we are off the island a bit after 11 am.
One last photo on the beach as we drive to the road: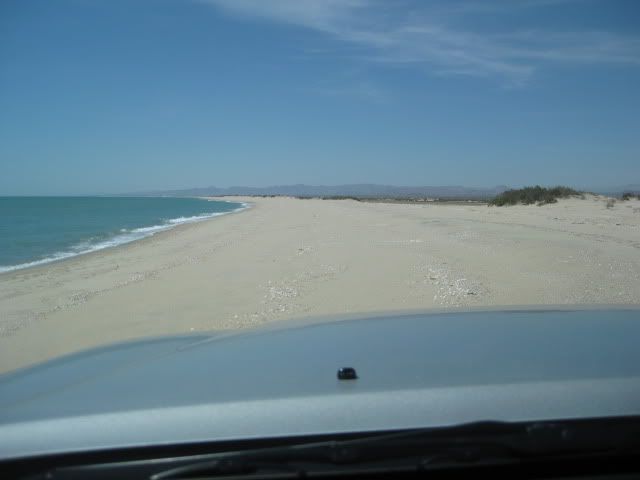 We make a stop at Delicias (Km. 35) for some ice to keep the drinks cold. We have two ice chests, one for food, milk, juice and another for water, soft drinks and beer. We don't bring too much food that needs to be on ice, so that chest had plenty of ice still.
The highway between San Felipe and Puertecitos was built in 1982-83 and pavement was added starting about 8 years later, but took a long time to reach Puertecitos. Because the job was done so poorly, with too little asphalt, the road was pretty torn up in just a few years. Total repaving occurred by 2008, however the roadbed is still full of sharp, sudden dips and high speed driving is not possible. The new highway south from Puertecitos is a different story!
Here are some photos north of Puertecitos, as we head south…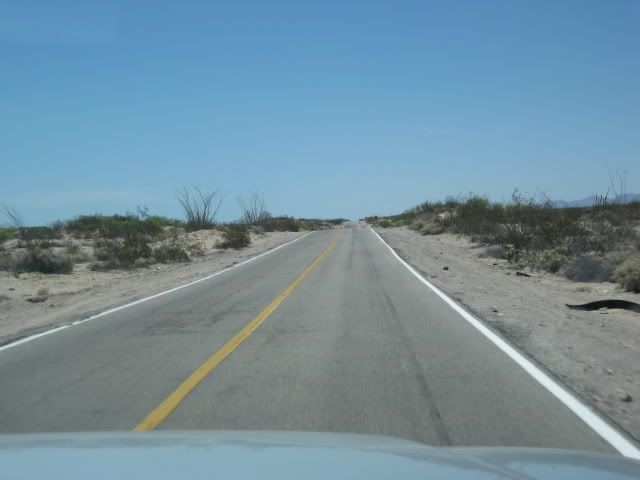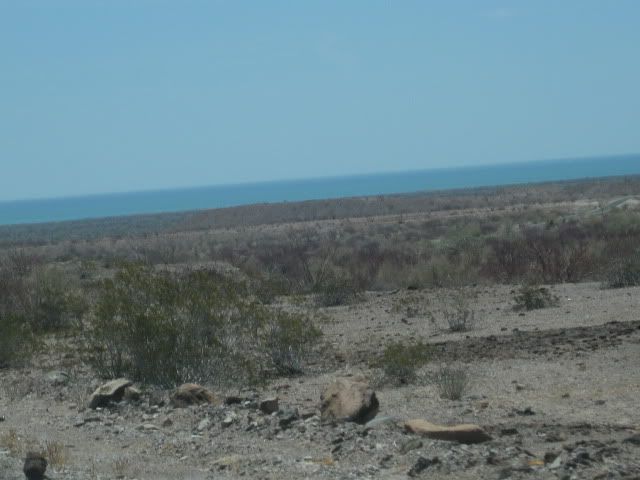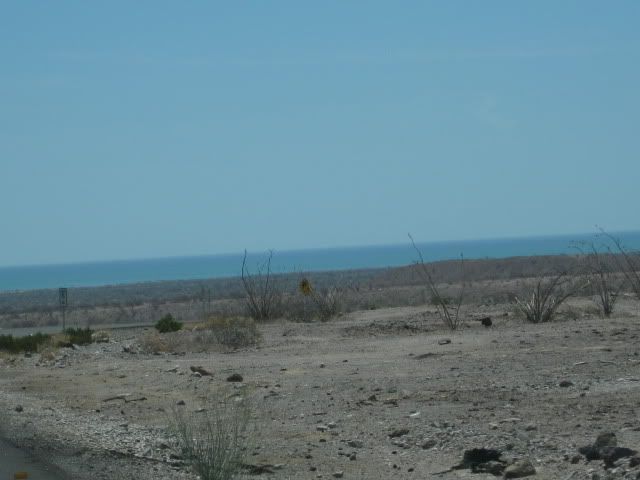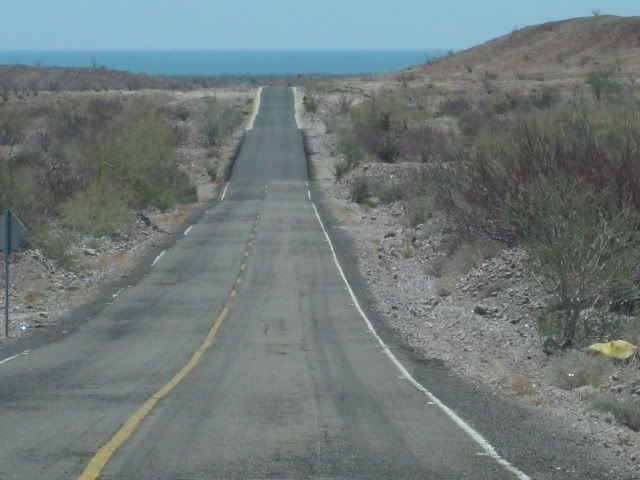 Now, the brand new section south from Puertecitos that was started in late 2008 and has taken a year and a half to get 20 miles, through some very difficult terrain…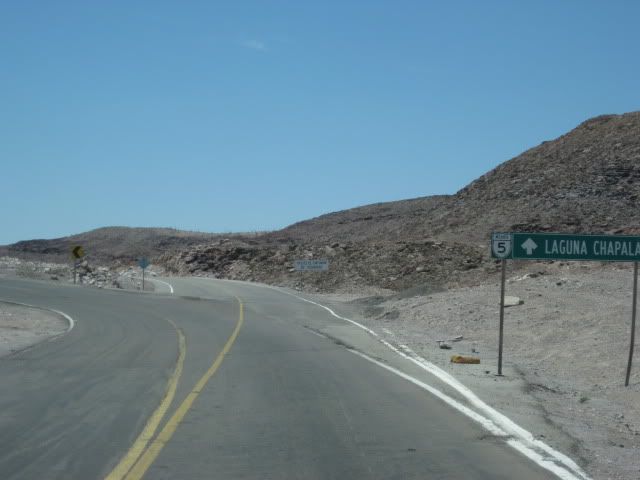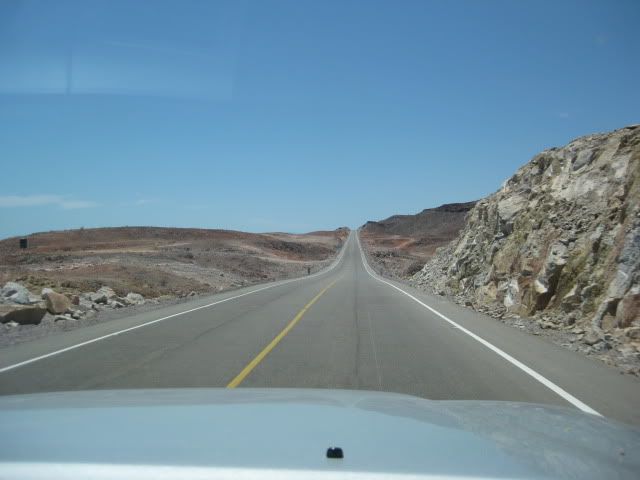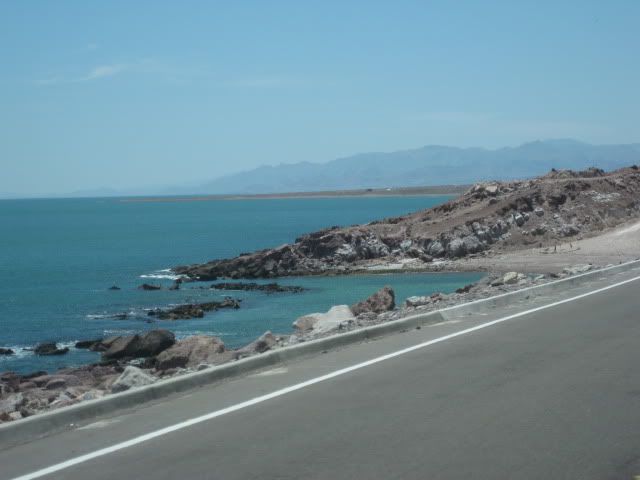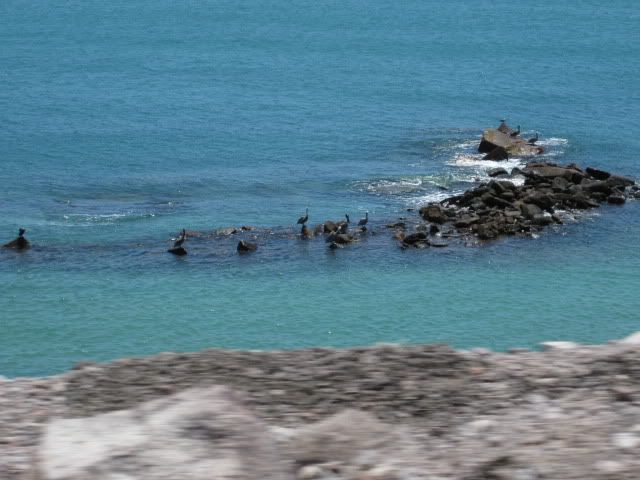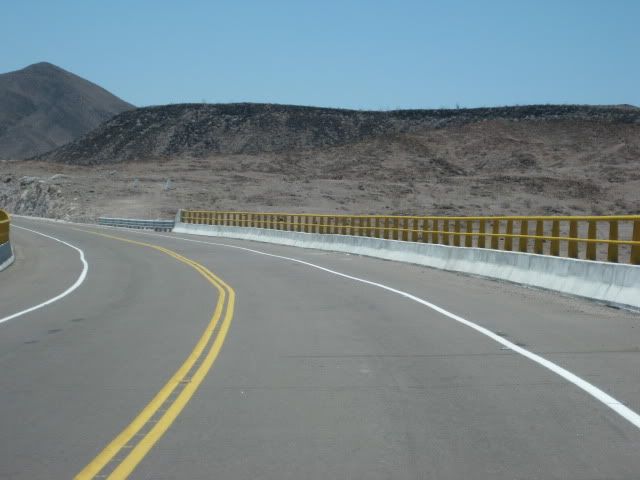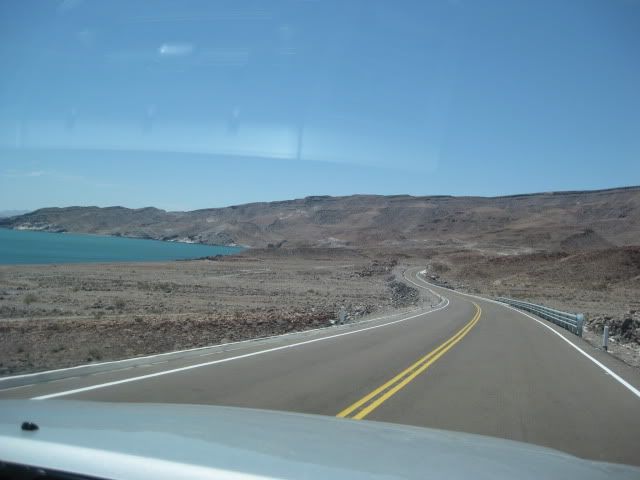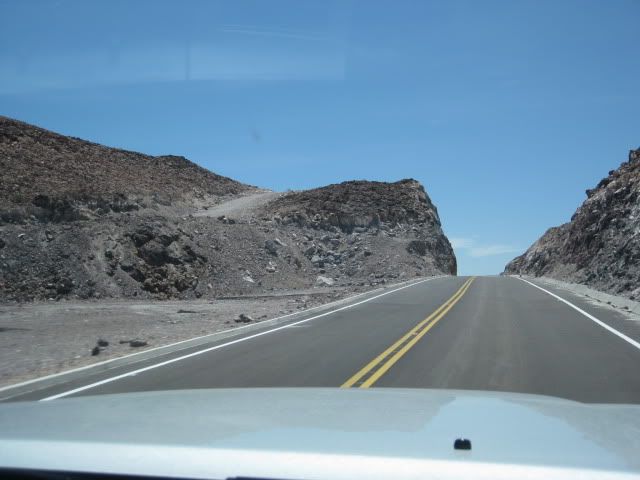 There are two big, paved parking areas to enjoy the view between Puertecitos and El Huerfanito.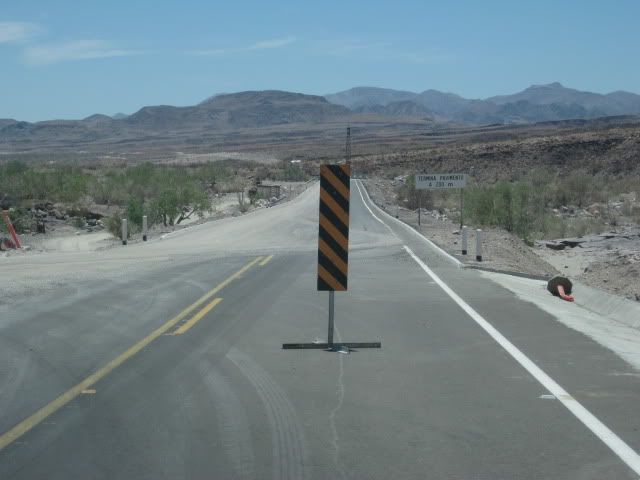 Beyond the sand piles marking the place to detour off the highway, is this warning.
Then, a mile past the sand piles is the unfinished bridge at the absolute end of new highway pavement.
The older road has been regarded along the 6.6 miles where the highway work is progressing, south of the bridge.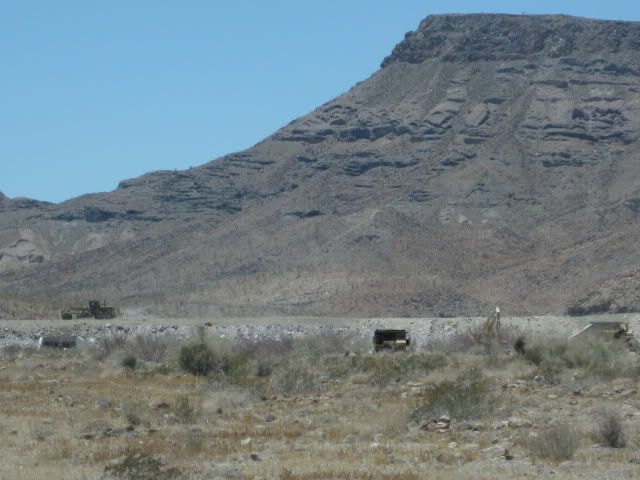 We have a lunch break with a view of the Enchanted Islands.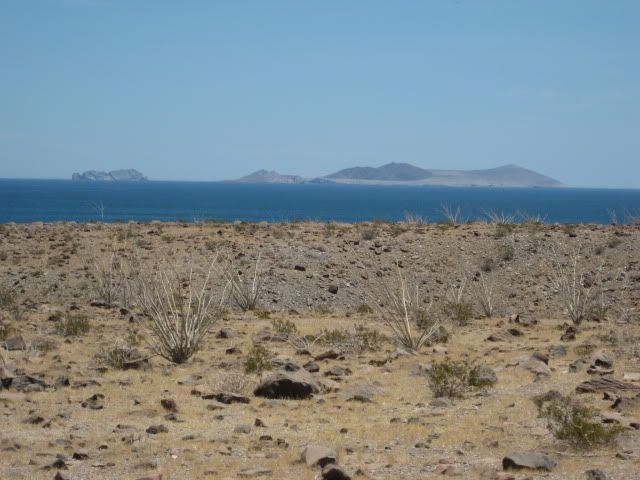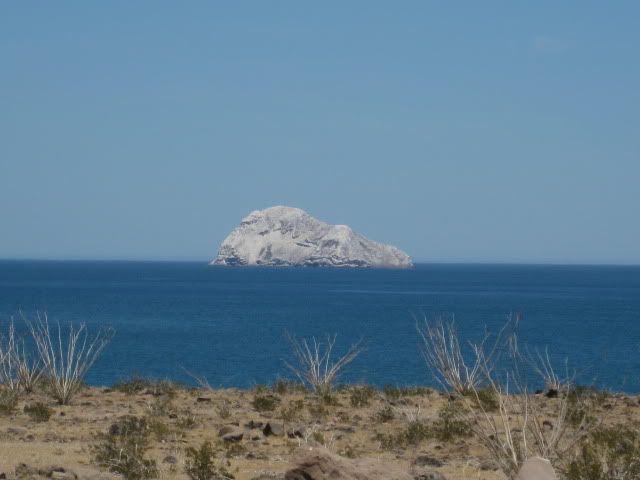 On south we go, 5-15 MPH.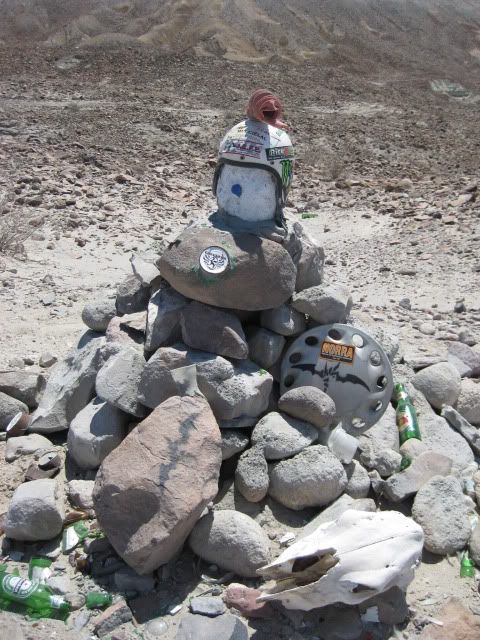 This monument was located south of the Punta Bufeo road.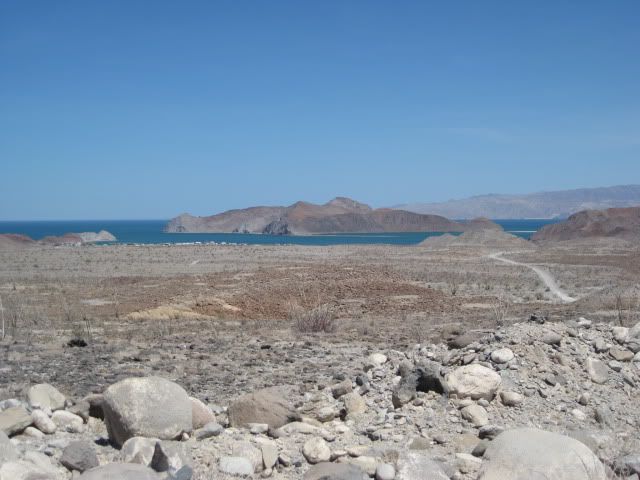 Bahia San Luis Gonzaga comes into view.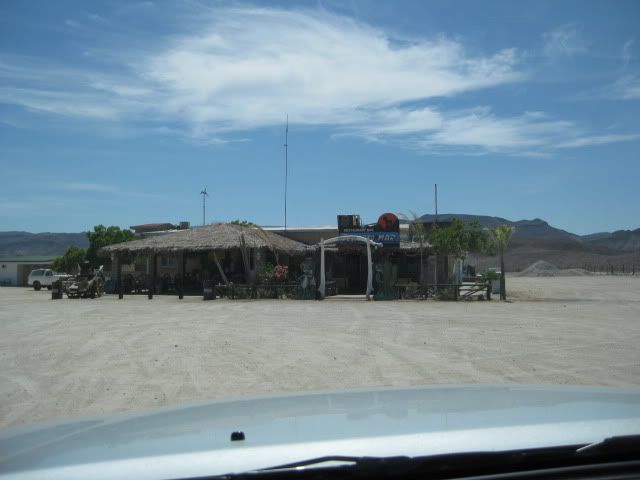 Rancho Grande's new store… has most everything. The Pemex station was closed for siesta (2-4 pm). We arrived at 2:30… However, I could easily make it to Cataviña and probably to El Rosario on the tank I filled in San Felipe. It is just a good rule to always top your tank when you come to an open Pemex in the remote parts of Baja California.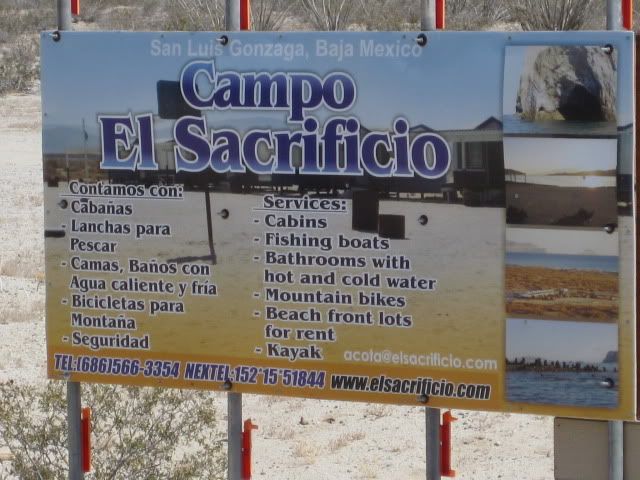 1.3 miles south of the Pemex and Rancho Grande store is the road to Campo Beluga and Sacrificio.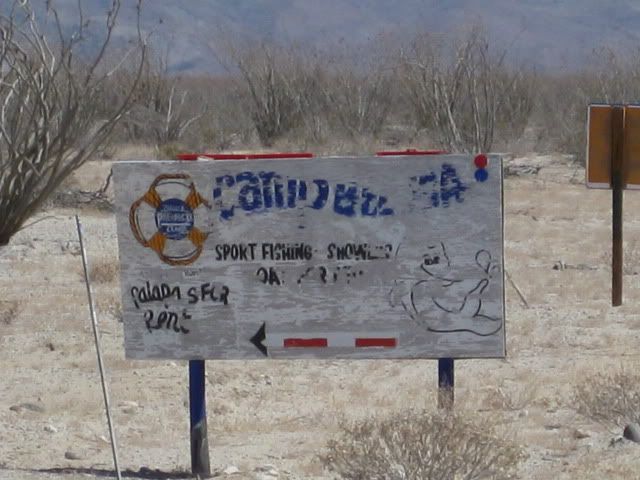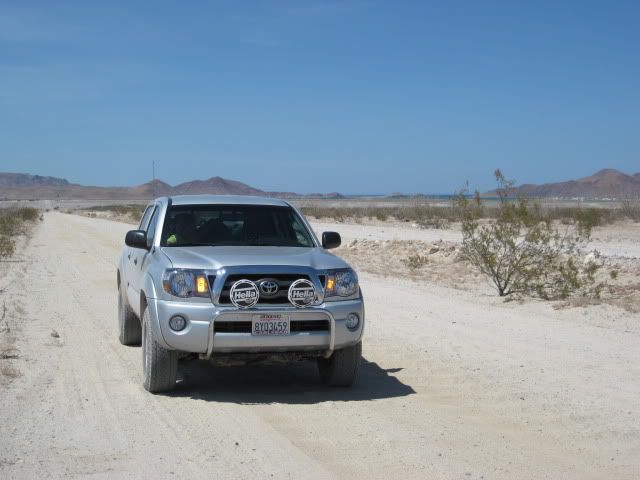 We drive away from Gonzaga Bay with the goal of reaching Baja Cactus in El Rosario, before dark!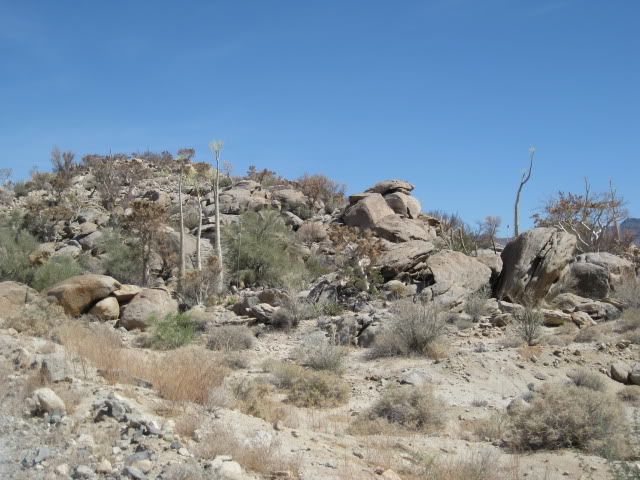 The first boojum trees come onto view.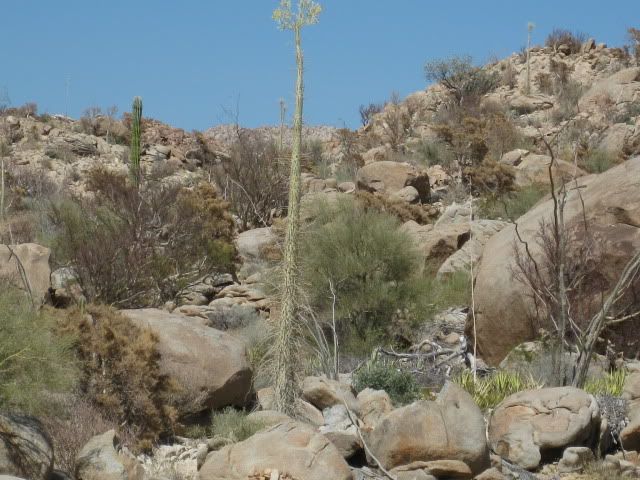 Coming up next, Coco's Corner!
Stay Tuned!!
We pull up to Coco's Corner a little after 3:30 Monday afternoon and learn that Coco is in Ensenada for a couple of months. Ramón is watching the Corner in Coco's absence. We buy a couple of ice cold Pacificos and add my cards to Coco's wall of cards. Hanging overhead is a collection of underwear and other paraphernalia donated by passers-by.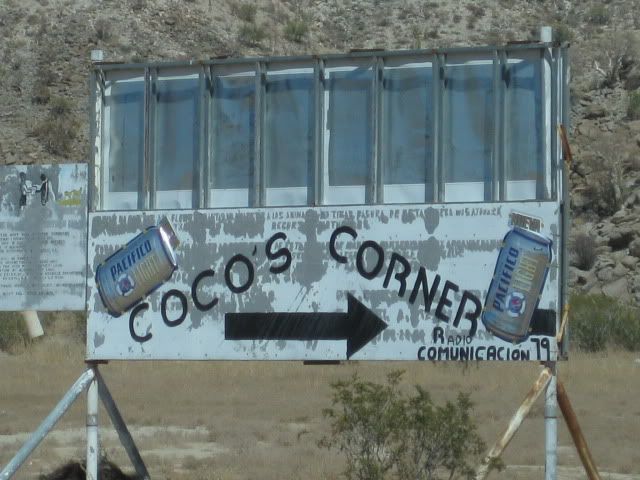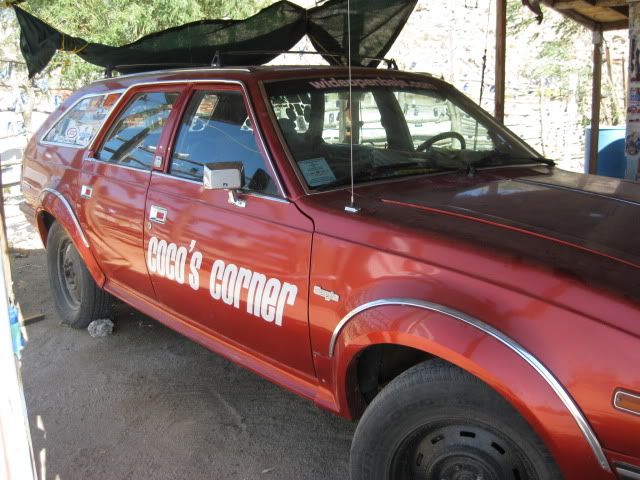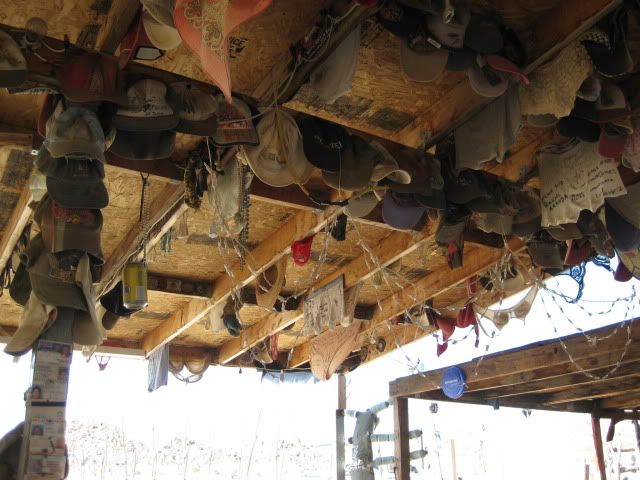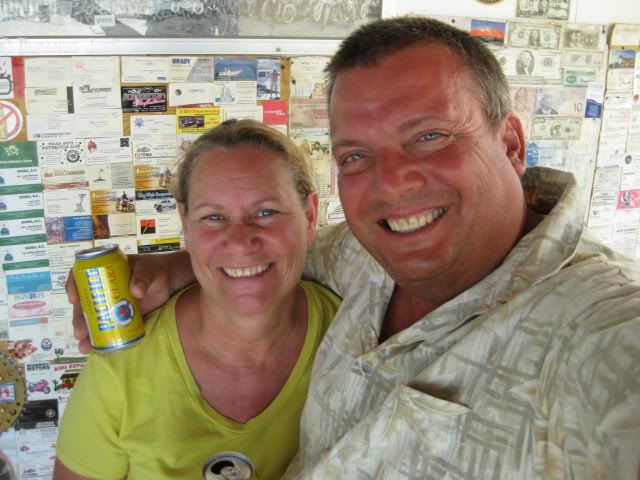 We say goodbye to Ramón and head south. The final 13 miles to Highway 1 are better than the previous road by a bit. However, my BFG Rugged Trail tire on the right rear got punctured, within sight of Highway One!
My low tire pressure warning light came on before I felt the flat. Before the tire was totally flat, I found the hole and we rolled the truck to where I could plug the hole. It took two plugs, but the air stopped leaking and held after refilling the tire. It would be good for the 108 miles to El Rosario. A sign at the highway advertised tire repairs and gasoline at Rancho Nueva Chapala, 1 km. south.
Cataviña is about 32 miles from Laguna Chapala and we pulled into Alfonso's gasoline sales trailer (across the highway from the Desert Inn Hotel, just north of the abandoned Parador gas station).
Desert Inn as seen from the gasoline trailer.
Two young ladies were on duty and we purchased 5 gallons of gas for $16 dollars ($3.20: gallon). This gave us security that we could reach El Rosario as my gauge showed us close to ¼ tank from San Felipe.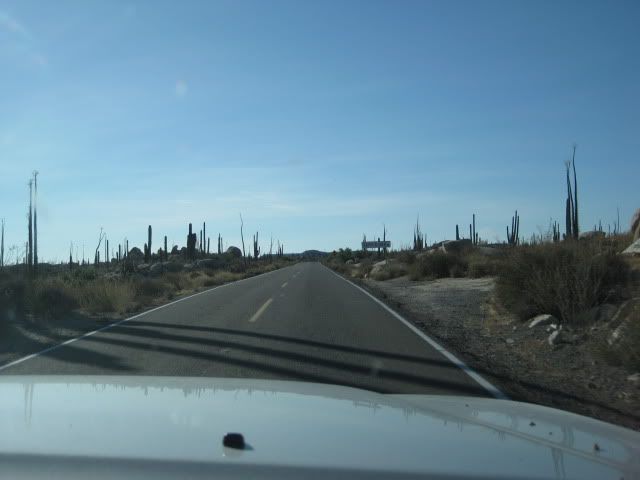 Nearing El Rosario, we see that the widening of Highway One is underway from the edge of town to the previous section of widened road done last year.
The bridge over the El Rosario riverbed was damaged last January. A paved detour crosses the valley alongside the bridge.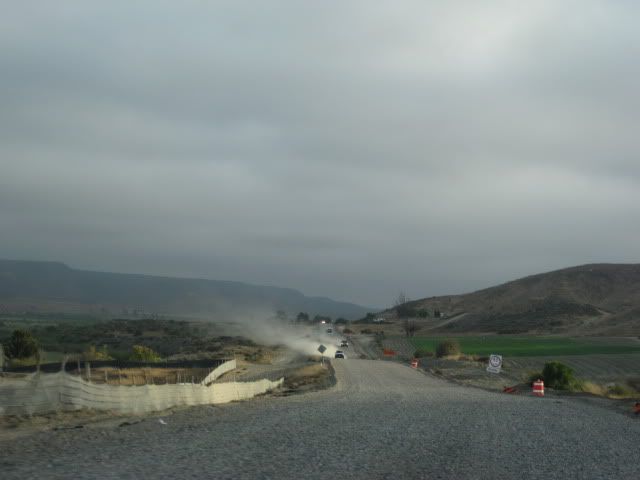 About a mile of new, unpaved roadbed at the entrance to El Rosario.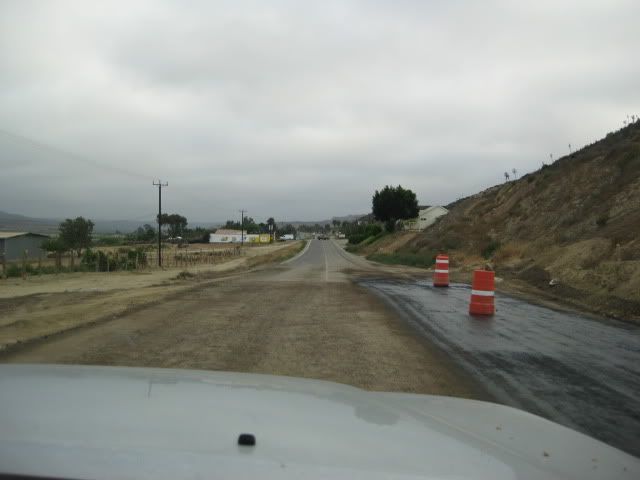 We arrive at Baja Cactus to check in and meet BajaFam, who are just ahead of us, checking in. I get to vouch that they are Nomads, as Lionel couldn't find his Nomad card, for the special discount. Remember, Discover Baja Travel Club members have the same discount, as well!
We freshen-up and walk over to Mama Espinoza's for dinner. We pick the big round table as BajaFam said they wanted to visit with us, alas they didn't arrive until we had finished (getting small children ready sometimes takes longer!). As we were eating (crab and carne burritos), a couple approached us and said they recognized us, and wanted to say hello. They were Nick and Kathy 'ncampion' on Baja Nomad, heading to Loreto.
What fun it was to meet new Baja Nomad members we met this day, and both in El Rosario.
A new special treat was in store for us after dinner when we returned to Baja Cactus Motel. The front desk manager, Carmen informed us that we could have 'His and Hers' massages by Roxana. Oh boy, another great reason to spend the night at Baja Cactus!
Roxana brought the massage table up to our room, plugged in the sound of waves and sea gulls (like we were back on Shell Island, other sound choices available, too) and gave Baja Angel and I the most relaxing massages. I picked the Swedish massage, which is a head to toe relaxing massage for the long day's drive. Baja Angel was next, with the Sport Massage that concentrated on the back and legs. The motel desk has a list of massages and prices available. This is one treat well worth the cost (under $35) for an hour of soothing comfort.
The next morning, we awoke totally relaxed and in no great hurry to leave El Rosario. I did want to have a patch put in the tire that I plugged yesterday, even though the plugs didn't allow any air to escape, overnight. The tire shop next to the plaza, on the same side of the highway did the work ($10). Next, we drove to Primo's La Bocana Beach (Sinahi Motel) Restaurant for breakfast. We didn't get to see Primo, but the service was fast being the only customers there.
After checking out of our room at Baja Cactus, we went to the gas station, next door and topped the tank. We had traveled 267 miles since filling up at El Dorado Ranch north of San Felipe. 12.8 gallons was added at Baja Cactus Pemex, plus the 5 gallons added at Cataviña, meant my mileage (including a bit of deep sand four wheeling and the 63.7 dirt miles from El Huerfanito to Laguna Chapala) was 15 MPG. Now, the pure highway driving from El Rosario back home to Oceanside via Tecate (303 miles, 15.8 gallons) gave me 19.2 MPG, my best mileage so far in my 2010 Tacoma.
For a second time, we stopped to have our car washed at this place in San Vicente, on the north side of the bridge construction.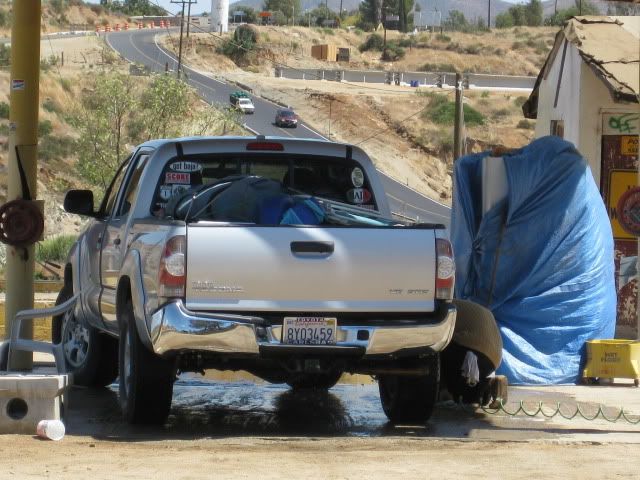 They did a very nice job, as before after our Mision Santa Maria trip. He worked on it an hour and only wanted to charge us 70 pesos. I gave him 140 pesos and still believed I got a great deal. There is a nice taco stand with tables there, and they speak English.
North of Santo Tomas we came upon the widening of Hwy. 1 project. The work goes all the way to Maneadero.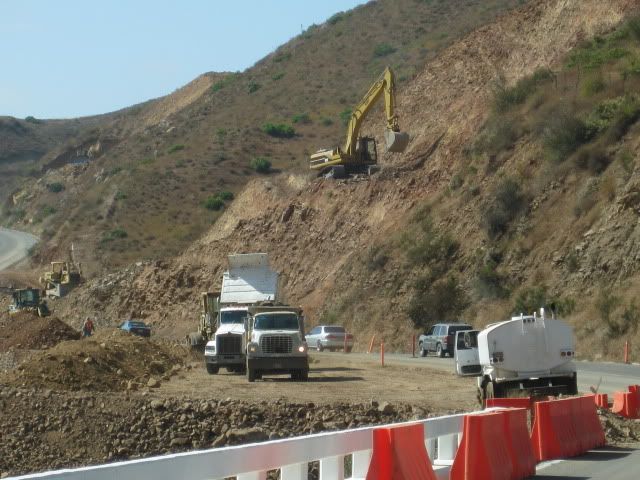 Highway 3 from Ensenada to Tecate was great with 4 lanes to San Antonio de las Minas completed and new, wider 2 lanes on past Guadalupe (Francisco Zarco). However, from Valle Las Palmas to Tecate (14 miles) there are 4 dirt detours as the road south from Tecate is being widened. The four detours totaled nearly 7 miles, and will make the trip run longer than expected.
The border wait was only 12 minutes starting at 7:14 pm that Tuesday. The three military checkpoints we encountered (El Rosario Mesa, Santo Tomas North, Valle Las Palmas) were all fairly fast and easy. Gasoline (south of the border zone) was $2.52/ gallon at Pemex stations and $3.20 at Cataviña's 'emergency depot'.
As before, this was another great trip into Mexico's Baja California Peninsula with no problems caused by crime or cops. Businesses were all nice to deal with, and they all expressed the hope for a return of tourists.
Until our next trip south, adios amigos!
David y Elizabeth