Day 13-c
We leave Pozo Aleman at 3:05pm and take the graded road for some miles until I spot a side road with lots of travel. It ends in just ¾ of a mile at a turn around, next to the side of a big hill. A close look up the hill and I see a cave. From the turn around, a well worn foot trail heads up the hillside. Obviously many folks have been here, perhaps tours. Along the trail, near the cave is a carved Elephant tree with the name 'Arce' and the year '1990', perhaps when it was discovered? The site is a major painted cave, yet Harry Crosby did not include it in his books cataloging the hundreds of central Baja California painted caves. Crosby researched his cave paintings book in the 1970's, so perhaps this one (near El Arco) had indeed not yet been discovered?
We take many photos at the cave and we note that it contains paintings of 4 men, 4 women, 4 deer, 4 fish and 2 dark figures with one wearing a 'hat'. So, we call it 'the cave of fours, plus 2'! Some of the images are faint and painted over others… so take your time and study the art here or in my photos… A most exciting site on our great 15 Day Baja vacation. On our way back down the trail we photograph some boojum trees, some pitahaya dulce, and more ball moss. We are back to the Tacoma and driving again at 5:00pm. It is summer, and the sun is still well up in the sky.
Our goal is Punta San Francisquito where a beautiful beach is located I camped at back in 1983...
Photos: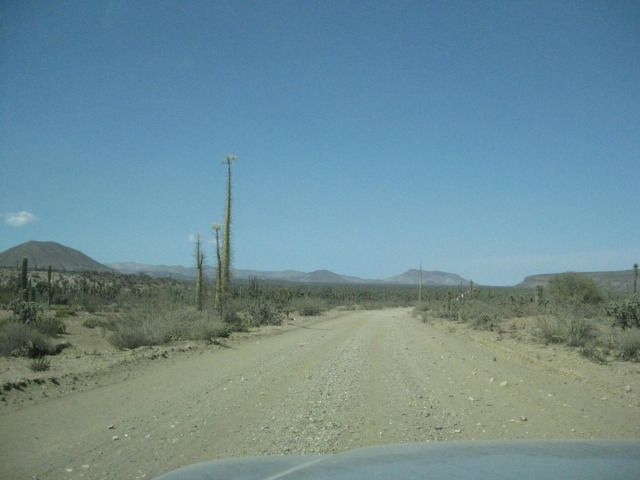 The El Arco/ Punta San Francisquito road is fast and easy to drive.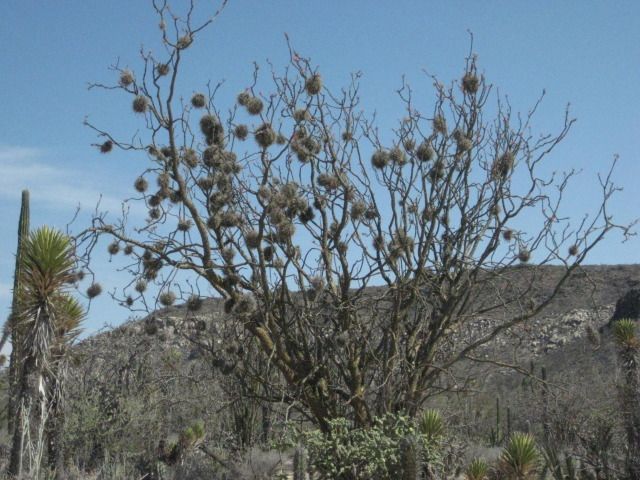 Ball moss.
The painted cave is up there.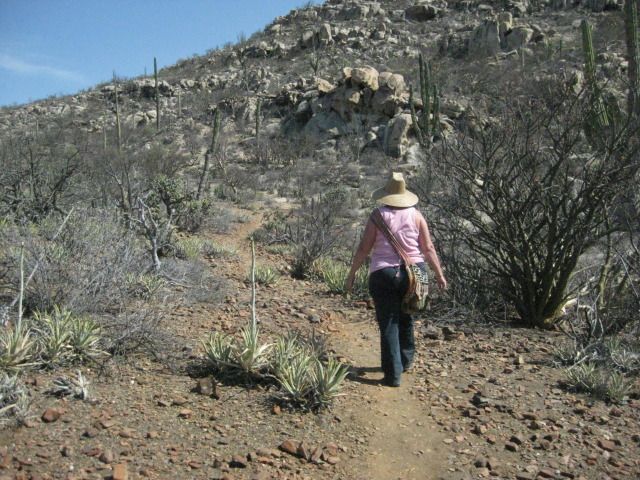 The trail is easy to follow, and only gets steep near the cave.
The Pitahaya Dulce or Organ Pipe Cactus was the source of much joy to the Cochimi Indians when its fruit ripened in the fall.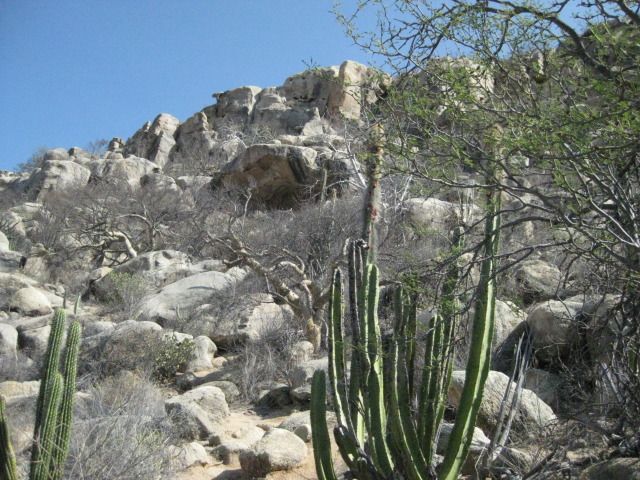 The cave… getting closer!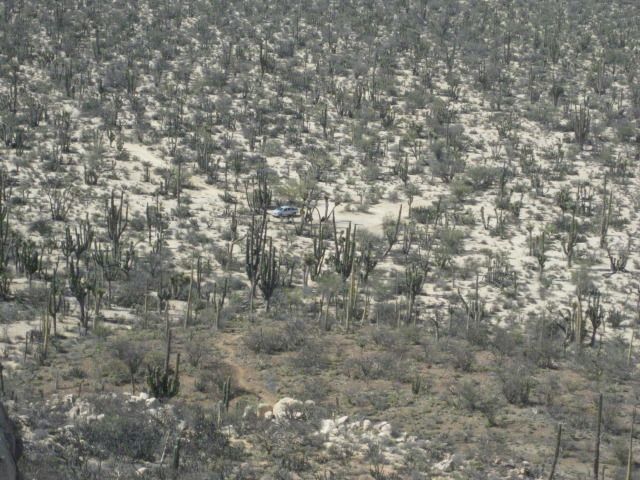 Looking back down the trail.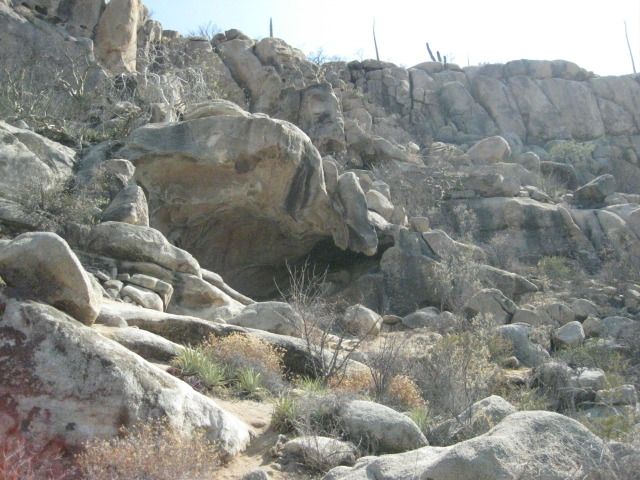 We can see the giant paintings.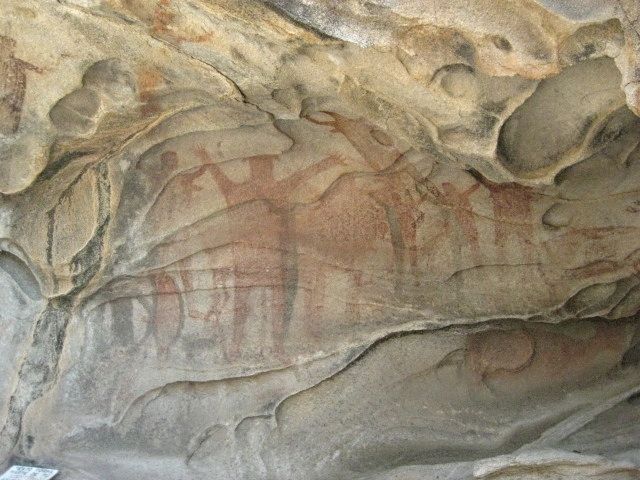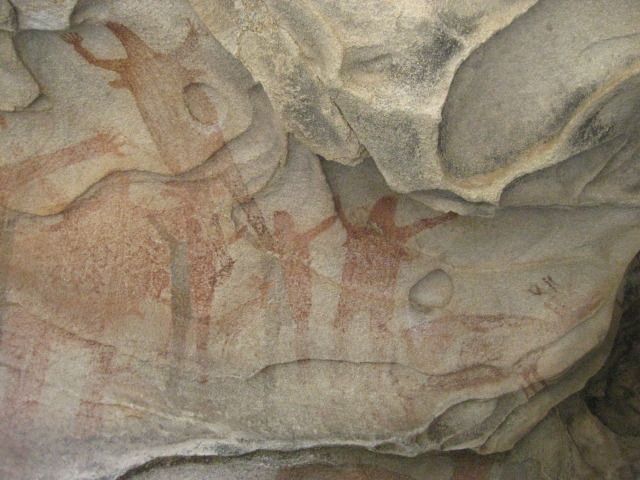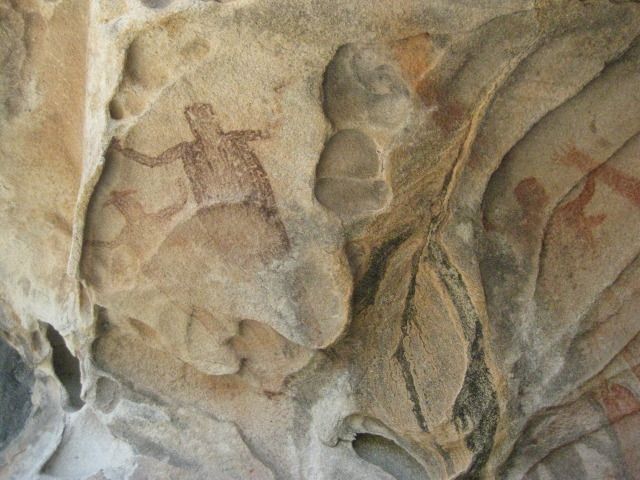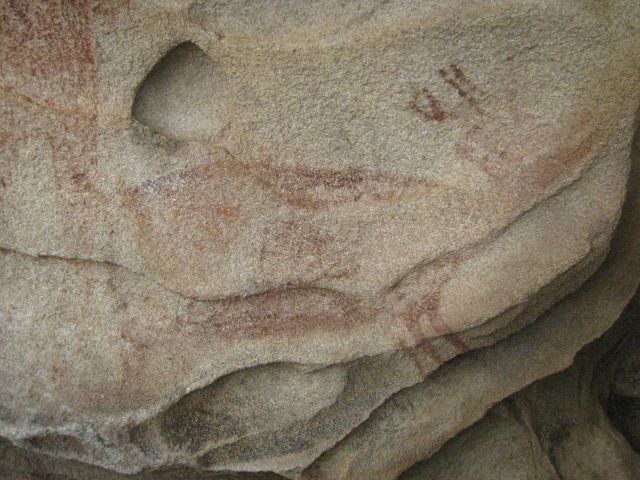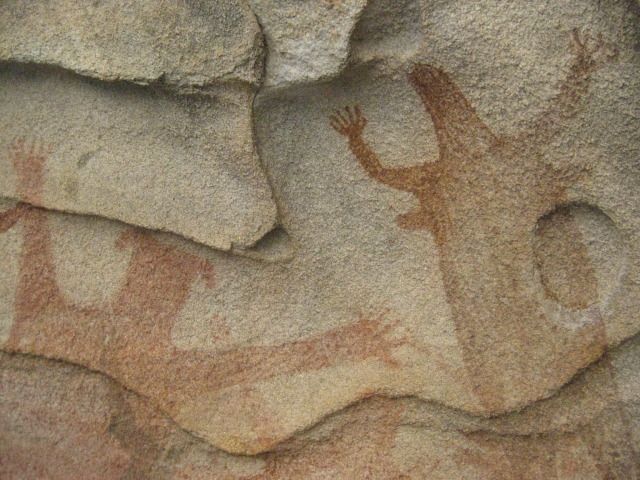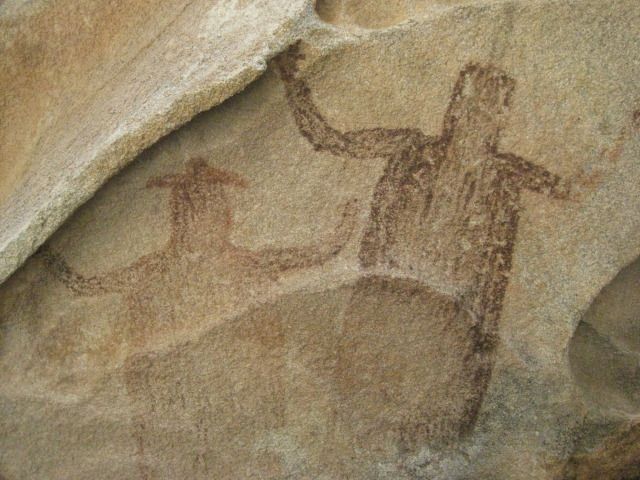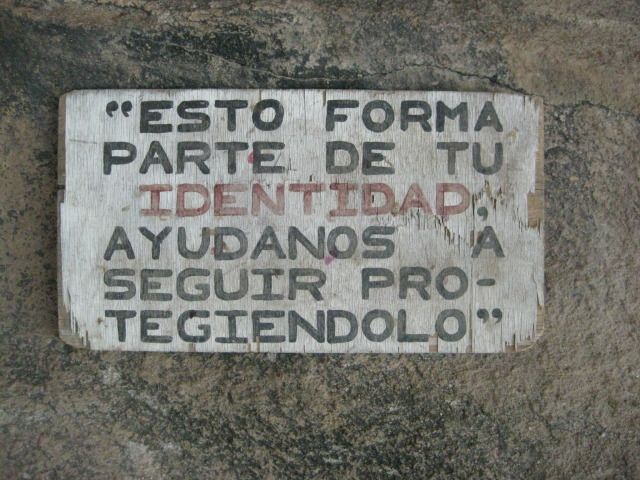 The only sign at the site…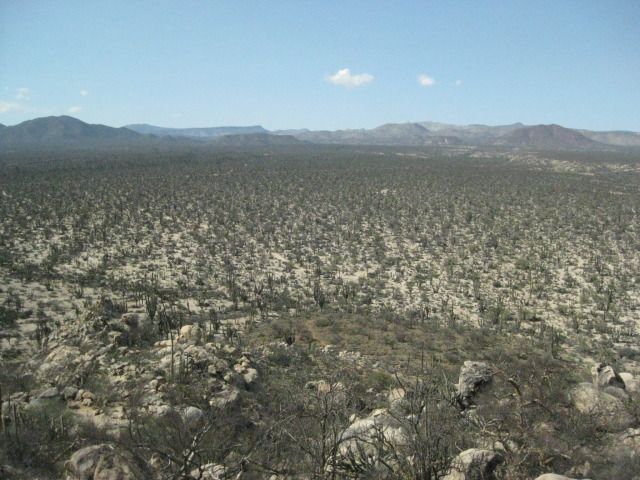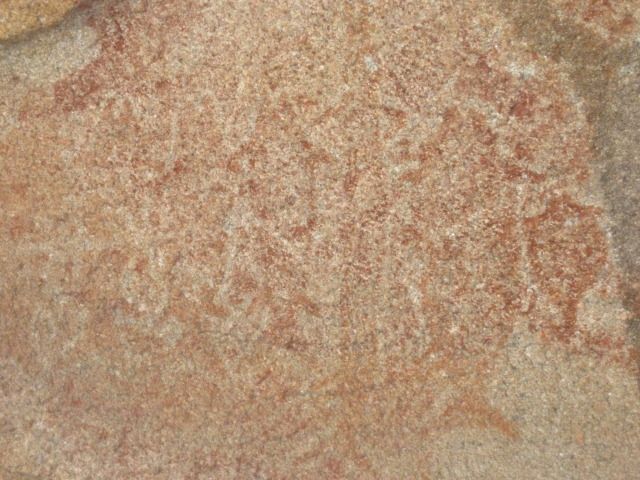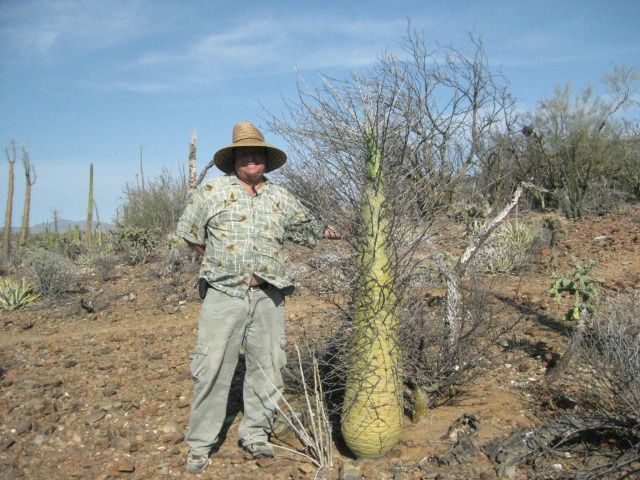 I spot a boojum tree (cirio) about my height… They can grow to 60 feet or more.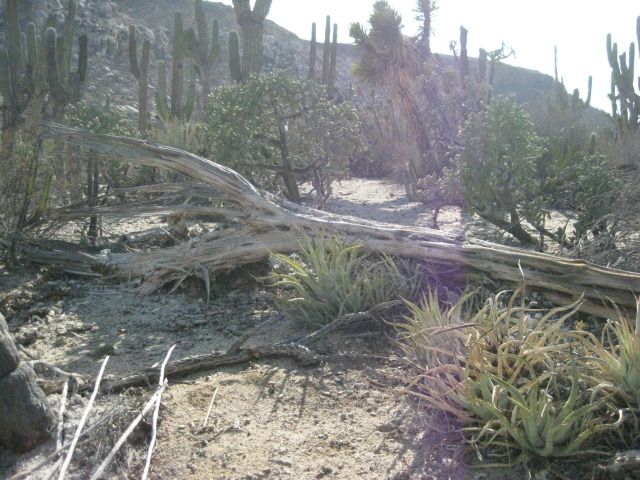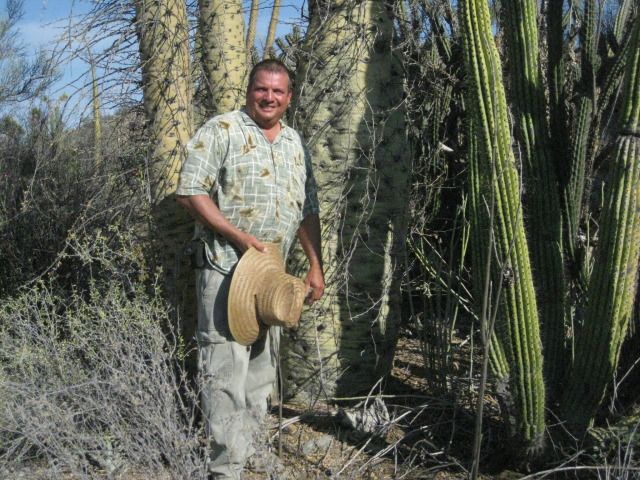 The base of the tall boojums.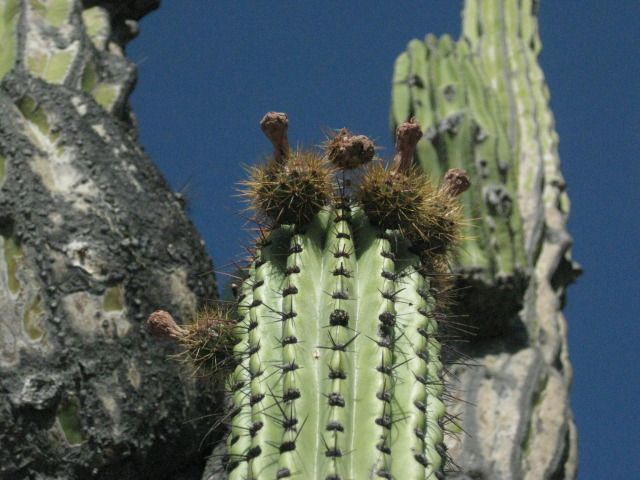 Here are some young pitahaya fruit. In a couple more months they will be ripe for eating.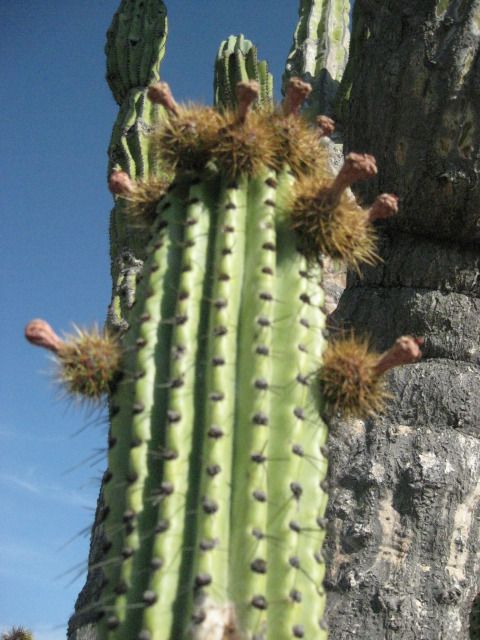 We return to the road to Punta San Francisquito and continue east as the sun slowly drops in the west.
================================================== =====================