This will be a few days in the posting. Each of the 15 days of our trip were great and have a lot to share.
Here is the overall trip, followed by DAY 1 report (with those details many of you enjoy) and photos for Day 1 and the morning of Day 2, on Shell Island.
I provided some details that most of you Baja folks know, but for those not (yet) into travel to Mexico may appreciate. Please send me a private message or u2u if you have a question you don't care to have others see or discuss. My email is: info AT vivabaja.com (AT= @)
Baja California July 2012: 2,622 miles
Day 1 (Saturday July 14th): To Shell Island via Tecate, Mexicali, San Felipe.
Day 2 (Sunday): To Bahia Concepcion via Coco's Corner, Calamajue, Guerrero Negro, Santa Rosalia.
Days 3, 4 (Monday, Tuesday): At Bahia Concepcion plus Mulege dinner.
Day 5 (Wednesday July 18th): To La Paz via Loreto and Ciudad Constitucion.
Day 6 (Thursday): To El Triunfo, Real de Santa Ana, San Bartolo, Los Barriles, Punta Pescadero, San Juan de los Planes, La Paz.
Day 7 (Friday): La Paz Museums, La Balandra, El Tecolote.
Day 8 (Saturday): To Todos Santos, El Pedrito, Cabo San Lucas, El Tule, San Jose del Cabo, Santiago, Las Cuevas, La Paz.
Day 9 (Sunday): To: Isla Espirito Santo, Isla Partida, Las Tres Virgenes Restaurant.
Day 10 (Monday July 23rd): To Bahia Concepcion via Las Pocitas, Cd. Constitucion, Ligui, and Loreto.
Day 11 (Tuesday): To Bahia Asuncion via San Ignacio, Punta Abreojos, La Bocana.
Day 12 (Wednesday): At Juan y Shari's Bahia Asuncion Bed & Breakfast, Fossil Hunting.
Day 13 (Thursday): To Bahia San Rafael via Vizcaino, Pozo Aleman, San Francisquito.
Day 14 (Friday): To Shell Island via Bahia de los Angeles, Laguna Chapala, Bahia San Luis Gonzaga.
Day 15 (Saturday July 28th): To San Diego via San Felipe, Mexicali and Tecate.
A week before our trip began, we did a run to Tijuana to get our tourist cards (also called an 'FMM', it is like a visa needed for trips beyond the border towns or stays over 3 days). The fee for an FMM (valid for 180 days) was 290 pesos or US$24, each The INM office at the Tijuana border is open 7 days a week from 6 am to 10 pm. The INM official can now receive the payment, so no need to have an open bank nearby, as in the past. We also purchased pesos at the Chula Vista Costco money exchange (Palomar exit, I-5 to Broadway, north) for some of our trip purchases (mostly gasoline) and the exchange rate was 12.905 pesos per dollar. Except for the border region gas stations, the cost of gasoline was $2.95/ gallon (10.05 pesos/ liter).
If I post a price in pesos, the equivalent dollar value will be shown.
Saturday, July 14
: Crossed the border at Tecate 11:14am. When entering Mexico there is a red light/ green light signal to tell you to continue on in or to pull over for inspection. Being a pickup truck full of stuff, we got a red light. Since Tecate is a very quiet border going into Mexico, it took just a few seconds for the officer to glance at my truck and tell me to continue on into their country. They are looking for items that may be resold in Mexico such as appliances, electronics, etc. Camping and personal gear is no problem.
Signs point the way towards Mexicali making the little bit of city street use very simple. Just east of town on Highway #2, we stop at a Pemex station and topped the gas tank. price of 87 octane 'Magna' from the green/ 'verde' pump was $3.02/ gallon (slightly higher price along the border). Got on the toll highway (Highway #2-D) towards Mexicali for a quick 80 mile trip east to Highway #5 for San Felipe. Toll at El Hongo was 57 pesos (or posted US$4.30), toll at La Rumorosa was 20 pesos ($1.55), and final toll near the junction with Highway #5, was 60 pesos ($4.65).
Highway #5 has been torn up for widening in sections for the past few years and during this trip, there was a total of 20 miles of unpaved detours along the new road work. This is in the area 47 miles south of the Highway 2-D junction (at the sand dunes) to El Chinero mountain (between the active gold mine and Highway 3 junction). The detours were mostly smooth and watered down for dust control.
At the Highway 3 (Ensenada) junction, 160 miles from Tecate is the first major military inspection where soldiers may ask you to step out of your car so they can look for illegal drugs, guns or ammo. They are always polite, friendly and very quick (at least to us). Most of the time they will ask you where are you coming from and where are you going. In a couple locations they recorded my name and asked what year model my Toyota Tacoma was (2010). Showing them your driver's license makes their writing of your name easier. They never asked to see passports or tourist cards, and never have on any of my trips… as it is not in their duty of looking for guns and drugs.
At El Dorado Ranch, we stooped to top our gas tank. This is 7 miles north of San Felipe, just past the big 'Rockodile' sign (a crocodile). The price here is the same as at all other Baja stations for this trip with one exception and the border zone price. Magna (Regular 87 octane) is 10.05 pesos per liter or $2.95 per gallon. If you are using dollars, this station was giving an exchange rate of 13.00 pesos per dollar. I took on 10.5 gallons for the 183 mile drive from Tecate. The convenience store at the El Dorado Pemex had 8 packs of Tecate Light Beer for 84 pesos ($6.46 for 8 cans).
We left the station at 3:30pm, drove the 7 miles to San Felipe, turning south at the traffic circle. In 6 miles, a left turn is made (ahead goes to the airport) and this point is also Kilometer 0 for Highway #5 south. Several vacation home and camp areas are passed as we head for a very special beach I have been camping on for the past 34 years, before most of the region's development and before paved roads ventured south of San Felipe. It is a barrier island that during the highest tides is surrounded by water and impossible to access or leave. Being difficult to get to is one reason it remains as beautiful today as it was the first time I camped here, on the beach I call 'Shell Island'. The access road to the island is near Km. 26, almost 22 miles from San Felipe. We arrived at our campsite at 4:40 pm. Our vacation had begun!
Photos:
After crossing the salt/mud flat seen here, we reach the beach on the island.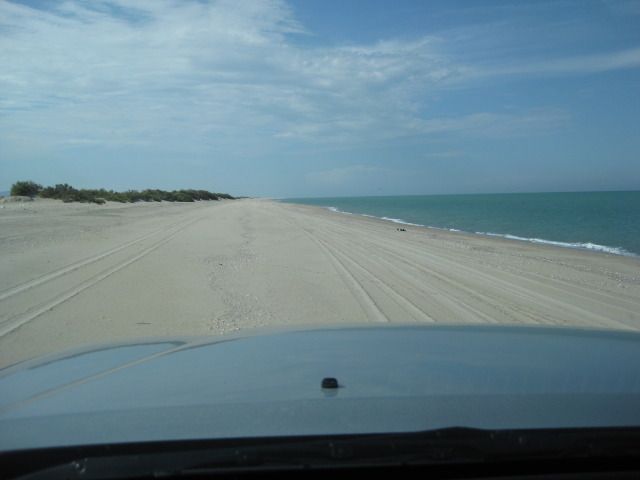 While the entire 4 mile long island is usually deserted, we have a favorite spot next to the dunes a couple miles away from the road.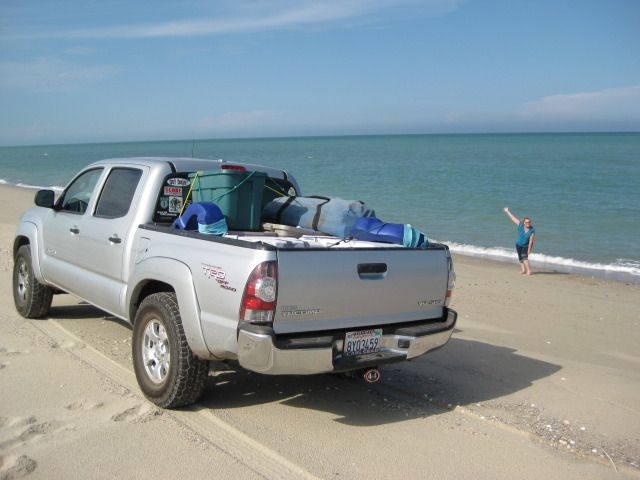 Elizabeth quickly gets into the 'Baja Feeling' mode…
… and makes her first contact with the Sea of Cortez.
Whelk eggs were spotted on the wet sand. A whelk is a large sea snail.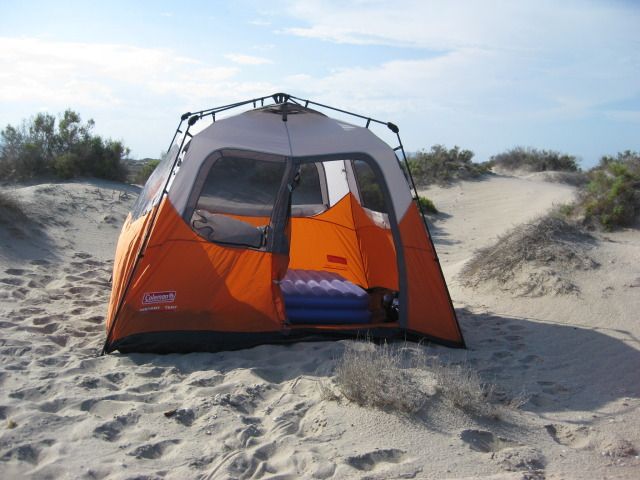 New, easy up tent! Our last time camping here (July 4th weekend, 2011) a sudden strong wind devastated our camp and ruined our old tent. That same wind sunk the sport fishing ship 'Erik' with many lives lost, about 50 miles south here.
Sunday, July 15
: We woke up with the sun and soon were packed up.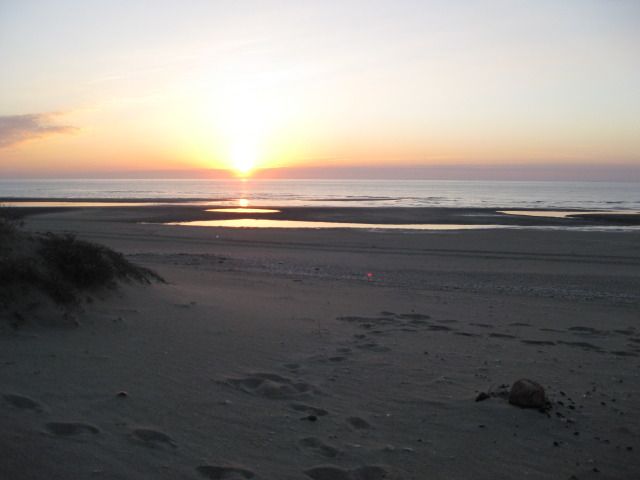 Here are views north and south on Shell Island (low tide):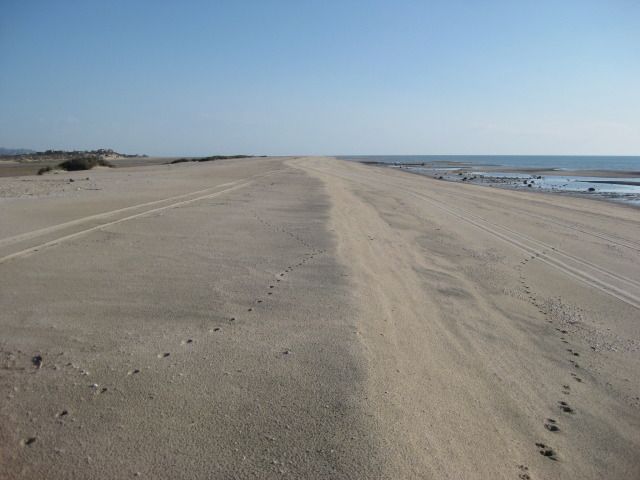 ================================================== =============
Sunday's drive to Bahia Concepcion coming next (Enchanted Islands, Coco's Corner, Calamajue Canyon, and more!)…