(Originally posted in the Off Roading forum, it was getting difficult to view with so many photos and replies... Trying fresh here...)
PART 1 of 2:
MISION SANTA MARIA 2010: An Epic Adventure by David K
Memorial Day Weekend 2010 will be one that is firmly ingrained in our memory!
Mision Santa Maria de los Angeles, founded in 1767 and abandoned (as a mission) just 2 years later because the location was just too difficult.
Difficult in many ways, but difficult getting to is one of them!
When the Franciscans founded Mision San Fernando Velicata in 1769, their supply route from Bahia San Luis Gonzaga even avoided Santa Maria, detouring to a canyon north of the Camino Real, which goes through Santa Maria.
In the 1950's to 1970's, the owner of Rancho Santa Ynez, Doņa Josefina Zuņiga and her ranch manager Fred Hampe constructed a road to the mission and beyond. The goal was to make the historic oasis valley accessible and continue on to Punta Final on the gulf coast south of Bahia San Luis Gonzaga. Josefina also owned Punta Final Resort and a road between the two places would have been convenient.
The Mexican government finally built the last segment of the Baja Highway from San Quintin to Santa Rosalia in 1973, making access easier to Punta Final from Santa Ynez, albeit still not a direct route. Josefina courted the president of Mexico to have her direct route via Santa Maria be built and paved. All she got was a paved driveway off Highway One. The engineers no doubt considered the Santa Maria route to be far too difficult or expensive to build and they instead constructed the road to Gonzaga Bay from Laguna Chapala, some 31 miles south of Santa Ynez. Road building efforts by the ranch ended.
Since the 1970's, the road to Mision Santa Maria has become somewhat famous as a four wheel drive challenge. Often earning the route the nick name 'Mission Impossible'. 40 years of erosion and lack of maintenance (except from travelers moving rocks) have made the short trip to Santa Maria a multi-hour ordeal that can leave a lifetime of memories. This latest trip was no exception!
The explorers were members of Internet forums, one for Baja travelers 'Baja Nomad' and one for Toyota Tacoma drivers 'Tacoma World'. The original leader of this group was going to be 'BajaCat', but a late change prevented his leaving and caused him to ask me to post the details and promote the run. I had been to Mision Santa Maria three times before (1999, 2003, 2007).
My wife Elizabeth 'Baja Angel' and I were in a totally stock 2010 Tacoma Off Road 4WD double cab and met up with Paul 'HB Murphy' and his lady 'Zoom' in a 2009 Tacoma Off Road 4WD double cab but with a lift, oversize tires and a front locker. We crossed the border together about 11 am Friday. Paul got called over for inspection by Mexican customs. We pulled over and waited just ahead. In a few minutes we were again southbound on Highway 1-D with beautiful views of the coast to Ensenada.
Some off road racing activity was noticed as the Baja 500 was just a week away and many racers were 'pre-running' the racecourse to familiarize themselves with this year's route. The normal farm activity traffic was found from Camalu to San Quintin. Other than that it was an easy drive to El Rosario and the wonderful Baja Cactus Motel operated by Antonio Muņoz. We arrived about 4:45 pm and topped our fuel tanks. I noted the best mileage yet on my new Tacoma of 18.7 miles per gallon.
Already in El Rosario for the overnight stop was Neal Johns in a 2003 Tacoma with pop-up camper, Chris ('CG') in a Dodge Dakota with a rear locker and off road mods, 'Kurt G' who rode with CG, and Teddi 'Baja Bucko' who rode with Neal.
We all went to dinner at Ed Lusk's Bed & Breakfast restaurant, called 'Baja's Best' and enjoyed his fresh squeezed orange juice tequila sunrises, margaritas, and cold beer with dinner. We enjoyed lobster, scallops, and chicken burritos before returning to our deluxe rooms at Baja Cactus.
Neal Johns & Baja Bucko (Teddi)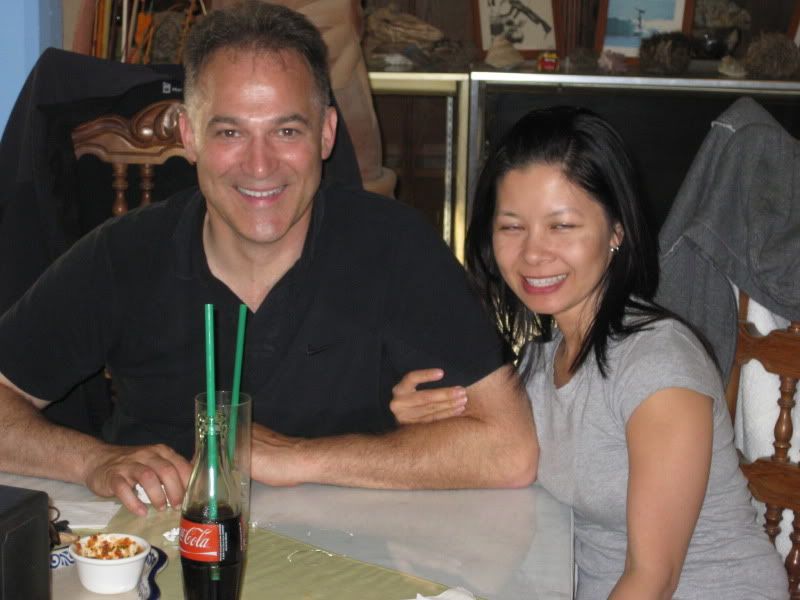 HB Murphy (Paul) & Zoom
CG (Chris)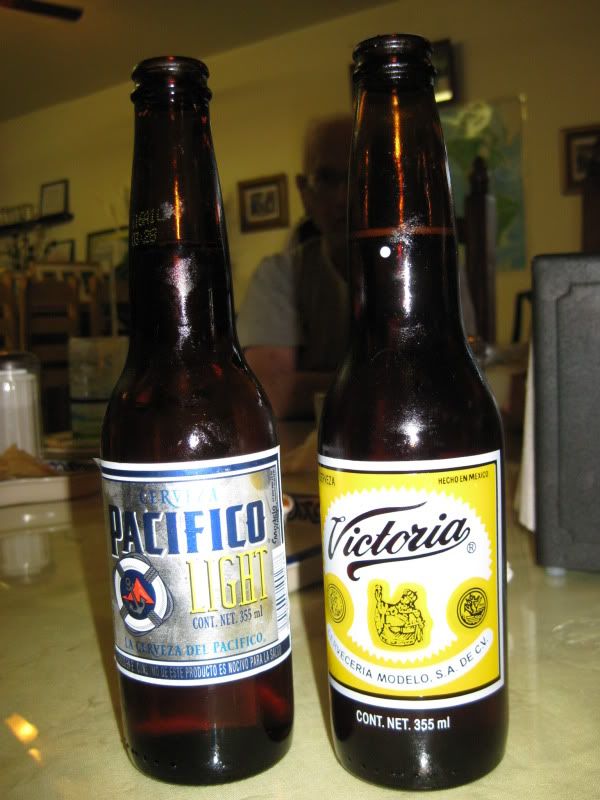 ------------------------------------------------------------------------------------------------------------
A great night's sleep at Baja Cactus had us up early Saturday morning for breakfast next door at Mama Espinoza's. We were on the road before 9 am and had a beautiful drive to Santa Ynez. There we met Bajatripper (Steve and Zully) and edm1 (Art and his daughter Maya). The adventure began at 10:30, on schedule… and that is a rare thing to try and keep in Mexico. Being that we had 6 vehicles it would be a long day with stops, etc.
Stickers at Rancho Santa Ynez
The caravan started with my 2010 Toyota Tacoma, followed by HB Murphy's 2009 Tacoma, then Bajatripper's Toyota 4Runner, Neal John's Tacoma, CG's Dodge Dakota, and finally edm1's giant 4WD van converted into a motorhome. We had the most concerns with the motorhome. Oscar at Santa Ynez said he wouldn't get more than a couple kilometers in it and none of us could reach the mission, as the water was five feet deep in the bog!
The first obstacle on the drive was the deep gully crossing just 1.8 miles from Santa Ynez, but when the motorhome crossed it we gained new respect for Art's abilities. A couple miles ahead those of us in the lead paused for the last ones (motorhome of Art and Dakota of Chris) to catch up. We waited quite a long time and believed it was the motorhome that must have had the problem. In reality, when they arrived it was Chris' Dakota with a sidewall cut rear tire. He wondered if he should go back to Cataviņa and get another tire for a spare and catch back up to us. We suggested he motor on with us and we would help him if he had another flat… (he didn't)!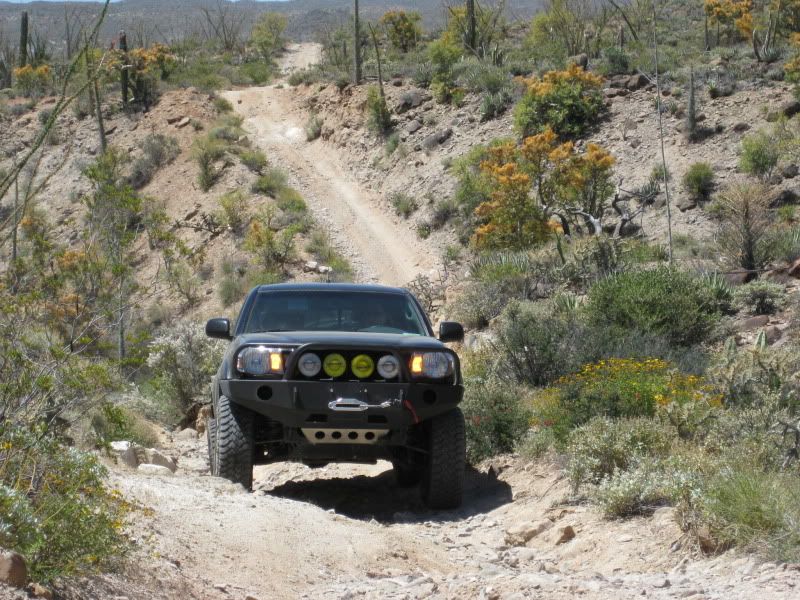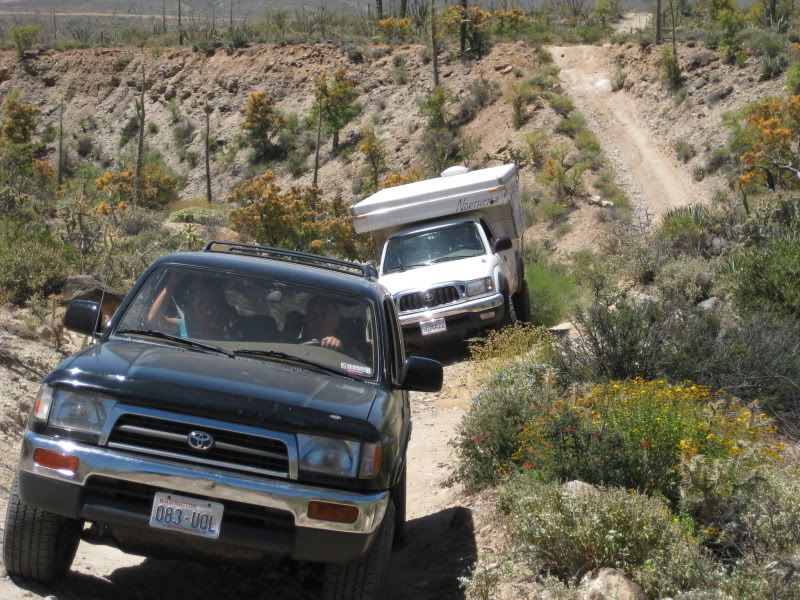 Bajatripper, Zully, Baja Angel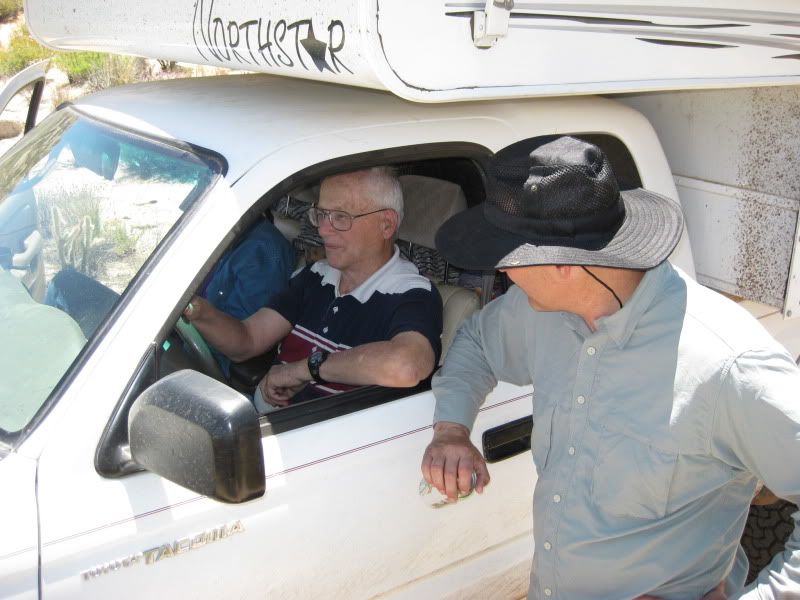 Neal Johns, HB Murphy
The gang arrived at the peninsular divide, 9.8 miles for Santa Ynez, where the Sea of Cortez and Punta Final can be seen. This makes a great lunch stop and rest for the really tough road ahead.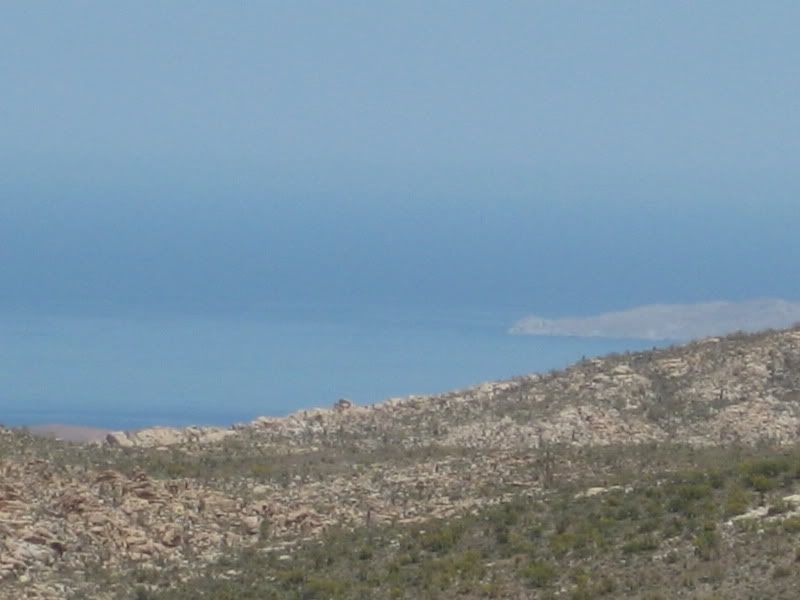 Baja Angel & David Kier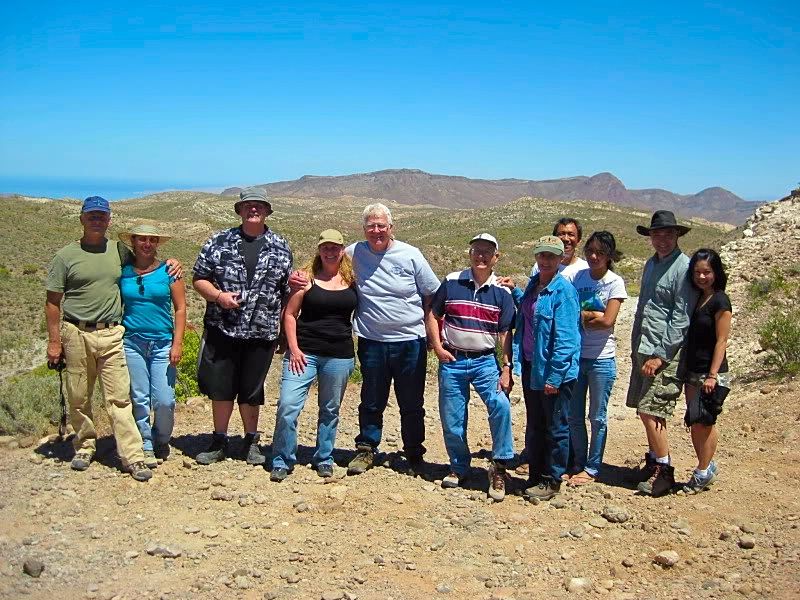 Group photo L to R: Bajatripper (Steve & Zully), CG (Chris), Baja Angel (Elizabeth), Kurt G, Neal Johns, Baja Bucko (Teddi), edm1 (Art & Maya), HB Murphy (Paul & Zoom).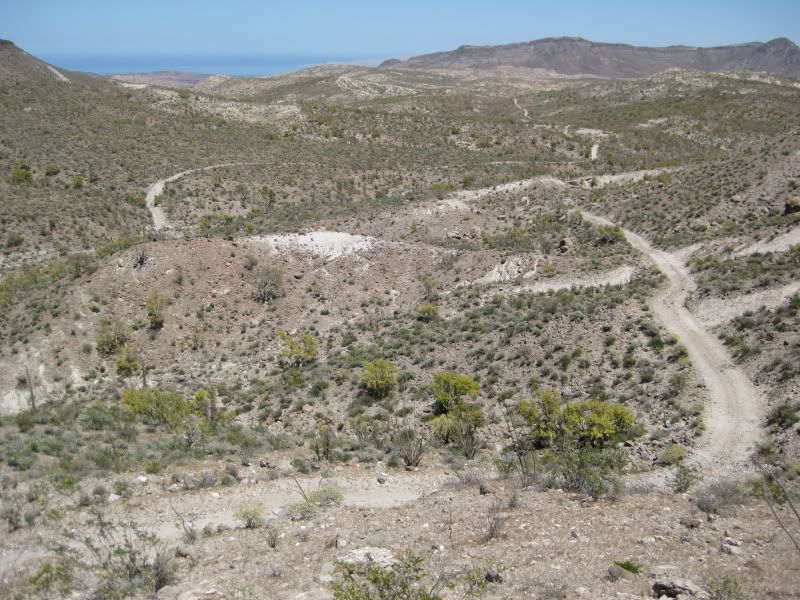 The road ahead.
The next 4.3 miles to the mission are down several steep grades (including the infamous 'Widowmaker') and then into the bog, a water filled road in the oasis canyon beyond the Widowmaker. The bog was most difficult for the 4Runner as it was the only vehicle without a rear locker or traction control. Many of the other vehicles had winches and I saw Paul go into action and make a U turn in the bog to help out.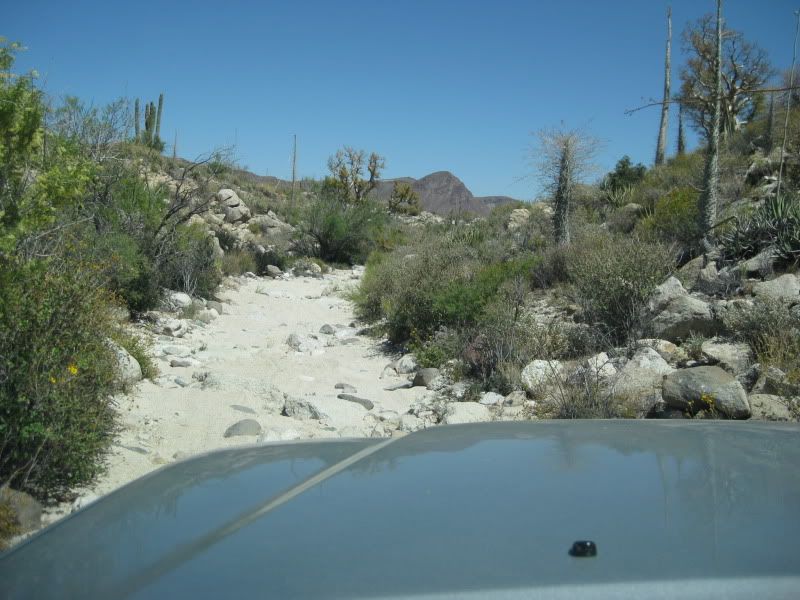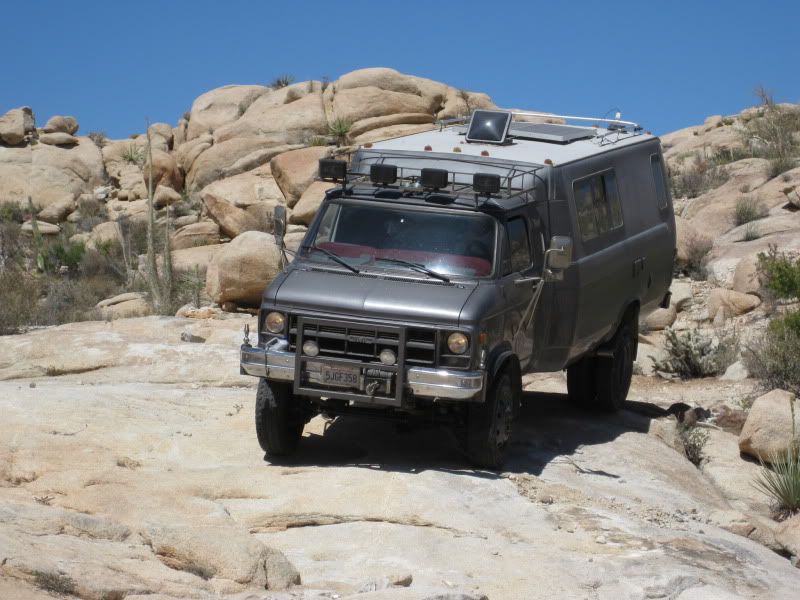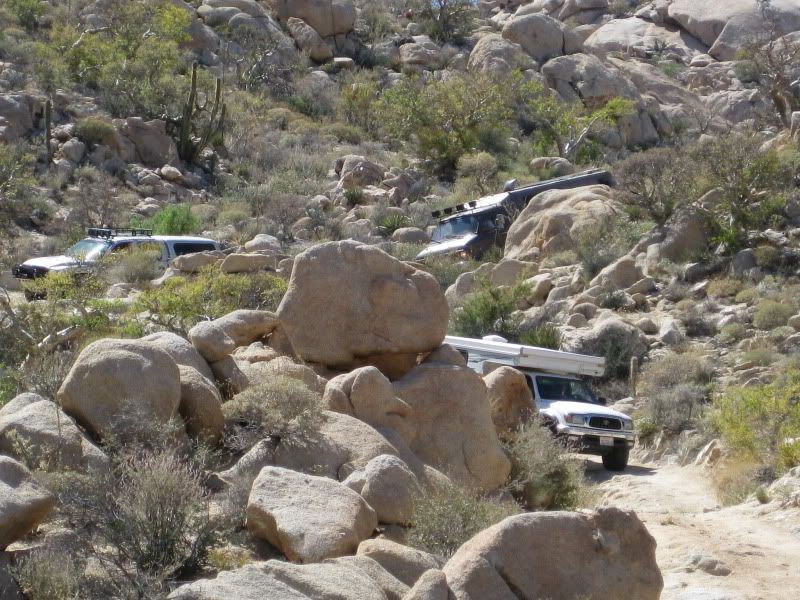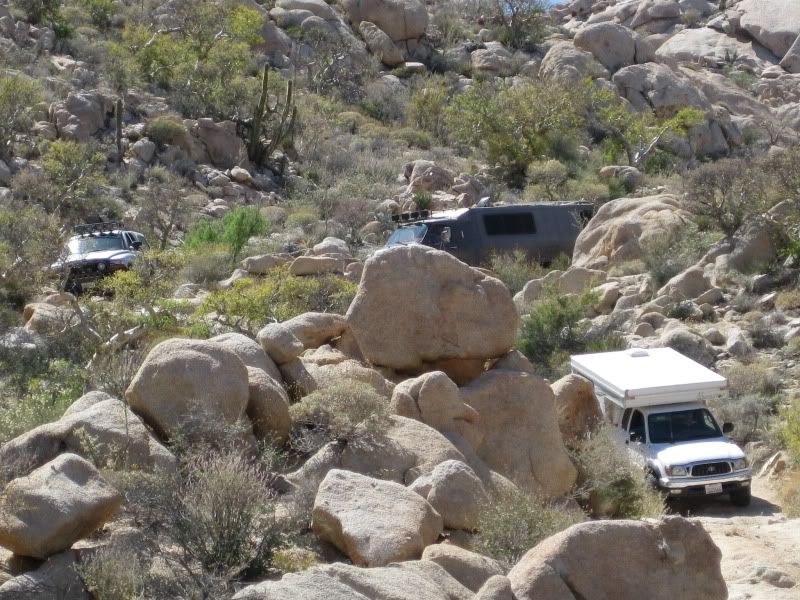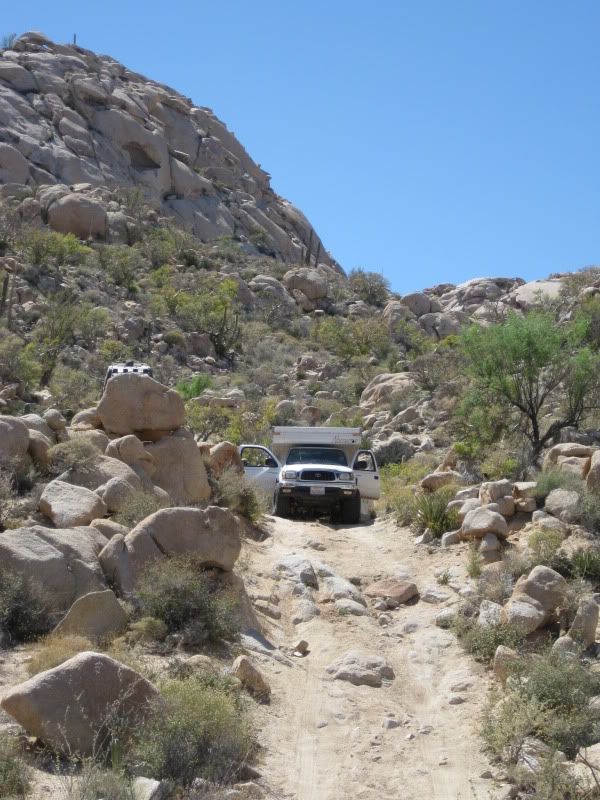 Now, down the Widowmaker!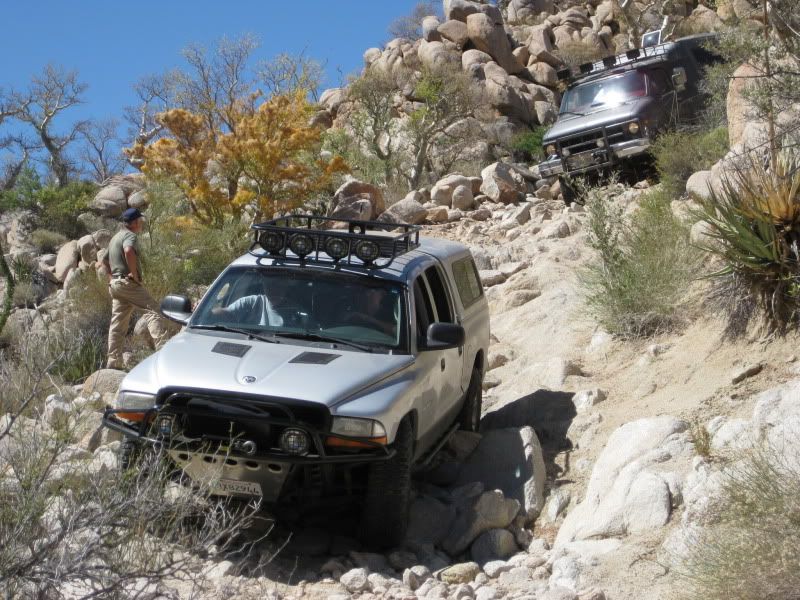 Through the bog…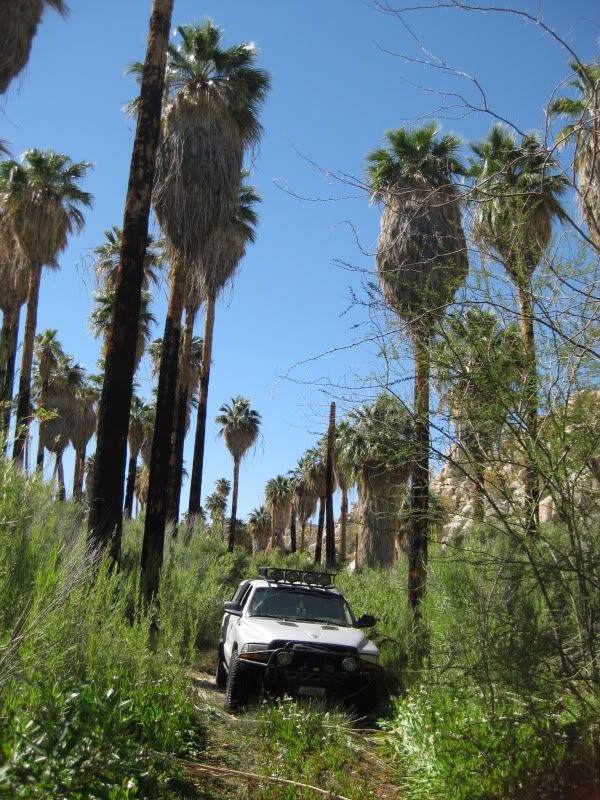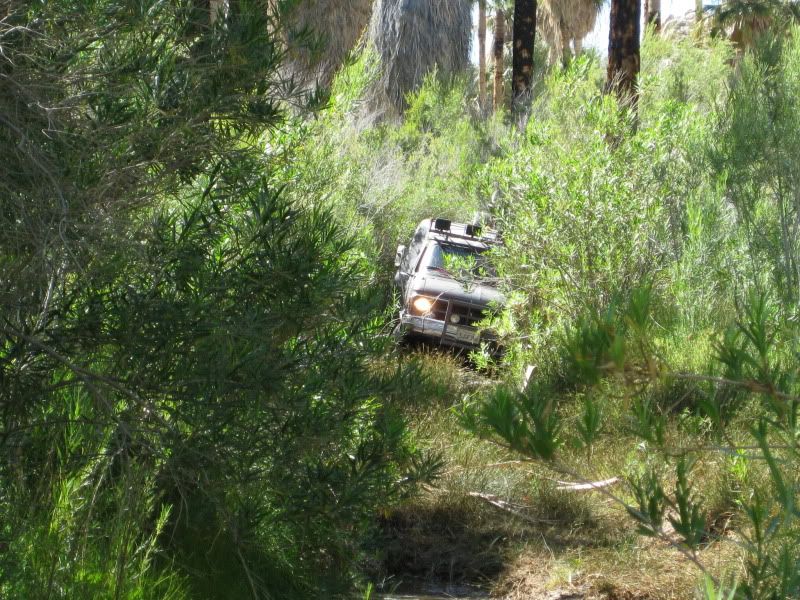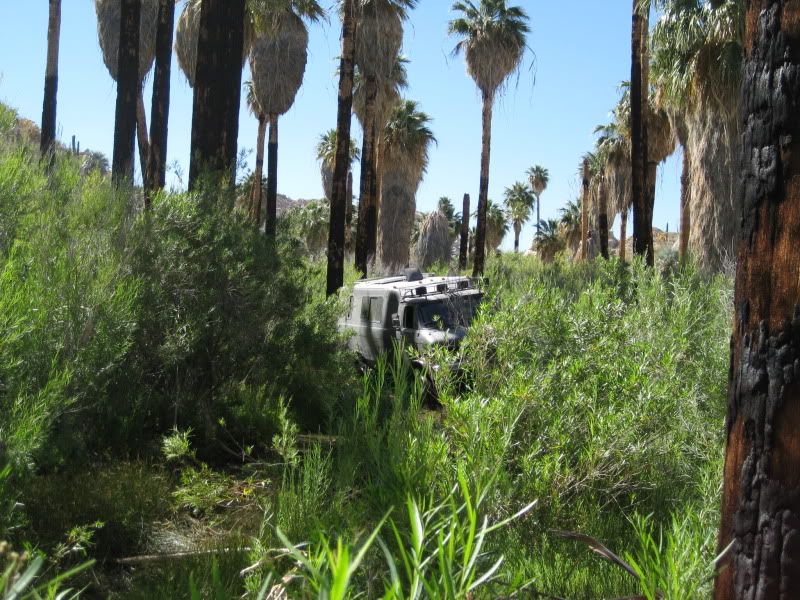 We were all blown away by Art and his motorhome!
Paul had a very well equipped Tacoma and as soon as we heard a vehicle needed helping the bog, he headed back in for the rescue.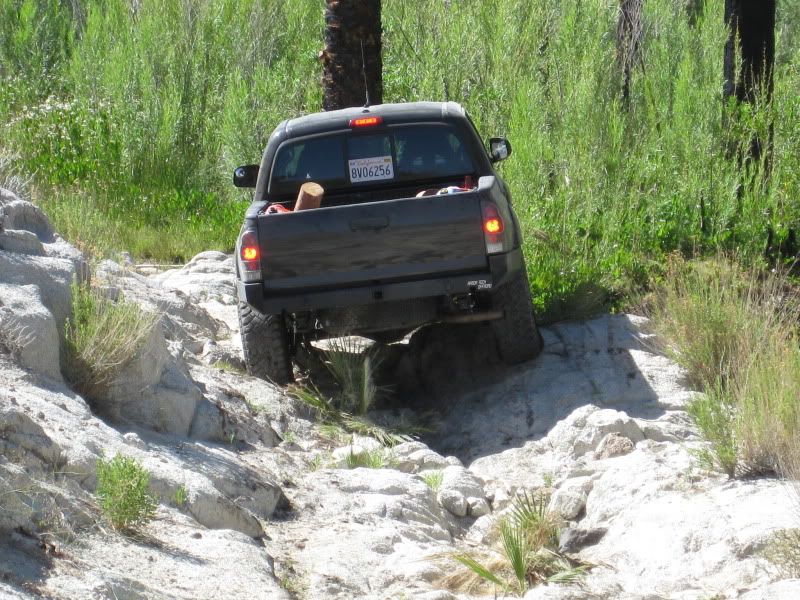 Making a U turn in the bog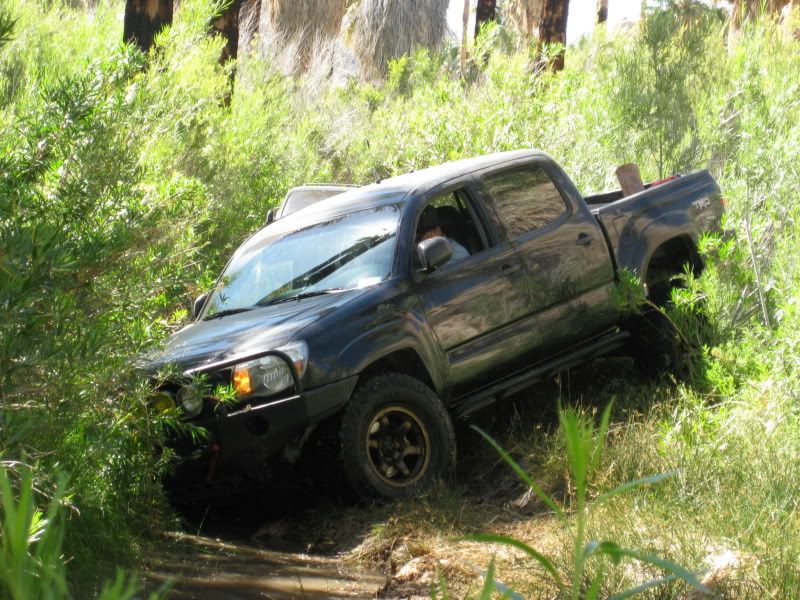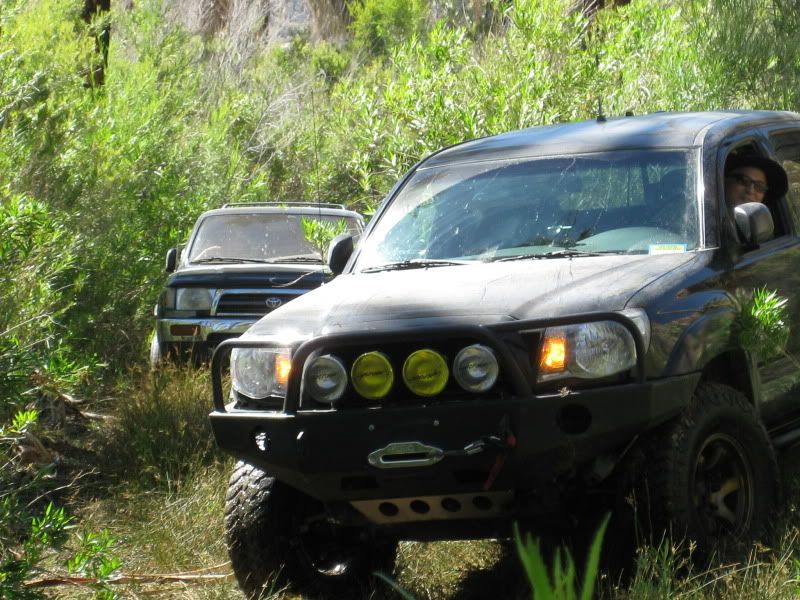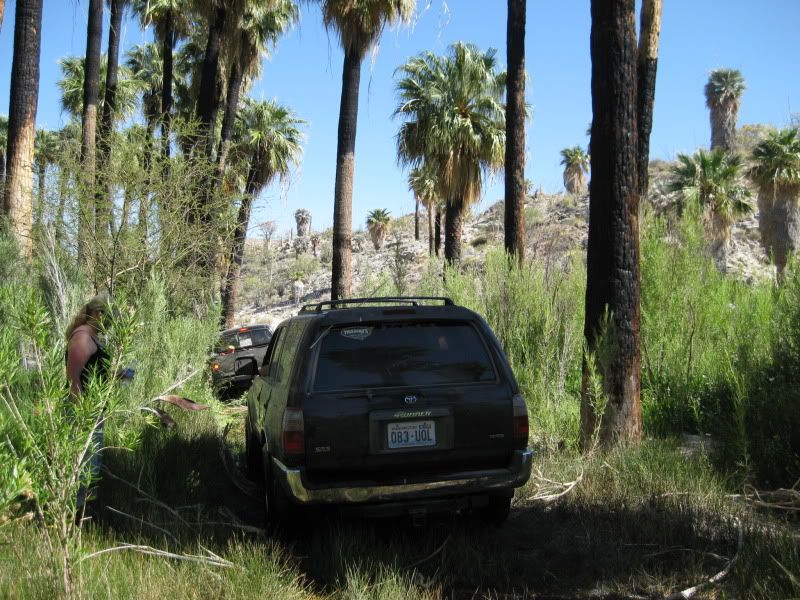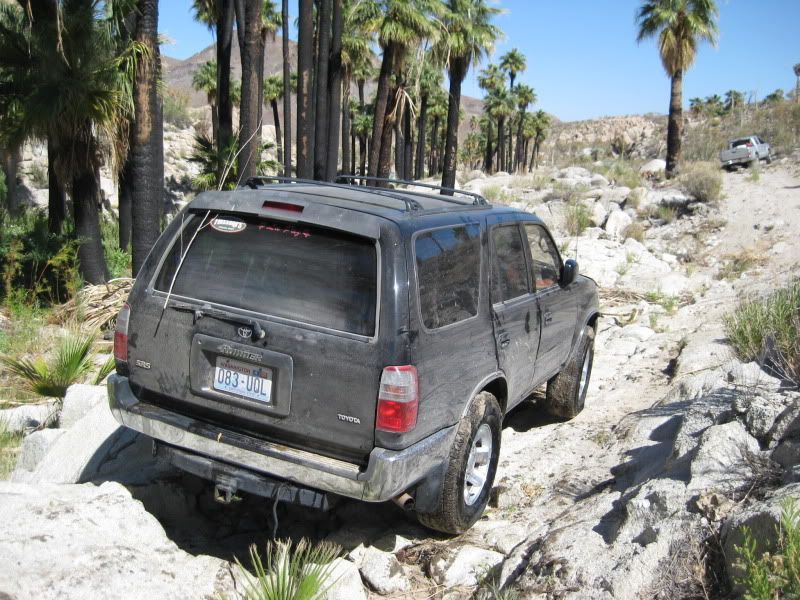 The mission finally came into view with a steep rock drop-off that would catch the back bumper of my Tacoma and Art's motorhome. Art also had a rear tire come off the bead after driving into a palm tree stump in the bog. He was able to repair it just before reaching the mission and joined us as we were setting up camp.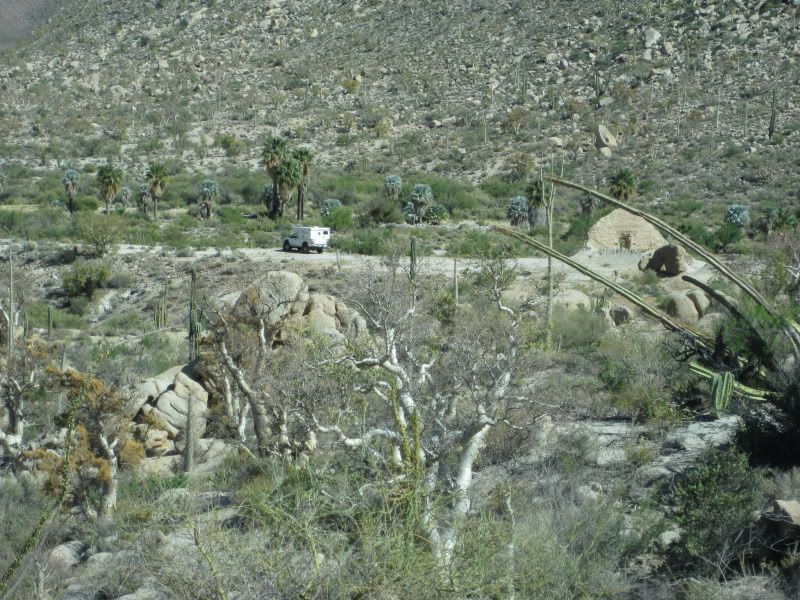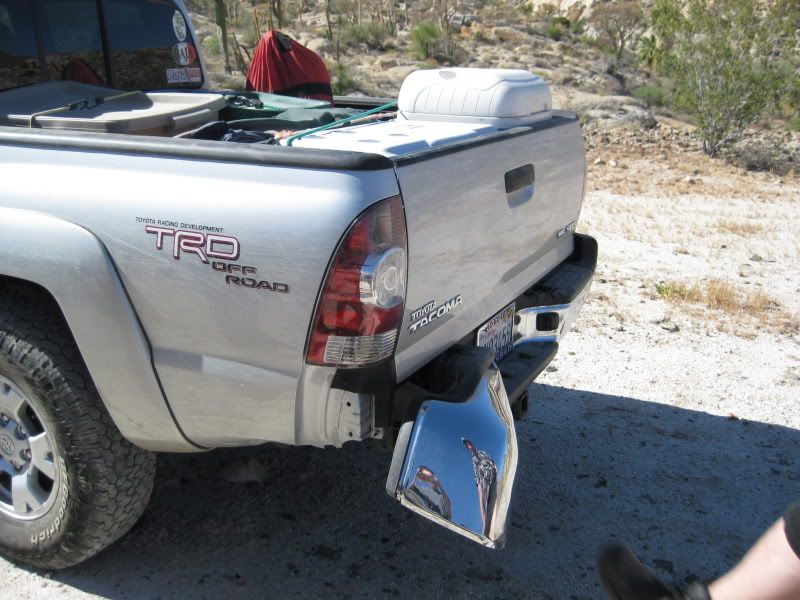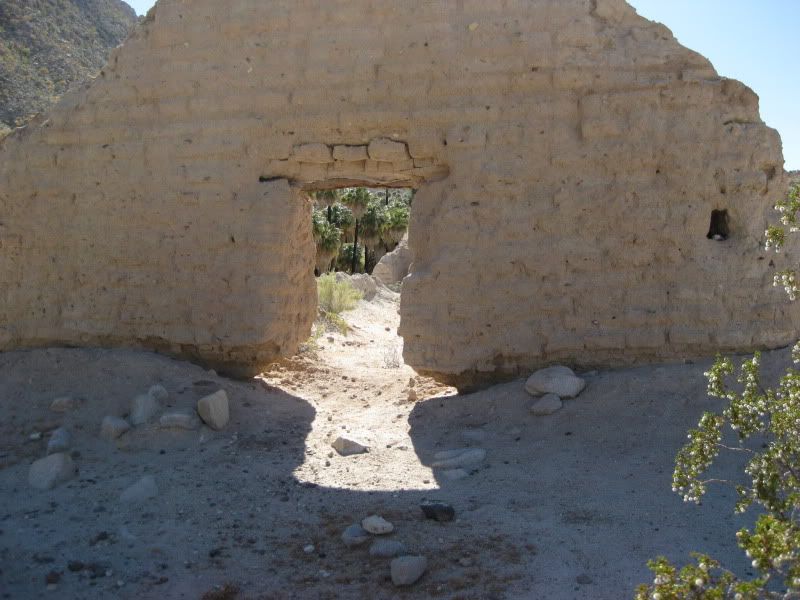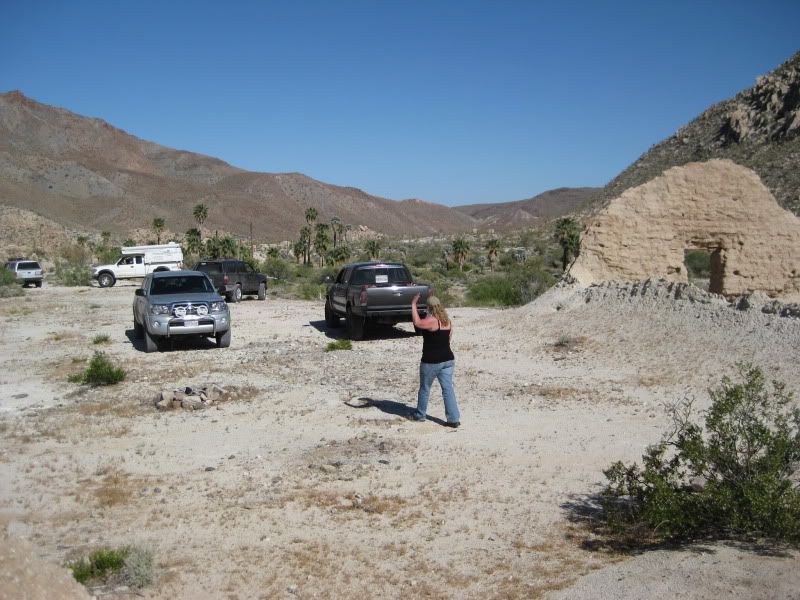 Neal and Maya
Paul, Zoom and Neal
Art, Kurt and Chris
Paul dealt with the gnats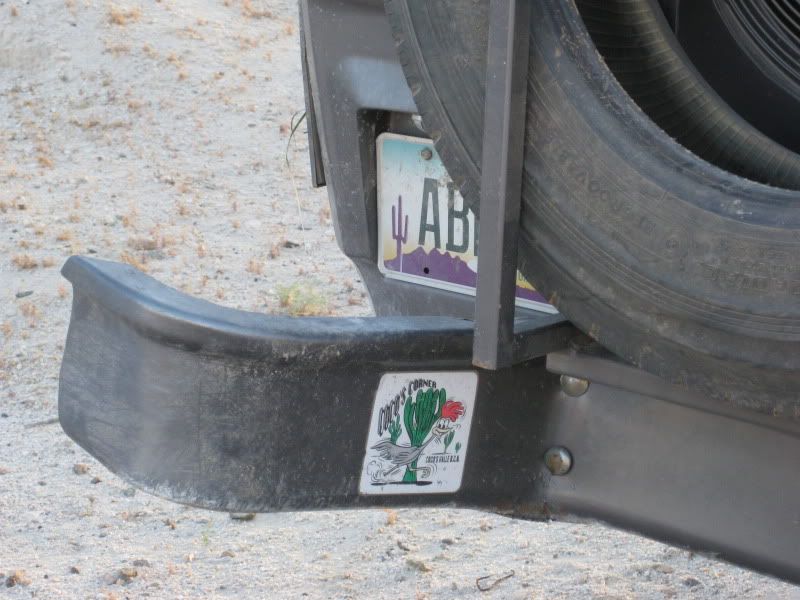 It was an awesome day!
A grand bond fire was a great time to talk and have fun. Chris had an Australian didgeridoo for musical affect and after some of Art's tequila I joined in with a pair of rocks (and some dance moves I don't recall)! We all slept very well, I think…
CONTINUED with Part 2:
http://www.tacomaworld.com/forum/tra...ml#post1888006