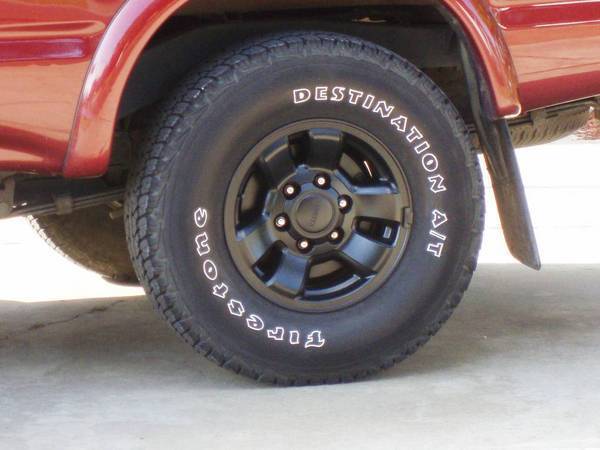 Okay hey this project took me about 5 days to complete. Pretty much a day a wheel, except on one day it was raining and I donít like to paint with a lot of moisture in the air.
What I did was remove one tire at a time and left my truck on a jack stand while I painted the rim.
After I removed the tire I washed the rim really well with soap and water to remove any grease or dirt.
After it dried I began the sanding part. I used a scotch pad (picture attached) one was 60 grit and the other was a 220 grit.(you can use sand paper but I found this the easiest)
TIME CONSUMING!!!
I used the 60 grit first to get most of my clear coat off my rims and to smooth out any imperfections, then I came back with the 220 all the way around to smooth everything out.
Once you are done sanding you will need to clean it again, I used compressed air and some cheesecloth I had laying around. (you can use pretty much anything but jus make sure all of the dust from sanding is removed)
Next you will need to tape off the rim from the tire. I used masking tape (picture attached) and garbage bags, Just to make sure you cover everything but the rim. B/c I doubt you want to paint your tires also.
Then you will put on a thin layer of primer (picture attached) making sure you cover all parts of the rim.
After your one coat of primer is fairly dry you can start your coats of paint (picture attached)
Just a reminder
the thinner the coats the better making sure you cover all parts of the rim
because the last thing you want is runs in the paint.
On my rims I did one coat of primer and three nice coats of paint for each.
In between coats make sure the previous coat is dry to the touch before adding another layer.
I also used a blow-dryer to speed up the drying process between coats
If you have any questions or need any suggestions fell free to pm on Tacomaworld or email me
Im glad I could help,(PICTURES OF PAINT AND MATERIALS BELOW)
Craig