My tires are balding and need to be replaced asap. I was thinking about getting the Kumho Road Ventures SAT KL61 in 285/75/16. I will be using the stock TRD 16" rims from the 2nd gen tacos.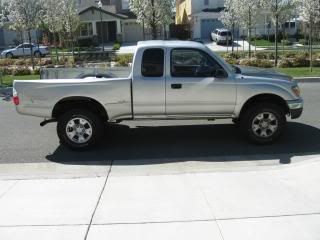 (before the lift)
I've thought about getting the Goodyear Wrangler Dura's but it's more aggressive than I need. I don't get off road often if at all. I think the KL61 is a good combo for on-road/off-road without sacrificing much for either. I don't want a plain highway tire on a lifted truck.
http://www.tirerack.com/tires/survey....jsp?type=ORAT
(images from tirerack.com)
As far as rubbing I don't think I'll have any? I have
ICON
extended travel C/O, TC UCAs, and SpiderTrax 1.25 spacers. Anyone know what I should expect on MPG loss? Current tire setup is 265/70/16 (whatever brand stockers were on 05's.) Is there anything else I should be worried about with 285s on my truck?
Any input would be greatly appreciated.