Seller's Ad:
Dunlop Radial Mud Rover 31x10.5 R15
Two of these tires have 1/2 tread the other two probably have 1/4 tread left.
They came off a Toyota truck. Not 100% sure but I think they will fit on a
chevy. The rims are six lug.
Asking $200.00 OBO
http://www.offroaders.com/tech/AT-MT...alMudRover.htm
(Tire Reviews)
Other info he gave:
- He doesn't know what brand wheels, all it says is 4x4
- Only TWO (2) of the wheels have center caps, because 2 were on solid axle??
- Seller is a 1 1/2 hour drive away (one-way)
These are the same size as my Michelin LTX A/T on stock 15" wheels.
In the future I plan to lift 3", if i got these it would be okay to run these 15" wheels and just get bigger tires, correct?
Do you guys think this is worth the drive and money for the amount of tread that's left? Yes? No?
Should I make an offer? What's the lowest I can offer?
Oh! And does anyone have any clue what wheels these are? The seller doesn't know.
I could use all the help I can get. Thanks in advance!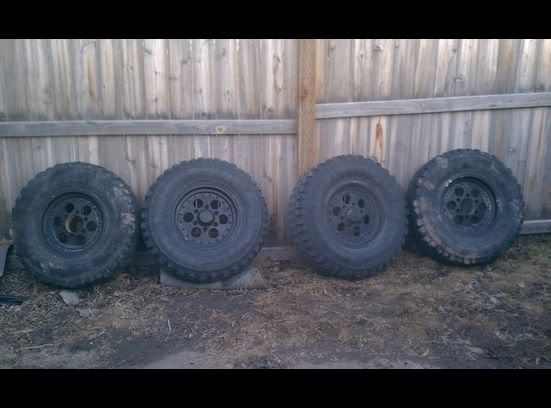 A decent sample of what they'd look like on my truck:
The tread left on my Michelin LTX A/T: