I've been struggling with the idea of painting my rims. I bought the truck used and recently the inside edge of the spokes have begun to pit pretty seriously and even flaked off in a couple of spots. The face of the rims are still in pretty good shape and I didn't want to paint the whole rim black. I really like black rims, but mostly I light coloured vehicles (I like the contrast). I found a post from another member who had painted their rims like this and I think it looks awesome. Ideally I would like to buy a set of Dick Cepek DC-2's, but I figured I would try a couple of cans of Plasti Dip first.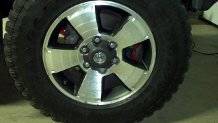 I have some concerns about how well it adhered to the center caps, so I may have to do them first. I also tried to to the dimples on the face of the rims (which would have look great), but while pealing the excess one of them came off so I had to take them all off. The other thing I considered doing was continuing the black all the way to the edge, similar to the DC-2's.
Let me know what you think.