Hello Forum,
I am a little undecided about wheels for my Tacoma. Truth is that I am not into aftermarket wheels even though there are a few that I like it is not enough for me to buy them. Here's what my '08 came with when I bought it on 01/03/12 (I added the tires afterwards):
Click for full-size image (1024 x 768)
Click for full-size image (1024 x 768)
My indecision stems from the fact that I like chrome but I like the following wheels also. I will list the pros & cons (from my point of view):
Click for full-size image (1024 x 768)
PROS
Has a nice shine.
I already have them.
People think they are chrome wheels, until I tell them that they are wheel skins.
If I damage one, I can buy a whole set for $70. I can't buy wheels for $17.50 a piece.
I can balance the wheels with weights on both sides AND you can't even see the weights since they are hidden behind the wheel skins.
CONS
I wish they would stick out an inch more. My wheels are 16x7 & have a 30mm offset & I believe 5" back space.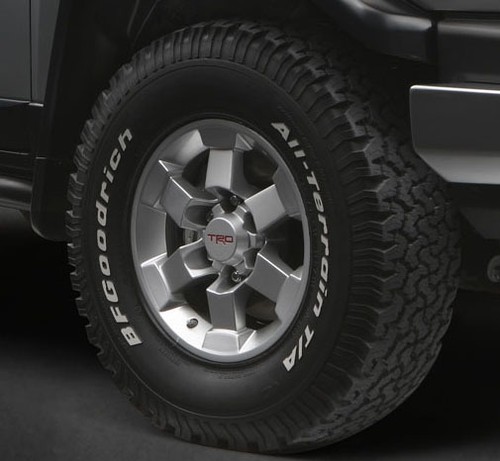 PROS:
These are 16x7.5 & have a 15mm offset.
I don't know what the back spacing is on them.
They look rugged & (I believe) these will stick out about an inch more than what I have now due to the 1/2 wider wheel & less offset. Again, I don't know the backspacing on these.
My truck is silver so I think these will match up perfectly.
I do not have to replace my 5 month old BFg A/T's, 265/75r16. I just spend themoney on the wheels. These go for around $600 on
ebay
CONS:
no bling. LOL!
Click for full-size image (1600 x 1200)

PROS
Same with & offset as the TRD's but in 17's.
Not too common around here on Tacoma's
Some bling (machined face with silver & all clear coated) & I can buy chrome center caps for them.
CONS
Requires new tires AND the cost of the rims. These go for around $500 - $600 on
ebay
.
I can wait to wear down my BFG's if I decide to go the 17" wheel route but these suckers go forever!
Thanks